My oldest is entering high school in August. And I. Am. Scared.
As my kids grow older, college starts becoming more and more prevalent in my future plans. And to be honest, the idea of dealing with the applications, the acceptances, and the inevitable denials are enough to make me want to cut and run.
And that's not even addressing the elephant in the room- the issue of paying for college! Does anyone else hear the theme of "Jaws" playing in the background?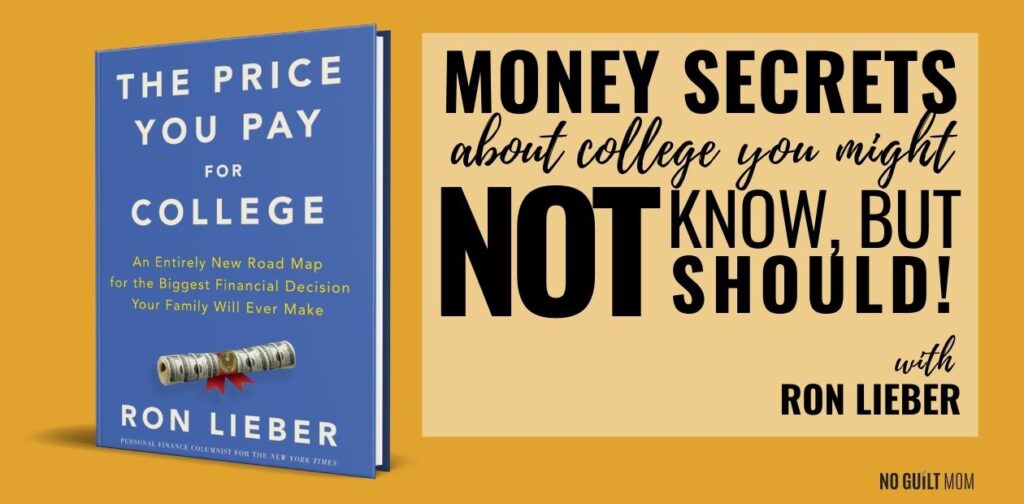 In a 2020 survey, more than two-thirds of parents of college-bound children say that they are very worried about having enough money to pay for their child's college education, so I know that I am not alone in my fear and ever-present parental guilt.
Today, we are delighted to be joined by Ron Lieber, The New York Times Your Money columnist, the author of The Opposite of Spoiled as well as the recently released, The Price You Pay for College. He lives in New York City with his family and is a father to two daughters, 6 & 14.
Ron shares with us some tips to help squash that guilt tied to whether or not we can pay for college while acknowledging the roles that fear, guilt, and elitism play in the current higher education environment and how those things affect our thoughts and actions as parents.
READ: How to be happy with your family budget
Resources We Shared:
The Price You Pay for College: An Entirely New Road Map for the Biggest Financial Decision your Family Will Ever Make
The Opposite of Spoiled: Raising Kids Who Are Grounded, Generous, and Smart About Money
Elite Universities Are in an Amenities Arms Race (Town & Country article)
Download the Transcripts HERE
The best mom is a happy mom. To better take care of you, download our No Guilt Mom mindset here . These reminders will help you second guess less, and feel more confidence every day in your parenting.