Behavior is often a very tricky thing. It can be so hard for us as parents to really understand why our kids are acting a certain way.
Are they upset about not getting their way?
Are they feeling lonely and just need a hug?
Did someone do something that hurt their feelings earlier and they are showing their own hurt?
Or is it something much deeper and difficult for them to even explain?
Is it due to a sensory processing disorder?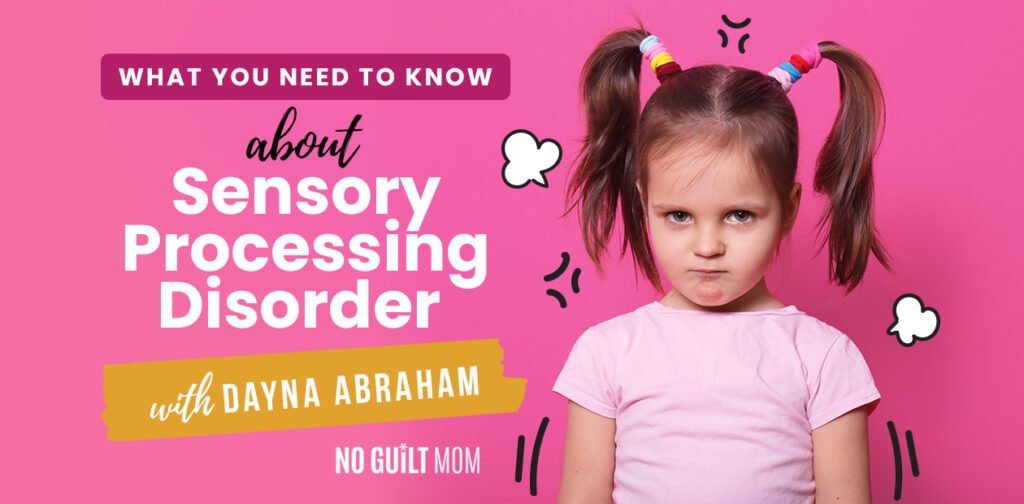 Sensory processing disorder is a condition in which the brain has trouble receiving and responding to information that comes in through the senses.
Many of us have heard how itchy tags or loud environments can upset some people, and are often related to sensory processing issues. But sensory processing is so much more than that!
In this episode of the No Guilt Mom podcast, we talk with Dayna Abraham, the founder of the Calm the Chaos® Framework, best-selling author of The Superkids Activity Guide to Conquering Every Day and founder of the popular blog, Lemon Lime Adventures. She helps parents and education professionals unlock the unique super powers in children so they can live a more peaceful life filled with clarity, connection and empowerment by providing them with a proven plan designed to Calm the Chaos® of everyday life.
Dayna talks with us about what sensory processing really is, how it works, and what we can do if we have a concern that our kid may be dealing with SPD.
Resources We Shared:
Eat At Home Discount code NOGUILTMOM for 25% off!
The Superkids Activity Guide to Conquering Every Day: Awesome Games and Crafts to Master Your Moods, Boost Focus, Hack Mealtimes and Help Grownups Understand Why You Do the Things You Do
Download the transcripts HERE
The best mom is a happy mom. To better take care of you, download our No Guilt Mom mindset here . These reminders will help you second guess less, and feel more confidence every day in your parenting.