Podcast Episode 86: Parenting on the Same Page with Amy McCready
It's hard enough when you are trying to pick a place to go out to eat and no one is on the same page, but when you and your partner or co-parent aren't on the same page…it can be downright agonizing!
In this episode, we're joined by Amy McCready, the Founder of Positive Parenting Solutions and the creator of the 7-Step Parenting Success System online course. She is the author of two best-selling parenting books: If I Have to Tell You ONE MORE TIME and The "Me, Me, Me" Epidemic. She has two adult sons (age 24 and 22). Amy helps moms and dads become the parents they've always wanted to be.
We discuss with Amy how parents can identify what the real issue is causing their parenting struggles and how to best get on the same page and become a united front.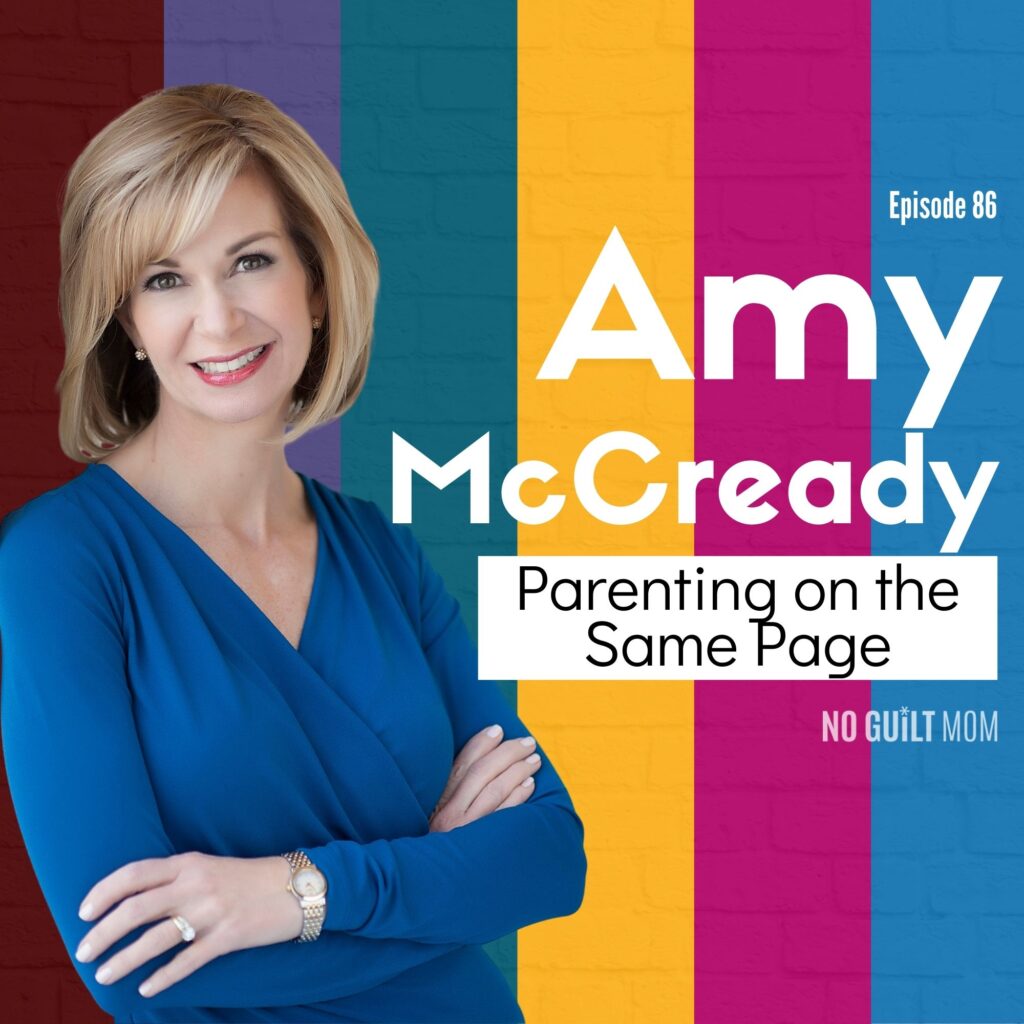 In this episode of the No Guilt Mom podcast you'll learn:
What to do if you and your parenting partner have different parenting styles or philosophies.
How to figure out what is really important to you in your parenting role.
How to effectively communicate with your partner.
What to do if one of you notices that problems are surfacing around one parent more than the other.
Resources We Shared In This Episode:
Happy Parent Checklist – This FREE checklist gives you the step-by-step plan to delegate more to your family, feel less overwhelmed and connect in a positive way!
Positive Parenting Solutions– Amy McCready is the founder and parenting expert of Positive Parenting Solutions. They equip parents with the tools they need to get kids to listen without nagging, yelling or losing control.
If I Have to Tell You One More Time…: The Revolutionary Program That Gets Your Kids To Listen Without Nagging, Reminding, or Yelling by Amy McCready
The Me, Me, Me Epidemic: A Step-by-Step Guide to Raising Capable, Grateful Kids in an Over-Entitled World by Amy McCready
Meet the Freemans– They are authors of The New Power Couple and The Argument Hangover. With much excitement, they founded and launched Empowered Couples University: an online university where busy couples unlearn unhealthy patterns and gain modern relationship skills.
Alyson Schafer– Alyson Schafer is a family counselor, TV personality, columnist, spokesperson, educator, and consultant. She is one of Canada's most notable parenting experts.
Download the podcast episode transcripts HERE
Don't forget to Rate & Review the podcast!
We'd love to hear your thoughts on the podcast! If you could take a moment to Rate & Review the No Guilt Mom Podcast on Apple here we'd be so grateful! Need a little extra support? Here's a "How to" video on How to leave us a podcast review
Check out our latest podcast episodes:
Title:
Podcast Episode 86: Parenting on the Same Page with Amy McCready
Mentions:
different parenting styles ruining marriage, fighting with husband over parenting, how to stop my partner from undermining me, parenting, what to do when you and your parenting partner have different parenting styles
Keywords:
Parenting on the Same Page
Last Updated:
October 2, 2023