Podcast Episode 85: It's Not Your Job to Entertain Your Kids!
Summer break is upon us and moms everywhere are desperately coming up with summer schedules, driving from activity to activity and planning day after day in an attempt to keep their kids from getting bored. Then of course, the fighting starts.
Why do we as moms feel like it's our job to plan everything ALL THE TIME?
Honestly, so many of us moms set ourselves up for failure. We try so hard to keep everyone entertained so no one gets bored. Why do we feel compelled to control the situation instead of letting it be and letting our kids experience boredom?
But science says that boredom is actually really good for them! We give you 5 science-backed reasons why it's not your job to entertain the kids and it's actually good for them to be bored!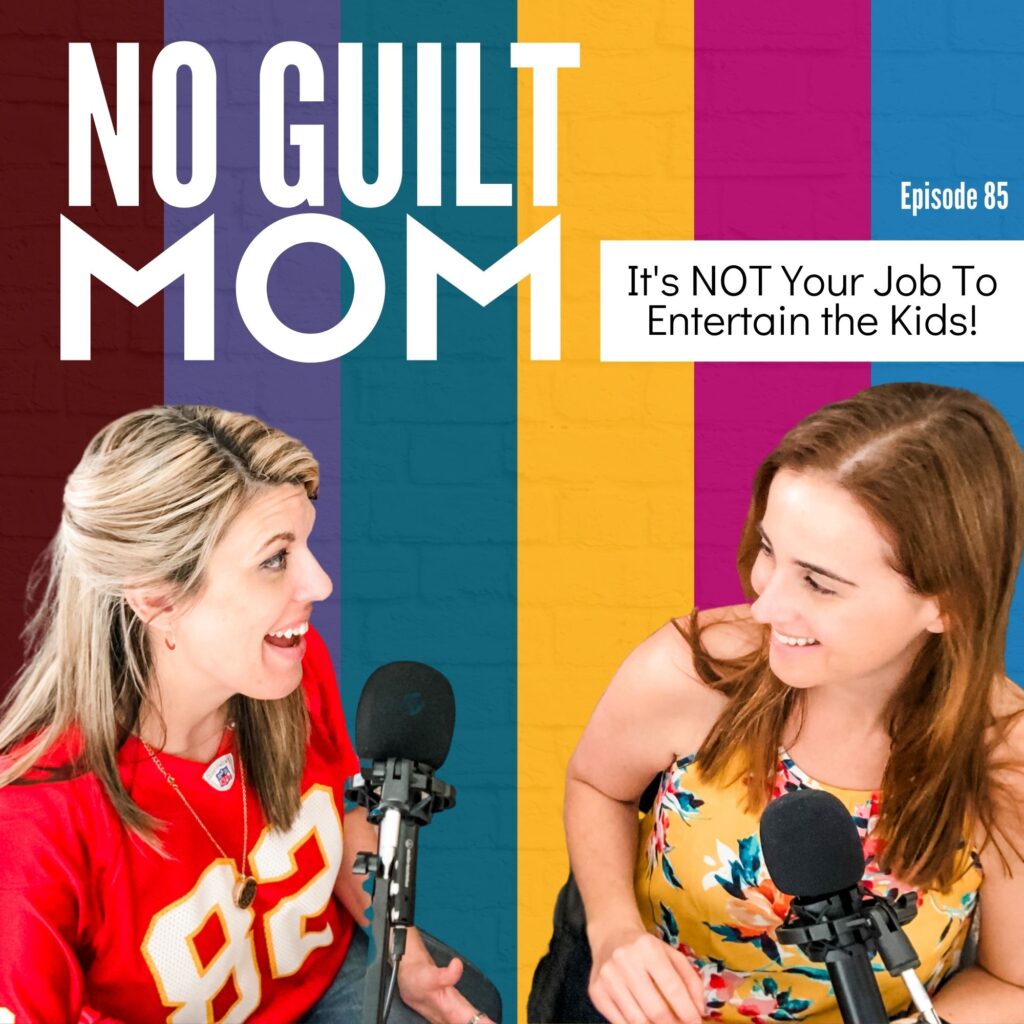 In this episode of the No Guilt Mom podcast you'll learn:
How boredom can improve our mental health
How boredom can actually increase creativity
How boredom motivates the pursuit of new goals
Resources we shared in this episode:
Happy Parent Checklist – This FREE checklist gives you the step-by-step plan to delegate more to your family, feel less overwhelmed and connect in a positive way!
5 Benefits of Boredom an article from Psychology Today
No Guilt Mom Podcast Episode #5: How to be happy with your family budget with Nicole Rule
No Guilt Mom Podcast Episode #21: Is busy a bad word with Alex Soojung-Kim Pang PhD

Rest: Why You Get More Done When You Work Less by Alex Soojung-Kim Pang PhD
Download the episode transcripts HERE
No Guilt Mom YouTube Channel Check us out and subscribe to be notified every time we have new videos added for parents and kids!
Don't forget to Rate & Review the podcast!
We'd love to hear your thoughts on the podcast! If you could take a moment to Rate & Review the No Guilt Mom Podcast on Apple here we'd be so grateful!
Check out our latest podcast episodes:
Title:
Podcast Episode 85: It's Not Your Job to Entertain Your Kids!
Mentions:
boredom, entertaining kids over summer, kids, summer break, summer break boredom, summer time boredom
Keywords:
boredom and kids
Last Updated:
October 2, 2023