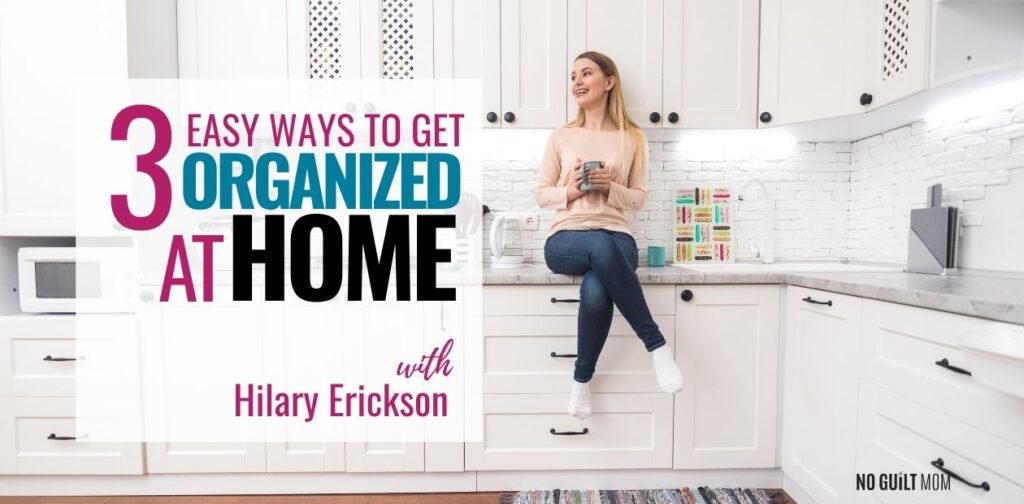 I will be 100% honest right now- organizing is not really my jam.

Don't get me wrong, I would love for it to be, but like many things, it's something that I start out strong in and then over time, tend to kind of lose all steam for.
As a result, I often look at my house,
and the clutter,
the mess,
and the general disorganization of it all it just feels so massively overwhelming, that I just want to crawl back into bed and turn on Netflix to escape adulting.
For those of you who are like me, you will want to keep reading (and listening).
Today we welcome Hilary Erickson who is The Pregnancy Nurse and the curly head behind the website Pulling Curls and creator of courses that simplify family life. She's a mom to 3 kids, 21, 16, and 11, and specializes in all things pregnancy and organization!
READ: Stay Organized: The One Thing You Must Do to Keep a Space Clutter-free
She shares with us her 3 easy ways to get organized at home that even I can handle without running for my bed! We'll talk about prioritizing rooms by "zones", the magic way to quickly organize a drawer, the importance of picking a corner, and giving yourself props for a job well done.
Resources We Shared:
Pulling Curls Podcast: The Covid Vaccine & My Experience in the Study – Bonus Episode #3
Download the Transcripts HERE
The best mom is a happy mom. To better take care of you, download our No Guilt Mom mindset here . These reminders will help you second guess less, and feel more confidence every day in your parenting.