Podcast Episode 113: 3 things you can do to raise emotionally strong kids
It's been a tough past 2 years with the pandemic. And a recent TODAY Parents image post shared a hard truth. If your kids are in 2nd grade or lower, they've never had a "normal" school year.
Wow.
That means that helping our kids strengthen their emotional resilience is more essential than ever!
So it only makes sense that as parents, we need to help make our kids emotionally strong. Now there are TONS of things that you can do to do that, but we have narrowed it down to 3 simple things that you can start doing now that will give you huge returns on that investment!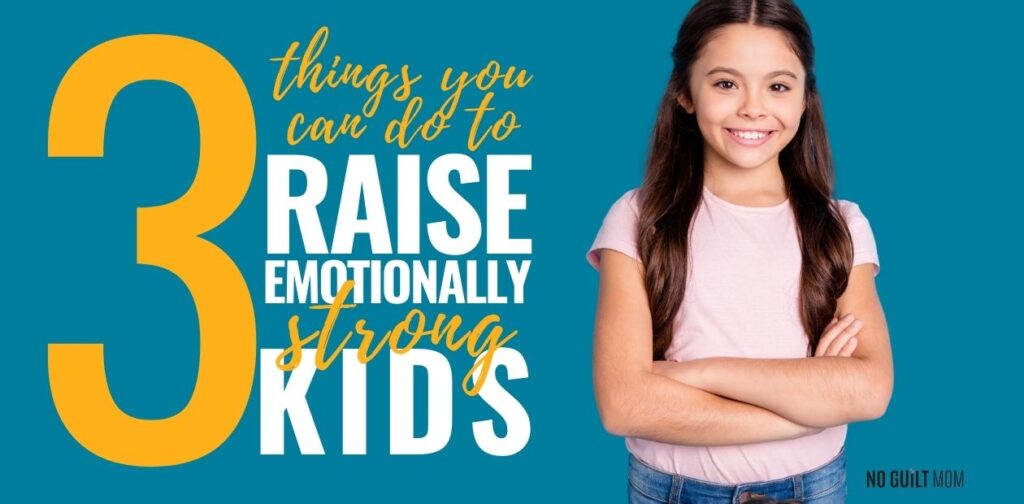 So here's our secret to raising emotionally strong kids:
1. Let Them Fail
First- you need to ditch the guilt about those failures! Embrace them! There are few things in life that can teach your kids how strong they actually are better than persevering through a failure.
I'll be 100% honest with you- problem-solving can be messy. And in some cases, it can take a while to find the right solution to the problem.
2. Let Them Practice Problem Solving
But it's that very process of practicing it that teaches your kids that they're strong and helps them build the skills they need to succeed and build that emotional resilience!
3. Teach them to Recognize their Feelings
This is an essential skill when teaching your kids how to build their emotional resistance in the face of challenges. Model for your kids by recognizing and acknowledging when you feel scared or frustrated and then teach your kids how they can recognize their own feelings. By modeling and actively teaching your kids about emotions, they will be able to work through them and understand that these hard emotions don't last forever or mean that you can't ever do something.
Listen to the No Guilt Mom Podcast every Tuesday where we'll tackle strategies for positive discipline, making our kids more responsible, and making our lives better in the process.
Resources We Shared:
Cozi Family Organizer App FREE Family Organization App that includes customizable calendars, shopping lists, dinner recipes, and MORE!
Calm & Happy Parenting Time to get your kids to listen and help out more without the fighting! This is your complete solution to shift the responsibility of "doing everything for everyone" to your family and to give you the kind of relationship you want with your kids and the entire family!
Ashton Kutcher Gets Heckled By Sports Fans for His Family's Bathing Habits
HOW OFTEN DO CHILDREN NEED TO TAKE A BATH?
No Guilt Mom Podcast Ep 056: How to Raise a Thriver with Michele Borba
No Guilt Mom Podcast Ep 13: The Gift of Failure with Jessica Lahey
No Guilt Mom Podcast Ep102: You Don't Need to be Supermom with Jen Riday, PhD
No Guilt Mom Podcast Ep 106: The Most Important Thing You Can Do To Stop The Meltdowns with Marcelle Waldman
The best mom is a happy mom. To better take care of you, download our No Guilt Mom mindset here . These reminders will help you second guess less, and feel more confidence every day in your parenting.
Title:
Podcast Episode 113: 3 things you can do to raise emotionally strong kids
Mentions:
raise emotionally strong kids, Raising strong kids
Keywords:
raise emotionally strong kids
Last Updated:
December 12, 2022