I was given free product to host a #Disneyside @Home Celebration. All opinions are my own.
I have these idealistic fantasies of bonding time activities with my six-year-old daughter. So when our Disney @home celebration box arrived and she pleaded with me, "Mama, wait until I get back from dance class to open it!"

I thought, this is it! We can plan a party together! We scheduled our party for the day before Valentines Day. My parents were in town spending the night and we invited my in-laws over as well for a fun multi-generational celebration. Llama and I chose Disney inspired recipes from her Disney Princess cookbook. On the day of the party, I was all ready to dive into cooking: "Ok, Llama. Let's measure out the garlic. Can you hand me that spoon?" "Mama, can I go play with my dolls?" "But, you wanted to make this recipe. Let's get ready for the party" "But, I don't want to do that now. I want to play with my dolls." Figurines of Belle and Rapunzel won out over making Belle and Rapunzel themed food. So I made the food. After a little bit of doll play, she did take over the decorating. From Mickeys hanging from the shutters..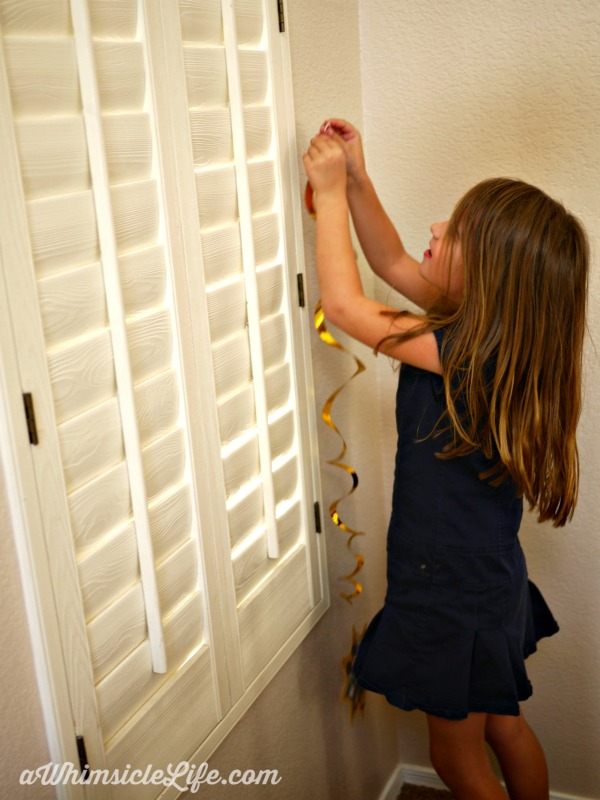 To Mickeys hanging from the ceiling.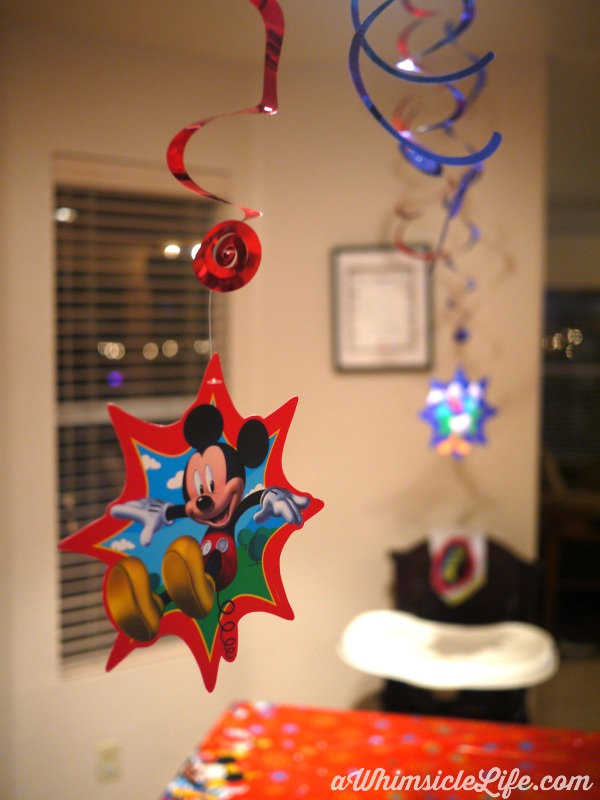 We received a Tie Dye Cake mix in our home celebration box that was very easy to create! I simply made the mix, divided it equally among six bowls and then colored the bowls according to instructions.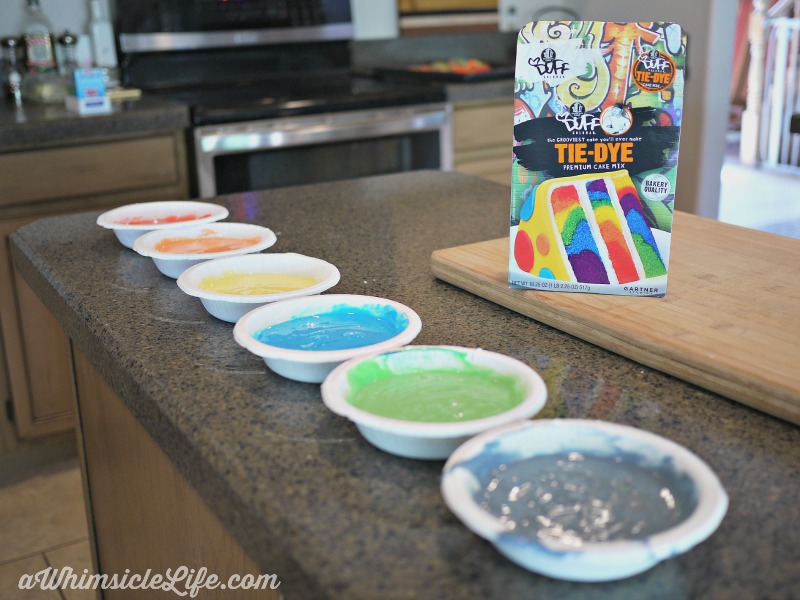 I layered the colors in this amazing Mickey Mouse mold
But when I removed it from the pan, it looked like this: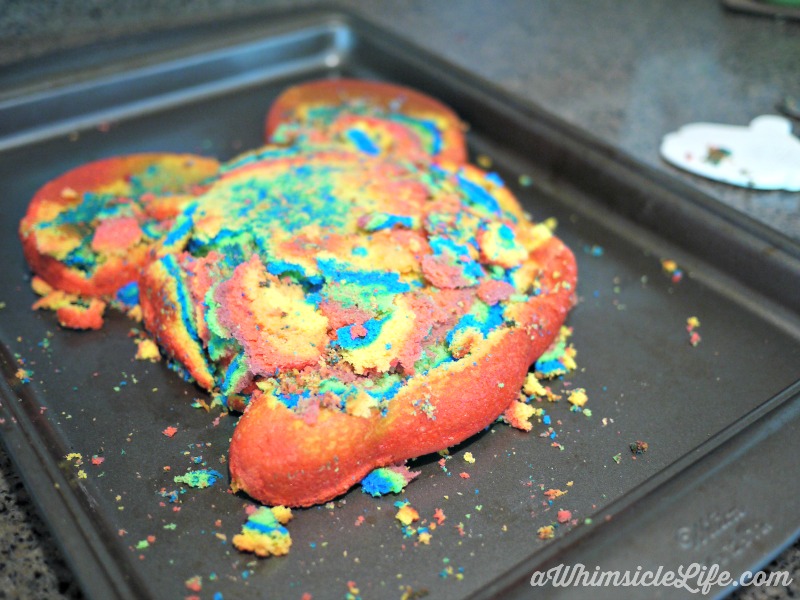 Clearly, I am not the cake boss! Thankfully, my mom saved the day. She sliced the cake into pieces and packed it into a square glass serving dish. I frosted it with my go-to amazing cream cheese frosting. We then placed a foil Mickey Mouse head cutout on top and had Llama attack it with sprinkles.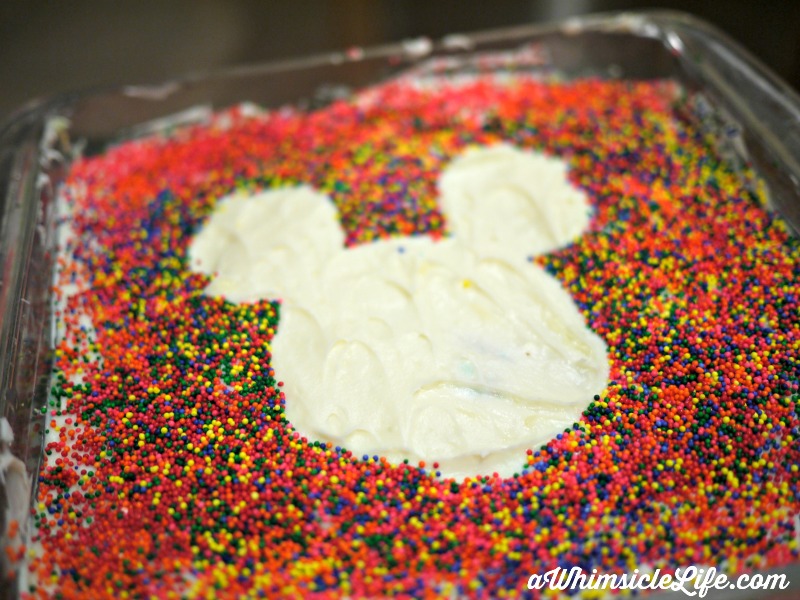 It was a work of art on the top and in the middle.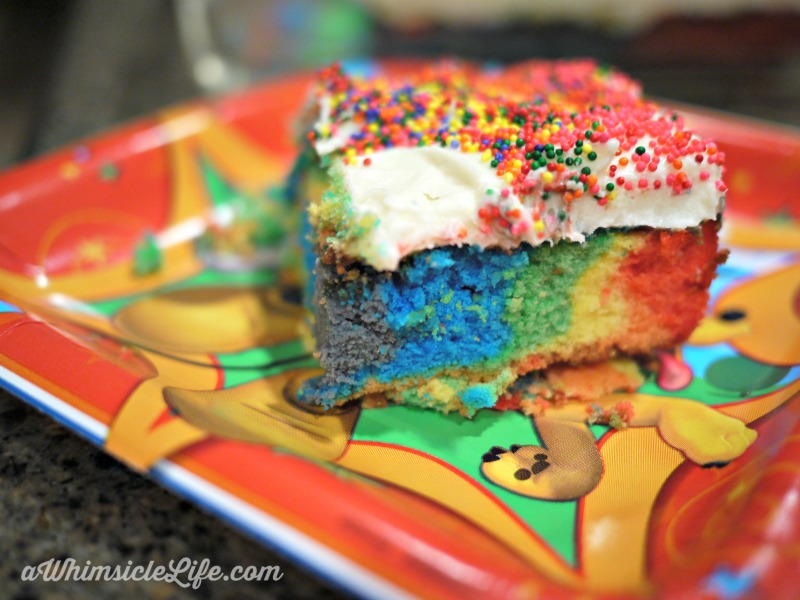 The rest of the menu for our celebration, chosen by Llama and made by me (sigh), follows.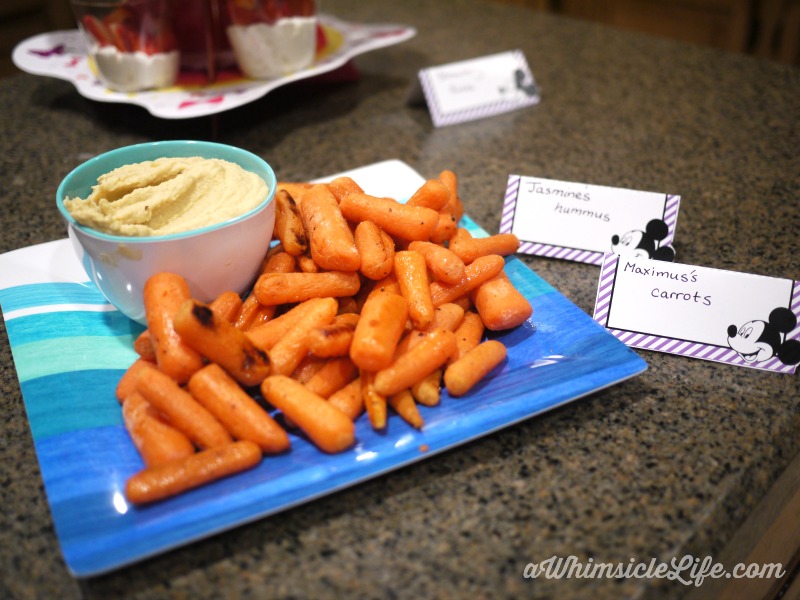 These were simply carrots roasted with a little bit of olive oil, kosher salt and pepper. The hummus was very simple as well!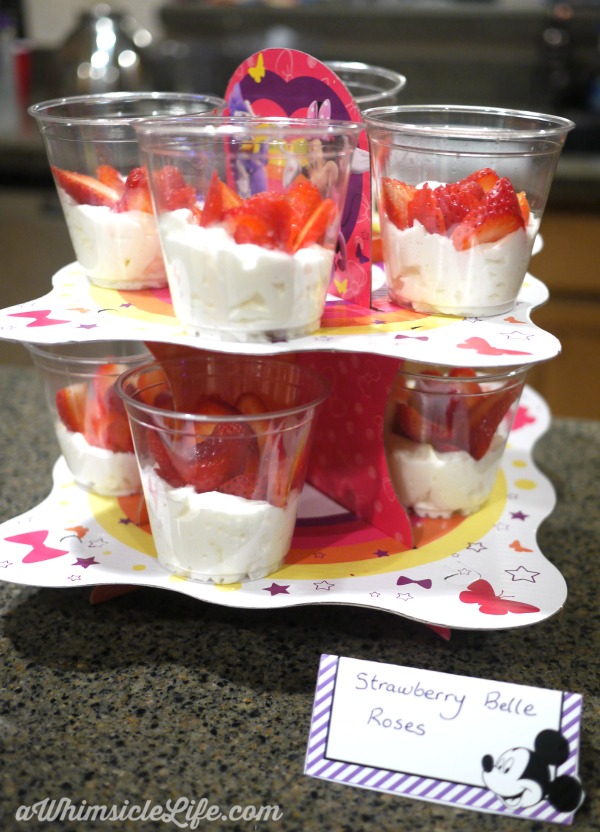 I made Belle's Strawberry roses by cutting two strawberries: one sliced like a flower around the center and the other into slices to use as petals. The berries rested on little pillows of whipped cream. Since we already had a dessert, I called this course our "salad". Mmmm.. if only every salad could include whipped cream.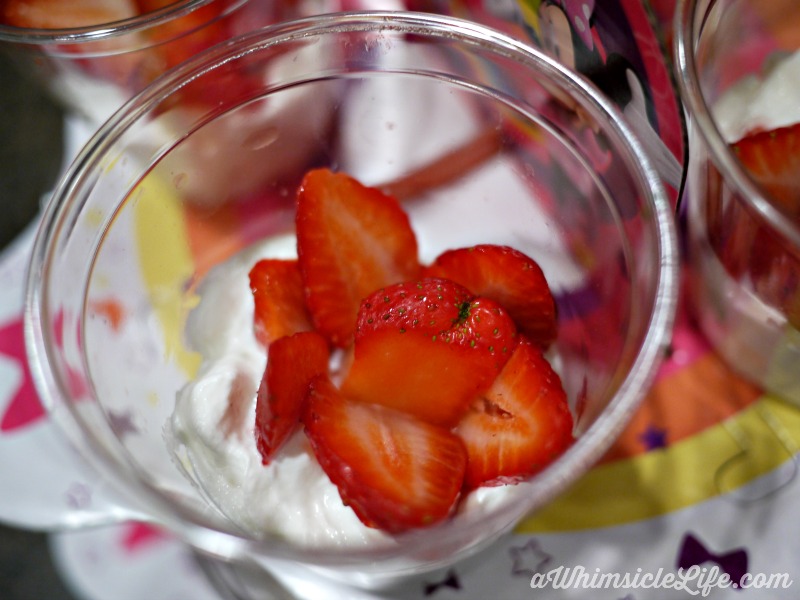 For our main course, I made an easy whole wheat pizza crust. Llama then helped me layer on the sauce, cheese and arranged the pepperoni to form a bulls-eye a la Merida from Brave.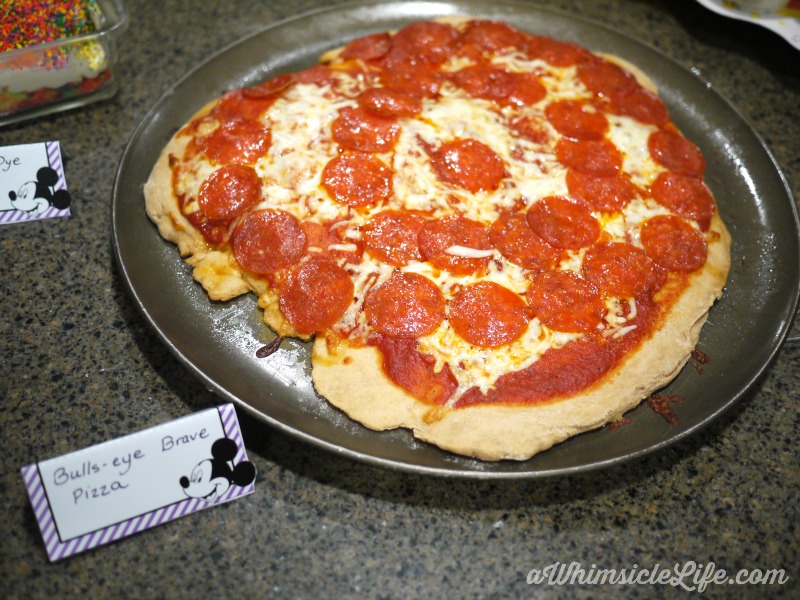 After the meal, Llama created a family tree with a little help from her Grandparents.
Dude wanted to help and became very sassy when we tried to take away his glue stick.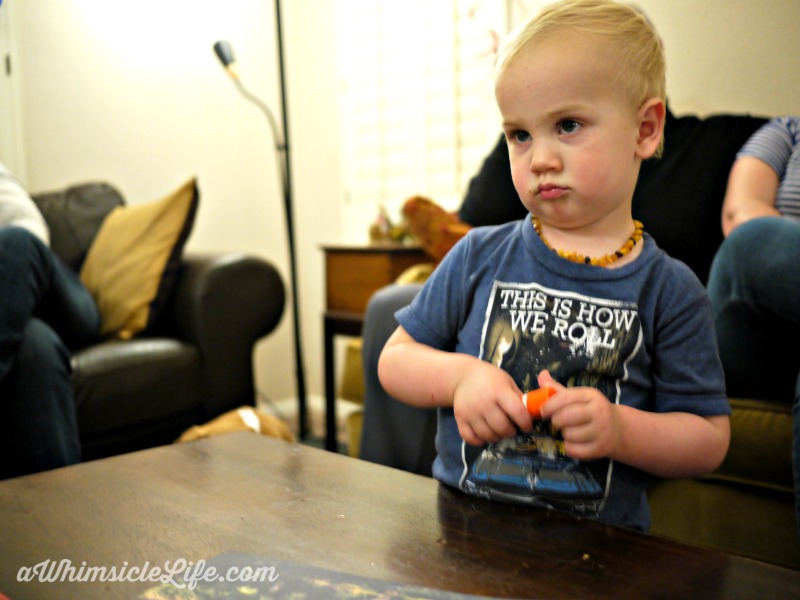 We then played a few Disney themed games. Leading games is definitely Llama's forte. She took over calling items (with a little pronounciation help from me) when we played Disney Side Bingo. She also loved spinning her Daddy around for Pin the Smile on Mickey.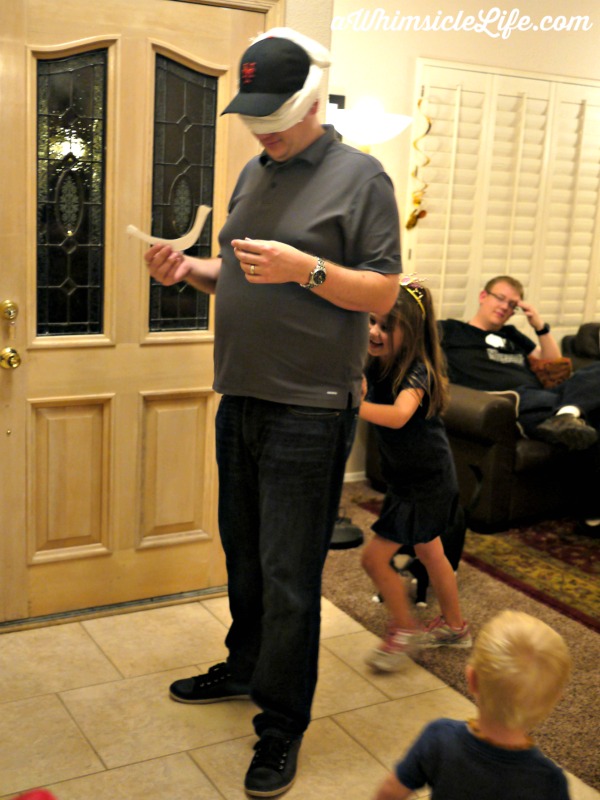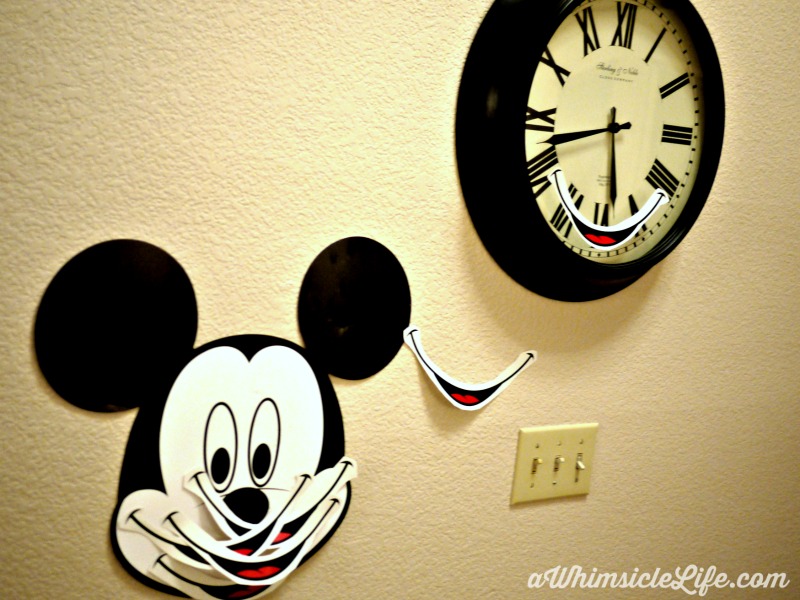 We liked the smile on the clock so much, we still haven't removed it.
Embracing our Disney side for the night was a lot of fun. I think even my husband – the self proclaimed non-Disney fan (I don't know how that happens) had fun. He even won our Disney Parks trivia game! I think he likes Disney a little more than he would like to admit. Llama and Dude both loved the party as well. Their joy helped me forget my small disappointment at my lost mommy-daughter bonding moment.
The night was filled with more than enough family bonding moments to make up for it.
If you would like to host your own #Disneyside celebration, find loads of ideas from recipes to activities here.