You're looking for fun, indoor birthday party idea but you want something beyond the typical. Why not throw a LEGO birthday party? Not only is it educational but it's super easy! Mainly, because of a company that will coordinate all the set-up, learning and clean up of supplies.
Play-well TEKnologies gave my Girl Scout troop a free LEGO brick engineering lesson in exchange for this blog post. All opinions are of course my own.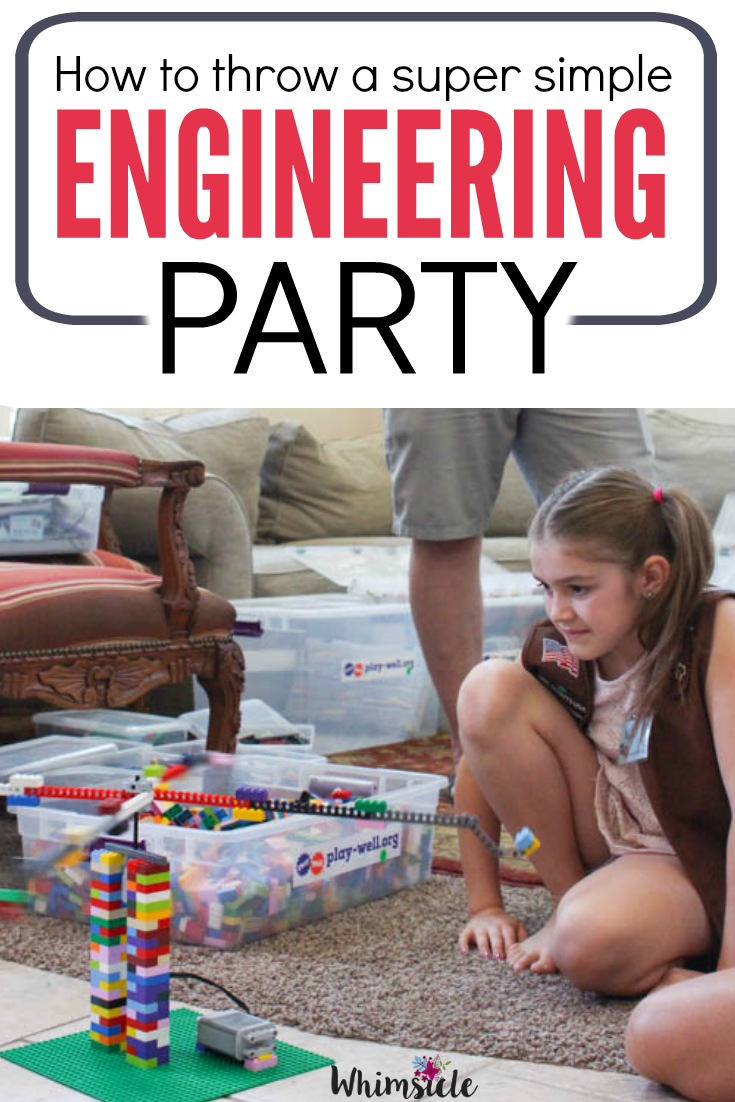 Did you play with LEGO bricks as a kid? I didn't. Put a pile of bricks in front of me and I still have no idea what to create – beside my favorite LEGO tower.
All those choices intimidate me! The possibilities for being wrong. The chances for failure. Are you like that too? Perhaps because you feel this way, you may not have encouraged your kids to free play with LEGO bricks – even though you know how good failure and creativity is?
Kids need more experience with challenge and creating solutions.
Girls in particular. When Play-Well offered to provide a LEGO engineering class for my Girl Scout troop, I jumped on it.
Party Setup
The only requirement from Play-Well was a clean, open space to work. Since we regularly have Girl Scout meetings in my living room, I thought, yes, perfect! We have it! C'mon over!
Our instructor, Jacob arrived about 30 minutes before the girls in our troop. I opened the door to see him pulling a dolly filled with four LARGE plastic boxes of supplies – wires, motors and a bazillion LEGOS.
And that was only half of it. He had to go back to his car for a second trip.
With no help from me, he set up the boxes along the perimeter of my living room.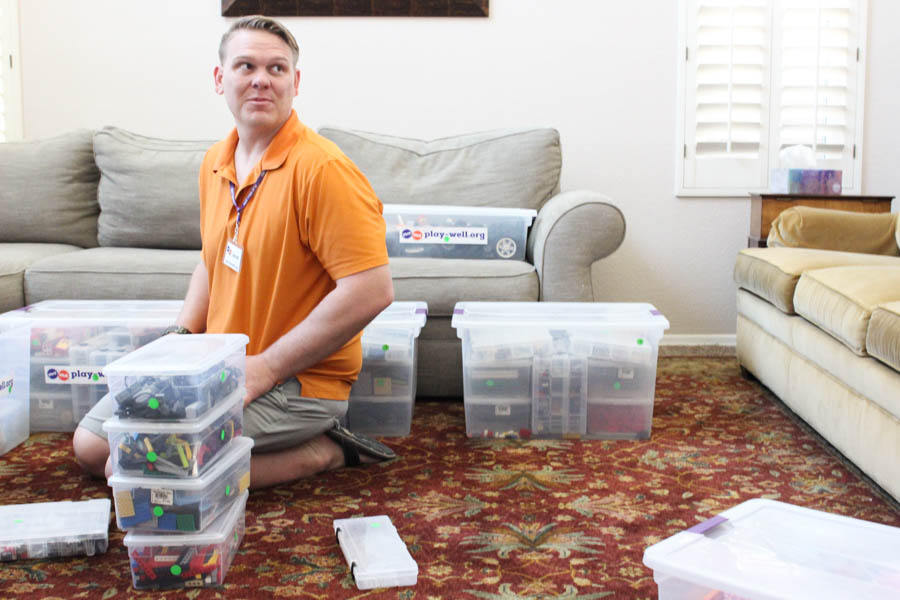 After that, he made name tags for all the girls.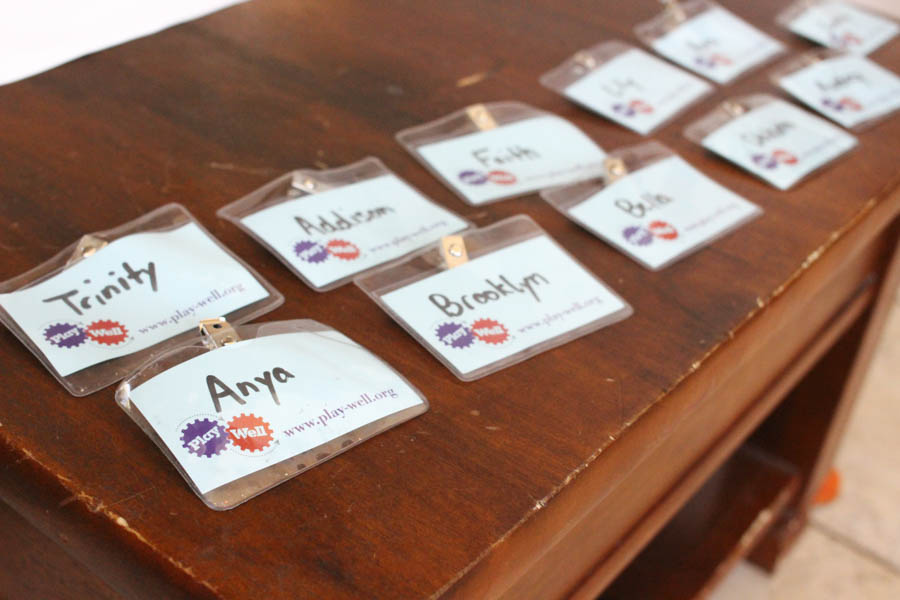 All he needed from me was a list of names. Seriously, this was the easiest Girl Scout meeting EVER.
Party Begins
As the girls arrived, Jacob introduced himself to each of them, handed over a name tag and gave each girl her own green LEGO square.
Every good teacher knows that the best way to manage a class is to give kids an assignment as soon as they walk in the door. Jacob did that. The practice assignment was to build something that one would find at a fair.
The girls dug into the boxes.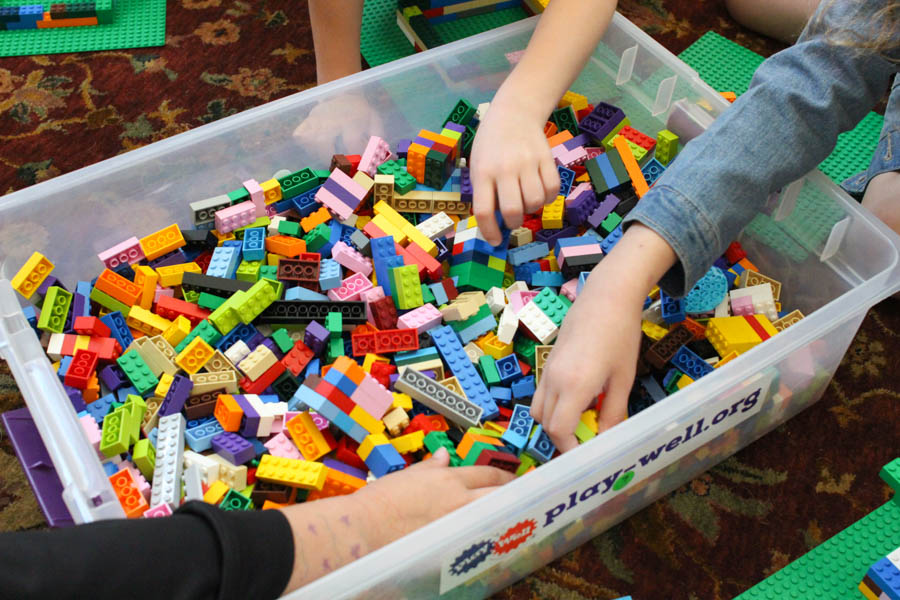 They created everything from slides…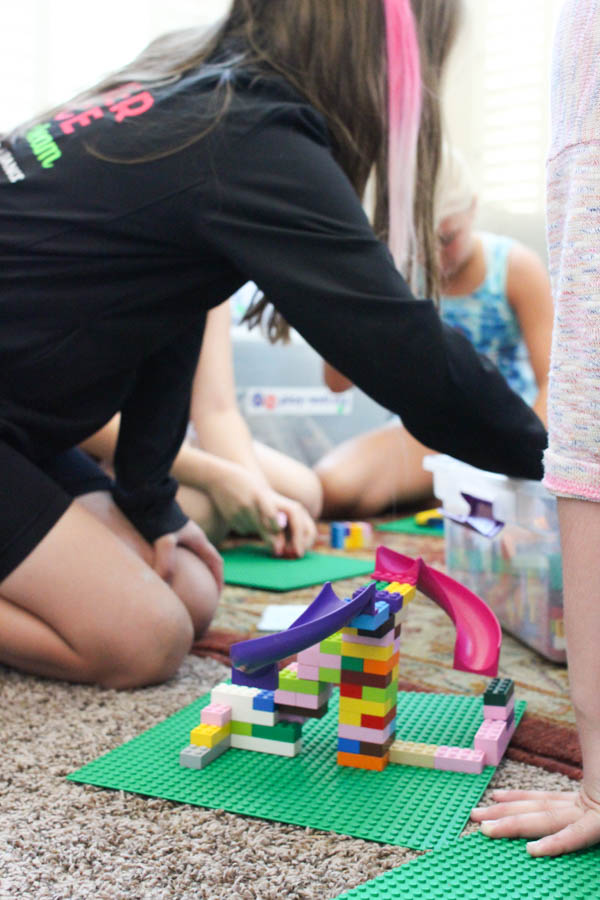 To other creative structures…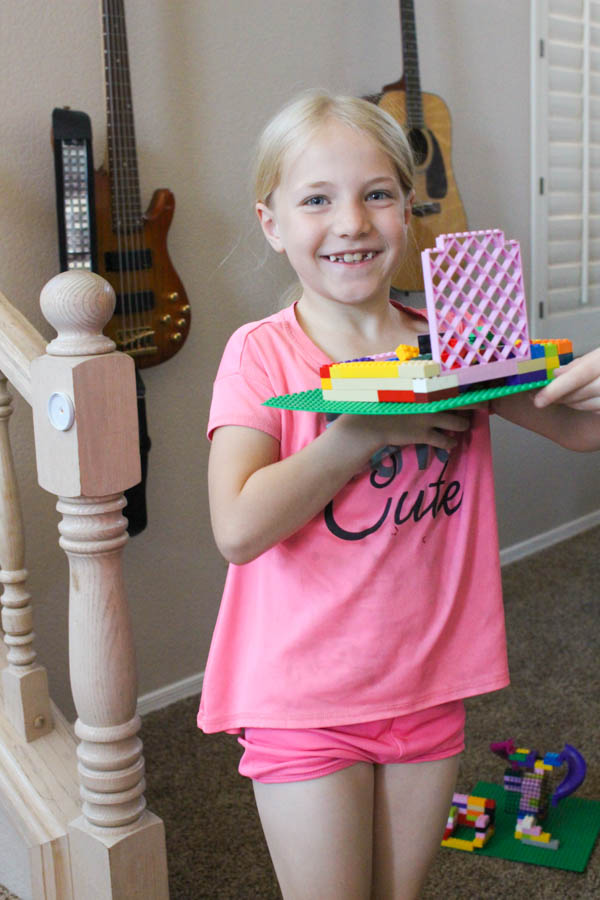 Nothing was right. Nothing was wrong. They simply got to explore.
After about ten minutes of free build, Jacob gathered them in a circle to announce the project.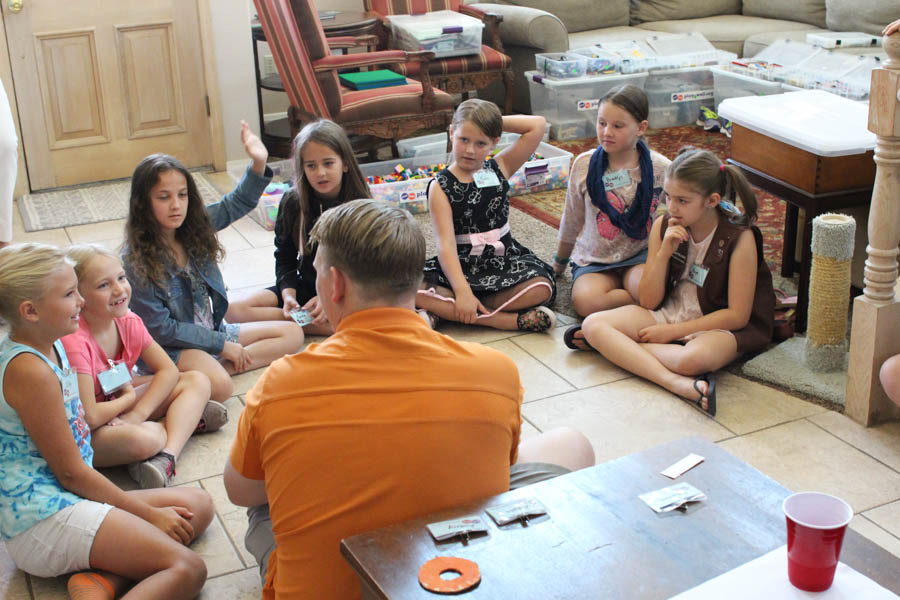 They would build a functioning Merry-Go-Round.
Jacob taught them how to set up their base, which pins to use to make sure their structure spin and also how to attach their motor. Yes, a motor! How awesome is that??!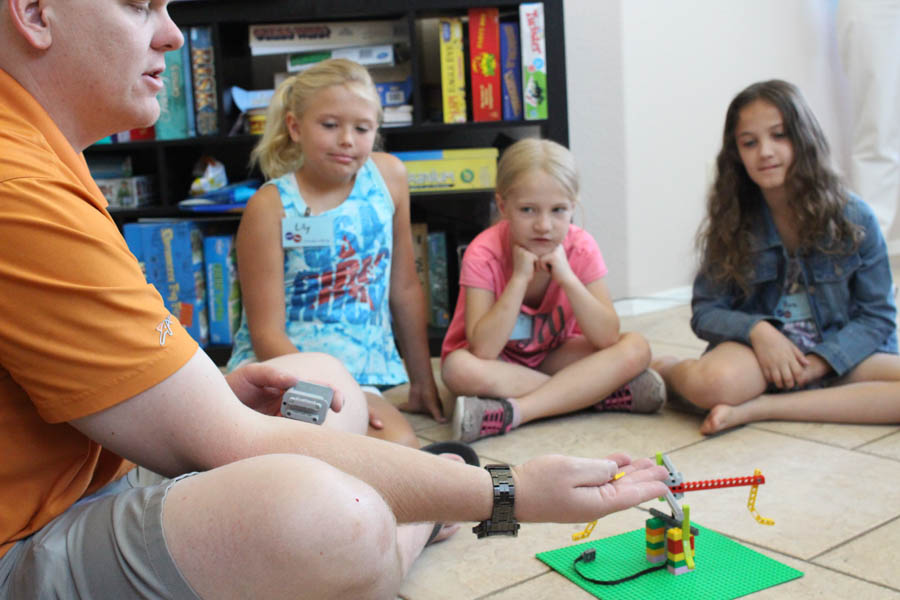 He left the design of the project completely up to the girls.
Understanding their jobs, the girls collected their supplies and got to work.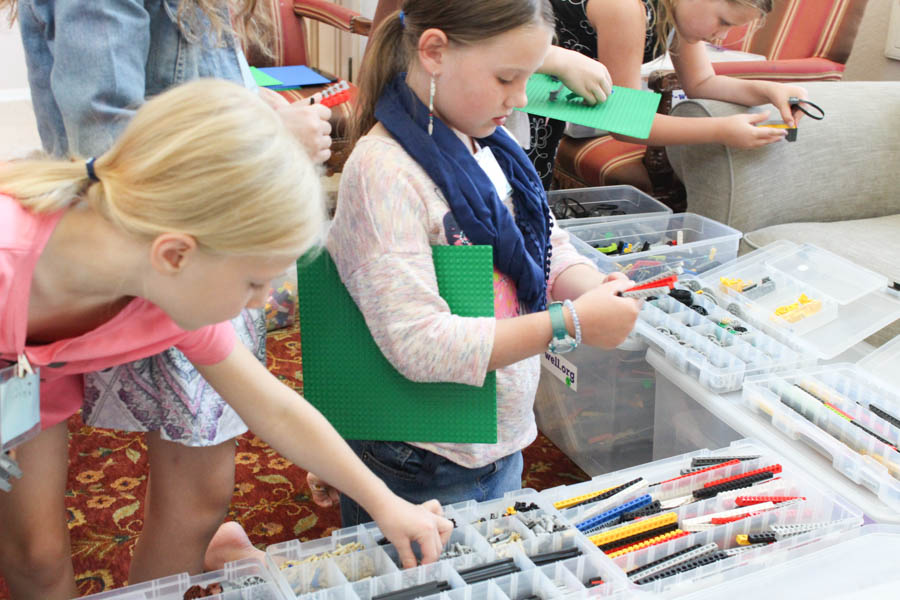 As a mom, I loved seeing the struggle that my troop endured while building their projects. In just one hour, they:
Overcame a Challenge
Experienced Failure
Engaged in Creative Thinking
Triumphed after struggle
The amount of focus and perseverance that I saw astounded me.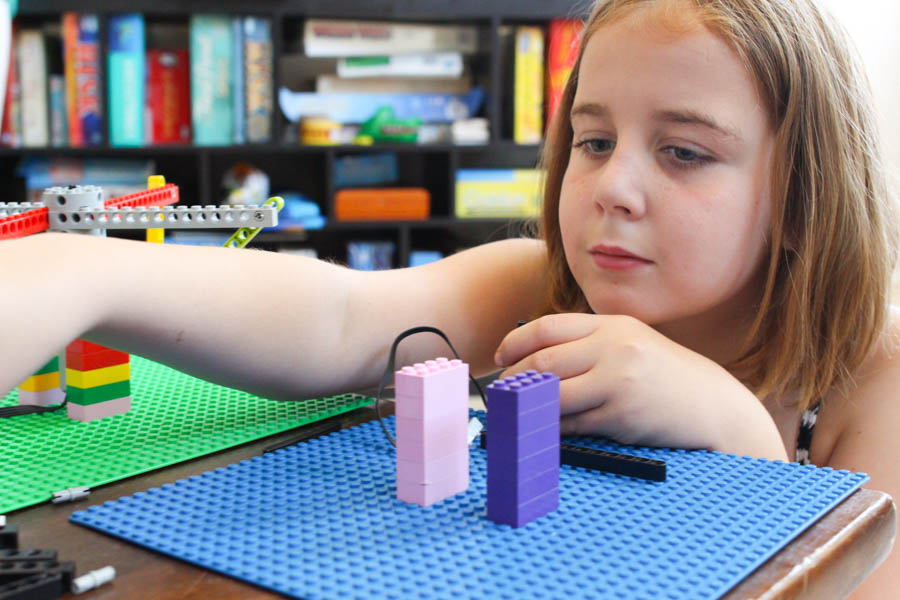 Some added on to their structures by lengthening the arms of their Merry-Go-Round – taking note of how it changed the rotation or made the base unstable.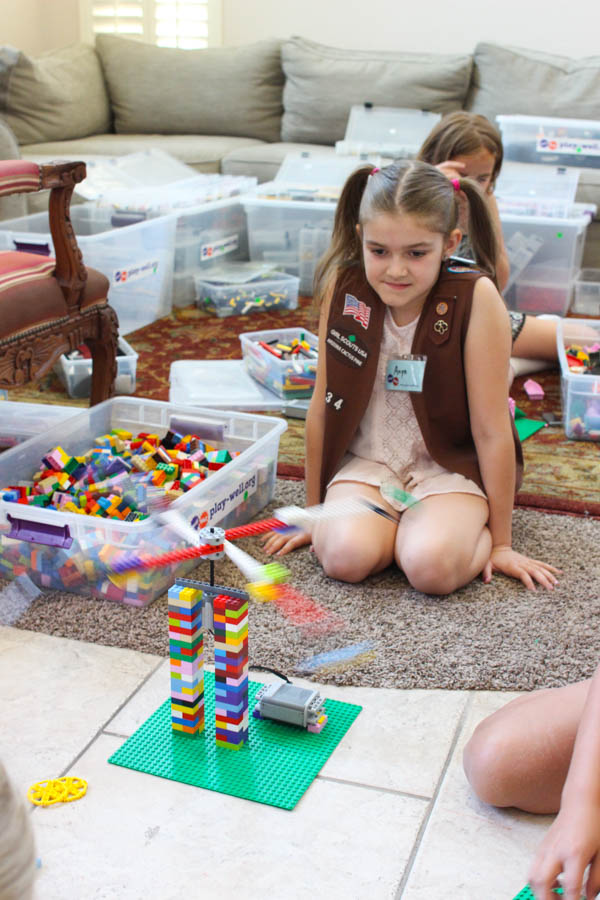 Some turned the concept into something completely new, like this windmill: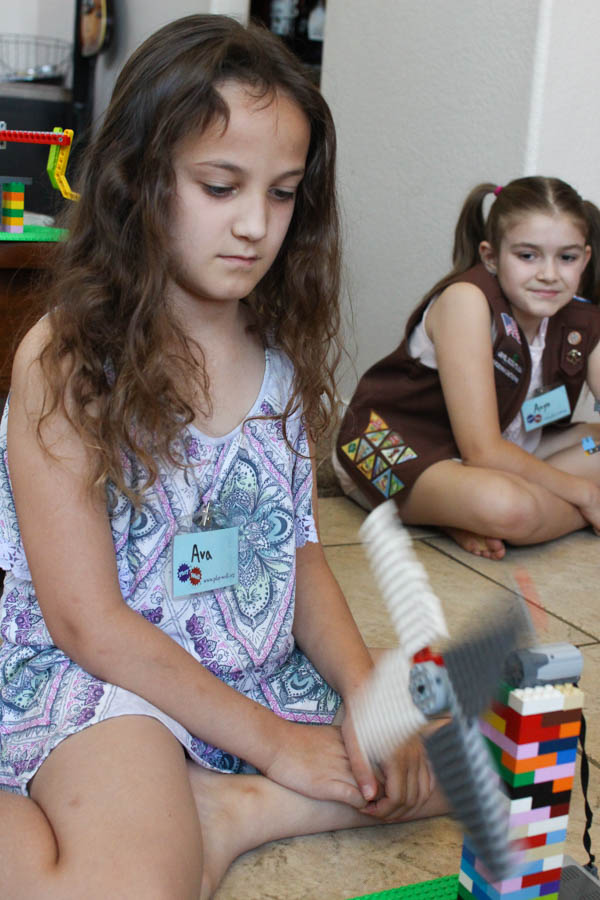 And did I mention how many times they overcame failure and bounced back?
Clean up
With hundreds of LEGO pieces scattered across my living room carpet, I feared clean up. However, Jacob managed it flawlessly. After each girl took apart her structure, he assigned each a job to collect a specific piece and put it back where it belonged.
Clean up happened within ten minutes – every piece perfectly organized and ready for Jacob to carry back to his car.
I didn't touch one LEGO.
What did the girls think?
All of them had a blast! The project also ignited the love engineering in a few. They wanted more. They loved building and working with motors – where else would they be able to get that experience?
Play-Well runs a number of summer and school programs. If this is something that you would like your kids to experience, I encourage you to check out their website HERE.
After a fun filled morning, Jacob packed up the boxes and dragged them out to his car. This party challenged my girl scout troop in ways they experienced both failure, but most importantly, how to persevere after a setback. An engineering party will be perfect for you and your kids if you desire a fun blend of education and entertainment.