Free.  Yes, I said free.  If you like free stuff, live in the Phoenix area or simply love ASU, you need this Sun Devil Rewards App in your life.
@SunDevilRewards provided me with compensation in exchange for this sponsored blog post. However, all the opinions expressed here are my own.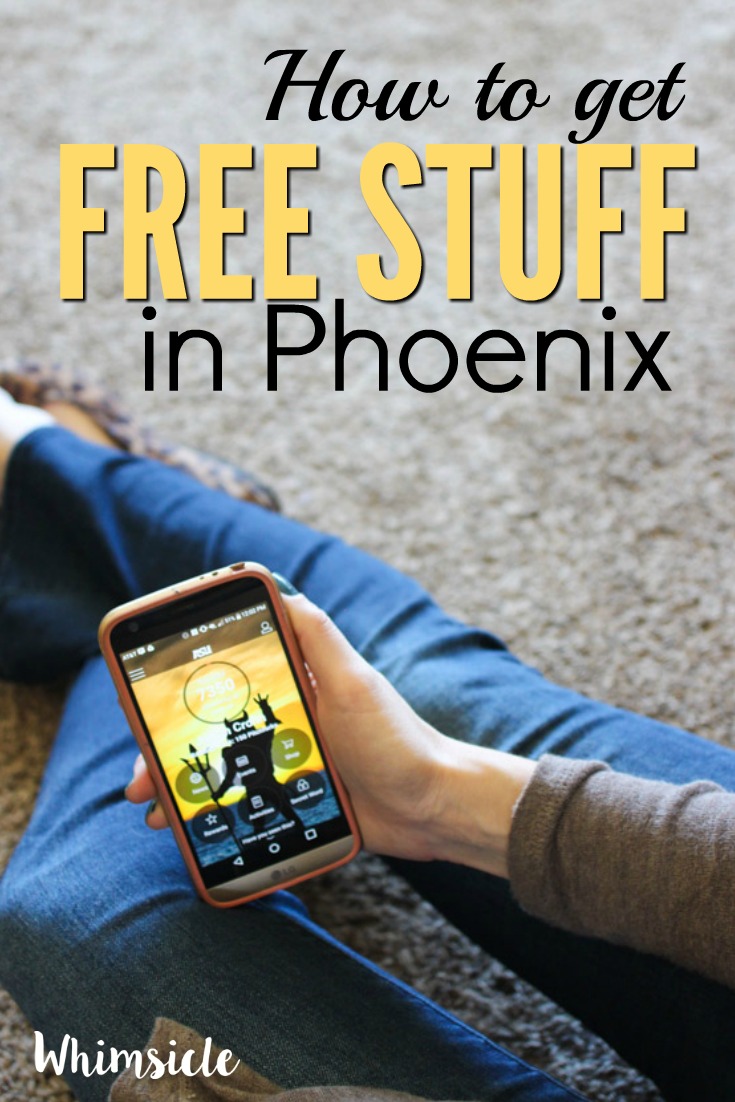 I have a confession to make.  It's something all my family knows and are secretly ashamed of.
I grew up in Tucson, AZ – home of the University of Arizona. BUT… I went to ASU!  U of A's main rival.
And I LOVED it! Fork 'em Devils!!
I completed both my undergrad and master's degree at ASU.  You can say my education bleeds maroon and gold.
So when the opportunity came to partner with ASU on this post, you better believe I snatched it up.
Here's the good news for you:
You don't have to be an ASU alum to earn free rewards from the Sun Devil Rewards app.    First, download the app right here and I'll walk you through it…
What is it?
The Sun Devil Rewards App connects you to everything ASU.  It keeps you up to date on the latest research, gets you insider info on the upcoming Broadway shows coming to Gammage, and also the free events that ASU holds for families.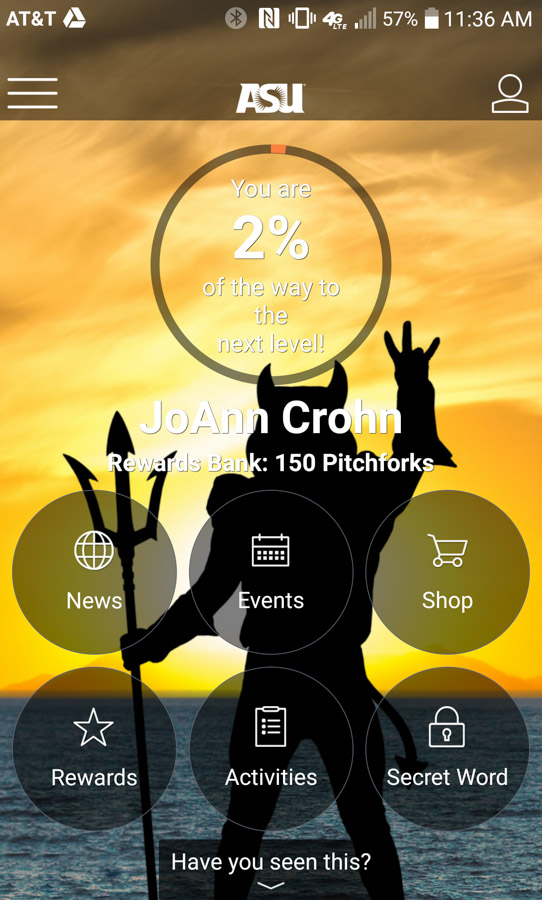 We went to one of the free events recently called Night of the Open Door.
Every college opened its doors to host free science demonstrations, art projects, and free concerts.
My eight-old-daughter ate it up.  We hadn't even stepped off-campus when she asked to come back next year.
What kind of rewards can you earn?
I'm not a fan of stuff.  So, I admit when you say rewards I think.. "Oh no, more items I need to somehow find a place for."
Those aren't the rewards at all. Check out just three of the selections: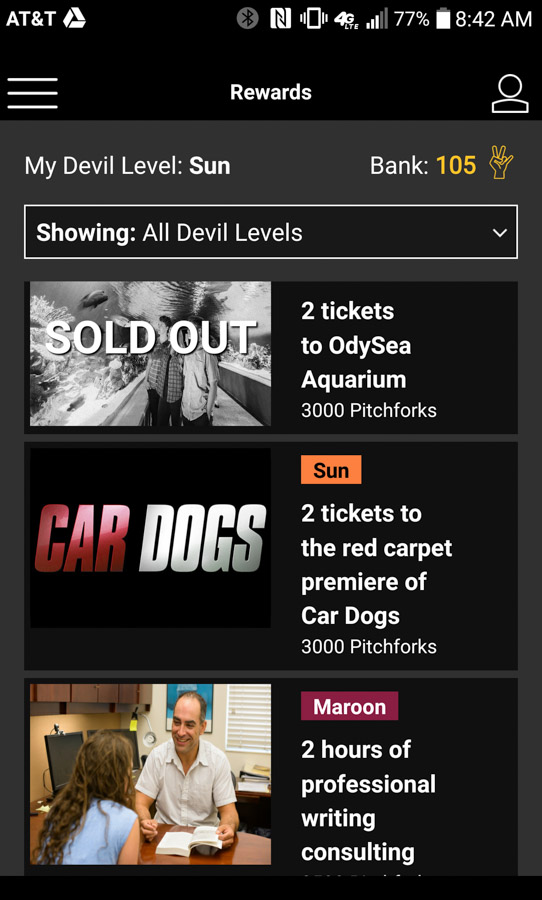 Odysea!  Professional writing consulting!  Yes, and yes!
Ok, how do I earn these rewards?
Easy.  You accumulate pitchforks.
Simply open the app, click on the activities section and work your way down the list.
You might be asked to complete a survey, tweet a piece of interesting ASU news or answer ASU trivia questions.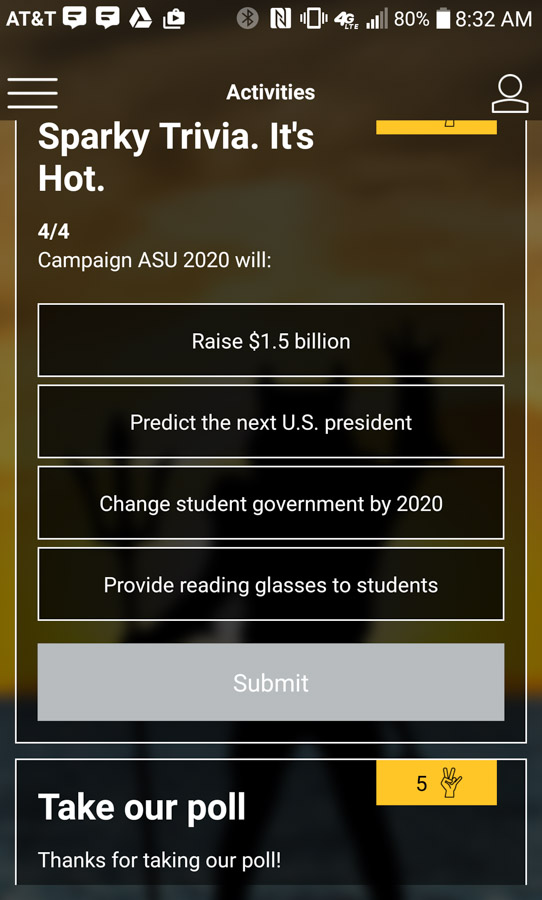 Also, keep your eye out for secret words.  These are words that earn you extra pitchforks in the app.
I have a secret word for you!  It will earn you 400 (!) pitchforks but you have to use it fast!  It expires on March 16th.
Open your Sun Devil Rewards App (you have downloaded it right?), and tap "secret word" in the bottom right corner.  Enter the phrase LOVEGOLD .
Easy, right?
When do I qualify for a reward?
You just did!  You received 50 points for registering the app, 50 points for connecting your social accounts and now since you have a secret word, you are at 500!  You can now redeem a reward.
Currently, prizes at the 500 level are autographed cast posters of a recent Gammage musical and ASU swag. Go get your prize!
If you want to keep your connection to ASU strong or simply want to earn free rewards in Phoenix, the ASU Sun Devil Rewards App is a must-have.  I'm logging on each day to rack up the points.
There are rumors that backstage passes to Gammage shows appear on the app.  When that shows up, I want the pitchforks to redeem.
Go download the app here and then tell me: What reward are you working towards on the Sun Devil Rewards App?  Comment below!