This is a sponsored post written by me on behalf of CORT. All opinions are 100% mine.
When you need new furniture, do you panic? You want a great deal but you also want a piece that's high quality. Where do you usually go? Let me tell you… I've discovered a hidden find for affordable furniture that's also high-quality.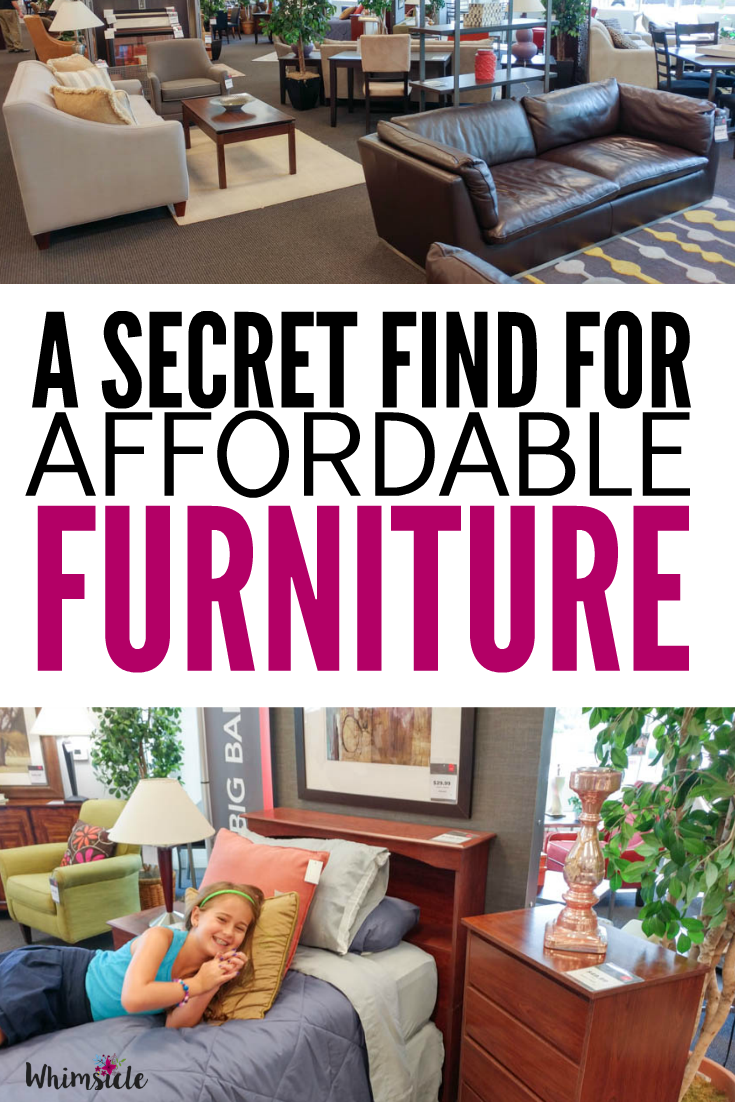 My daughter needs a new bed. You see… she sleeps on the floor.
Ok, not exactly, there is a mattress there. But it's on top of raised bed slates. My husband built her this amazing bunk bed when she was 4-years-old. When we moved into our new house, she decided she didn't want to climb a ladder every night at bedtime, so she decided not to assemble it as a bunk bed again.
She's ready to grow up a little and have a bed that's off the floor. Now that she's revamped her wardrobe, it's time to shop!
I want a bed for her that will stay with her all through her teenage years and still fit her age.
When CORT Clearance Centers asked me to write a post, I thought… perfect timing! I piled my daughter into the car and we drove to check out what they had.
When we entered the showroom, dozens of bedroom sets, living room sets and dining rooms spread across the sales floor. The furniture was all high-quality and gorgeous… so much more than I would expect from a store with discount furniture. So, I wondered…
Where does the furniture come from?
Have you walked into a model home and loved the furniture? When my brother and sister-in-law were building their current house, we toured a model of their home. This model had the most amazing furnishings!
CORT clearance center adds to it's inventory from these model homes as well as corporate apartments. Ever time a shipment comes in, the CORT clearance center manager inspects each piece and decides whether or not to accept it. Plus, every single piece is CORT Certified – meaning that CORT will repair or replace any piece found defective within 90 days of purchase.
How much does it cost?
Since all the pieces are lightly used, you get beautiful furniture at a large discount. My daughter found this twin bed that she loved!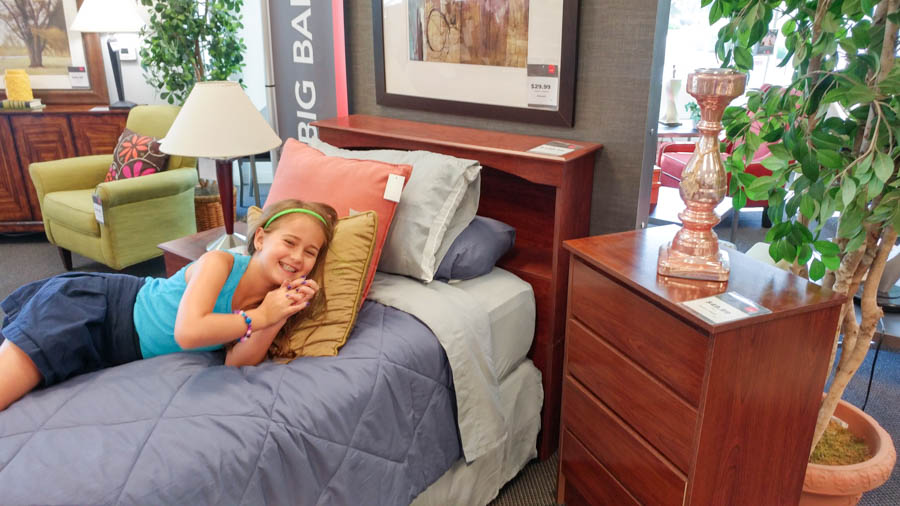 We have not gone back to purchase it yet, but she keeps asking me everyday when she can buy it. I have to agree with her. It's an amazingly comfortable bed. Plus, look at this price tag: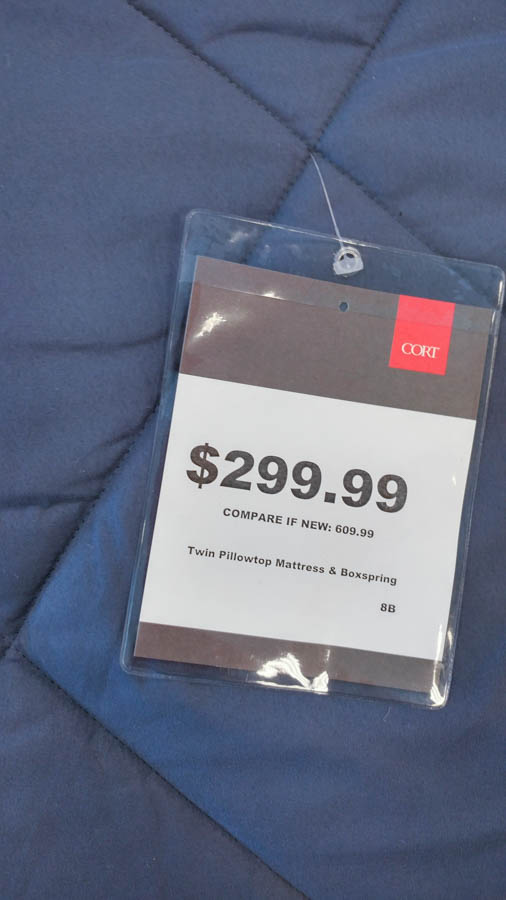 I also loved this chair! It's the perfect seat for reading and drinking coffee. Don't you think?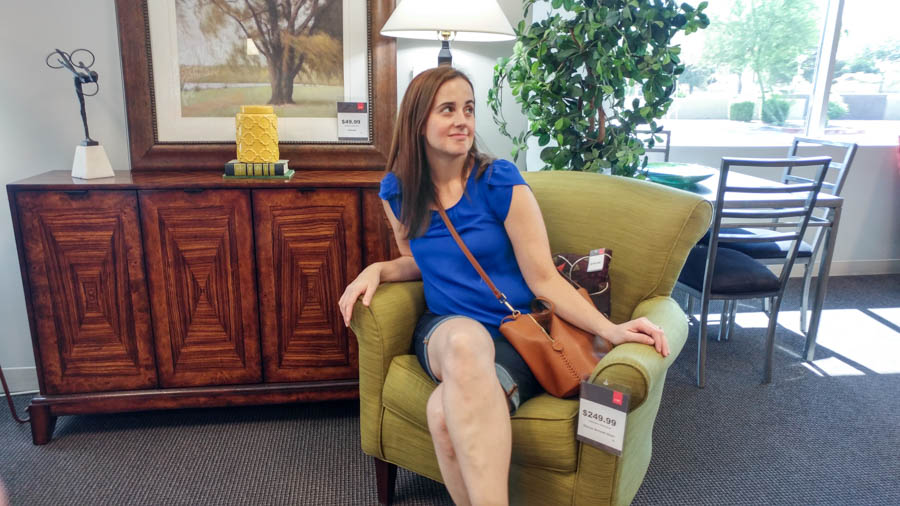 They also have sets of furniture available for even more of a discount. See the headboard, dresser and nightstand behind my daughter's favorite bed?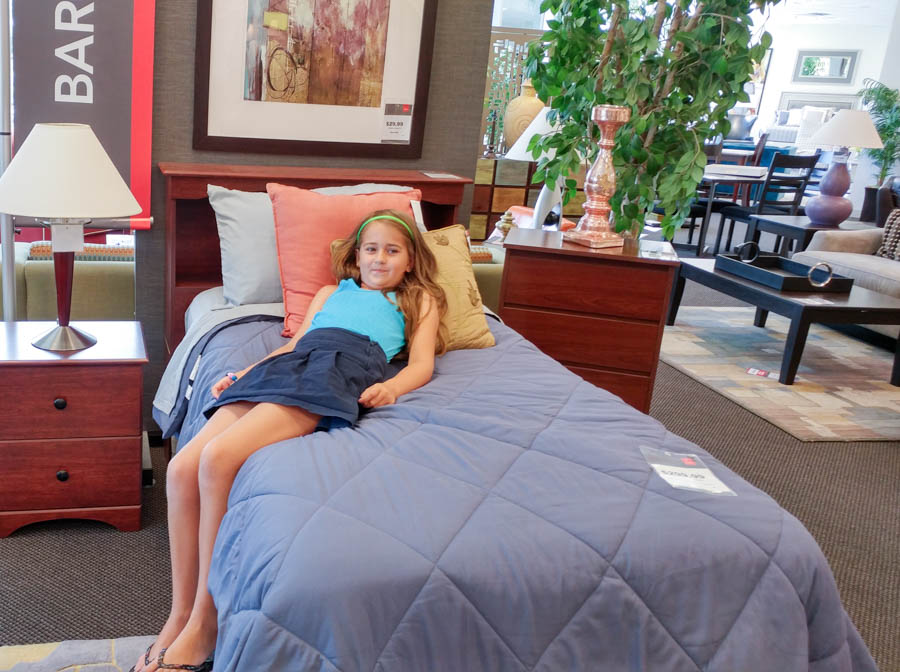 The entire set is $149. All those pieces!! Plus, CORT Clearance Center also has home-to-go packages at an even deeper discount.
UPDATE: We got her the bed and bedroom set!
What if I can't find anything I like?
CORT Clearance center constantly rotates it stock. Once items have been purchased, the manager and staff rotate new items in so that the sales floor is constantly changing. Plus, they have a huge inventory in their warehouse. I asked about different color headboards, so the manager arranged to show me the warehouse and see what they have in stock.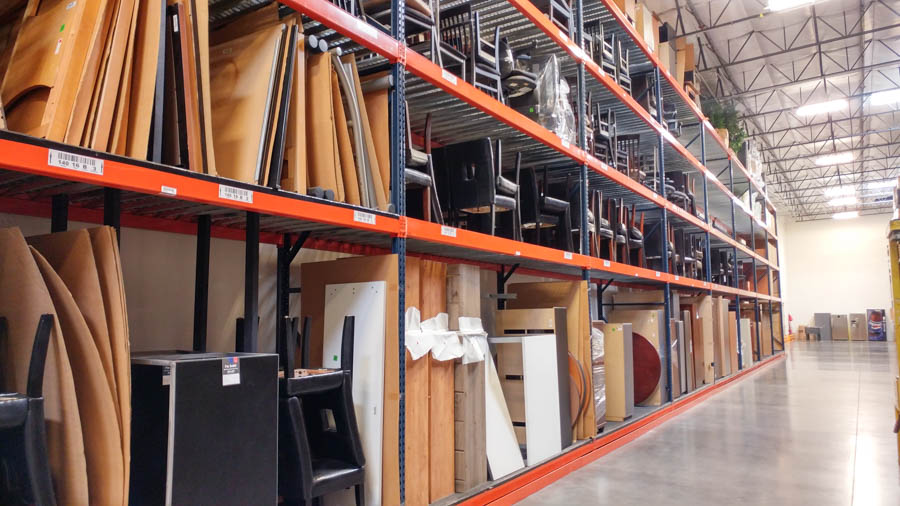 Obviously, they have a lot of stock to choose from.
Seriously, I'm telling all my friends about this place! They have such a large variety of furniture to choose from and the quality is like brand-spankin' new.
I wish my husband and I would haven known about CORT Clearance Center when we bought our house. We could have gotten the same quality furniture for a lot less money. Find your local clearance center and shop for some outstanding deals.