This is a sponsored post written on behalf of Bettercreme® Whipped Icing/Rich Products.  All opinions are mine alone.
Need a fun summer party idea? We did too! My son turned four this year. He loves Olaf and since he has a summer birthday, we hosted a Frozen Themed Summer Birthday party for him and his friends. Here is our complete party plan so you can host one of your own.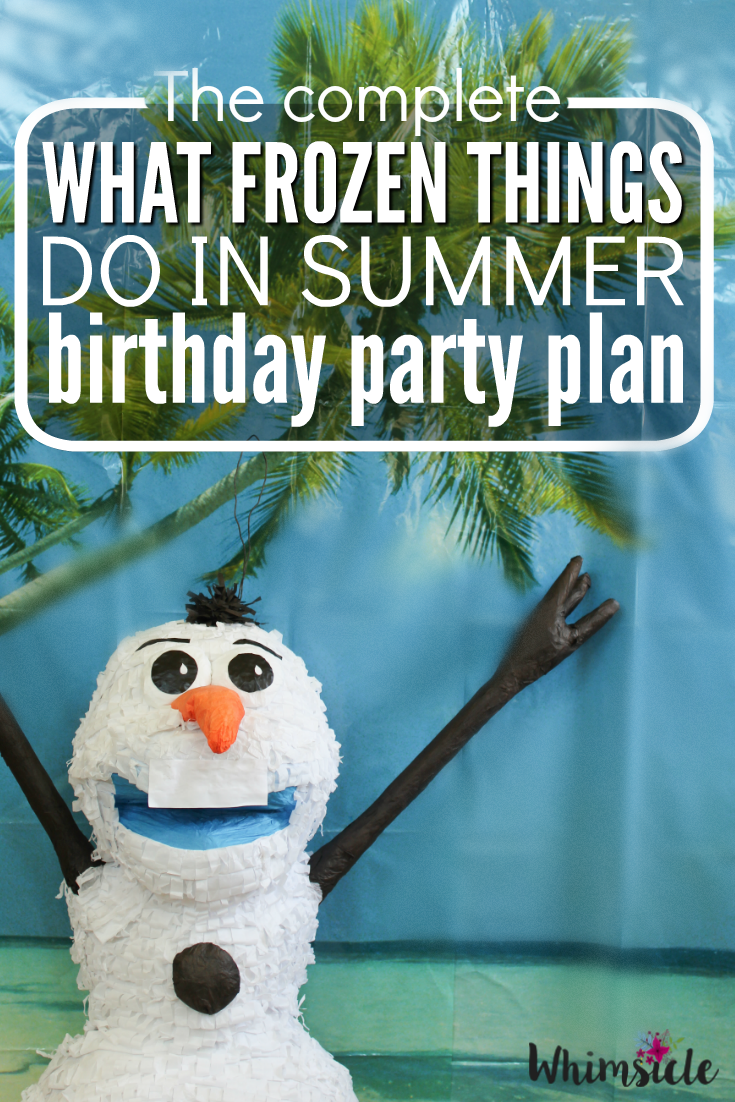 I am not one for Pinterest parties.
The planning and the stress… I'm much less particular and try to keep calm.
Until it comes to my son's birthday parties, and then apparently I'm all in. Bring on the theme! Let's create cute food dishes! Let's have creative favor cups.
But, since I am quite frugal and still shy away anything anxiety-inducing, I've found a few pretty easy ways to work around this.
First, let's talk about the best part of the party.
The Cake
This year, we decided on a convenient grocery store cake from the bakery made with Whipped Icing.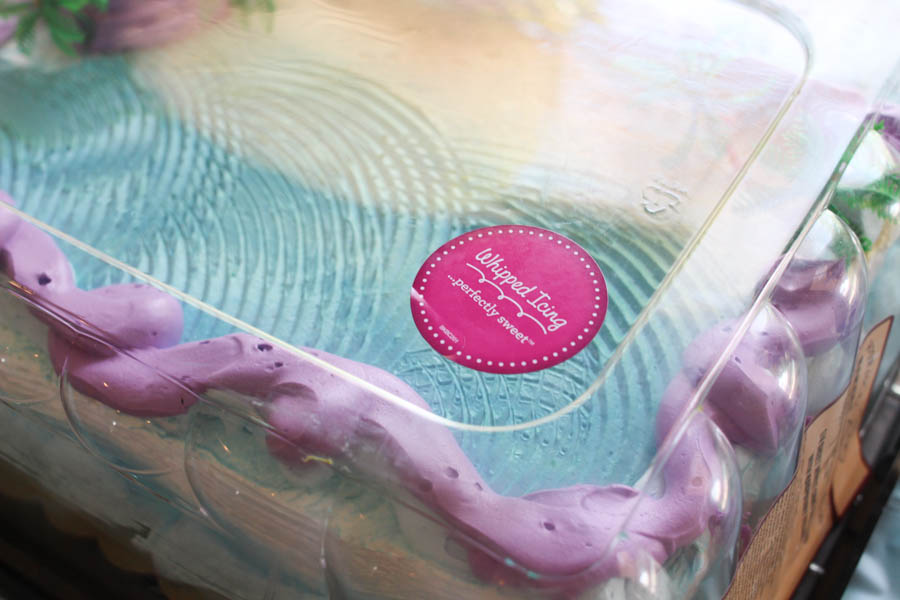 In birthday's past, we've used local bakeries, but
They've always been insanely expensive
I was never thrilled with the taste.
This year, we went to our local Fry's.
I took my son to the bakery counter and we paged through the book of cake ideas. We found a cute beach scene with the minions.  Since our theme was Olaf, I asked to leave the minions off and supplied the bakery with an Olaf in Summer figure instead.
My son requested a white cake, and we asked for vanilla Whipped Icing and strawberry filling.
I picked up the cake Sunday morning and loved that the cake decorator changed the color scheme from Minion Orange to Frozen purple and blue.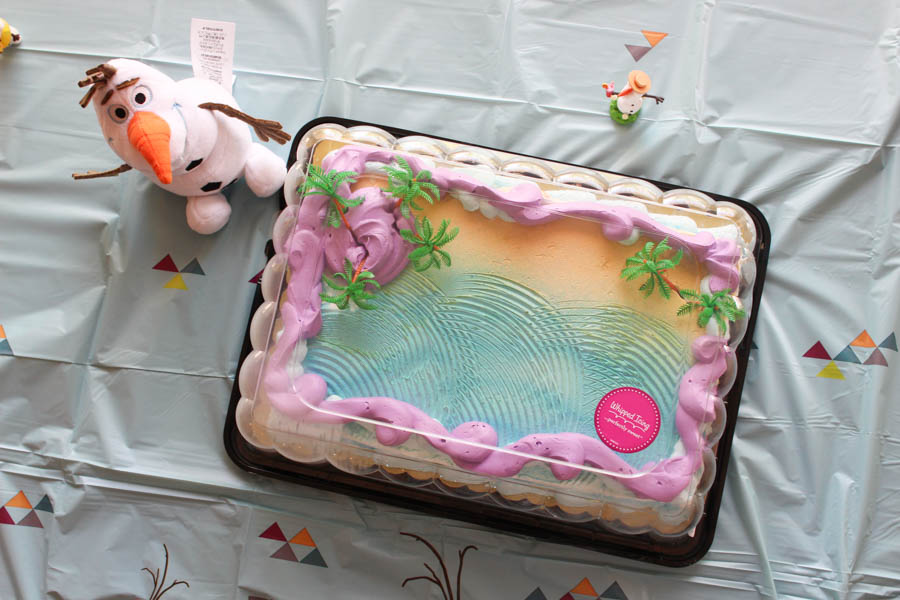 I placed the Olaf and candles and voila – we have Olaf in summer!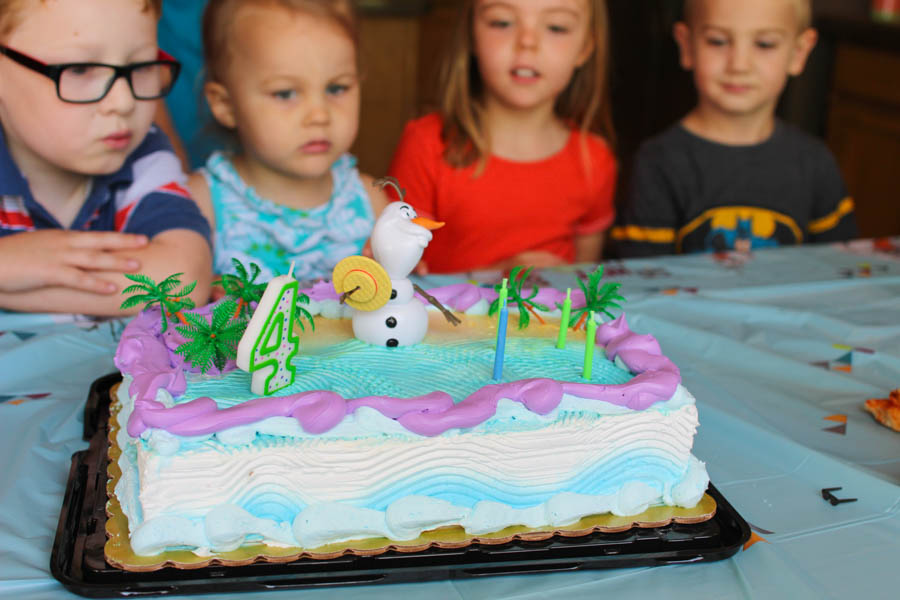 Can I tell you how delicious this cake was? The Whipped Icing was so fluffy, and not as sugary as traditional Buttercreme.  The frosting was just sweet enough with no greasy coating or gritty aftertaste.
This was my first time asking for Whipped Icing and I was surprised to find that it also has less sugar and fewer calories than heavier Buttercreme icing.
This cake was so moist and the strawberry filling was amazing!!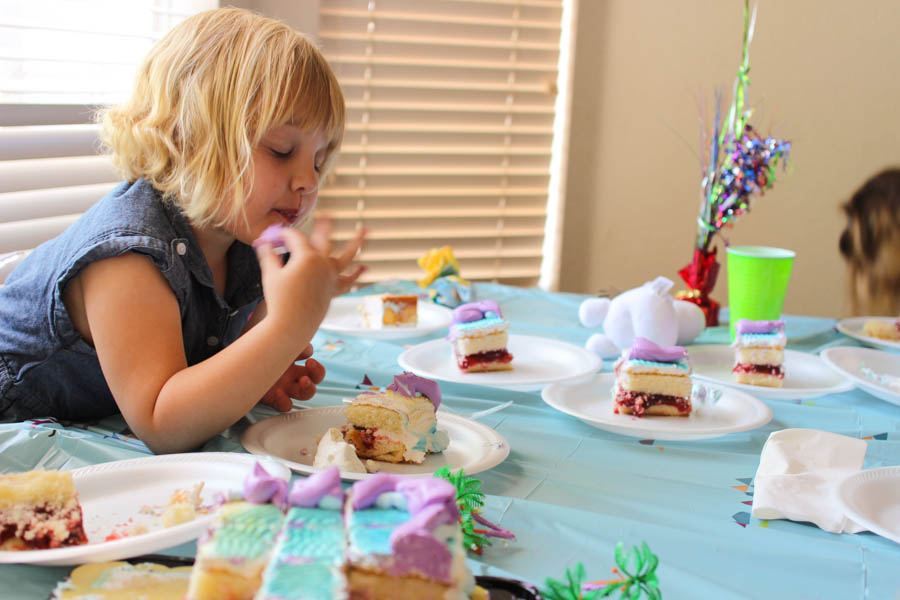 For the first birthday ever, we had no leftovers – which is both a good and bad thing because I love leftover cake!
For a lighter summer icing on your next cake, make sure you Ask For Whipped at the grocery bakery. It comes in all kinds of unique flavors like S'mores, Cookies-n- Crème and Salted
Caramel, and brilliant colors for every party theme. For more Whipped Icing inspiration, visit AskForWhipped.com, and follow @AskForWhipped on Instagram.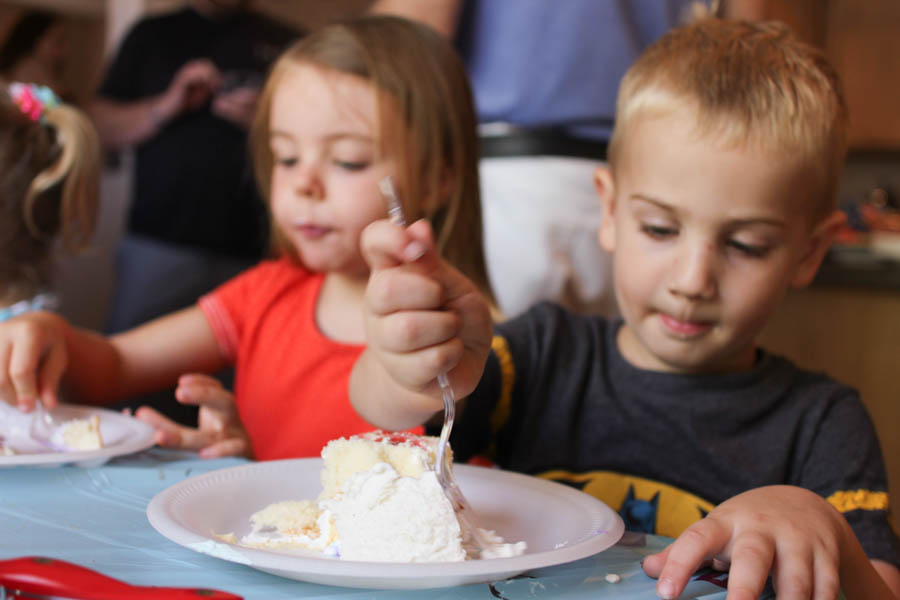 The Food
I'm all about easy. You can have just as impressive of a food display when you think of cute titles for all the food.  Right?
Such as our main course… where I just ordered pizza and placed a sign in front.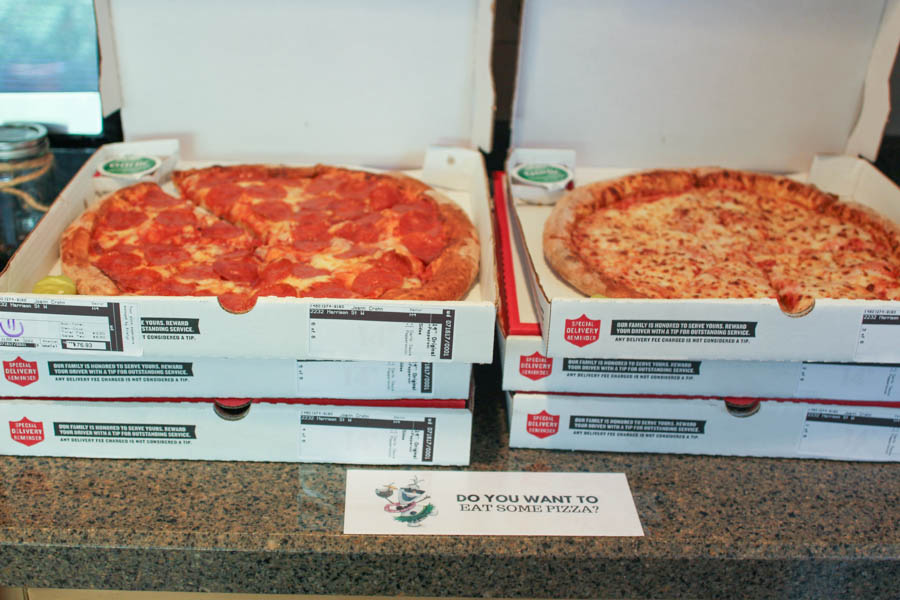 Definitely my kind of party planning.
For a side dish, I wanted something low in sugar but still a little sweet.  These fruit kabobs worked perfectly – and were actually the most time consuming dish of the whole party.  Those raspberries at the top wouldn't stay on.!
But unlike other times that I put out fruit at a party, our guests gobbled up these kabobs.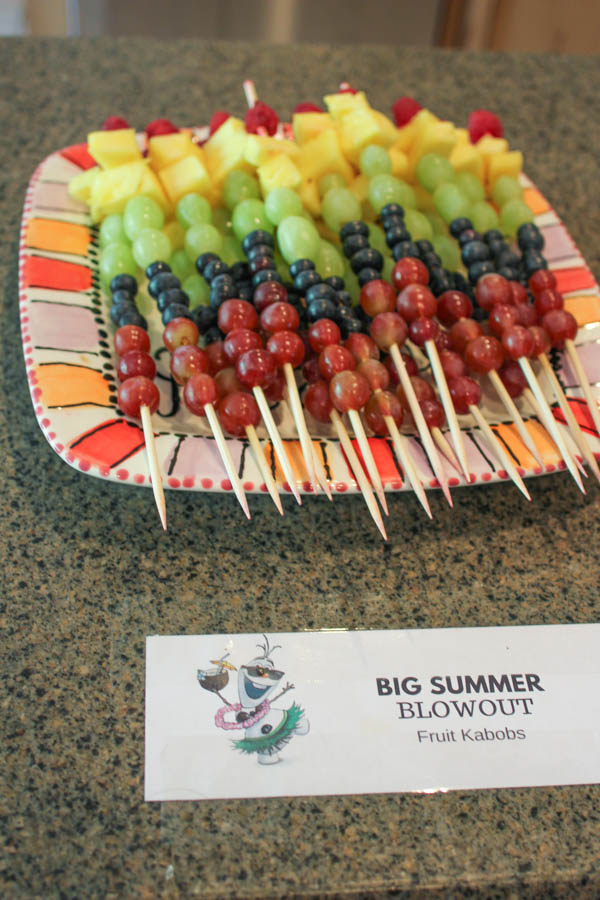 And drinks for adults…

Fun
As soon as guests walked in the door, Olaf – our giant piñata – greeted them.
Every guest took a picture with Olaf and sometimes the birthday boy. I found this pack of under-the-sea sticker frames that our guests decorated and filled with the picture from the party.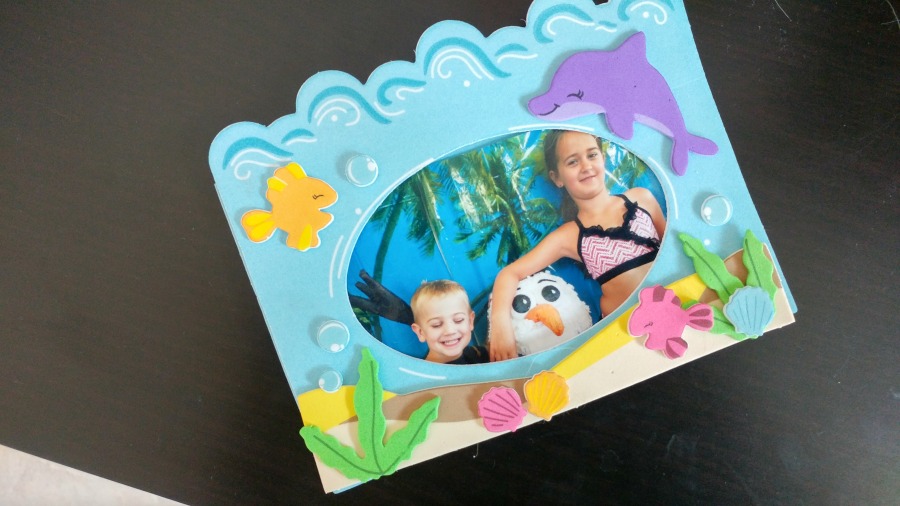 For logistics, we hooked our cell phones up to our photo printer via wi-fi.
Guests also colored their own seaside sippy cup to use for lemonade.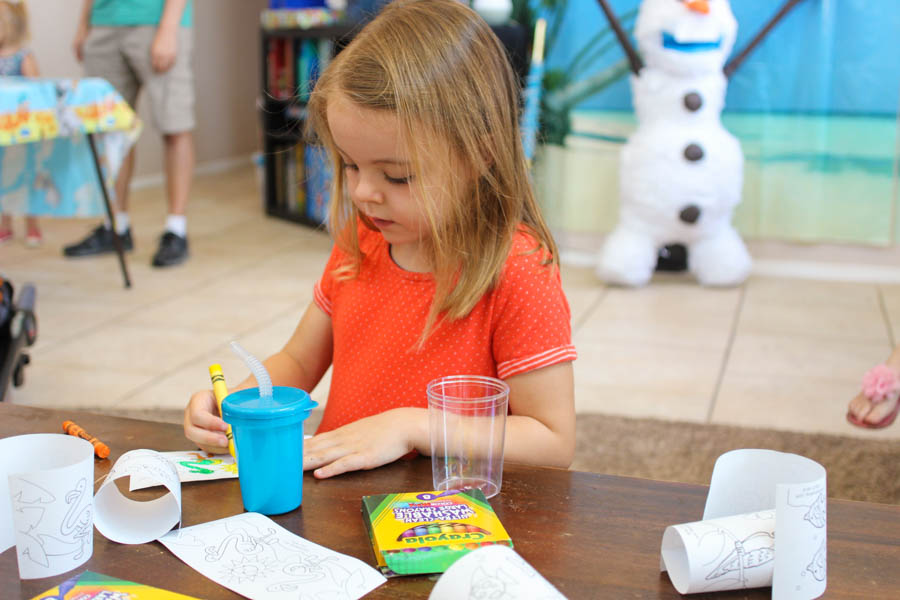 This served two purposes:
Kids could easily keep track of the cup they colored.
Less spills since they had lids.
There was plenty of running around the house and unstructured time as well. My son's big party plan was to take his friends to his room so he could show them his toys.
We ended the party by hitting the Olaf piñata.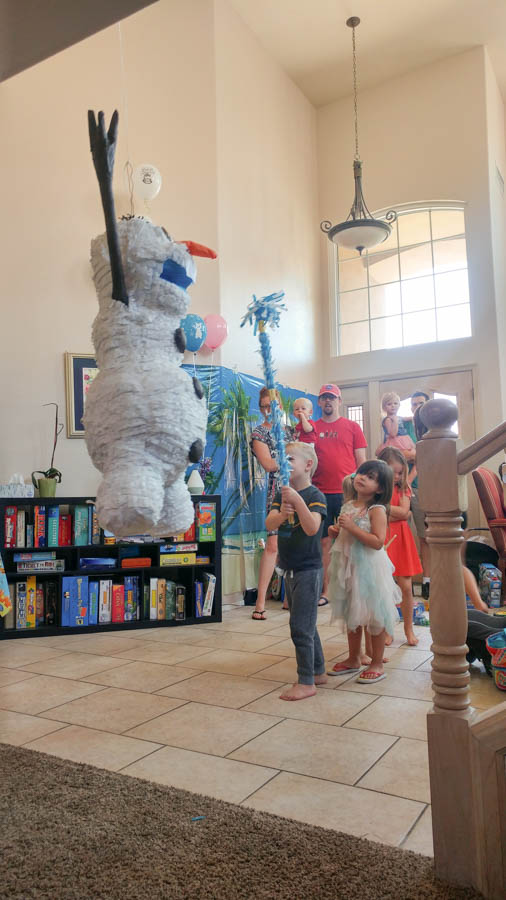 And, of course, opening presents.
All-in-all, an easy party with plenty of thematic charm. Perfect Summer birthday party for a preschooler who loves Olaf.