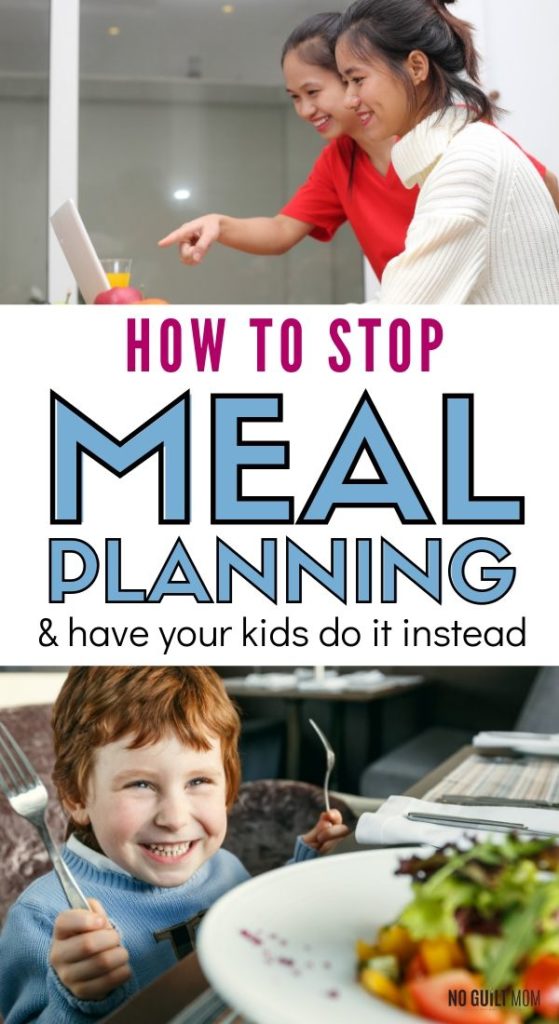 My son surprised me on Sunday.

He usually helps me grocery shop. By that I mean, log onto our grocery store website and order through Clicklist – the grocery store pickup service that our local store uses. I love it because iI can make my grocery list and purchase the groceries in one shot.

We go through our list of recently purchased items and click all the ones we need to replenish.

Super easy.
Read: When you've Tried Everything and Can't Get Your Picky Eater to Eat Healthier
Then, I got an idea…
My Girl Scout troop is getting ready to go on a camping trip – our first one – and we needed to plan the menu.

The most important part of camping – food.

Since the Girl Scouts organization suggests that each meal be nutritionally balanced, I pulled up a picture of MyPlate. My troop knew they needed a grain, protein, veggies, and fruit in every meal.

Except for breakfast, we made the exception of no veggies for breakfast.

Seeing them choose and think through their meals made me realize something: Why can't my kids help me meal plan if they stick to these guidelines?

Kids are more likely to eat meals that they choose. So it only makes sense that if they become part of the meal planning process, dinner will become less of a fight.

I decided to try this out.

I printed out a weekly meal planning chart from MyPlate and sat down with my son. He wrote, spelled as he saw fit and when we finished – I had the easiest weekly meal plan ever.
What picky eaters plan to eat
Whereas I never have a clue what to make for dinner, my son had a ton of ideas.

And they were all super easy.

Spaghetti and meatballs
Hot dogs and carrots
Could we – as parents – have been overcomplicating the meal planning process this entire time?
Read: 4 tips to speed up a slow eater
How did my experiment go?
First night, tacos. We made tacos, kids ate most of them.

Second night, whole chicken in a crock pot. Again… kids ate most of it. My son ate all of his.

I was stunned and amazed. This was NOT hard.

Now, we're on our third week of meal planning. I hesitate to say this was a complete magic fix. Even though my son helped plan the meals, it didn't mean he always ate everything he was served.

But he was always enthusiastic of at least one dish.

For instance, he planned salmon, mashed potatoes and broccoli for one night. He ate one bite of salmon, told my husband he didn't like mashed potatoes (why did you plan it?) but he devoured his broccoli.
Read: 5 Ten Minute Easy Weeknight Dinners
Here's how to start your kids on meal planning
1. Print out a copy of the MyPlate.
This simple-to-understand graphic explains exactly what is needed in each meal. I went through an explanation with my 10-year-old scouts and they got it quickly.

Every meal needs to have one of each category.

For veggies, we use a lot of Steamfresh – the frozen veggie bags you pop into the microwave and cook.

Our favorite fruits are grapes and apples.

Really easy stuff.
2. Plan the main courses
FYI: This post contains affiliate links to products I love and recommend. It costs you nothing extra if you purchase through my link, but I may get a small commission
Think about the easiest meals you make.

In our house its:
Spaghetti and meatballs (frozen meatballs) with garlic bread (all pre-made and found in the freezer section)
Hamburgers (grilled up on our indoor grill) with sweet potato fries
Grilled chicken with veggies
I then choose one new recipe a week because I like to cook. I try to make this a slow cooker or instant pot meal. Freshly cooked meals that require a little more effort, we save for the weekends where my husband can be in the kitchen with me.

3. Add a veggie to each meal
This can be the easiest addition if you let your kid choose it. Salads count here so you can use them whenever you like.

4. Shop using online shopping
As I mentioned above, we use something called Clicklist. It's only a $5 fee. We just drive up to the grocery store and they bring it out to our car.

I prefer this over the delivery through Instacart for two reasons:
Once you add the Instacart $10 delivery fee and tip, you're looking at a $20 increase in your bill
Grocery store employees know the store layout better and will find you exactly what you request. Instacart are independent contractors who often have trouble finding certain items.
5. Hang the meal plan on the fridge
Not only do my kids love having a meal plan, they no longer ask what's for dinner. Now, they know, because they helped make it!

This process has seriously taken so much stress out of dinner prep. I absolutely love it! It's one of the easiest meal planning for families tips that I've tried. While our picky eaters are still quite choosy, at least now we're certain we're making kid-friendly meals because they're the ones doing all the planning.