It's the end of the day. You're tired. The kids are screaming. You need ideas for easy weeknight meals. Here you go.

Dinner time.
Does that phrase make your stomach sink a little? It does mine.
Sometimes, cooking dinner is the greatest test of my patience and will as a parent. Judging my kids' moods during dinner time is like playing Russian roulette. Can you relate?
I can plan perfectly and we can have the most sublime afternoon when all of sudden my son and daughter start fighting.. out of nowhere!
What was a calm and peaceful house turns into a yelling, screaming, and crying mess.
And then I have to cook dinner?!? No, that's totally not happening.
We need a backup plan for afternoons like this. But it can't just be Mac and cheese. We need plan variety because let's be realistic. This craziness is more the norm than the anomaly. Right?
I have the backup plan for us.
But first, if you want to take the headache out of meal planning all together, I have something just for you. Imagine never having to plan your weekly menu again! No, REALLY!
These FREE menu plans:
use few ingredients
each meal takes 20 minutes or less to prepare
each week comes with it's own weekly shopping list!
Grab this right now before you read any further. They'll be waiting in your inbox after you finish this post.
Got them? Yes!!
Now, these insanely easy weeknight meals all take less than 10 minutes to make and are all nutritionally balanced.
Easy Weeknight Meals
Nothing says home prepared dinner more than mashed potatoes! It's the gold standard when you think of a homestyle meal. When you have them during the week, it makes any day taste like Sunday!
But mashed potatoes take a lot of time to prepare- much longer than 10 minutes.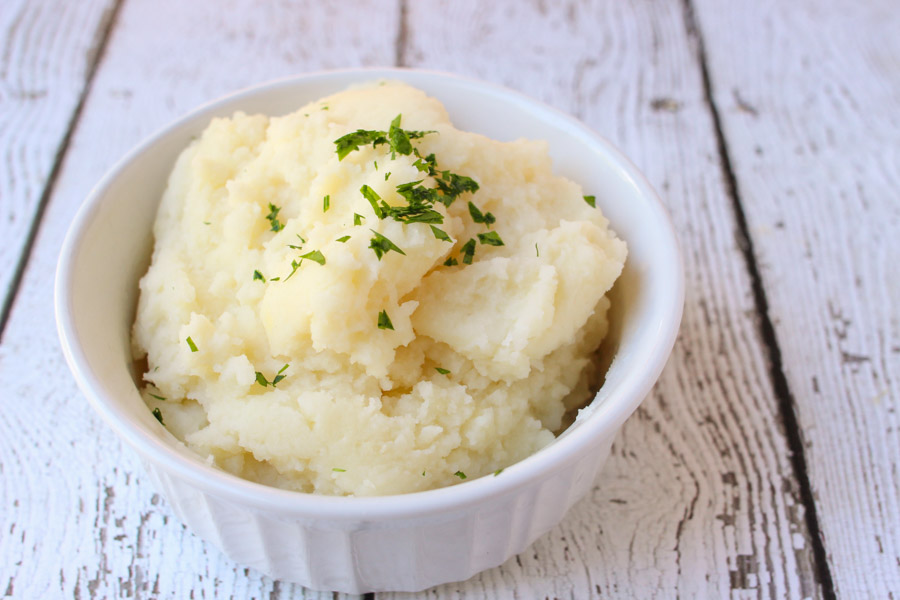 However, the new Idahoan Signature Russets are super easy – which is why I included them in three of my meal ideas. More than six pounds of premium Idahoan russet potatoes are included in every pouch.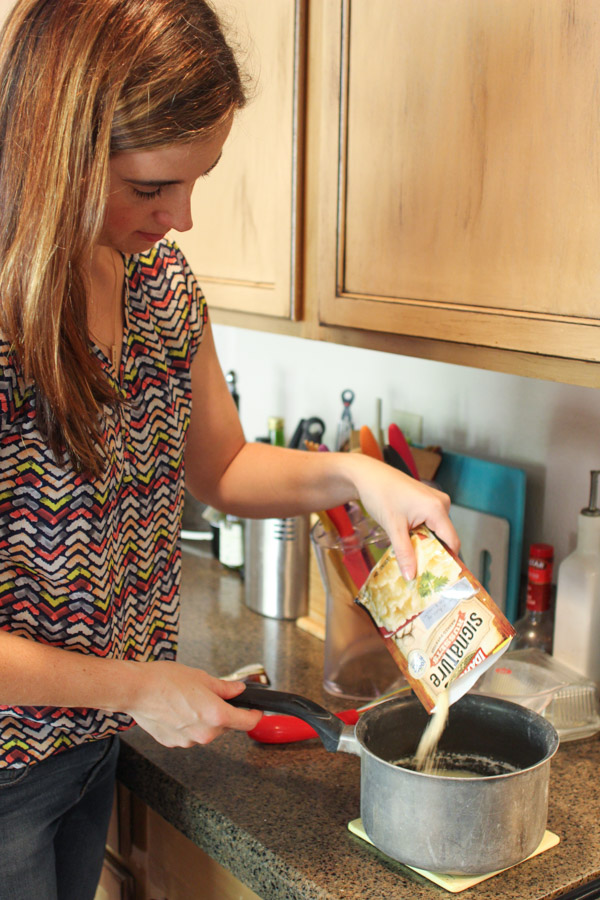 Simply heat up water on the stove. Take it off when boiling. Then, whisk in the Idahoan mashed potatoes along with milk and butter. They can be made in less than 5 minutes.
Easy right? They taste just like homemade mashed potatoes with a hint of butter and cream.
They're also packaged in a resealable pouch.
Now, here's what you can serve with those mashed potatoes.
Bratwurst, Sauerkraut and Mashed Potatoes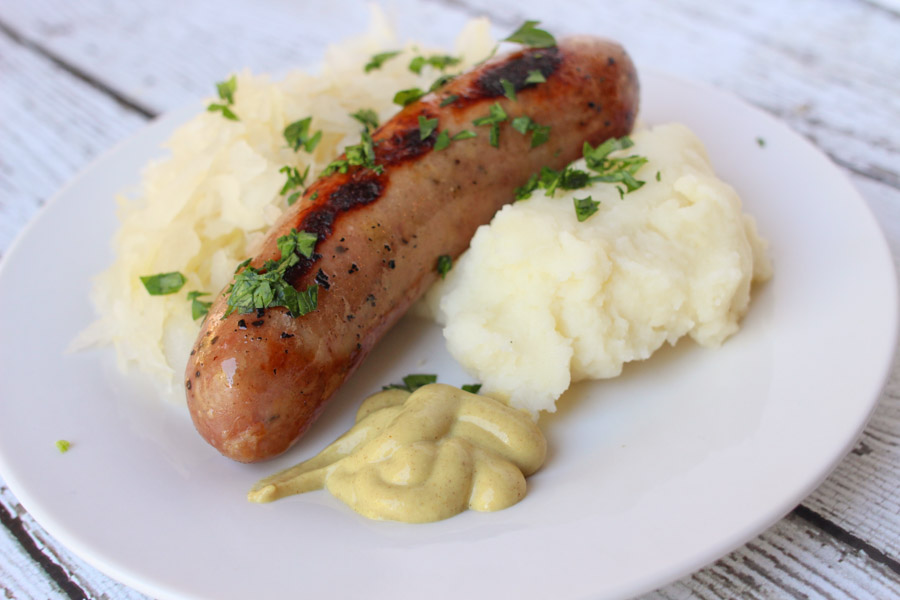 You need:
1 pack pre-cooked chicken sausage
1 jar sauerkraut
1 package Mashed Potatoes (along with butter & milk)
Heat the sausage in a skillet to brown the sides. Make the mashed potatoes according to package instructions. Warm your sauerkraut in the microwave. That's it!
Chicken, Mashed Potatoes & Peas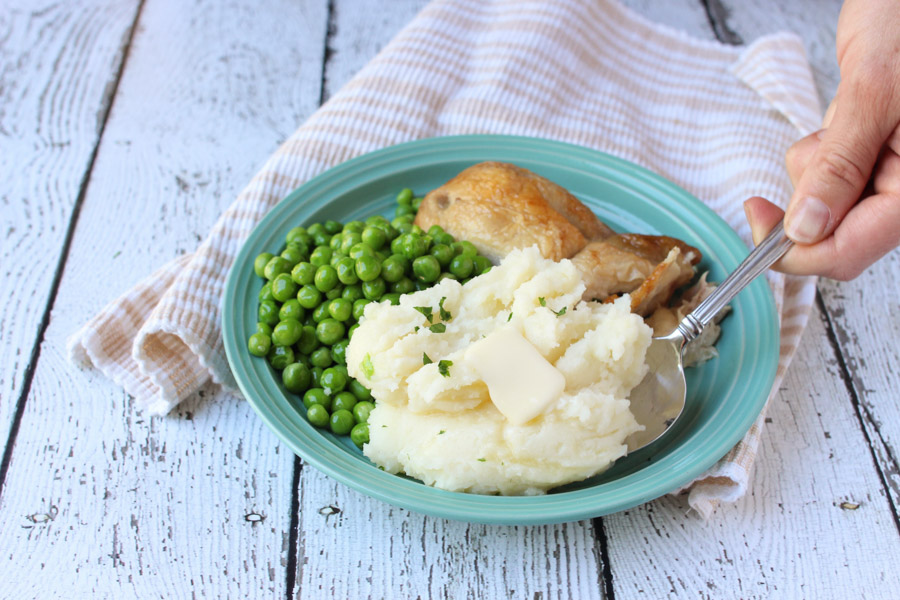 You need:
1 pre-cooked rotisserie chicken
1 package frozen peas
1 package mashed potatoes (along with butter & milk)
Heat frozen peas in a saucepan on the stove according to package instructions. Make mashed potatoes. Serve.
Want this process to be EVEN EASIER?
[optin-monster-shortcode id="crqvvo4ikmf8vguq"]
Salmon, Asparagus & Mashed Potatoes
You need:
1 pound fresh salmon
1 bunch fresh asparagus
1 package mashed potatoes (along with butter & milk)
We'll actually use the oven with this one! Preheat oven to 375 degrees. Prepare two baking sheets by covering them with aluminum foil.
Slice salmon into fourths and space them apart evenly on the prepared baking sheet, skin side down. Sprinkle with salt and pepper.
Wash and trim asparagus. Snap off the tough ends of each stalk. Lay the asparagus on the baking sheet and drizzle with 1 tablespoon of olive oil, salt and pepper. Toss on sheet to combine.
Bake each tray for 10-15 minutes. You want the asparagus to turn bright green and the salmon to cook through.
Make mashed potatoes while the salmon and asparagus are baking. Serve.
Spaghetti with Meatballs
You need:
1 lb frozen meatballs
1 jar marinara sauce
8 oz spaghetti
1 bag of steam-in-bag veggies
Boil salted water in a large pot for the spaghetti. Once boiling, cook according to package directions.
Place frozen meatballs in pot and cover with marinara sauce. Cook until meatballs are warmed through.
Drain spaghetti and return it to the pot. Pour over meatballs and sauce over the cooked spaghetti. Serve along with cooked veggies.
Soup and Turkey Wrap
You need:
4 whole-wheat tortillas
4 slices cheese
4 slices turkey
lettuce, tomatoes and your choice of condiments
your favorite canned soup
Pour your favorite soup into a saucepan and heat. While cooking, assemble the turkey wraps. Serve.
How easy are all of these? Sometimes, I go overboard as a mom. I think that I have to cook the most complicated meal to feed my family right.
That simply isn't the case!
Keep this list of easy weeknight meals around whenever dinner time hits and your house goes crazy. Just having this backup plan will help us stop the dread of the afternoons. When you are tired and drained at the end of the day, you now have something easy and doable to make while you manage the nuclear meltdowns in your home.