Do your kids love cooking with you?
My three-year-old son always wants to help. I give him lots of easy jobs like handing me veggies or stirring, but usually, the meals I find require so much chopping and so much of a need to work quickly, that he doesn't have much to do.
It leaves me flustered, too. You can probably imagine trying to cook when a 35-pound preschooler suddenly wants to be held. You've probably done it yourself.
That's why take-out is so popular in our house.
However, that may be changing. Gobble, a subscription meal service, makes cooking so easy that a three-year-old can do it. In fact, he did do it!!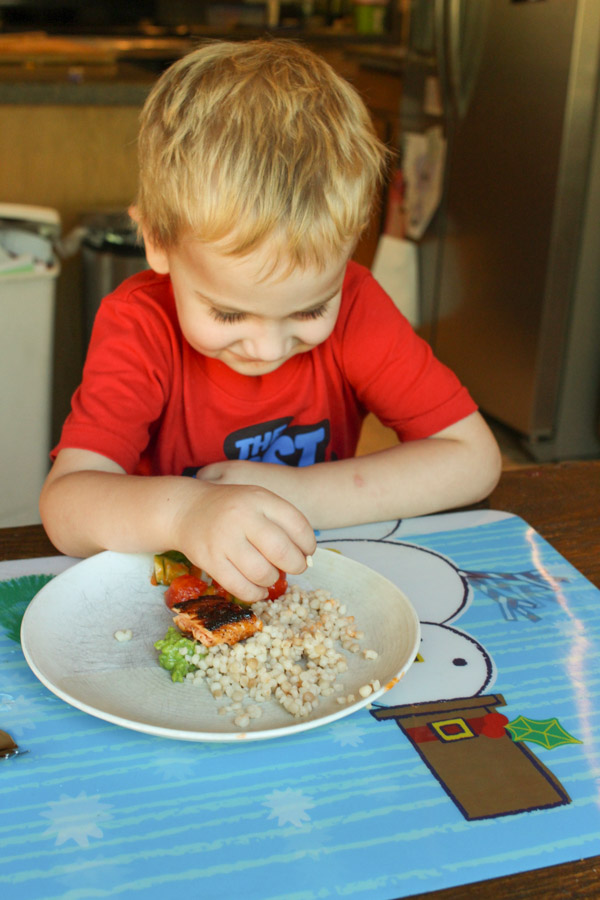 Know you want something like this?

Keep reading to see how my three-year-old son made our family dinner.
Inside the Gobble Box
Gobble makes it super simple to prepare a weeknight family meal the minute you open the box. Instead of a pile of ingredients, Gobble packs their meals into pre-portioned sacks.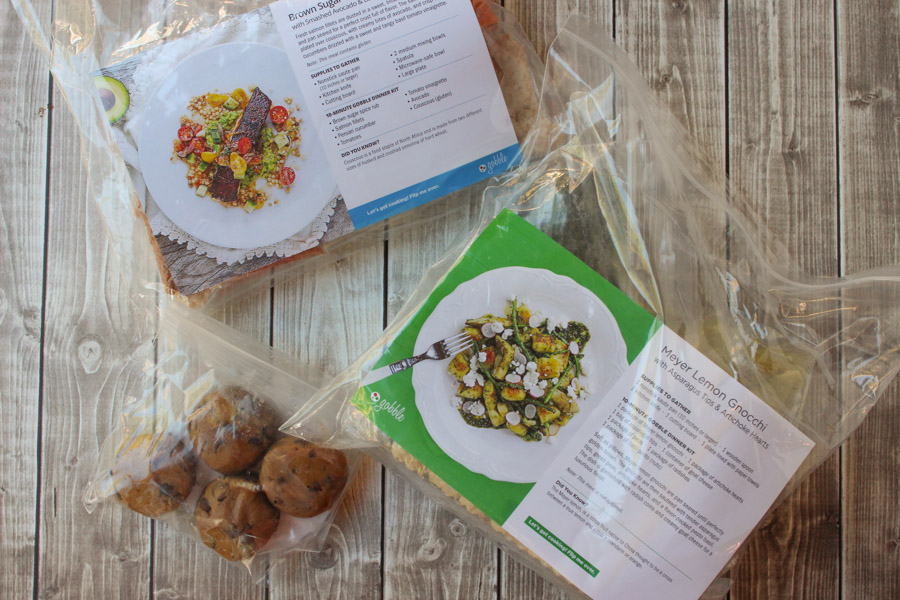 This makes organizing it all in our refrigerator -trust me, you don't want to see our refrigerator – easy.
For last night's dinner, we chose between Brown Sugar Salmon with smashed avocado and a Meyer Lemon Gnocchi.
Scrolling through the Gobble website at the other meals available makes me drool!
Looking at both packs, my son decided that he wanted to cook the brown sugar salmon for dinner.
(Ok, well first he wanted those chocolate chip cookies for dinner, so I had to do a little negotiating there.)
Cooking
Our brown sugar salmon meal only took three easy steps to prepare. My three-year-old took the lead and I served as a prep chef. But this meal had very minimal prep so it was the easiest prep chef assignment ever.
First, he coated the salmon in the brown sugar spice rub – which came already prepared.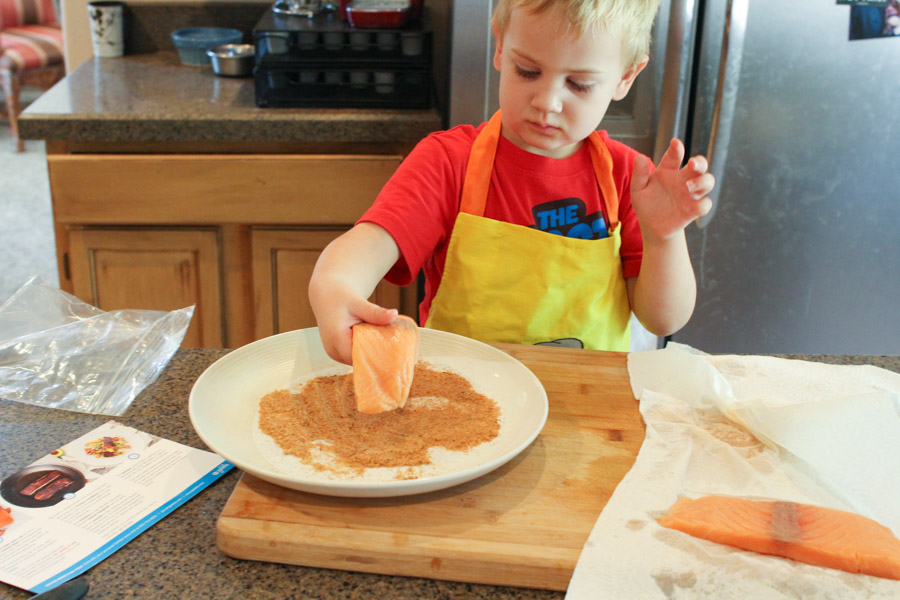 At first, he didn't want to touch the fish but once he finished, he squealed, "I did it!!!".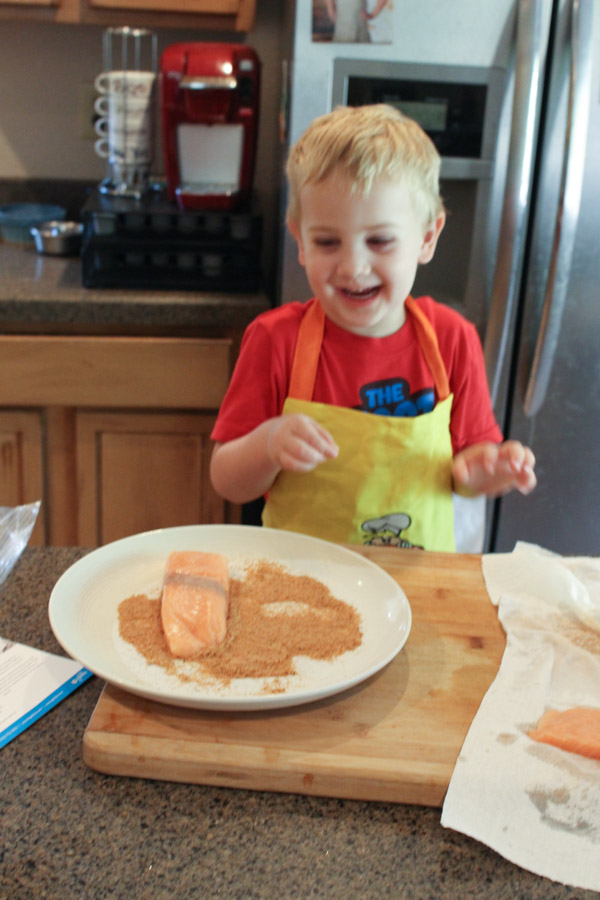 I then did my prep of chopping a cucumber, halving a few cherry tomatoes and mashing an avocado. He took over from there and combined the cucumbers and tomatoes in a bowl with a pre-made vinegarette.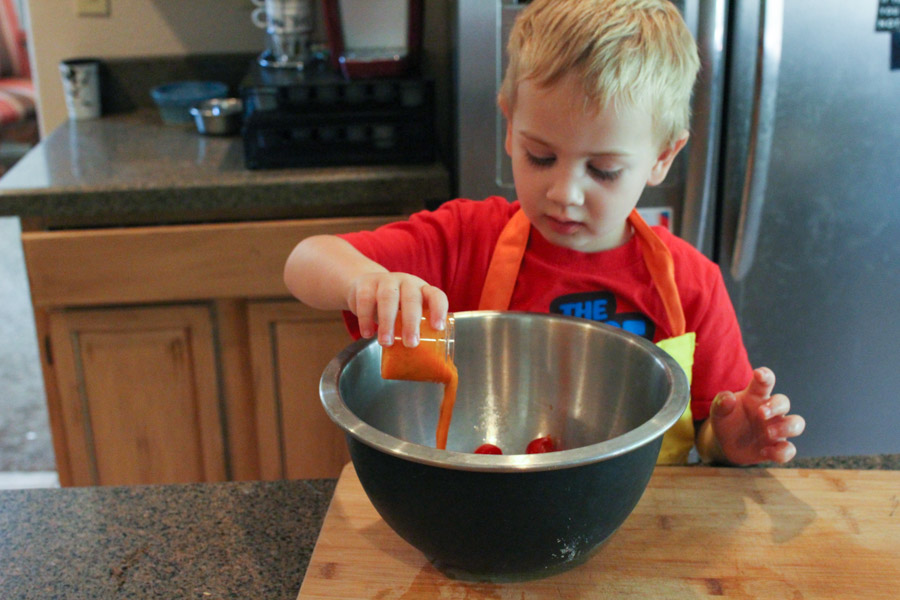 We emptied the pack of couscous in a microwaveable bowl to heat up while we sauteed the fish.
Understandably, my son was a little scared of the hot pan. About a month ago while helping me cook, a piece of corn flew out of a pot and onto the burner. Instinctively, he dove to pick it up and burned his thumb. The burn immediately blistered and my son screamed for a solid two hours.
He learned his lesson with hot pans.
While I watched the fish, he stood by and opened the salt jar.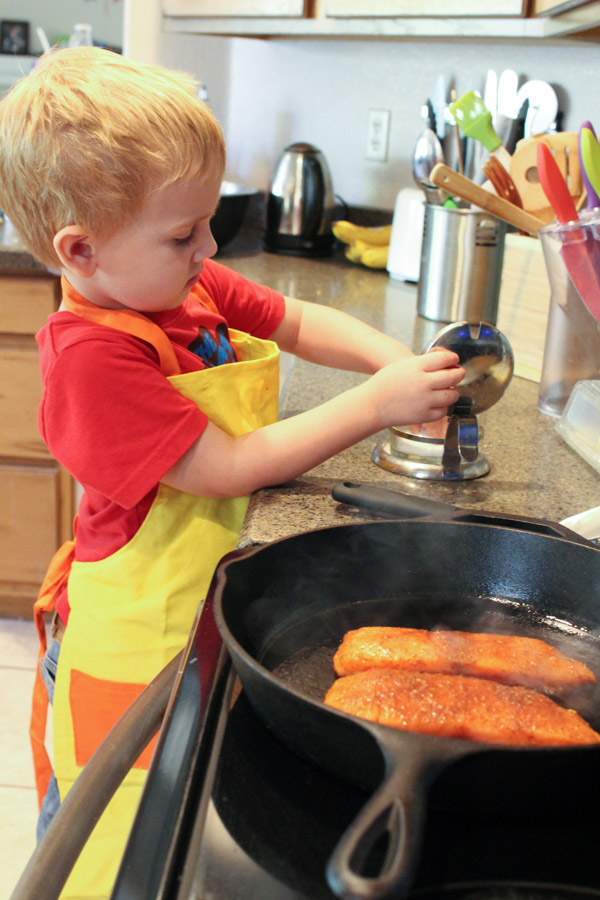 "This needs some salt, Mom," he explained. Yep, here's where I'm reminded that I'm cooking with a three-year-old.
Once the fish finished sizzling, we plated it. My son nailed it.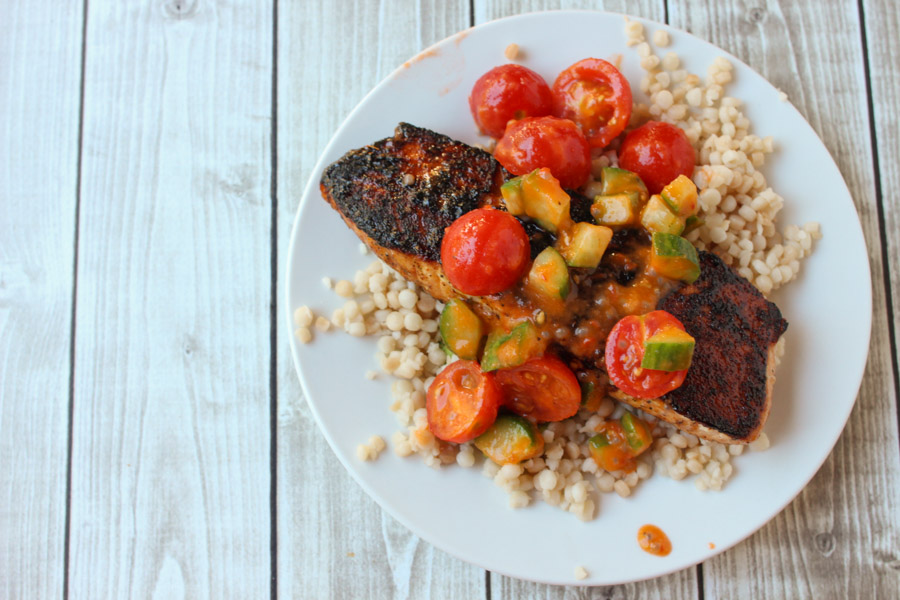 Ok, Ok… that one was me. He's still working on his plating skills.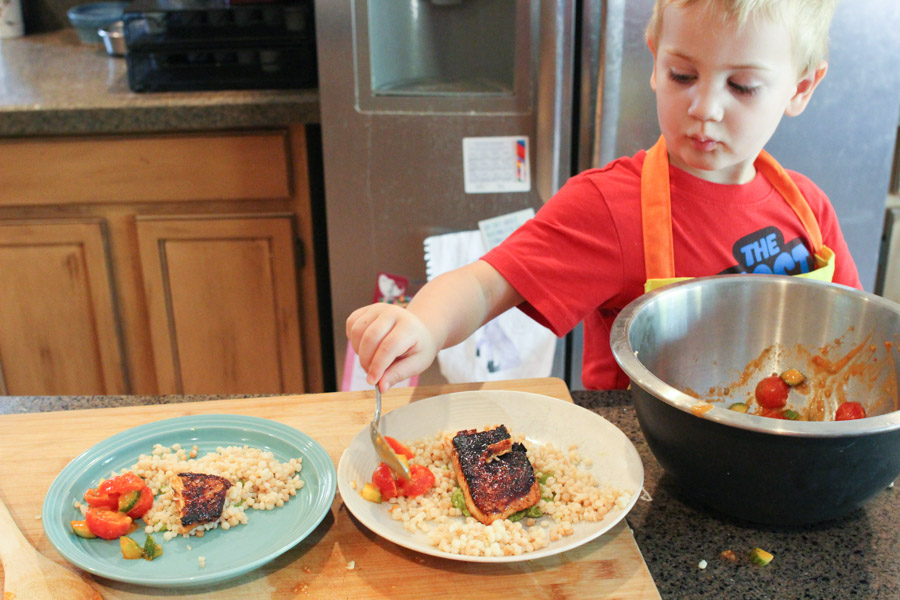 Dinner Time
As we sat down for dinner, my son called his sister to the table to eat the dinner HE MADE. He could not have been more proud.
And while cooking dinner is usually a stressful experience in our house, this one was incredibly laid back. The prep was super easy since many items like the vinegarette, spice rub and couscous were already made.
And can I say, YUM!!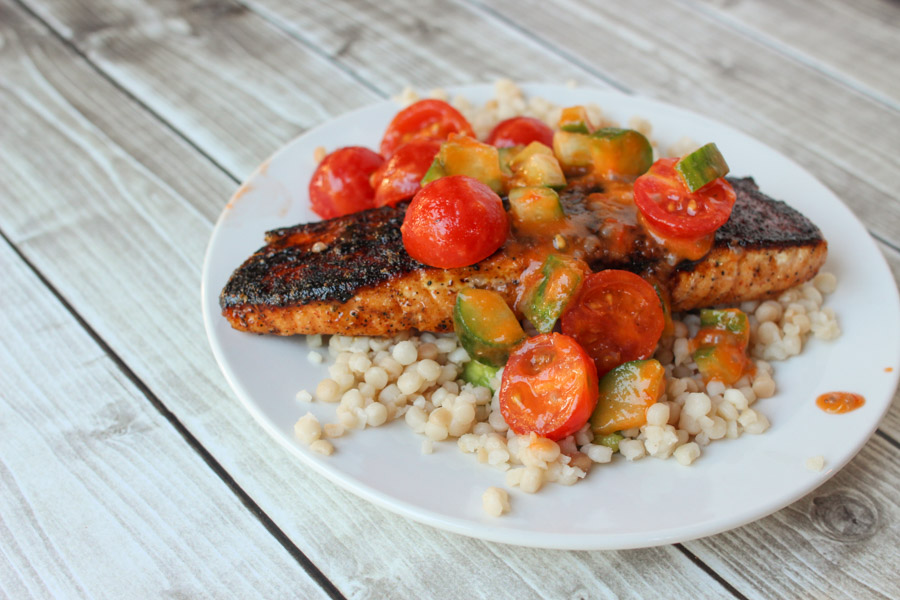 Plus, the Gobble Box also had cookies to bake for dessert.
Since my son made dinner, my daughter took charge of the final course. That included leading her brother in following directions.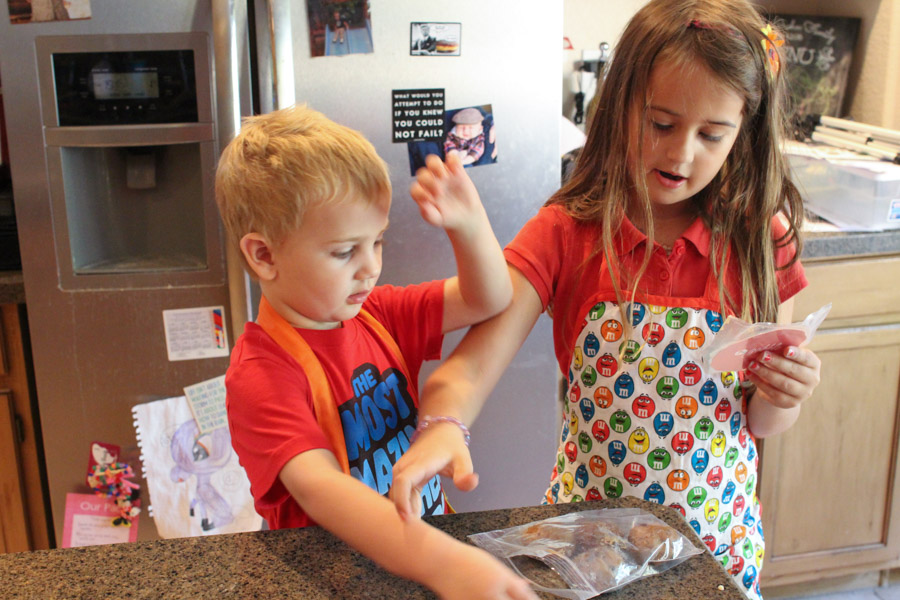 Try It
Want to try your own Gobble box? This link RIGHT HERE will give you $50 off your first box! Not only is the food delicious, but creating the meals were so easy that my three-year-old did it!
This it totally the solution to hectic weeknights. What are you waiting for?