This shop has been compensated by Collective Bias, Inc. and its advertiser, MARS. All opinions are mine alone. #SweetSquad #CollectiveBias
What better way to spend a Fall weekend afternoon than watching a football game on TV and eating snacks?
Ok, let me backtrack a little bit. Perhaps you're a little like me.
I'm not a football fan per say. My hubby is super into it. If we're home – and it's Sunday – there will definitely be a game on TV.
Let's just say, I'm not in it for the football.
I'm in it for the snacks.
When else can you eat finger food, scream at the television and have the most delicious sweet bites?
Football season, count me in!
This treat is sure to be a touchdown in any of your football plans.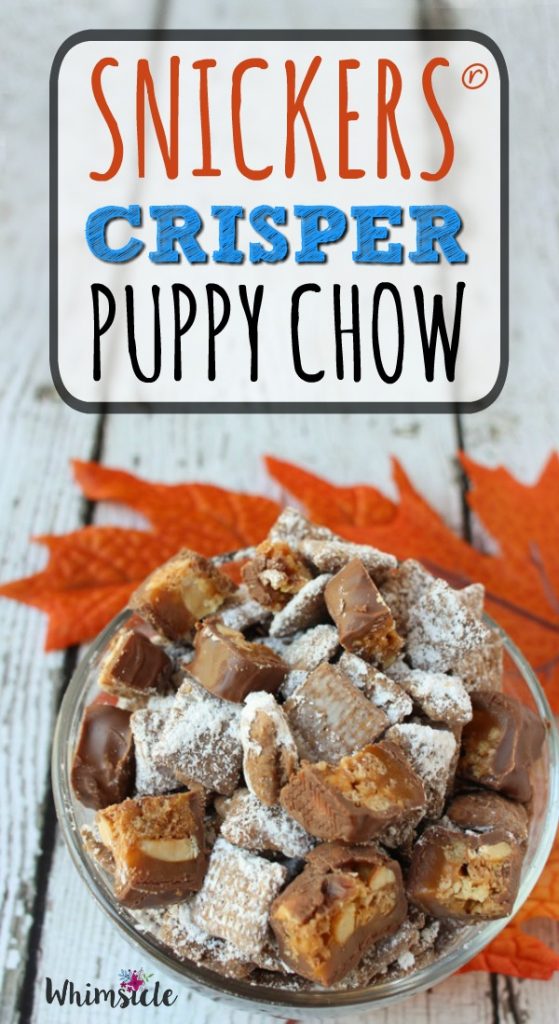 Mmmmm.. puppy chow. Hold on! Give it a chance. The title may sound unappetizing, but if you have not yet tried its amazingness, you're missing out.
Growing up, I worked as a counselor at a sleepaway camp in the mountains north of Tucson, AZ. Each week, we held unit cookouts where we led the campers in cooking over a fire.
The counselors got to plan the menus for those cookouts. I always pushed for one thing. You guessed it…
Puppy Chow.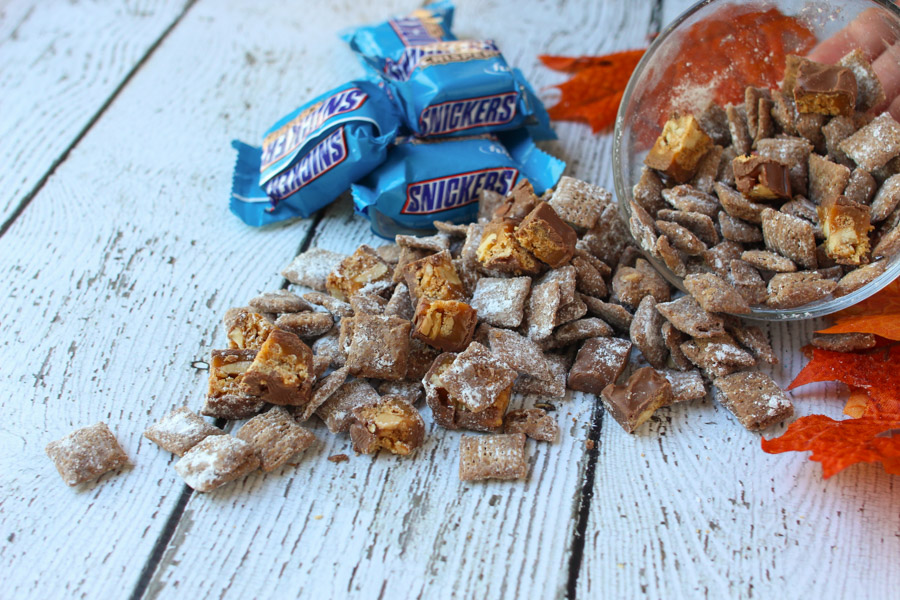 Rice cereal, melted chocolate and peanut butter covered with powdered sugar. Shake it in a bag and you get the most delicious and finger-friendly dessert around.
My version is a variation inspired by the flavors of SNICKERS® Crisper. This is a crunchy twist on the classic SNICKERS® bar. Ready to drool? The bar is a combination of crisp rice and peanuts, topped with a layer of caramel and then wrapped in milk chocolate. I found my fun size bag in the candy aisle at Walmart.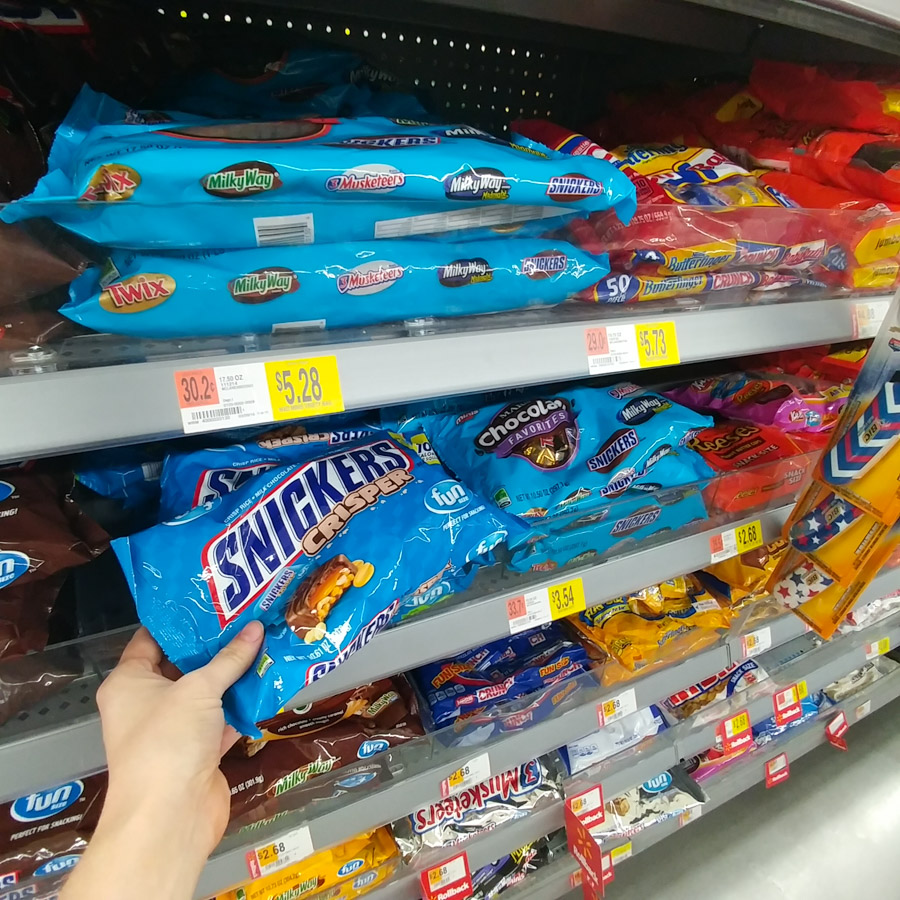 Making SNICKERS® Crispers Puppy Chow
For this treat, you will need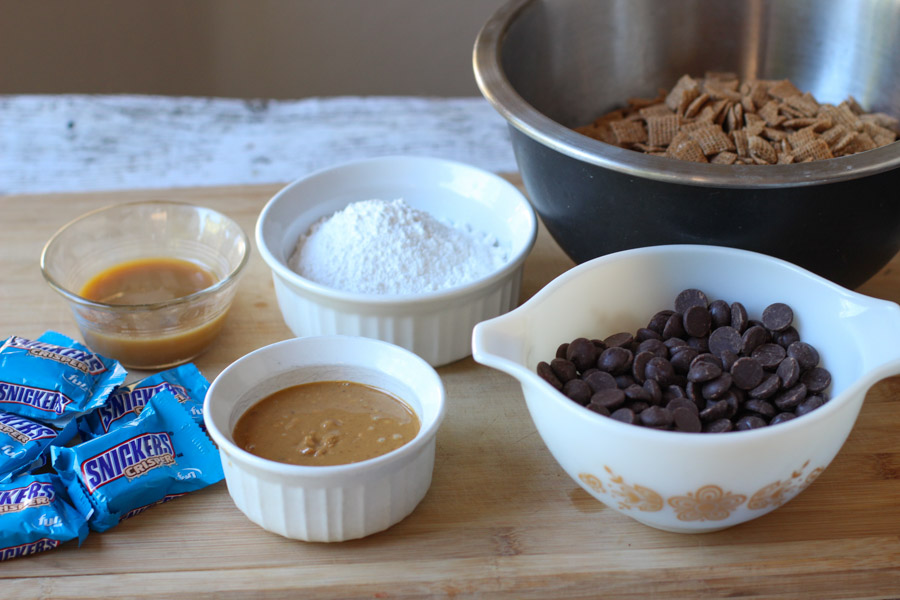 8 oz milk chocolate chips
1/2 cup crunchy peanut butter
1 1/2 cups powdered sugar
9 cups crispy rice cereal squares
1/4 caramel topping
1 gallon sized sealable plastic bag
1 bag SNICKER® Crisper fun size
STEP 1:
Place the crispy rice cereal squares into a large bowl.
STEP 2:
Next, empty the chocolate chips into a microwaveable bowl. Heat at 50% power for 1 minute. Take out and stir. Keep heating in 30 second increments at 50% power until melted.
STEP 3:
Combine the peanut butter with the melted chocolate chips. Pour over the crispy rice cereal squares and stir until each square is covered.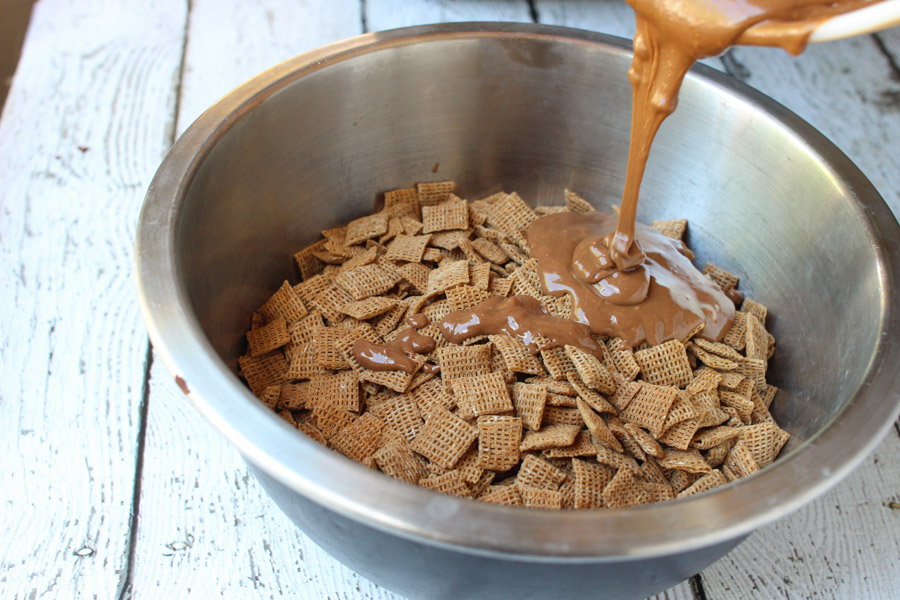 STEP 4:
Drizzle over caramel topping and stir again to combine.
STEP 5:
Place mixture into a resealable gallon-sized plastic bag. Pour in powdered sugar. Seal the bag and shake to thoroughly coat each square.
STEP 6:
Chop each SNICKERS® Crisper fun size into 9 pieces – cut vertically into thirds then cut horizontally into thirds. Open the bag and pour the SNICKERS® Crisper over the coated cereal. Seal and shake the bag again.
Now, the fun part – eating it!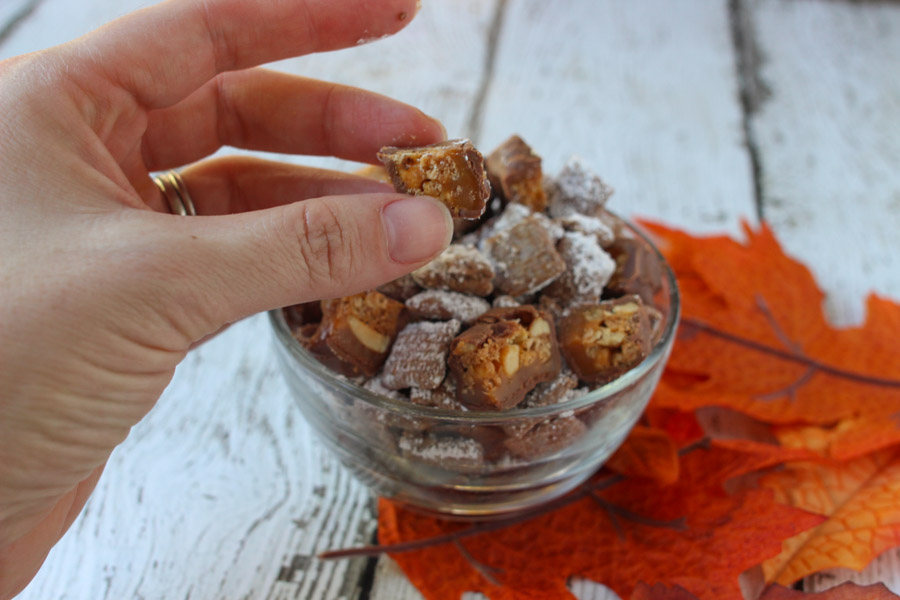 Pour into small bowls and dig into the chocolatey, peanutty, caramelly extravaganza. Trust me, you are going to thank me for this one! It will give you much more to look forward to this football season.
Ready to try it?