50 Healthy Snacks for Kids After School that require NO prep
Are you looking for healthy snacks for kids after school? Something that doesn't involve making cute googly eye insects out of apples or cutting sandwiches into butterflies.
No, you are not crazy for not wanting to do that. Let's attack this issue of kid snacks before dinner guilt-free.

I swear… perusing Pinterest for healthy snacks for kids makes me feel like an awful mom.
All these cute little creations that obviously take loads of mom time – when I can barely keep the kitchen floor clean and throw a frozen meal into the instant pot for dinner.
I'm not putting candy eyes on a strawberry – I'm just not.
Nor will I parade junk food (I'm looking at you pizza sticks) as healthy just because my kids would love it.
Just yesterday, as I researched this post my nine-year-old daughter looked over my shoulder and searched the after school snacks on pinterest.
Everything from pizza sticks to chicken fingers…
She actually said, "Why can't you be like these other moms and feed me pizza after school?"
I just stared. Ooh…that crossed the line.
Thankfully (for her)… she was joking.
But what do we do as moms? Do kids really need to snack? How do we handle it if they are hungry before dinner but we don't want them gorging on junk food?
That's why we need a list of quick, easy and healthy after school snacks for kids. Snacks that require zero prep and will satisfy our kids hunger without them wanting more.
What makes a healthy kid snack before dinner?
Many snacks for kids are loaded with extra sugar. While they might taste good, they make kids crave more and more – leaving them unsatisfied and irritable.
The foods on this list are low and sugar and most are high in protein.
To keep kids satisfied mix and match fruit with a cheese or meat. This will keep them fuller for longer as well as provide the optimal nutrient balance.
Healthy Snacks for Kids After School – The Complete List
Apples
Apple slices in a bag
Clementines
Bananas
Grapes
String cheese
Turkey slices
Plain yogurt with fresh berries
Peanut butter on whole wheat bread
Peanut butter with sugar free jelly on whole wheat bread
Hummus and carrot sticks
Frozen grapes
Turkey and cheese rolled up
Whole wheat tortilla with hummus
Whole wheat tortilla with peanut butter
Smoothie (blend milk and fruit)
Applesauce packets
Mandarin oranges in 100% real juice
Pita bread
1 cup non-fat plain yogurt mixed with 2 TBS PBFIT powder
Apple slices with peanut butter
Microwave Popcorn (something low-fat like SmartPop)
Almonds
Carrots and guacamole
Pear
Pistachios
Pita bread with tzatziki
Baked goldfish crackers
Cheerios (go with plain, the other flavors will start sugar cravings
Mini Babybel cheese
Blueberries with Light Cool whip
Cherries (I pit mine with a cherry pitter)
Black bean dip with baked tortilla chips
Pretzels
Edamame
Sweet red pepper
cucumbers
Cantaloupe
Raspberries
A hard boiled egg
Raisins
Whole grain crackers
Ants on a log with cream cheese or peanut butter (this is as far as cute snack as I'll go)
Frozen grapes
Cooked shrimp
Cheddar cheese
Sugar-free popsicle
Baked apple chips
Chocolate hummus with fruit
Pre-packaged peanut butter crackers
Raisin bread
Tons of options right? And absolutely no googley eyes required.
Hungry before dinner? Here you go…
Some other tips I've found that help when kids are hungry before dinner are:
The fruit bowl – We have two bowls of fruit on our kitchen table. One is filled with apples and clementines, the other with grapes. We found that when our kids (and we) see the fruit, we're more likely to choose it as a snack.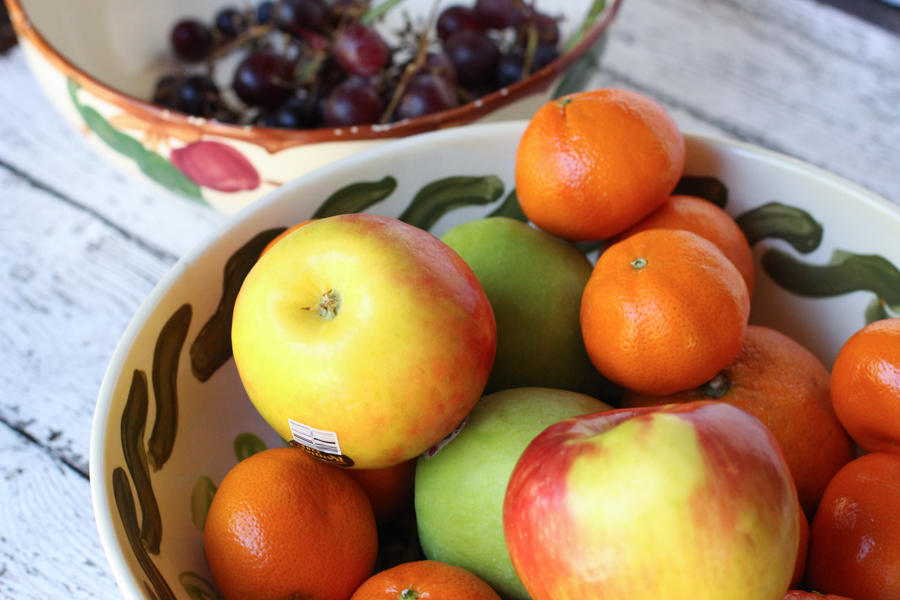 The snack shelf – This is completely self serve and stocked only with items I'm ok with the kids eating.
Everything else we keep on the appropriate shelf in the fridge and our kids ask before taking one.
Usually, I stop all kid snacks an hour prior to dinner. I find that it the optimal amount of time for them to come to the table hungry.
Do kids really need to snack?
One healthy snack immediately after school should satisfy kids before dinner. As long as they choose something off this list and don't have access to anything additional – I find that my children will eat their meal without much prodding or complaining.
Kid snacks do not have to be complicated. You don't have to go to any extreme effort to get them to eat.
Know that kids will eat healthy when they are hungry. If they aren't hungry for a piece of fruit, they're not really hungry.
I know how persuasive they can be and how guilty moms can feel. But trust me, you do not have to make Pinterest worthy after school snacks.
You got this!
Title:
50 Healthy Snacks for Kids After School that require NO prep
Keywords:
Healthy snacks for kids after school
Last Updated:
December 3, 2020