How to Host a Kid's Birthday Party Guests Will Rave About (Without any DIY)
Urban Air provided me with a birthday party package in exchange for writing this post. All opinions are completely my own.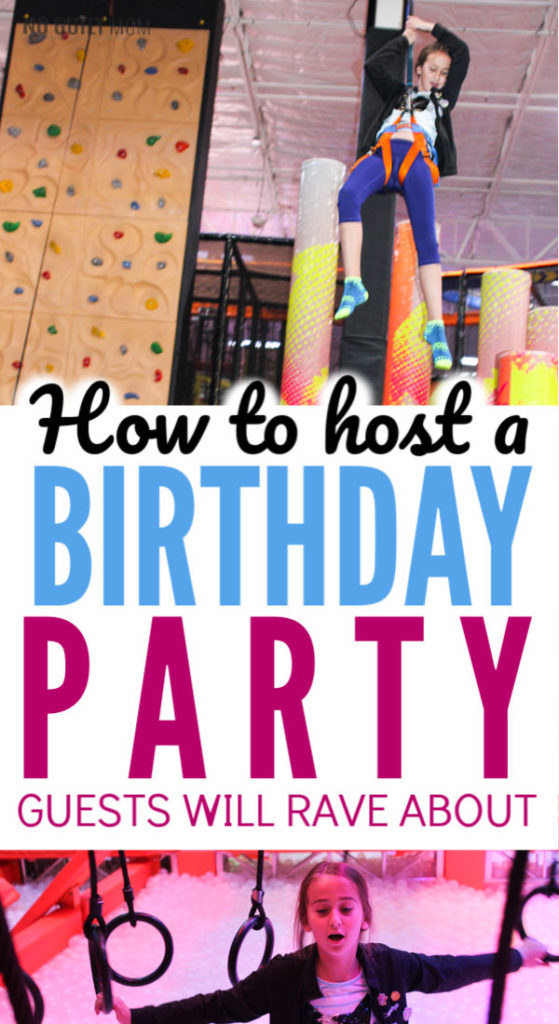 Me? I'm not the Pinterest queen.
I hyperventilate when I see those perfectly prepared birthday party spreads.
Then, I think of all the work, the planning, the time and I immediately melt down into this tinfoil stress ball.
It's too much.
The good news is that to be a good mom you don't have to have a DIY birthday party.
Read: Minion Party Food
(You don't even have to hold a birthday party.)
But if you choose to do so, there are options. If you're not into DIY, there is no guilt in having someone else take of it.
Really crazy cool, affordable options.
We held my daughter's 10th birthday at Urban Air Adventure Park in Ahwatukee.
The party was such a hit that two of my daughter's guests told their moms they also want an Urban Air party.
Here is the complete rundown of how stress-free an Urban Air birthday party was for us.
Pre-party prep
Barely a thing!
Urban Air sent us a digital invitation to fill out with all the party details that I emailed to all my daughter's friends.
Then, I ordered a cookie cake from our local Panera Bread.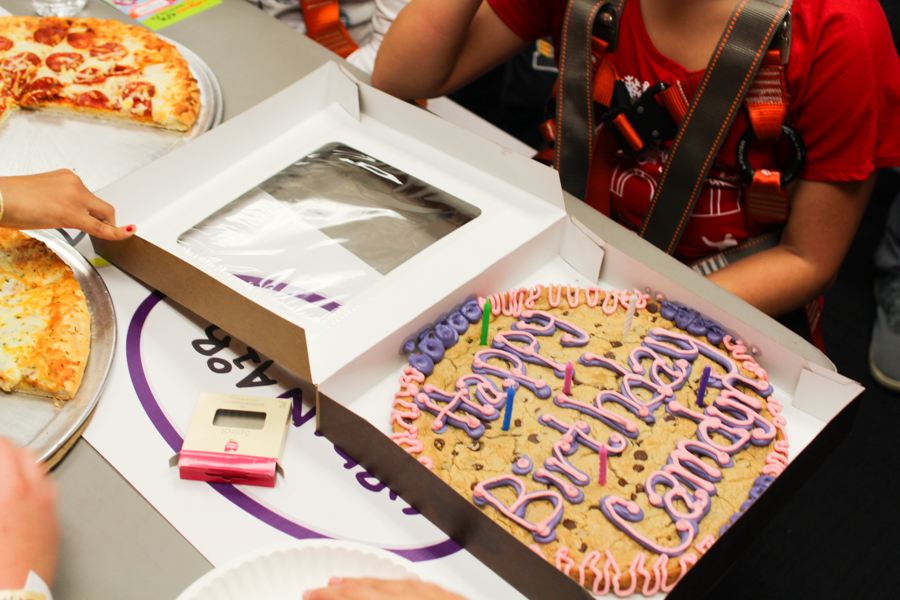 Urban Air does not provide the cake. However, they did provide us with water bottles and 3 pizzas for our party size of 10. This was more than enough!
Plus, the manager was extremely accomodating about the pizzas. We ran into a little snafu which I'll tell you more about below.
Guests Arrive
Our party started at 11am. We arrived at 10:45am and within 5 minutes, we met our party host.
She helped our guests find jump socks, store the presents and scheduled when we would like pizza served.
She took us up to our party room, upstairs with an amazing view of the entire indoor park.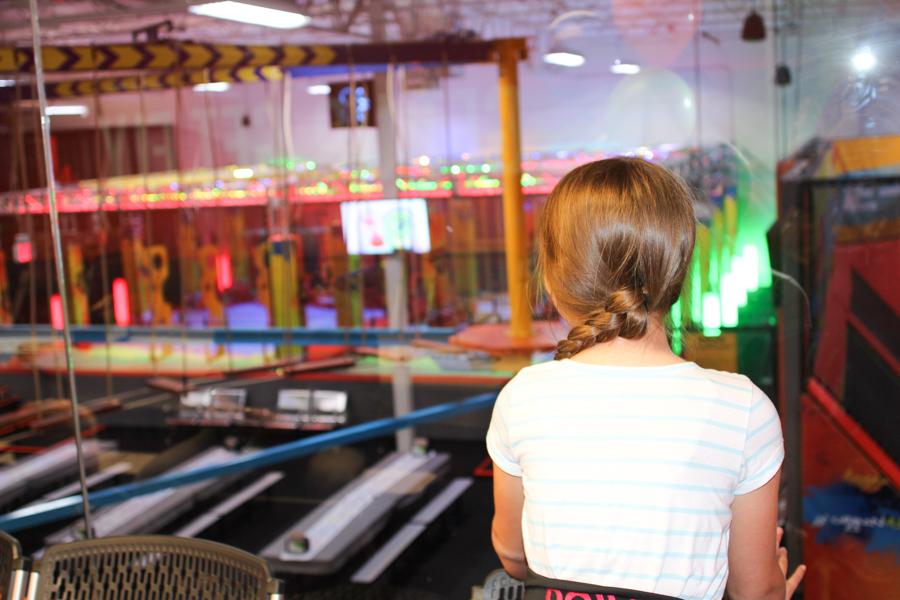 And a TV… which my husband immediately turned to the Vikings game.
Our guests had a super easy check-in. The invitation asked them to fill out a waiver beforehand. When they arrived, they punched their phone number into one of the iPads up front, found their completed waiver, selected the birthday girl's name and they were done!
A little tip for siblings
My son is 4 ½ years younger than his sister.
I predicted tears when Camdyn ran around to play on all the big kid attractions while Erik would be left alone.
So, I let him invite a friend. Best decision ever! He was thrilled. His friend was thrilled. They had a spectacular time. No tears whatsoever.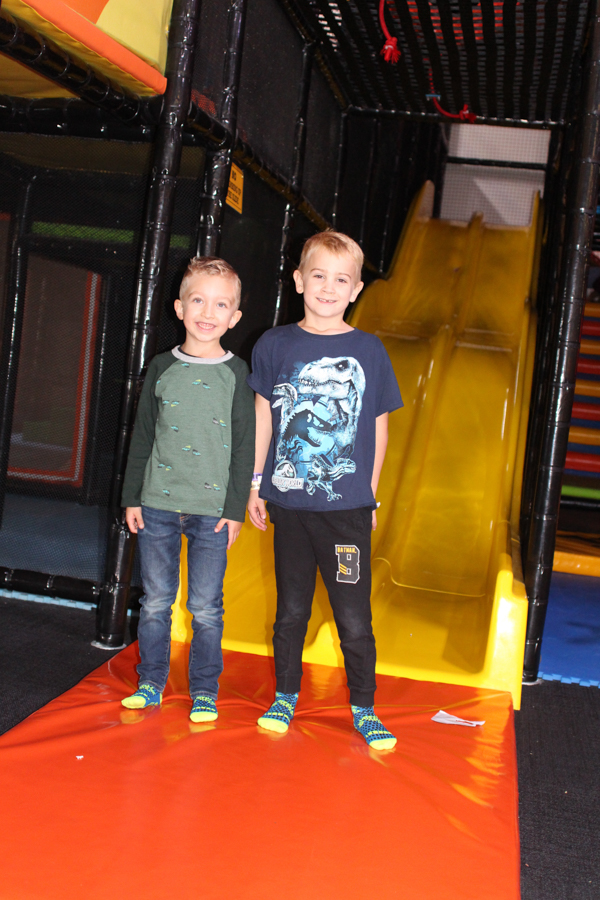 Play time
As soon as the 10-year-olds got to our party room, they ripped off their shoes, put on their jump socks and ran down to the park.
They climbed giant rock walls.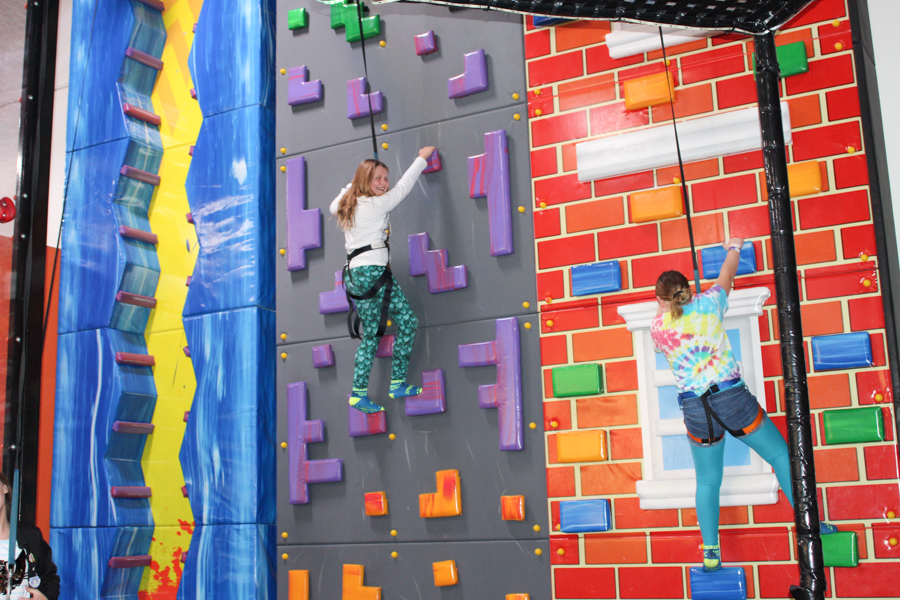 Jumped off extremely high poles…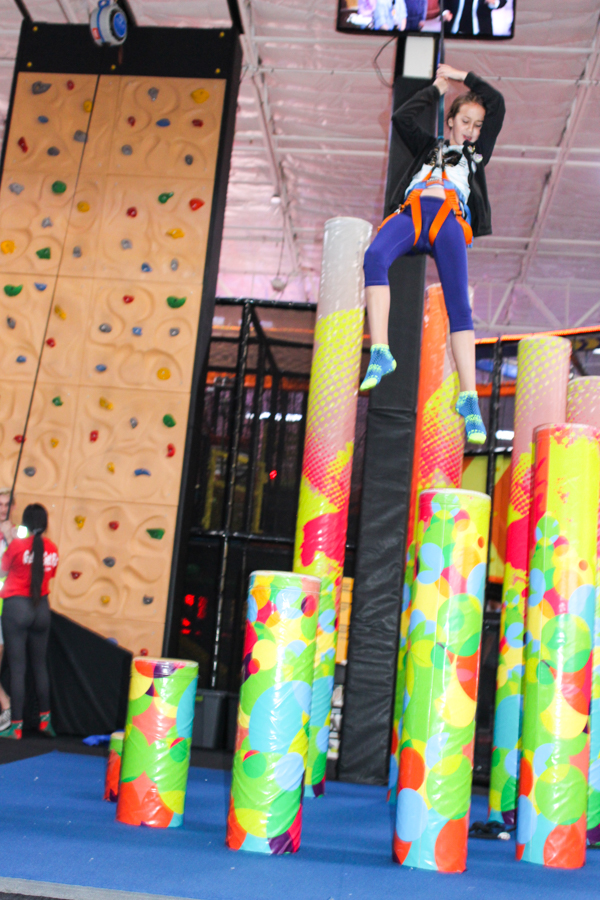 Traversed four different ninja warrior courses…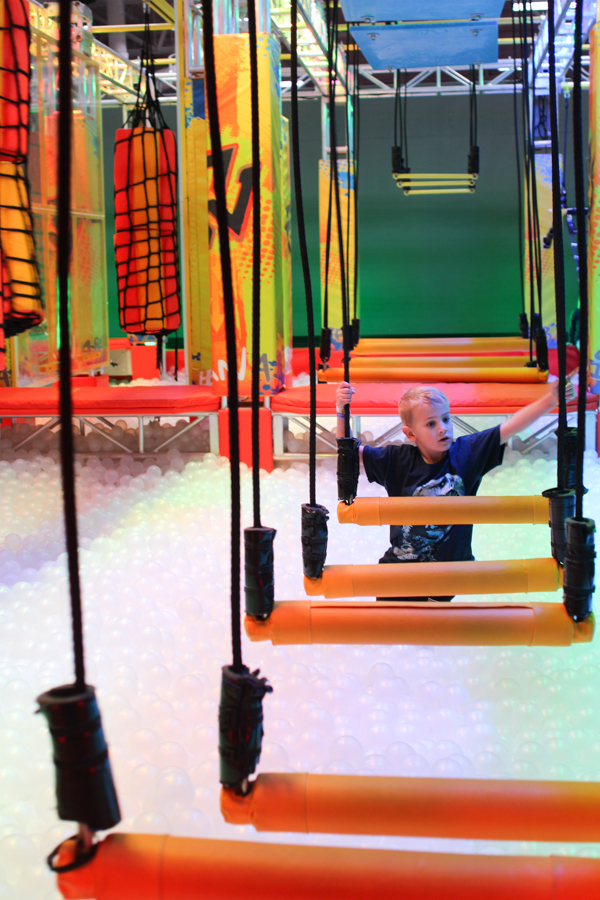 And… wait for it… rode a sky coaster!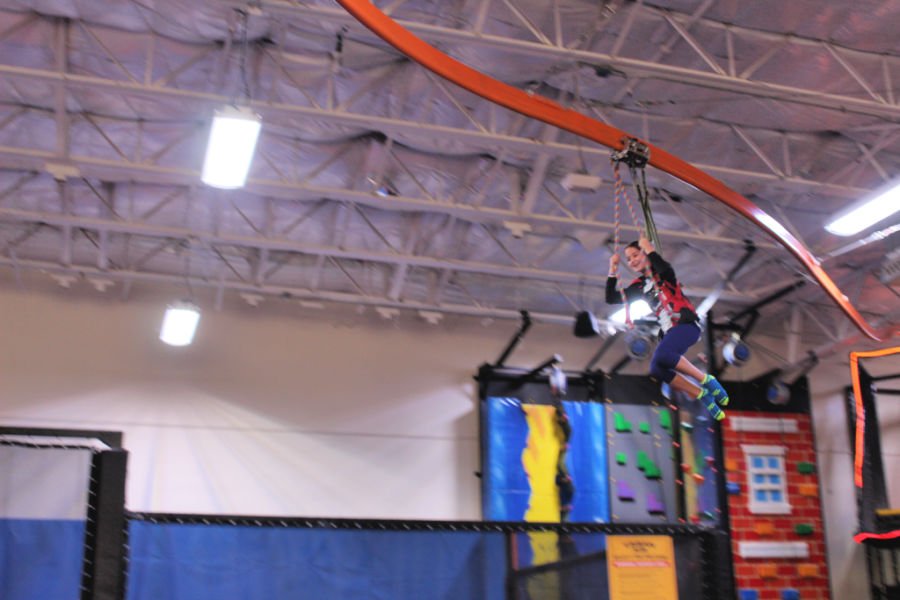 The pure joy on these girls' faces. OMG! Best part of the party!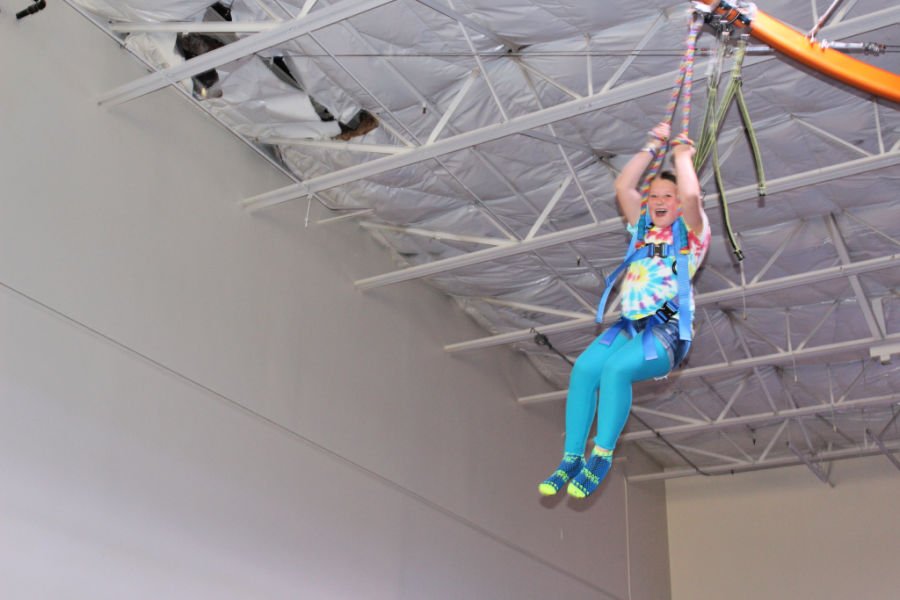 So, I mentioned a snafu and it had to do with skycoaster.
With our party package, we got the room for 2 hours so I figured kids start playing at 11am, break for pizza and cake at 12….
Except at 11:55, the skycoaster opened and all the girls got in line.
They were still in line at noon when the pizzas were just coming out of the oven. However, the manager found me and took full responsibility for the skycoaster's late opening.
He then offered to put 3 additional pizzas in the oven – no charge – so that the party would have hot pizzas at 12:30. Super thoughtful, right?
Time to eat
After the sky coaster, the girls still harnessed up, came up to the room to eat pizza..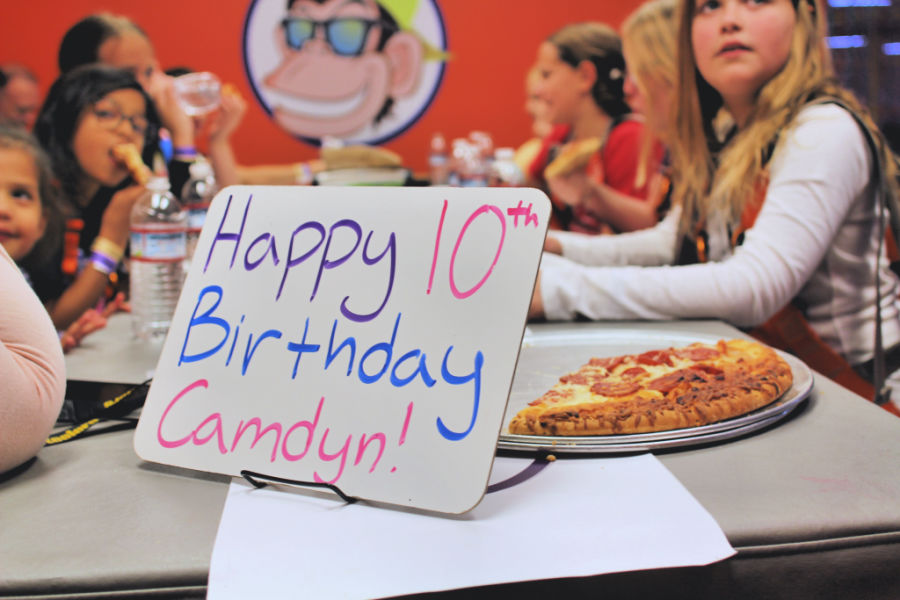 and open presents…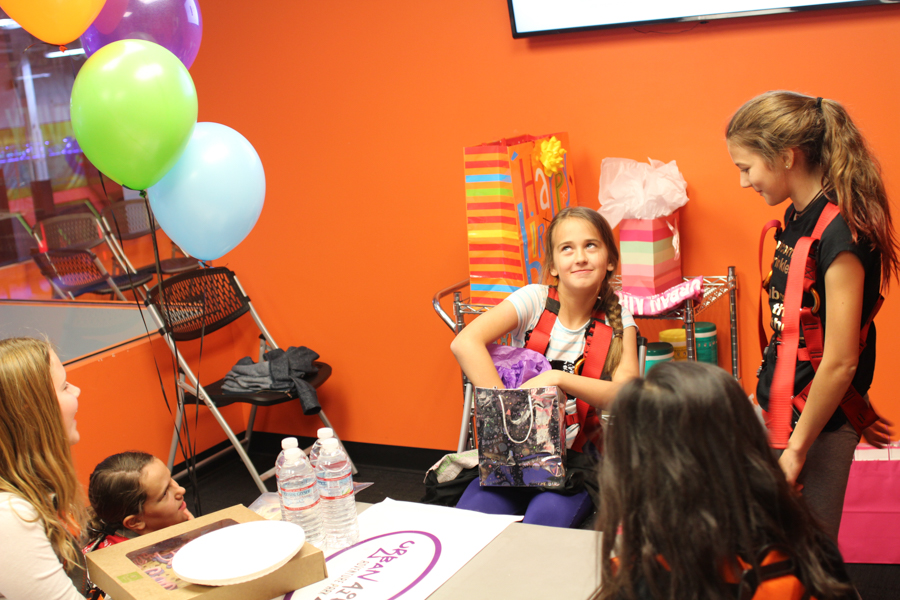 By this time, our party room time ended but with every party package, guests are allowed to play all day.
We moved downstairs and stayed for 2 more hours! In fact, when some parents arrived, they saw how cool the place was and bought jump tickets for themselves.
Ranking past birthday parties, my daughter placed this one at the top of the list. It was super easy for me, the kids got A LOT of physical activity, and everyone left happy.
Winner. Winner.
Title:
How to Host a Kid's Birthday Party Guests Will Rave About (Without any DIY)
Keywords:
easy birthday party idea
Last Updated:
December 20, 2018