Talk Like a Pirate Treasure Hunt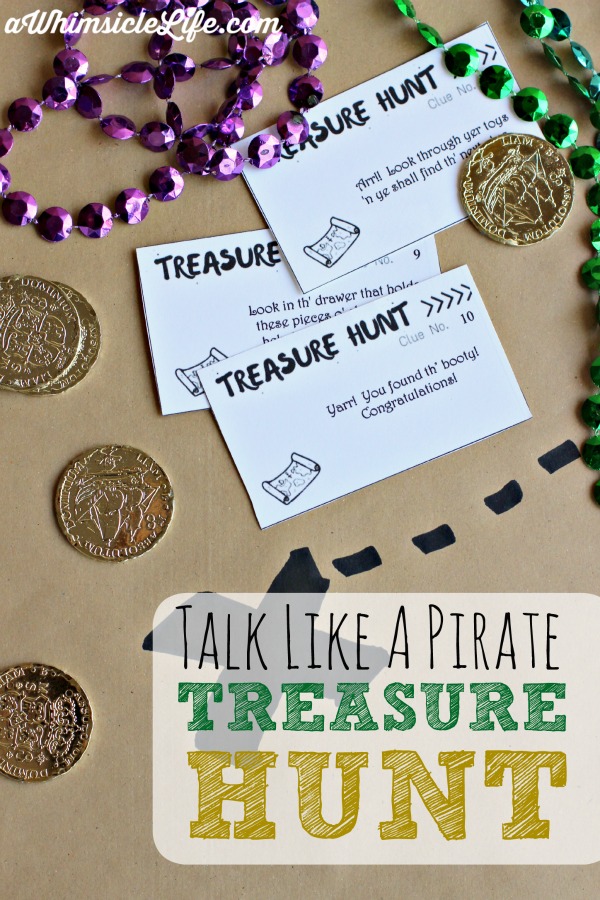 Ahoy Matey!  Who doesn't like a good afternoon of talking like a pirate?  This scavenger hunt is printed with clues that use places in your own home.  Simply print, cut, hide and play!
My daughter love surprises. She appreciates cute post-its left on her desk, notes in her lunch box and of course, treasure hunts. In honor of the movie Pan, I created this treasure hunt for her. Because what better way to get in the mood for a pirate movie than to practice talking like one?
Truth be told, I'm not very good at pirate speak. Thankfully, there are an abundance of pirate talk translators online – I kid you not! I entered my treasure hunt clue, clicked on the translate button and it produced a perfect pirate talk translation.
This treasure hunt uses places found in a common house making it the perfect rainy day activity. The best part is that there is virtually no preparation on your part because I've written all the clues for you.
Click on the picture below for a printable PDF of the clues or find one HERE.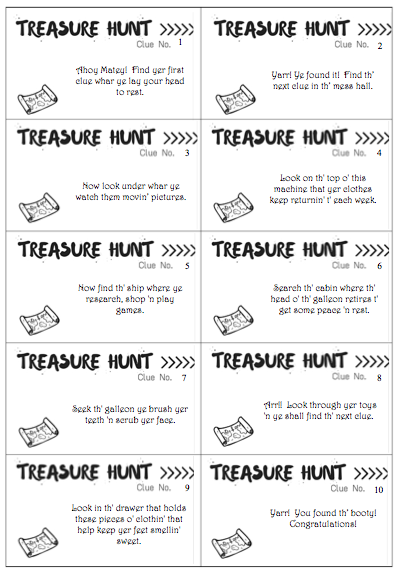 I printed the clues on card stock for a little extra durability. Notice that each clue is numbered. Hide each one in the appropriate place.
Clue No. 1: Give to child (wait until all clues are hidden of course)
Clue No. 2: Put under or on top of child's pillow
Clue No. 3: Put on a chair of the kitchen table
Clue No. 4: Hide by the TV.
Clue No. 5: Place on top of the washing machine
Clue No. 6: Lay on top of a computer.
Clue No. 7: Place on the bed in the master bedroom.
Clue No, 8: Place on sink in kid's bathroom.
Clue No. 9: Lay among child's toys.
Clue No. 10: Place with treasure in child's sock drawer.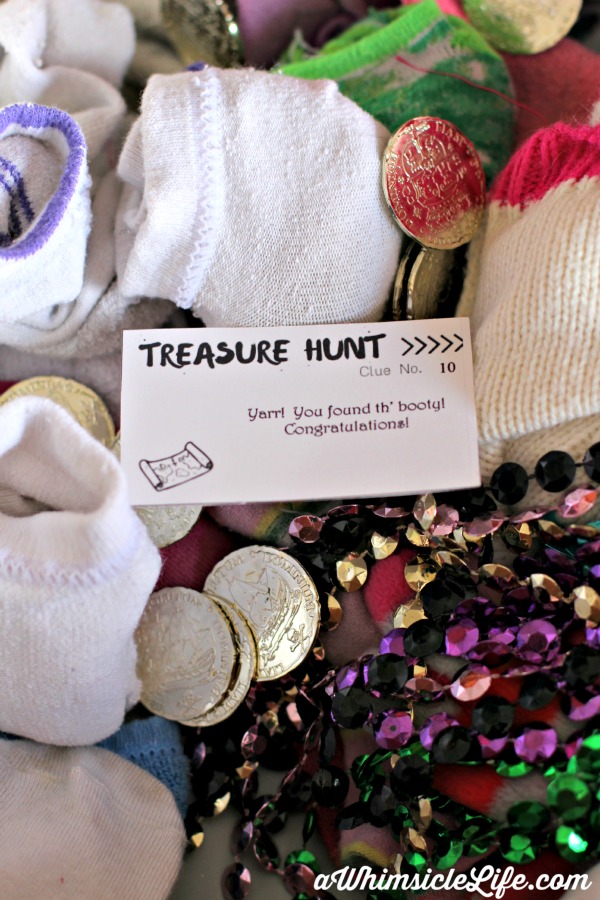 For the prize, I used a few pirate coins and necklaces that I found in the craft store's party supply section. However, any prize would be awesome. I would use stickers, pencils or maybe even a little piece of candy.
Not only did my daughter have fun searching for each clue, but hearing her recite each card aloud like a pirate was beyond cute and entertaining.