Kid's Travel Activity Kit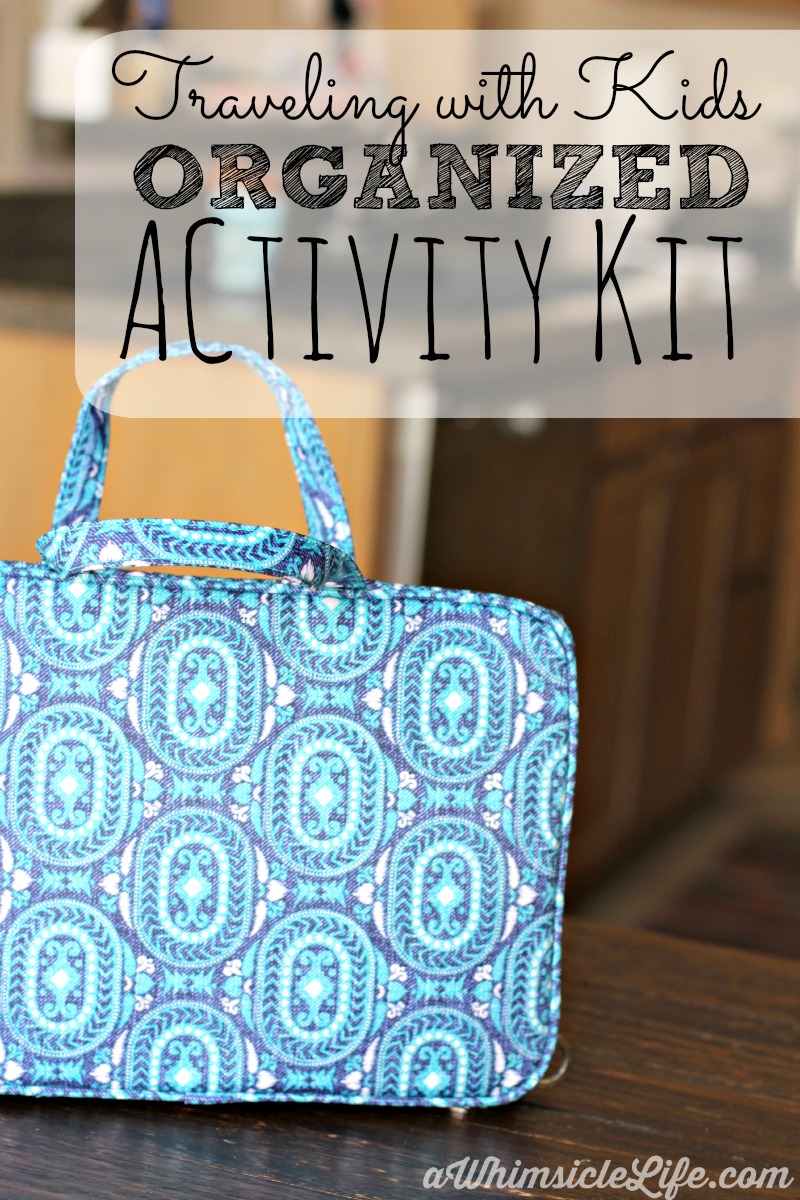 Take our toddler son on a plane?!?  It was something that my husband and I wanted to avoid.  My six-year-old daughter, no problem.  But my son!?! No way!
Then, I got the opportunity to attend the Disney Social Media Moms Celebration in Walt Disney World and we thought… well… the flight will be rough, but let's do it.  I already knew that we would have to pack a lot of food to keep both of our children happy.  But what to do when they aren't eating?
The good news is that we made it.  Because of a little advance preparation, we had an (almost) meltdown free flight. This travel activity kit held all our kid entertainment.
In this post, you will find:
what I recommend for organizing your kit
the activity books and supplies I used
the apps I recommend for toddlers and grade schoolers

Ready, let's go.
Coloring Books and Supplies
Both my son and daughter love to color.  They also love stickers.  My problem with bringing these items along is that I usually have no way to organize them.  Colored pencils would roll under the seat in front of us.  A forgotten crayon would melt in my purse.
For this trip, I bought a makeup organizer.  The expense was well worth it because this case was super sturdy and will last us for many trips to come.
Plus, it held 4 coloring books, a pack of colored pencils, my daughter's Kindle Fire, stickers and tons more.  Only the iPad traveled outside of this kit. ( which I preferred since it is technically MY iPad.)
Buy an organizer of your own before you leave on a trip with kids.  I recommend this one – which would be perfect to hang off the back of the seat of road trips.  This organizer would also work well.
One one side of the kit I packed a Sticker Face Activity book and stashed all of the twistable colored pencils in the zipper pocket.
Since I know you don't want to spend loads of time searching for what to include in your kit, I've included all of our favorites right here: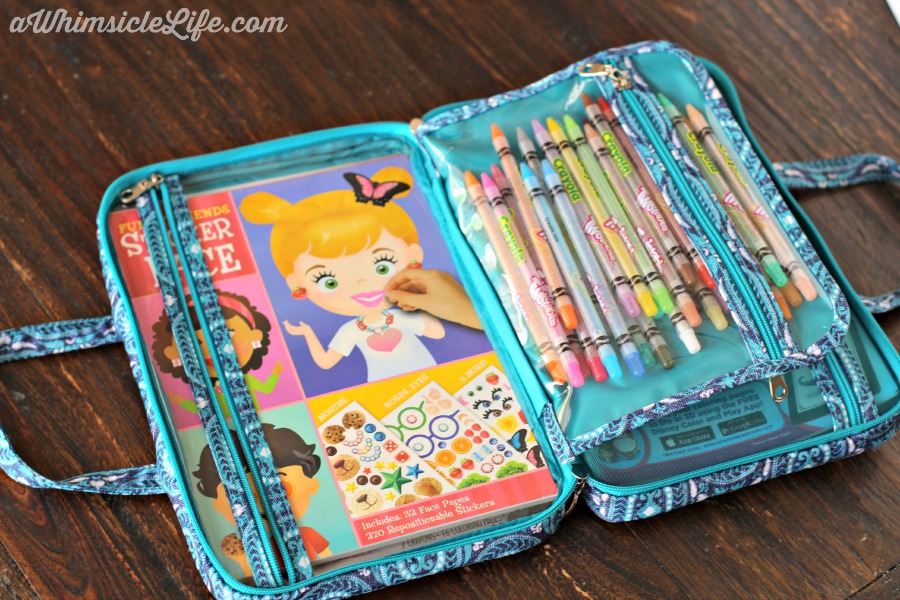 On the other side went stickers, the Kindle Fire and even more coloring books.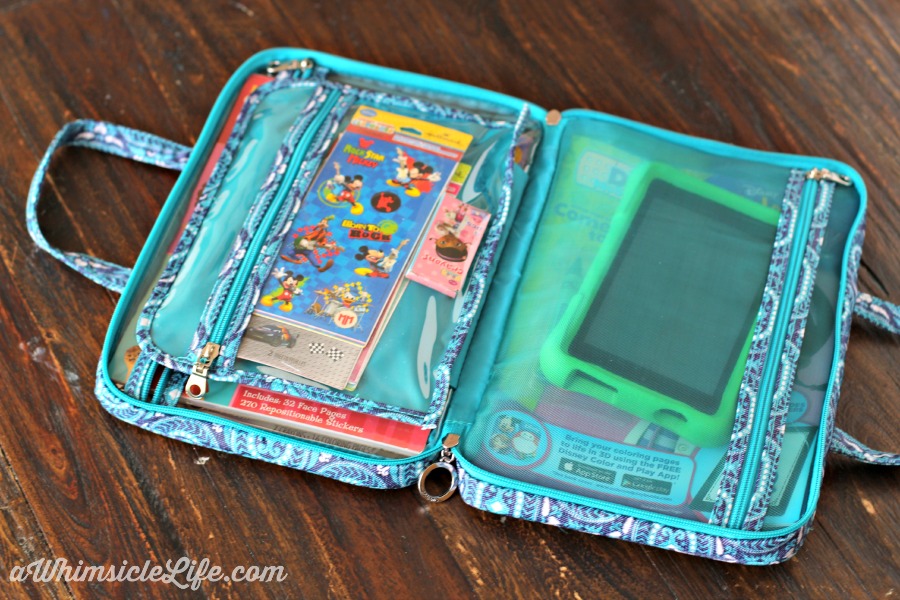 This kit works so well for traveling!
What else should you include in your Activity Kit? Electronic devices are an easy solution!  But what are the best apps for your kid?
Electronic Devices
We brought two tablets along for this trip.  My son, Dude, used MY iPad (all for the greater good, right?) and my daughter, Llama, used her Kindle Fire.
iPad APPS for a Toddler


A couple weeks before our trip, Dude (22 months) "leveled up" and suddenly became interested in the iPad.  Hubby and I were overjoyed because we knew the iPad was going to make our flight easier.  On the plane he played:
What did we pack for our grade schooler?
Kindle Fire for our Grade Schooler
We got extremely lucky that we had this Kindle Fire  because I won it at the MOM 2.0 conference that I recently attended. This beauty is amazing because it comes with an indestructible kid's case.
You can literally throw it across the room and it will stay perfectly intact. Amazon also has this cool new service call Amazon FreeTime Unlimited.  We pay $2.99 a month as Amazon Prime Members and it gives us access to a wealth of FREE apps, books and more. We also set limits on Llama's screen time with this app.  The Kindle shuts down each day after the maximum screen time limit is reached.
Llama's favorite books and apps are (affiliate links):
Cut the Rope – Per Llama's description, there is a candy and a monster.  Your mission is to get the candy into the monster's mouth using tools and outsmarting the obstacles.
Animal Joke book – So many available in Freetime.  One book had this zinger: Why don't ants ever get sick?  Because they have ANT-I-Bodies.
Disney Princess Story Theater–  Kids can make their own story, record their own audio and move the characters and props around using the Disney Princesses.
Where's My Water?– Players find a route to get water to an alligator who is patiently waiting for a shower.
Now, my son was not the perfect angel on these flights.  There was an incident with Dum Dums at takeoff.   Also, when I tried to coax him to sleep he screamed a bit.  But, for the most part we had a pretty smooth flight.
He never got bored.  My daughter had plenty to keep her occupied as well.  Our travel pack, snacks and the apps on each tablet kept them happy on each 4-hour flight.  Win!
What You Need in Your Travel Kit
Where to begin?  Here's what you need.
 Buy an organizer.
Fill it with coloring books, stickers and colored pencils.
Pack an electronic device and load age appropriate apps.

With an organized activity kit and a plan for downtime, you will be more than prepared for your next trip!
Title:
Kid's Travel Activity Kit
Keywords:
travel activity kit
Last Updated:
March 19, 2018