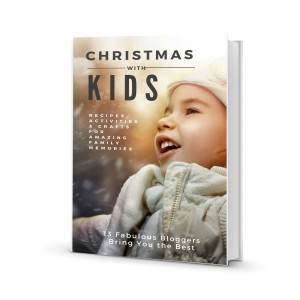 Thirteen amazing bloggers have contributed their best kids' activities, recipes and DIY ideas to make your holidays happy. Best of all, you don't need to search all over Pinterest for amazing family activities because they are all recommended for you right here!

I want the Christmas season to be special. I want my kids to remember the wonderful family time, fun projects and giving back to those in need.
What I don't want them to remember is mommy exploding from the extra stress and running around in a mad dash to get everything done.
This book is the solution for that.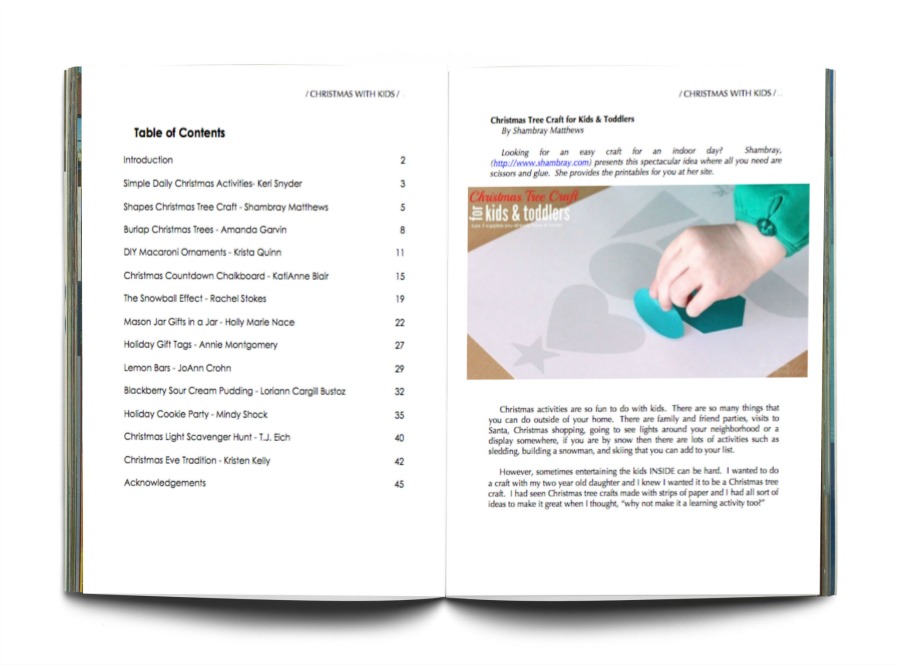 You'll find gorgeous ornaments (that you can make from macaroni!), a Christmas Light scavenger hunt, a darling Christmas Countdown sign you can easily create and many more!
Whether you have a preschooler or a high schooler, you will find an activity the entire family can do together in this book!

Reviews
"If you're like me, Pinterest at this time of year can simply be OVERWHELMING! Don't get me wrong, I LOVE Pinterest, but sometimes it's hard to get all of those ideas streamlined. That's where this little book here comes in handy :-)" – Mandy, Almond Place
"We take the kids out looking at Christmas lights every year. We stop and get hot chocolate, load the kids up, and drive around looking. The book has a great Christmas light scavenger hunt that I will be using this year! The kids will have a blast!" – Leila, Life as Leels
"And then there were the recipes. Oh my goodness, the pictures looked so good, I could almost taste them. Yet, the recipes were simply made without a lot of time spent on complicated preparations and with easy to find ingredients." – Charissa, Cook with a Shoe
"This is a great way to get into the holiday spirit without getting completely overwhelmed on Pinterest." -Ashleigh, Ashleigh Jay
"Christmas with Kids is an affordable book with some really great ideas to make Christmas that much more fun with your family." – Megan, Alohamora: Open a Book
"I can hardly wait to do some of these crafts with my children during the holidays. I can't wait to make the great memories with them!" – Charlene, Thinking Outside the Pot
"JoAnn from Whimsicle has spearheaded this fantastic resource which includes activities like DIY macaroni ornaments, a Christmas Eve tradition, and a Holiday cookie party!" – Melanie, Melanie Meditates.
"I cannot wait to start trying out some of the crafts with my family. I especially like the wide range of ideas you can do with your kids as they get older." – Hilary, Raising Fairies and Knights