"Wheee… Mommy, look at Dude!"
I swiveled my chair around and saw my son trying to climb into my husband's office chair. I picked him up and placed him in the chair. Llama slowly turned him around.


He looked still and content, so I turned my eyes back to my laptop for a second to check a Facebook notification. In that brief instant I heard a "BAM!" and then he started screaming. My heart fell down into my stomach. I quickly turned around, scooped Dude up and started to panic. I looked down at my daughter and saw fear on her face as she tried to gauge my reaction. I tried to calmly say, "It's ok, baby." My first thought was, given he is a very rambunctious boy, Dude has fallen before and he'll be ok. Usually all he needs is a few cuddles and gentle shushes, and he calms right down.
I cuddled and I shushed and after a minute, Dude was still screaming. Mentally, I went through a checklist of what could be wrong. He didn't lose consciousness in the fall so he probably did not hit is head. There is no bleeding anywhere. I checked his chest and stomach. I didn't feel anything protruding nor any abnormally hard areas.
I took him downstairs as my husband walked in the door from work. I handed Dude off to him to try to calm him down. Dude was still screaming and no amount of consoling was working. Guilt seeped through me. Why wasn't I watching more closely? What was wrong with my baby? After about five minutes (that seemed like hours), he stopped screaming and was now crying off and on. Knowing that crackers make him happy, I handed him a Ritz. He grabbed for the cracker and brought it to his mouth. But he couldn't get it into his mouth. His hand hung limply from his wrist. Then, I saw his wrist. Red and puffy, there was no mistake that it was swelling.
I quickly called the after hours nurse at my pediatrician's office. After describing his symptoms, she recommended that I take him in to be seen and gave me the address of an after-hours pediatric urgent care. Unfortunately, it was 10 miles from our house.
My husband, seeing my panic, packed me two slices of the pepperoni pizza I had just made for dinner and helped me get Dude in the car. My daughter, Llama, was slightly concerned about the situation, however being five, she told me nonchalantly as I headed out the door, "Tell me if he broke it, then I won't spin him in the chair anymore."
On the freeway to Urgent Care, I tried to talk to Dude to keep him awake. Even though my rational self told me he didn't bump his head, my irrational self kept flashing back to the episode of Punky Brewster where Cherry falls off the swing. After her fall, she has trouble staying awake. Punky and Henry know the risk for concussion and desperately try to keep her up. I started to sing to Dude and talk to him in baby voices. But, having just had a fall and being so close to his bedtime, he fell asleep.
Don't have time to drive to Urgent Care, I thought. What if he does have a concussion? I exited the freeway and decided to take him to the children's hospital instead, which was closer. When I opened the car door, I desparately started running through the scenarios of what would happen if he didn't wake up when I took him out of his car seat. I worked myself into such a full-on frenzy that tears were running down my cheeks.
Of course, he woke up. Looking back on this now, I was definitely overreacting. And this is what my husband has to deal with every time something happens to one of our kids. He really is a saint, my hubby.
We were checked in fairly quickly through the ER. The doctor at first doubted Dude's wrist was broken since Dude seemed happy enough and was moving it around. He ordered X-rays just in case. These showed that Dude had a tiny buckle fracture. The doctor binded his arm in a splint, referred us to a pediatric orthopedic surgeon and told us it would probably heal fine.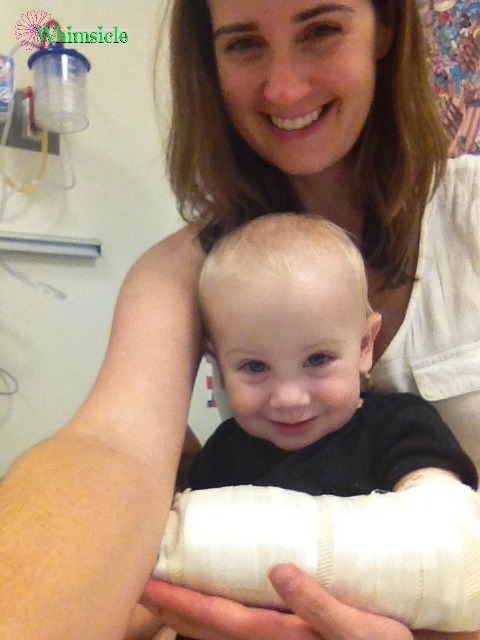 Dude adjusted very well to his splint. He was still able to crawl with it. I call him my little peg-legged pirate. The only problem was that it was hard to keep the white splint clean and the bandages secured to his upper arm.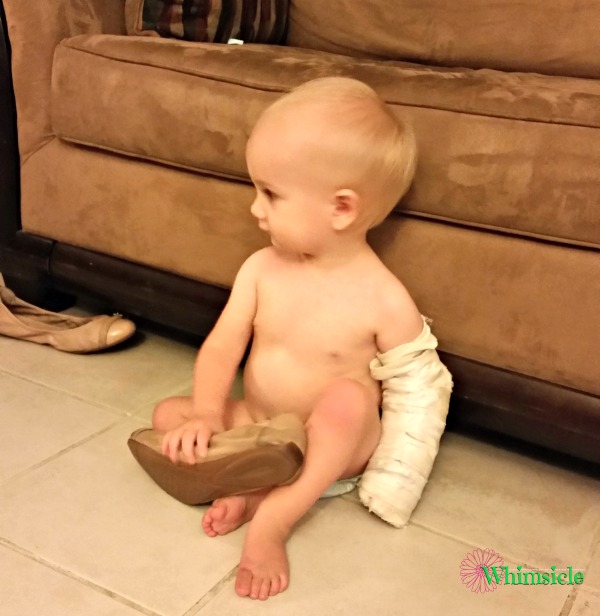 Two weeks later, we visited the orthopedic surgeon. He encased Dude's arm in a stylish, and much smaller, blue cast. Now we just wait for it to heal.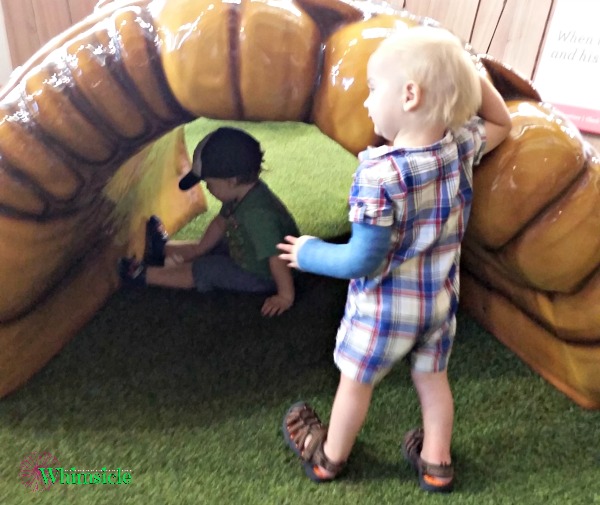 Dude and his sister no longer play in the chair. I am now painfully aware of how quickly accidents can happen.
Have you or your child ever broken something? Tell us your story.