I Don't Know My Neighbors: 3 Ways to Introduce Yourself
Have you been living in the same place for years and still don't know your neighbors' names? Don't worry. I I didn't know my neighbors either. Here is why I decided to make a change and three steps you can use to introduce yourself to neighbors.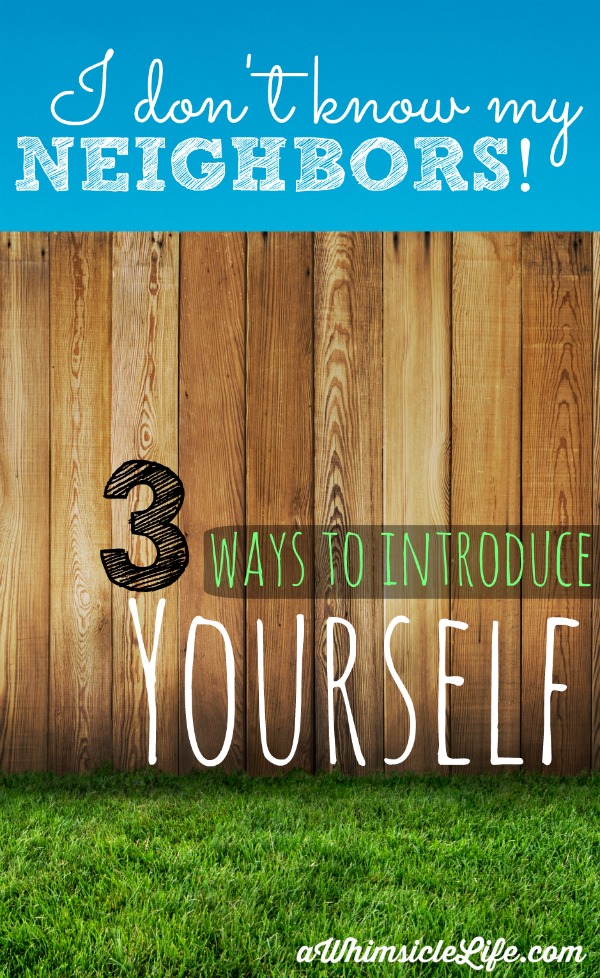 I want to be friends with my neighbors. I want to know who lives in each house. I want to call out to them by name as I pass by.
The problem is that I live in a neighborhood with a lot of garages. People pull their cars into the garage and close the doors. We all go into our separate houses and not know the people we sleep less than 50 feet from.
I'll admit it now. I don't know my neighbors.
I dream of my ideal neighborhood. The type where all of the kids are the same age, there are monthly neighborhood yard sales, play dates, tea parties…
I want a neighborhood like that. I crave that connection.
Imagine my disappointment when we moved and I knew only one neighbor's name a year later.
This past June, I woke up to the sound of helicopters circling my street. I looked out the front window just as a fire engine sped down our quiet road. A house was on fire. I had no idea how to help nor did I even know who lived inside.
That needed to change.
Here are three ways I've discovered in the past few months that have helped me connect with my neighbors, even though I've lived in the neighborhood a while.
Connect Online
Facebook can only go so far in meeting people who actually live near you. There are neighborhood associations, and my neighbor has one. However, the Facebook page for my neighborhood only had 9 people subscribed. 9! And no one was commenting on any of the posts. The page read like our neighborhood association talking to themselves.
A year ago, my dad introduced me to NextDoor.com. NextDoor is like Facebook for your neighborhood. It's free so the first thing you can do is log on and check if your neighborhood is participating. If its not, you can start your neighborhood group. You can then request that NextDoor send invitations to all of your neighbors to join.
From my own experience, a handful of neighbors will act on these postcards and you will be able to meet them online. Now, while I haven't yet met all my neighbors in person, I have met many of them through the site.
At least now I know their names while I wave to them driving by.
Go for Walks
Also known as, accosting neighbors in their driveways (insert evil laugh here).
No, its not really that intrusive. I do find that people generally keep to themselves and not want to bother others so many need a little encouragement to step beyond their garage doors.
I find that taking a walk right around 5pm, when many people are getting home from work, is the perfect time to meet neighbors.
Usually I wave a quick "Hi" or reintroduce myself. Many people are just as horrible with names as I am so my embarrassment about not remembering their name is very short lived.
Then, like the stalker I am, I rush home and write down their name on a list I keep on my desk. It works for me.
Delivering Sweets
Everyone loves a dessert, right? I dreamed of my neighbors bringing over plates of freshly baked chocolate chip cookies the day we moved in – a welcome to the neighborhood gesture. That didn't happen, but as Ghandi said, "Be the change you wish to see in the world." I'm sure he was talking about cookies.
Now I make treats and gift them to the neighbors as an excuse to meet them.
I pile my kids into the wagon, load in the sweets and journey door to door. I find that most of my neighbors are really happy to see me. I'm not selling anything and I'm bringing dessert. Who can turn that away?
Recently, I've been on a rice krispie treat kick inspired by my friend Ashley's book, Super Cute Crispy treats. My neighbors received these beauties in October.
I'm proud to say that I now know my neighbors' names.
The people whose house caught fire moved back last week. While I was at the mailboxes, I watched as their car pulled into the driveway. I introduced myself. I now know their names.
It's a start.
Title:
I Don't Know My Neighbors: 3 Ways to Introduce Yourself
Keywords:
introduce yourself to neighbors
Last Updated:
March 8, 2017