We want to have fun with our kids! However, when summer hits, so do the expenses. Kids activities are pricey, but entertainment doesn't need to be pricey. These easy silly putty activities will do the trick!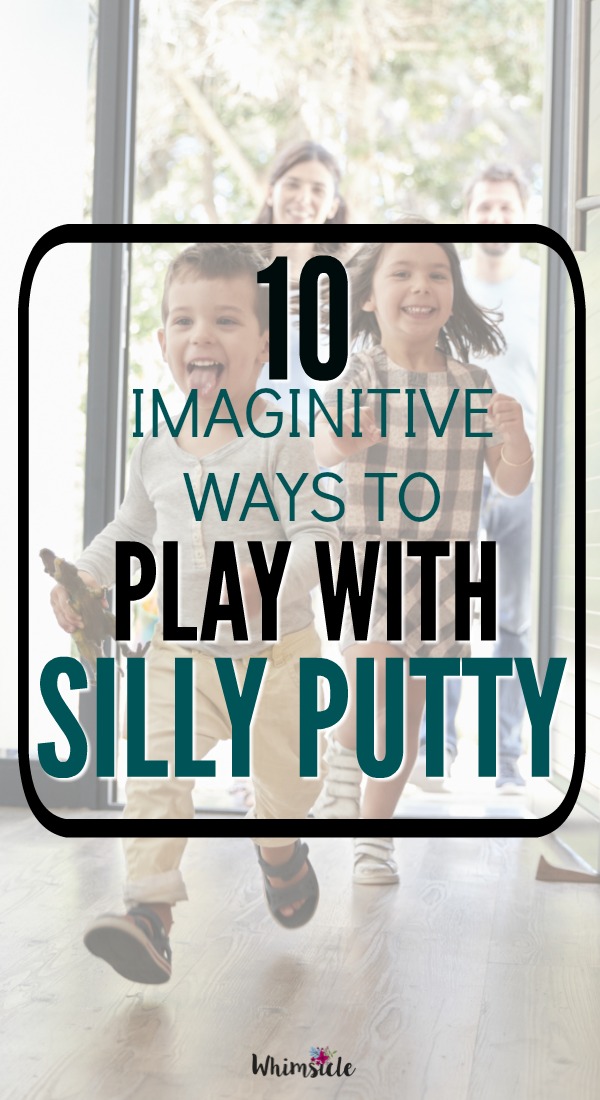 Silly Putty used to be my all time favorite toy. On road trips, it could keep me entertained for hours. I could mush it, stretch it, and stick it all sorts of unusual places. In this era of ipads and cell phones, I love to introduce my kids to the old school. Believe it or not, this simple putty entertained my two-year-old and six-year-old for an hour!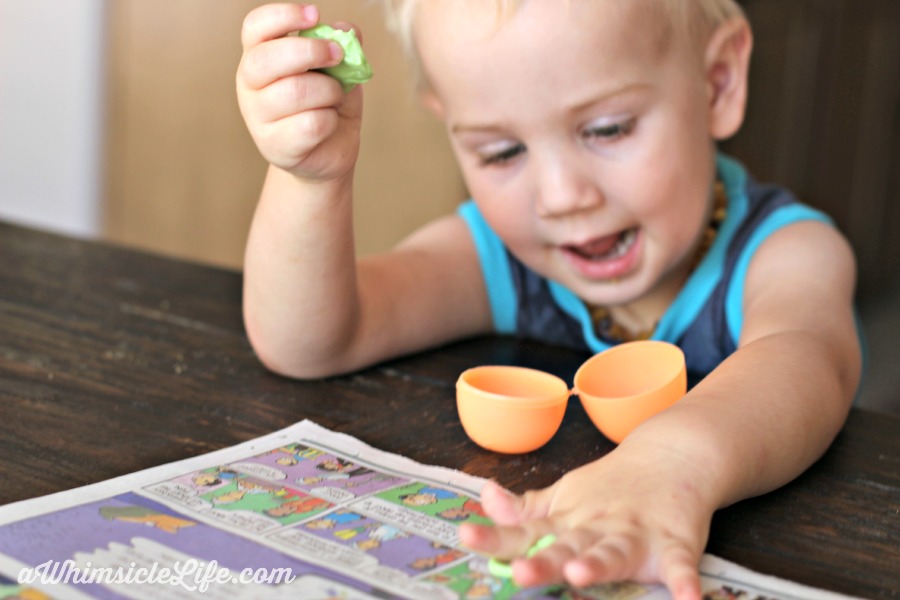 Here's what we did:
Supplies
From Dollar Store:
Super Putty (the dollar store brand available)
On hand:
Newspaper
toothpicks
pencil
How to Start
I simply opened the little plastic egg and showed my daughter how to flatten it out and press it against newspaper. She was hooked from there. We also came up with:
Bounce it like a ball
One of the obvious ones. My son liked to throw it at the cats to chase. As a bonus, when silly putty rolls along the floor, it picks up any dirt and debris hiding out. Think of it as a pre-treatment for washing the tile.
Use it as a pencil grip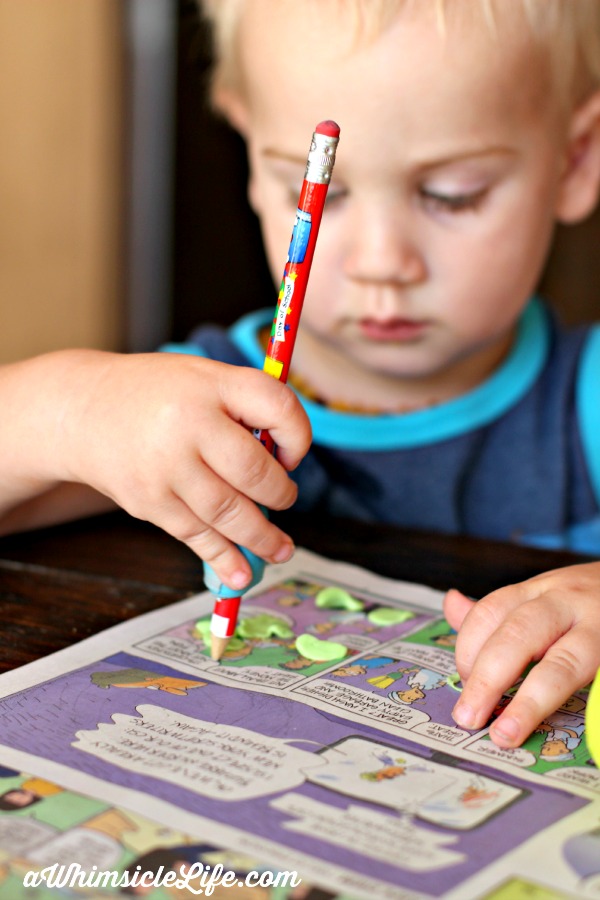 Great for little ones trying to write. I would suggest it in the classroom as well, however be prepared for the students to…
Stretch it
Once my son discovered this, the pencil grip was no more. He laughed and giggled as he pulled off chunks of silly putty until only a little blue nubbins remained.
Craft replacement dice from it
Missing some dice from a board game? Silly putty will work in a pinch.
Lift newsprint off the page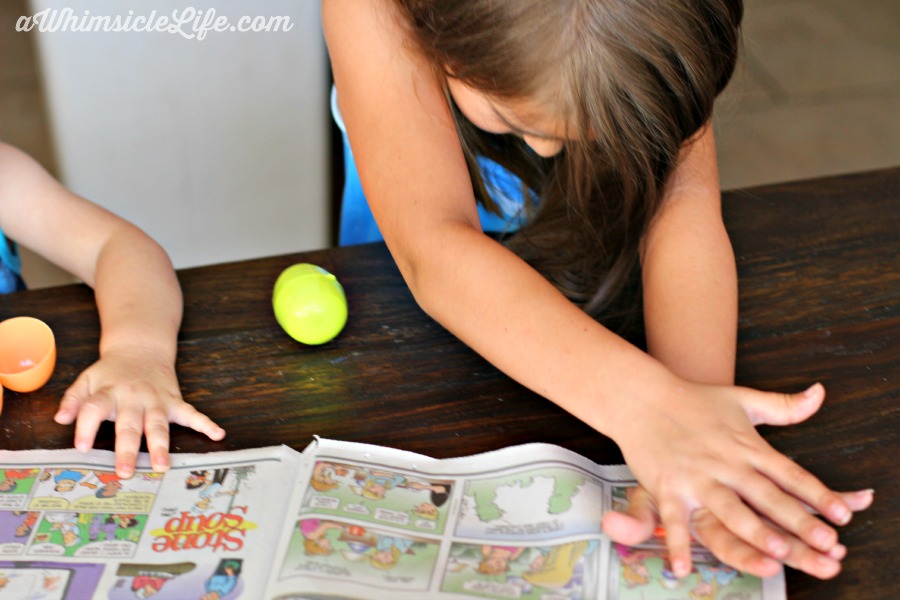 I remember my awe when my dad showed me this trick the first time. Simply press it on the page and the newsprint makes a perfect imprint. A little word of warning though. I found that the dollar store brand of silly putty doesn't produce a very clear image. If you really want to show kids the silly putty copy ability, I suggest buying brand name.
Hold keys in a hiding place
Or hide something from a little brother and have him try to find it.
Mustaches!
Any mustache style you desire. A goatee, maybe? A handlebar mustache? Or possibly the mustache my daughter chose above which I can only describe as a Hitler mustache. Sigh…
Pop it
Completely encase your thumb with the silly putty, wiggle it off, seal the end and press it down. The satisfying pop that fills the room is incredibly addicting.
Use as joints in a toothpick house
Silly putty is extremely pliable, so this house fell down within 5 minutes. It was impressive when it lasted though!
Build a boat for your dolls
As my daughter explained to me, Ariel is in the water guiding the boat while Rapunzel is sitting in it. Those are rainbow loom bands hanging off the joints.
As you can see, silly putty encouraged my kids to explore and be creative. I loved seeing their fascination with this pliable dough.
Next road trip, I'm packing silly putty.
Don't leave yet! Find many more ideas for Dollar Store fun! Even better, get the remaining activities delivered to your inbox between now and July 3rd!