5 Awesome Holiday Party Games for Kids
December!  December!  Bring on the fun!!  I researched and pinned all over Pinterest to find you the best holiday party games for kids this year.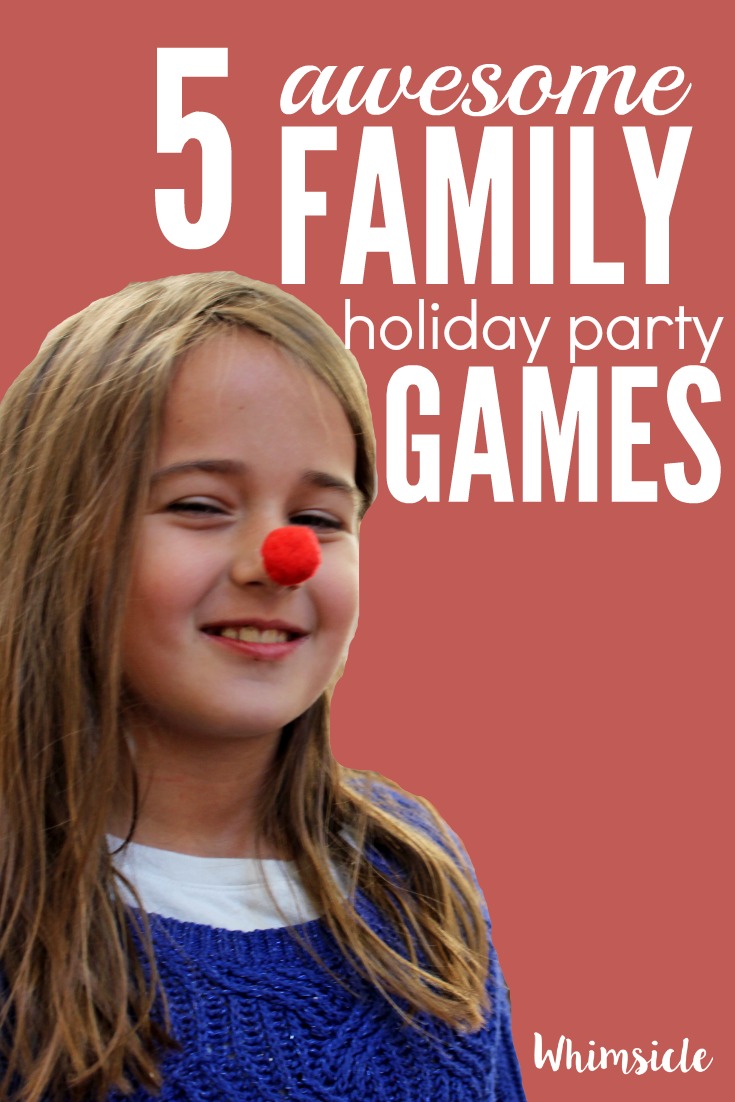 These five holiday party games will have your entire family excited, participating and having a good ol' time.
Can you just feel the excitement?  Here we go!
If your family is anything like mine, we go into a little after meal food coma.  Every party, we eat and then we sit.
Let's change that.
You may want to stock up on prizes for the winners of these games or you may want to just play with bragging rights.
CLICK HERE to Get a Printable Version of These Games
First game:
Do You want to Build a Snowman?
You need:
Toilet paper
Construction paper
Scissors
Tape
Hat and scarf for each team (optional)
Divide your group into teams.  I like to make sure one younger child per group so they can still participate but have lots of assistance.
Designate the judges.  This is a great job for a grandparent or a mom with a baby.
Each team will have 10 minutes (set a timer) to build the most creative snowman.  Here's the catch: the snowman must be a team member.   Choose one member of your team and wrap her head to toe in toilet paper.
Once she has on her "winter white", add on construction paper buttons or a scarf and hat.  But really, get creative.  That's the fun of this game, seeing what everyone can come up with.  
The Project Runway Alternative Materials Challenge
Wrapping paper from all the opened presents
Scotch tape
Garbage bag for each team
Have you seen Project Runway?  Every season they have an alternative materials challenge where contestants must use items other than fabric to make a dress – such as tire rubber or hula hoops.
For this challenge, your team will use all the discarded wrapping paper.
After wrapping presents and assigning teams, give each team a bag and let them collect all of the wrapping paper on the floor to use in their garment.
Tricky genius you!  You just had everyone clean without a single complaint.
Set the timer for 10 minutes and let each team dress another member of their team in wrapping paper.  If you like, choose a theme, like "best cocktail dress" or "snazziest tuxedo".
Have judges decide the winners or put it to a popular vote.
The Plastic Wrap Ball
You need:
Dice
Stocking stuffer like goodies
Saran wrap
Fun and genius… this game requires a little bit of prep.  Take the best stocking stuffer goodie you have and start wrapping that in saran wrap.  As you wrap, add the other goodies and roll the plastic wrap around.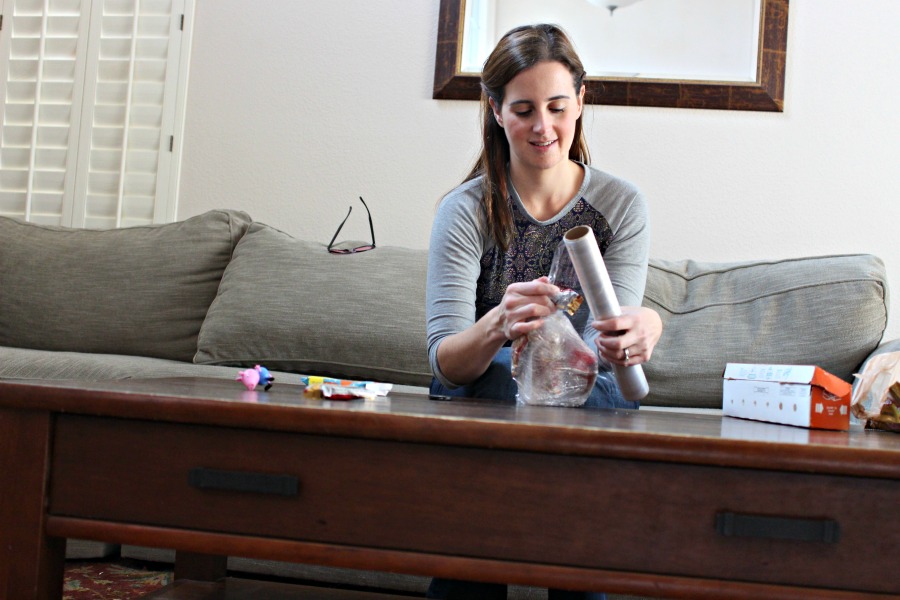 With all the goodies ensconced in plastic wrap, you now have a gigantic ball.  Let the party begin!!
Have players sit in a circle.  Give one player the ball and the player next to her the two dice.  When you say go, the first player will start unwrapping while the second player rolls furiously to get doubles.   Player 1 gets to keep any goodies she unwraps.
When player 2 rolls doubles, the saran wrap ball passes to him and the dice passes to the next player.  Play continues until the players reach the center of the ball.
Pro Tip:  Tear the plastic wrap regularly while wrapping.  Then, start the wrap in the opposite direction.
The Traveling Christmas Cookie
What you Need:
Start with a cookie on your forehead.  Using only your facial muscles (no hands!) get the cookie from your forehead to your mouth.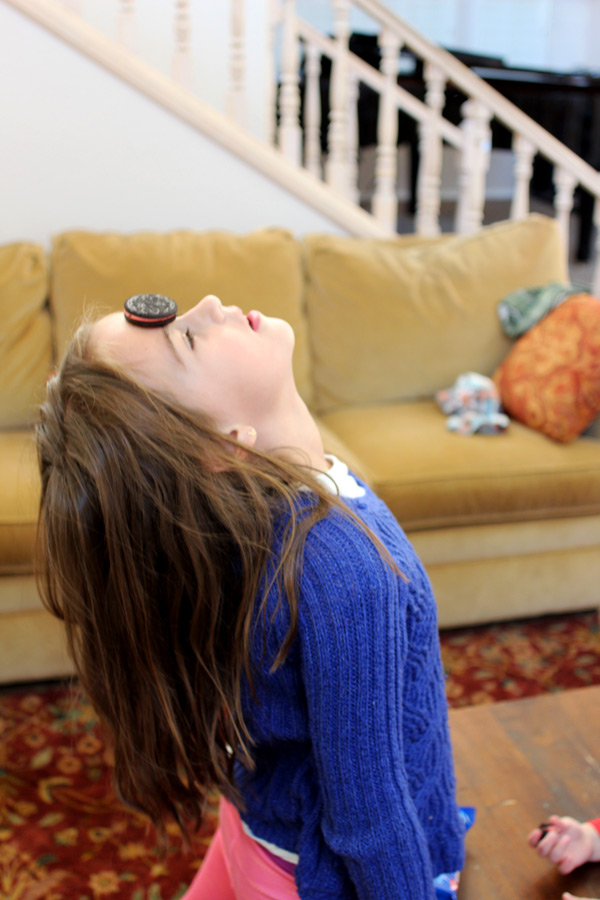 The first one who gets it in wins!!  If the cookie falls, the player must place it back on her forehead and start again.
Rudolph the Red Nosed Reindeer
What you Need:
Here's a fun little spin on "Pin the Tail on the Donkey"
Dip your nose in Vaseline then pick up a red puffy ball with ONLY your nose.  No hands!
It should stick but you will need a large amount of Vaseline for it to stay.  Think in terms of "gobs".
Transfer the red pom pom across the room to the Rudolph poster and stick it on.  You will need to lube Rudolph's nose as well.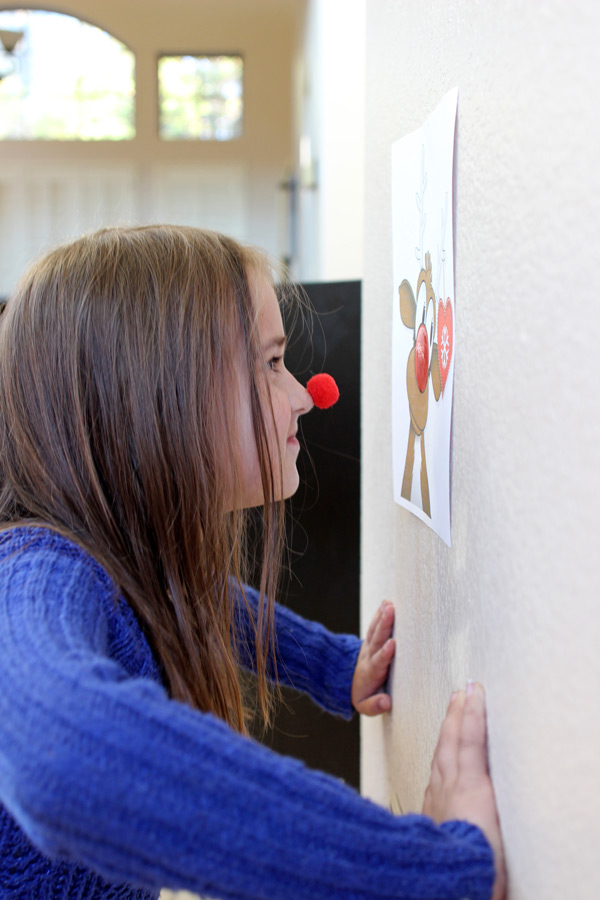 You can make this a solo challenge for each person or play one-on-one with two Rudolph posters.  The first person to stick on the nose is the winner.
CLICK HERE to Get a Printable Version of These Games
These games are guaranteed to make your holiday party memorable and tons of fun!!  No longer will your guests be stuck in a food coma.  They'll be too busy laughing and competing to even bother resisting that second slice of pie.
Mmmm… pie.
Title:
5 Awesome Holiday Party Games for Kids
Keywords:
Holiday Party Games for Kids
Last Updated:
March 8, 2017