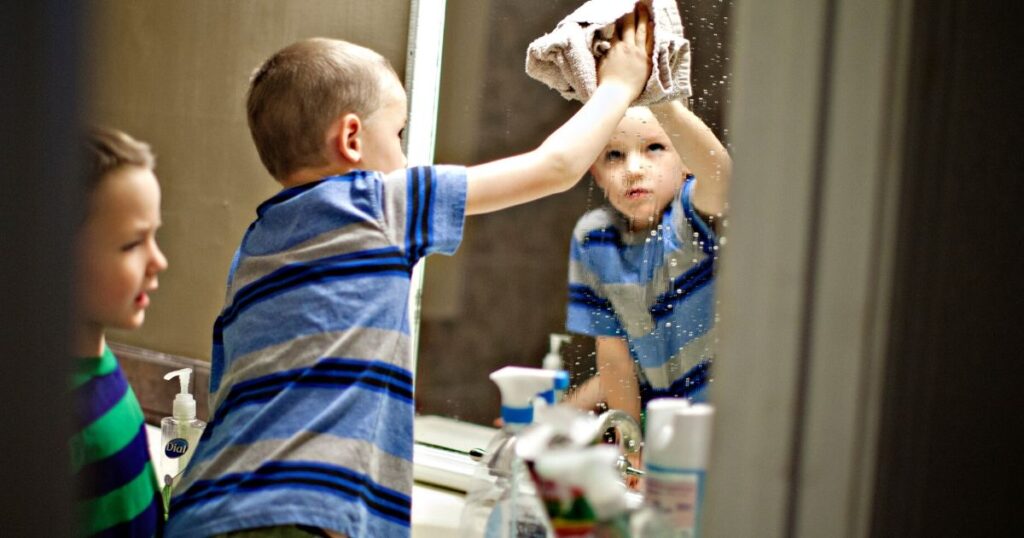 by Brie Tucker, Contributor to No Guilt Mom
I hated doing chores as a kid. Did you?
I remember sitting in the bathroom for 10 minutes letting the shower run so it "sounded" like I was cleaning the bathroom. Oh, the choice words I would have for my kids if I caught them doing that!
However, being the youngest child in my house, my parents weren't dumb. They had seen it all before and my little tricks and shortcuts never made it far.
Just as my parents predicted, I now have kids of my own and I understand their struggle!
My kids have inherited my distaste for cleaning.
READ: STOP FIGHTING WITH KIDS: 3 STEPS TO MAKE POWER STRUGGLES DISAPPEAR
While I do like my house to be picked up, clean and neat- doing the actual work is something that I really have to pump myself up for.
But, here's my secret:
Even though my kids hate cleaning, they get their chores done with minimal pushback.
Would you like to know my little secret?
My kids get to pick their chores.
Ever since preschool, my kids have had chores.
They were making their bed (to the best of their ability), picking up their room, cleaning up their toys, and as they grew older, their chores changed.
But one thing always stayed the same…they had a say.
And why? Because of two things:
We are a family and everyone in our family matters.
People are more willing to do a task that they have buy-in too.
READ: AVOID POWER STRUGGLES: HOW TO GET KIDS TO LISTEN THE FIRST TIME
So, twice a year, we sit down at the kitchen table and make a list of every chore that needed to be done in the house on a consistent (mostly weekly) basis.
Things like:
Vacuuming
Dusting
Mopping
Unloading the dishwasher
and so on
Then we talk about what chores the kids think they could do on their own, and we list those out separately.
Any chore that we both agree they can't do, goes under the "Parents" list.
That was and still is, a long list…but so is the life of an adult (am I right)?
Always a million things to do.
Then we take those chores that we all agreed the kids were able to do, and divide them equally among the kids.
READ: HOW TO GET FAMILY TO HELP AROUND THE HOUSE (WHEN THEY'VE BEEN DOING NOTHING)
Each kid gets to pick a chore, then another, and then another (typically my kids have 2-3 weekly chores).
Letting the kids take turns picking the chores, made it fair and again, gave them a say over what they were responsible for.
No one was being asked to do anything they didn't choose to do.
What do our chore lists look like in our house? Here's a look at our current one:
My daughter, who is 11, is responsible for:
Dusting
Washing the dog
Doing her laundry
Vacuuming her room
Emptying (half of) the dishwasher.
My son, who is almost 13, is responsible for:
Vacuuming the living room and his bedroom
Doing his laundry
Cleaning the bathrooms
Emptying (half of) the dishwasher
I do everything else (ahh…the joys of being the grown-up)!
Side note: During the summer, they will take on a few more chores because they are home more and schoolwork isn't a concern.
READ: 4 IDEAS TO KEEP KIDS OFF SCREENS THIS SUMMER — WITH ZERO NAGGING
Now here's the thing that I find funny…we've had this system for going on 6 or more years now…and their chores have hardly changed at all!
Every time one of the kids starts to complain about their chores (most often my daughter), we sit down as a family, look at everything again, and wouldn't you know it- she often decides that she still likes her chores more than the other choices.
I, of course, offer to trade her some of mine…like "You can take my chore of mopping." (Said with a small glimmer of hope because I despise this chore).
READ: HOW TO RESPOND WHEN YOUR KIDS COMPLAIN
She sometimes will think about it (as a courtesy, I'm sure) but she always decides that she will stick with what she's got.
And everyone walks away feeling like they got the better deal…just a little bit.
What about payment for chores, you ask?
If they ask for money for something, this little technique works well too.
I offer them a set amount of money per extra chore they are willing to do.
If they chose to do them, then great, extra cash in their pocket. If not, well…then no dinero honey!
This little trick has served our family well in different households and even in a change in our family dynamic.
My kids have told me before that while they don't like doing chores, they feel like they are heard in my household, and that goes a long way!