This shop has been compensated by Collective Bias and its advertiser. All opinions are mine alone. #TrickOrSweet#CollectiveBias
Want to add a little bit of color to your Halloween door this year? If orange and black just isn't your thing, try a glittered take on Halloween inspired by the musical Wicked. The best part is that this pumpkin stack will pass out your candy for you – while you are out trick-or-treating!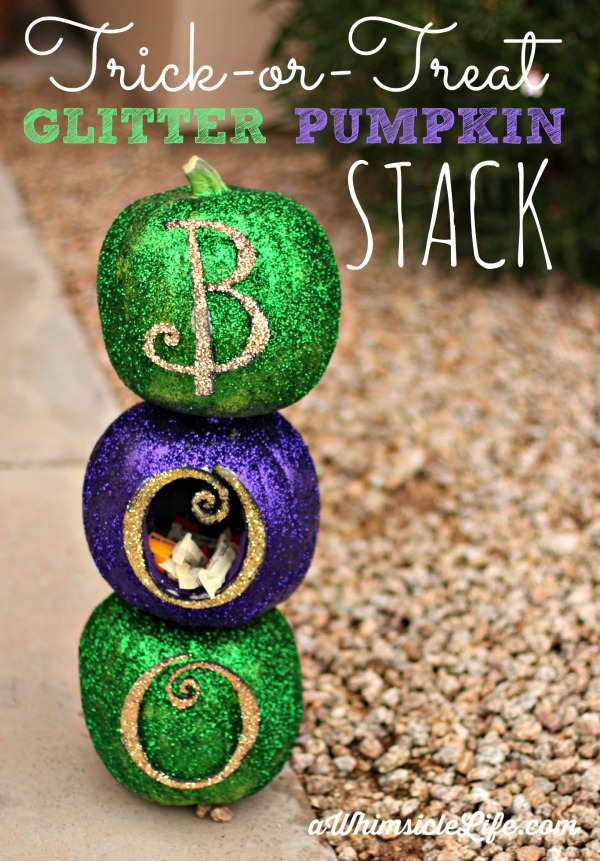 I admit, I am not the craftiest of people. I love browsing Pinterest and admiring everyone else's craftiness, but when it comes to creating my own project, I suffer from "Crafters Block".
My strikes of inspiration are few and far and between, so when I get an idea, I go for it!
This past month, I attended the Blended Conference in AZ and heard Kathy Cano-Murillo of Crafty Chica speak. In her extremely motivational talk, she showed us a picture of her craft room which had the most miraculous glitter floor.
Seeing this glitter floor made me want to find something to glitter…IMMEDIATELY! Kathy also shared her secret to making it look so perfect – ready?
Match the paint color to the glitter. Simple, yes?
In the spirit of Halloween and in celebration of Wicked's Elphaba (and her verdigris), I created a BOO glitter pumpkin stack that not only livens up your doorstep but also distributes your candy while you are out Trick-or-Treating.
I miss welcoming Trick or treaters. It's a fun opportunity to meet neighbors and comment on costumes. However, I don't want to miss my own son and daughter's trick or treating. Usually we put one of our kitchen bowls full of candy on our doorstep. I've always felt that seeing a bowl greeting you instead of a person is a little diapointing as kid.
Much better to fish your bowl candy out of a pumpkin, don't you agree?
Before we start constructing our stack, we need to discuss the most important part: the candy! I bought two Goodies Galore bags from Walmart to fill our Trick-or-Treat glitter pumpkins.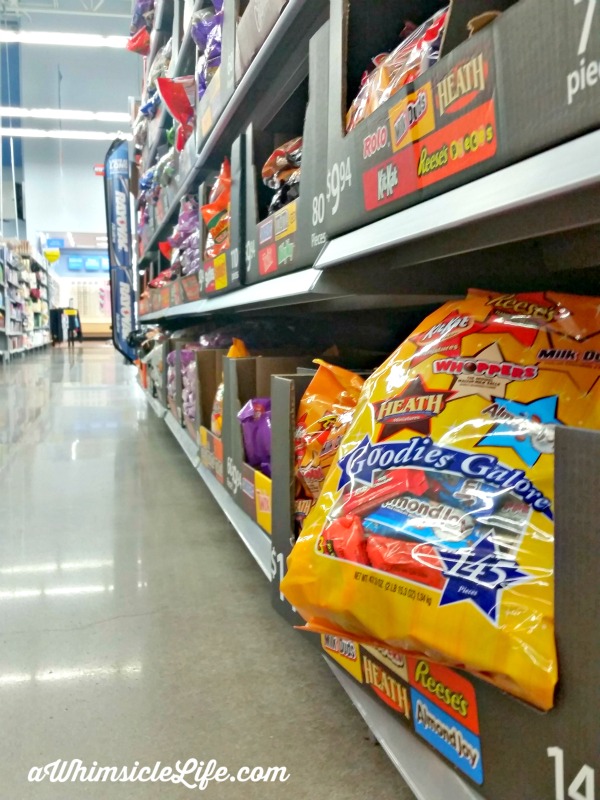 These big bags are perfect for Halloween because there is something to satisfy everyone and if you happen to dig into it before October 31st, there will be plenty of sweets left for trick or treaters. I speak from experience (PS Heath and Almond Joy are my favorite)
If you are a big fan of Reeses, Walmart also has an exclusive Halloween Reeses that reads Boo! Those would be perfect for this project!
Supplies
To make the pumpkin stack, you will need:
3 crafting pumpkins
wooden letters spelling "BOO"
3 cans spray paint (purple, green, black)
3 containers glitter (purple, green, gold)
1 spray can of lacquer
pumpkin carving tool
plastic drop cloth
strong adhesive (I used Gorilla Glue)
Instructions
Because of the curves and uneven nature of pumpkins, if you stack your pumpkins in the wrong direction they will be unbalanced and not stay straight. Figure out first how your pumpkins will sit. This may require a little trial and error.
To prepare them for stacking, cut out pumpkin-stem-sized holes in the bottom of two of the pumpkins. I simply slid the top pumpkin onto the bottom pumpkin's stem.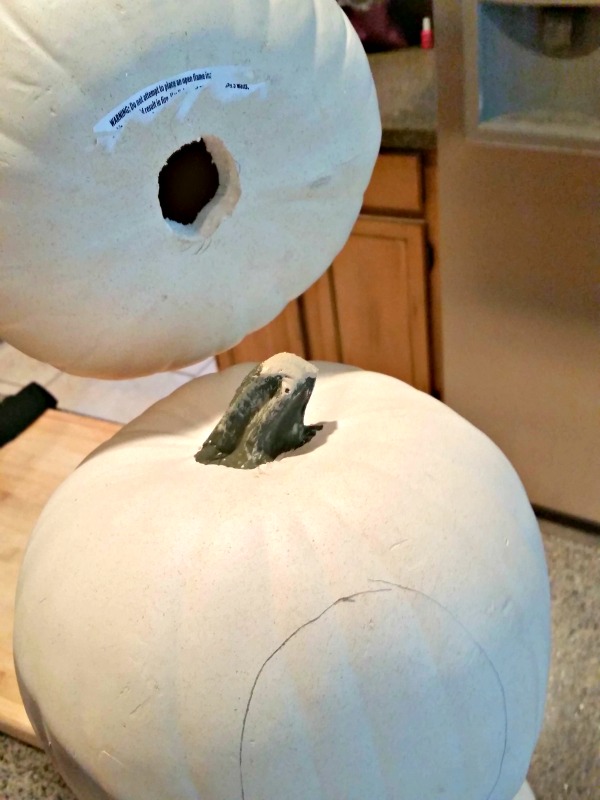 Next, I used my wooden letter "O" to trace a circle on the middle pumpkin. Make sure to trace along the inside of the "O."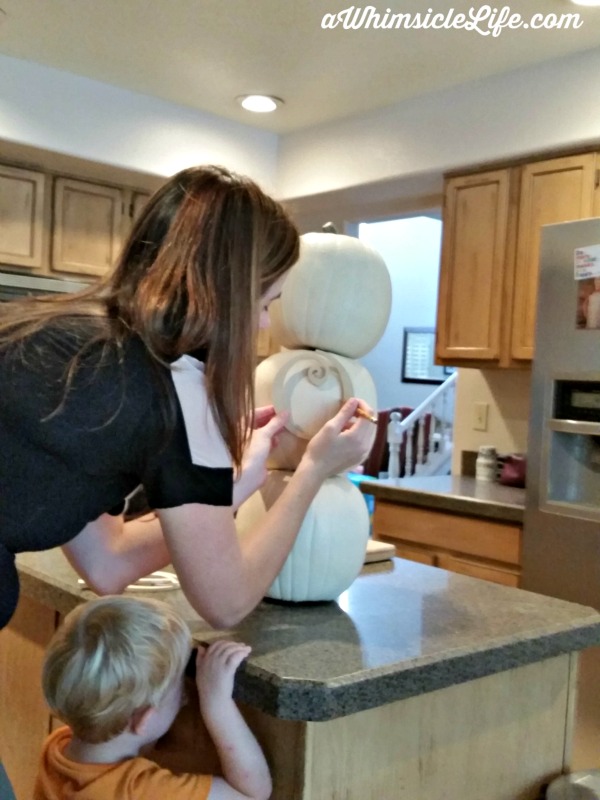 Cut this circle out using a pumpkin carving tool or serrated knife.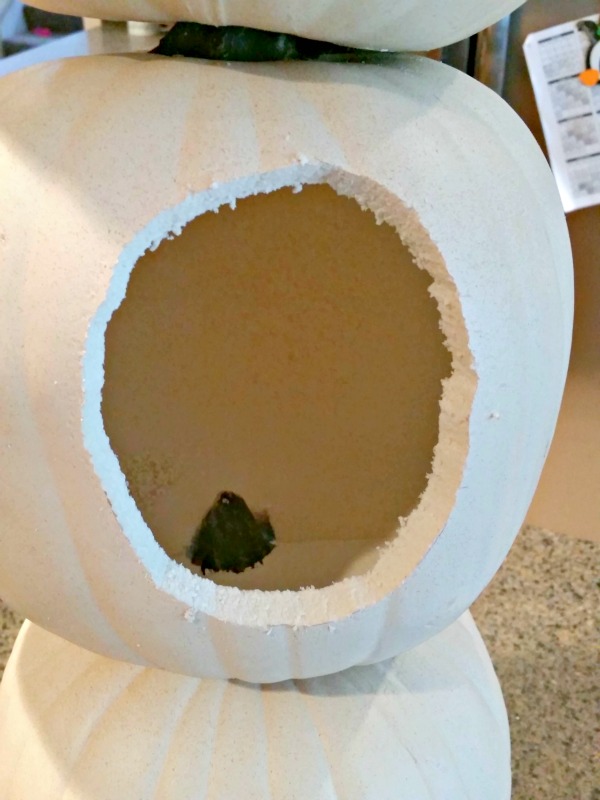 Now, find a well ventilated area. I strongly suggest you spray paint outside with the kids in the house because these fumes are strong. Lay down either a drop cloth or garbage bag to protect your work surface.
Paint the top and bottom pumpkins green and the pumpkin you would like in the middle purple.
I painted my wooden letters black, but if I decided to do the project over, I would use a metallic gold instead to match the glitter.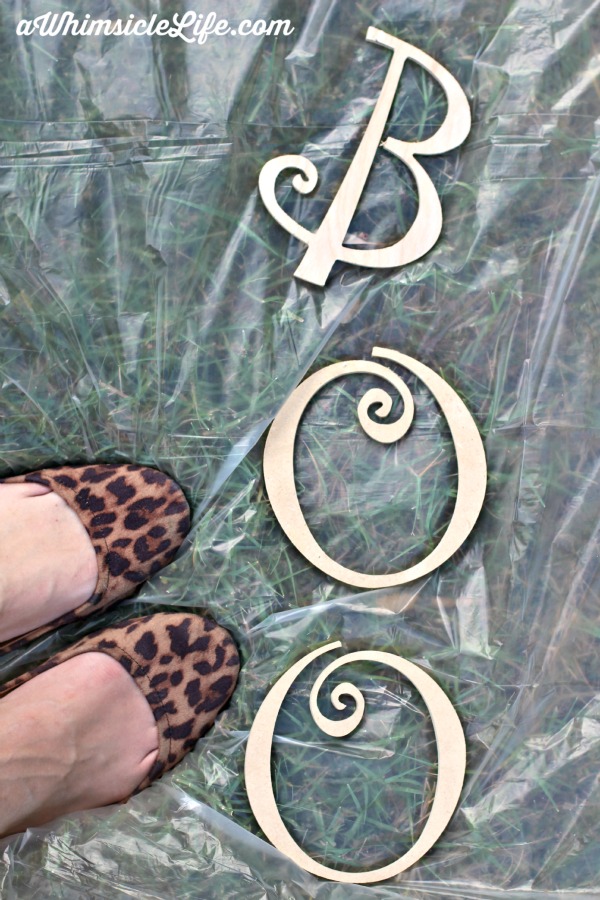 Applying the Glitter
Spray the lacquer on your pumpkin in small batches and apply glitter. You will need to apply the glitter immediately when the lacquer is still wet to enable the glitter to stick. I sprayed 3 inch sections and then glittered each section right away to cover the entire pumpkin. Do the same for the letters.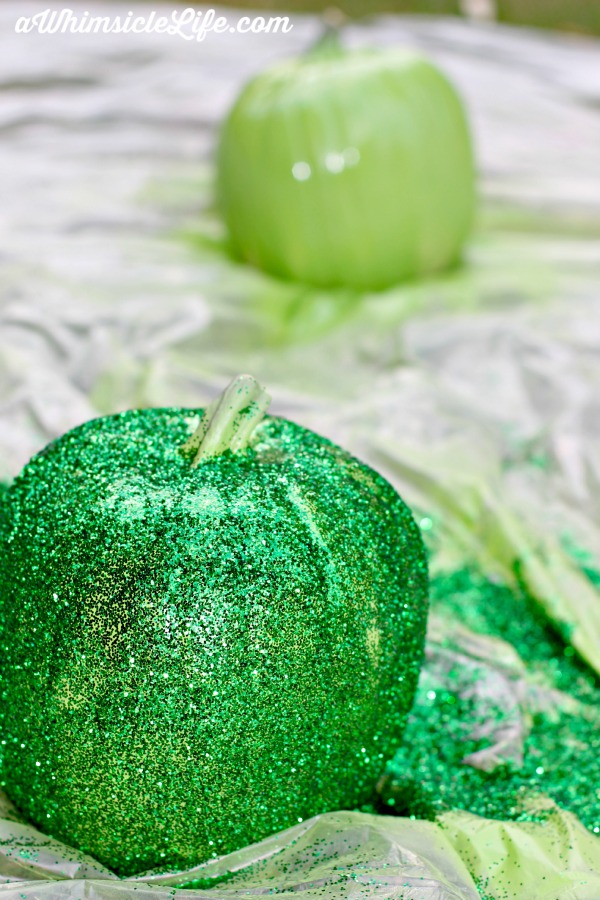 Wait at least an hour for it to dry. Now assemble your pumpkins and mark the front of each green pumpkin with a pencil.
Attaching the Letters
Gluing on the wooden letters can be a little tricky because the face of these pumpkins are slightly curved. I suggest laying each pumpkin on its side so that the front is facing skyward.
Lay the wooden letter on top, position it to your liking and take note of where the letter touches the pumpkin. Apply glue only to those places on the letter and lay on top of the pumpkin to dry.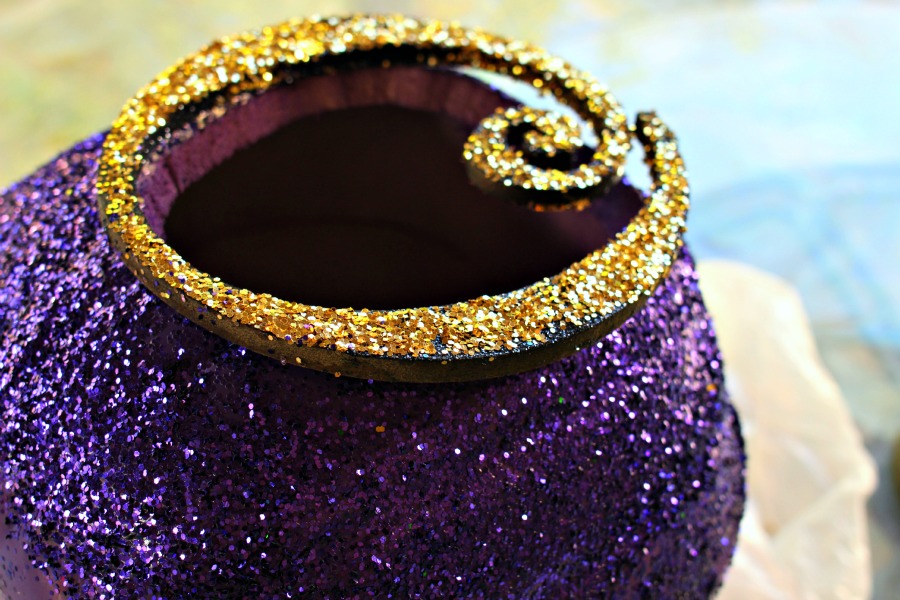 Warning: Gorilla Glue expands when it dries, so only a drop is necessary. If you find drips or white glue globs on your pumpkin, simply peel them off and reapply glitter to those areas.
Allow to dry for a couple of hours. Then, assemble your pumpkins and fill it with in the candy!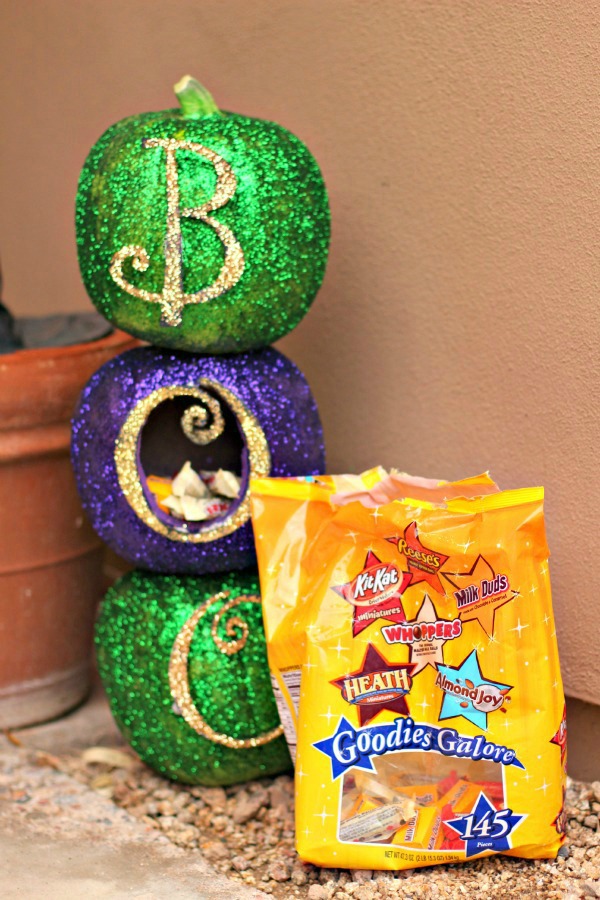 While we are out trick-or-treating on Halloween, I plan on placing this pumpkin stack in the driveway with a couple of flickering Jack-O-Lantern lights inside to welcome Trick-or-Treaters.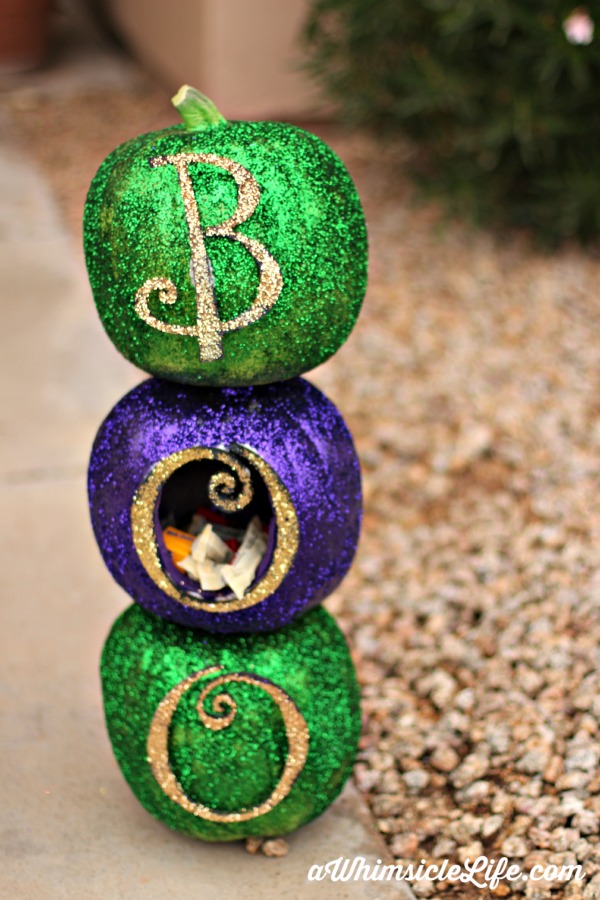 One of the coolest aspects of this decoration is that it comes apart so I can easily save all of my hard work and use it again next year.
I'll need to buy more candy for next year though because I can assure you that everything I have now will be gone! Tell me, what's your favorite Halloween candy? Would you have eaten the Heath and Almond Joy like me?