Need a hobby, Mama? This Cricut project will bring you crafting joy.
This is a sponsored post written by me on behalf of Cricut. All opinions are 100% mine.
As a mom, I put hobbies on the backburner.
I didn't know I was doing it at the time. It wasn't a conscious decision.
Honestly, I didn't even know it was a problem until I read the book called Rest by Alex Soojung-Kim Pang. The basic premise is that most successful people use "deep play" to recharge themselves.
Four characteristics define deep play:
1. It's mentally absorbing and offers the player challenges to solve.
2. Offers a new context to use some of the same skills they use in work.
3. Gives you some of the same satisfaction as work but offers faster rewards because of the scale or pace.
4. Provides a living connection with the player's past.
Winston Churchill used painting.
Many engineers use games or puzzles.
And here I was with… nothing.
Has that happened to you, too?
Well, let's think about the past. What brought you joy as a kid? What did you do in your free time?
For me, it was craft projects! But, hold up…
Where do lanyards, friendship bracelets, and sequined t-shirts fit into adult life?
They don't, unfortunately.
I thought crafting was a non-starter. I bounced back and forth looking for something to pique my interest.
I was over the moon when Cricut contacted me about doing a project for the Cricut Joy. I've drooled over the Cricut machines in craft stores but never actually dove in and bought one.
Friend, I wish I'd done it sooner because THIS.IS.A.BLAST.
The Cricut Joy is super easy to use. It's pint-size makes it easier – and faster – than ever to personalize your life with practical everyday projects. Take that friendship bracelets!
Also, it's now at Target so it's incredibly easy to get your hands on.
Now, what to make?
I have a group of friends that meets for dinner/ happy hour once a month.
Well – we try for once a month. Things get busy. Usually, not all of us can be there.
But we try.
We also have a little Facebook chat going that we've titled, "We're not regular moms, we're cool moms."
Because of the quarantine, we haven't seen each other for a few months.
Could we do a happy hour online?
Indeed, we could.
To make it a little more special, I wanted something symbolic about being together even though we were physically separate.
Everyone needs a personalized wine glass, right?
I ordered twelve wine glasses from target.com along with a roll of Cricut Joy permanent vinyl.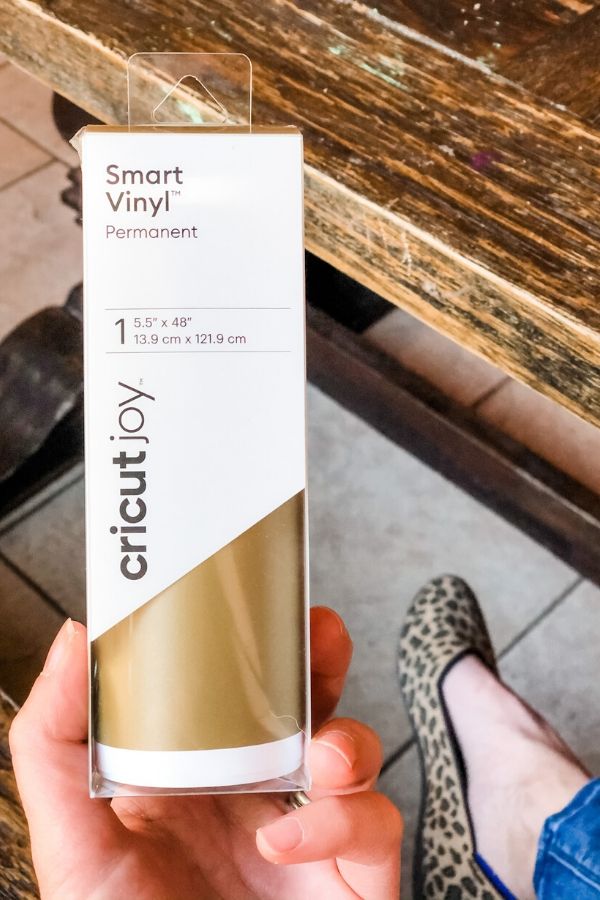 Now for a cool mom emblem – who I pictured as Audrey Hepburn but with a pony tail and no cigarette holder.
Since my mother-in-law has mad skills, I asked her to draw a picture for me and then I added the text "cool mom" underneath.
I uploaded the graphic into Cricut design space – which comes as an app that you can download onto your phone.
At first, I felt terrified that I would mess this up. But, I found the program intuitive with a pretty small learning curve. A tiny bit of challenge that satisifes the requirements of deep play.
I store my Cricut Joy in our guest room closet. For projects, I bring it to our kitchen table. It packs up easily and sets up instantly.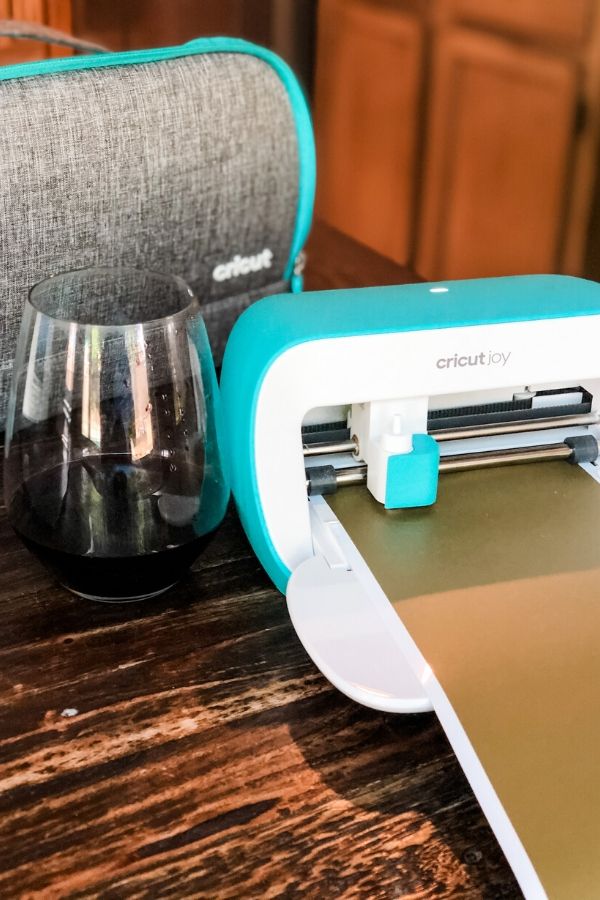 The app guided me through each and every step. Everything from how to load the machine to how it would cut.
I fed in my material, pushed go and watched in awe as the Cricut Joy sliced my "Cool Mom" into the vinyl.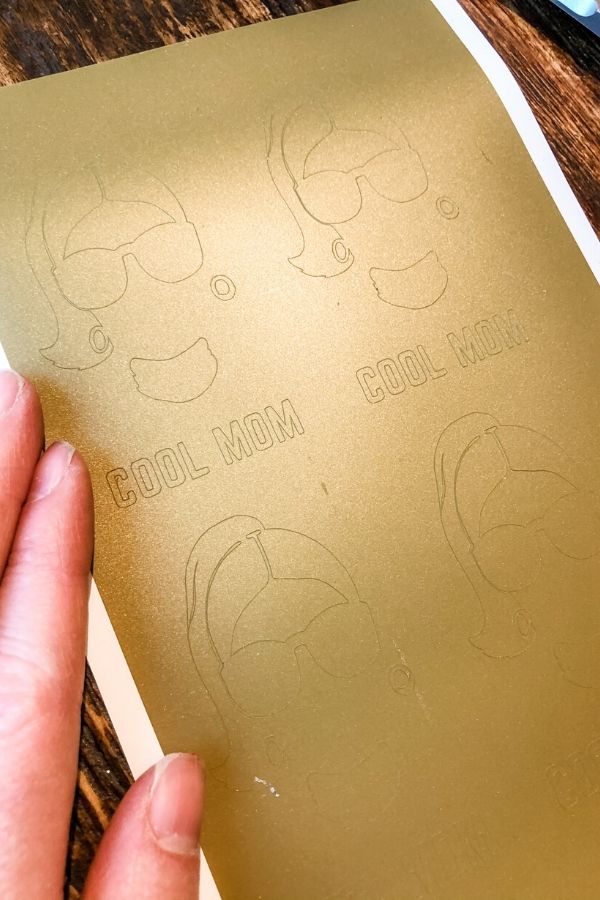 Then, I had to "weed it." – which means peeling the vinyl off around the design and leaving the image on the white back.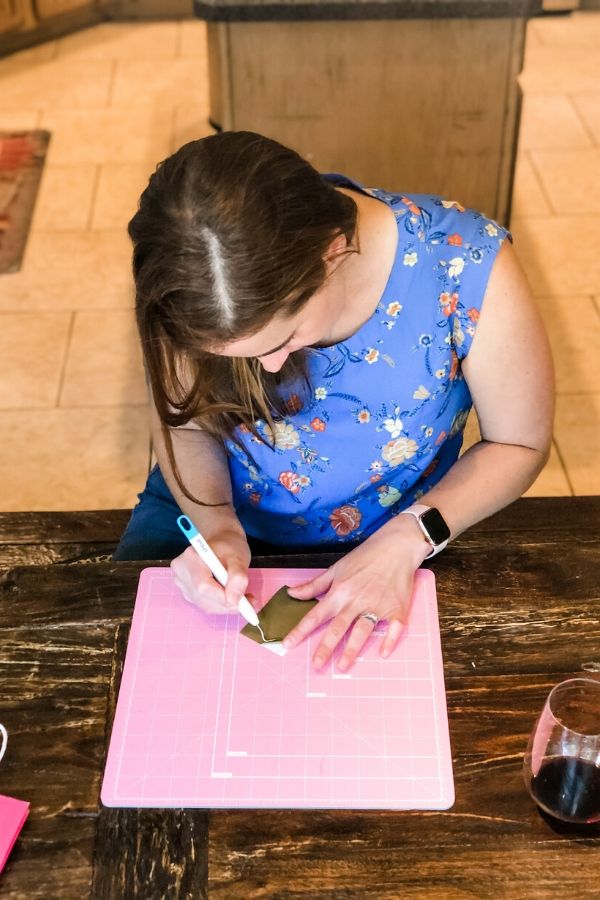 This was a challenge until I mastered the technique. The secret is to start at a corner and gently rock the sticky vinyl back and forth as you pull away slowly.
If you see any part of your design being pulled up, go back, push that area down and peel it again.
Once the main part peeled away, I went back through with a little hook to remove the tiny pieces.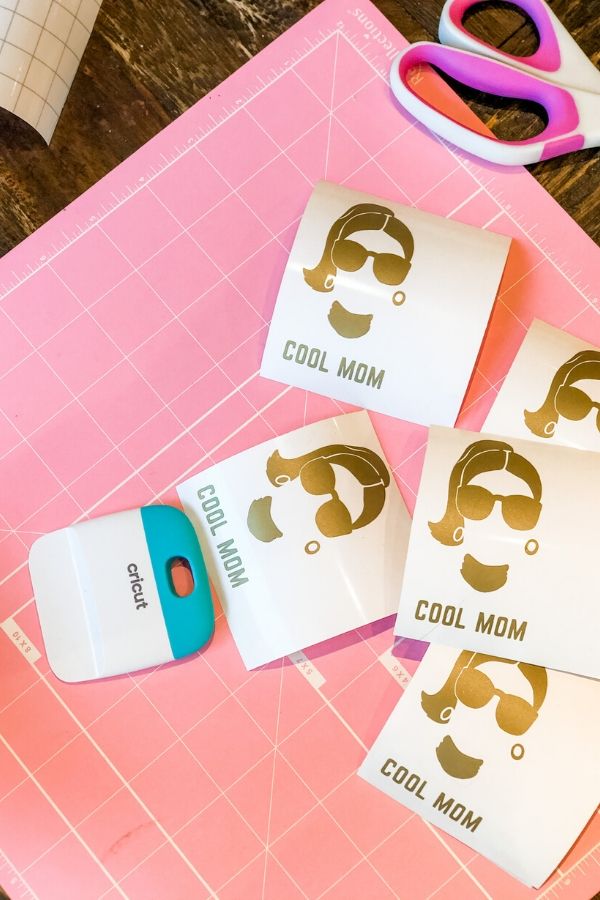 Then it was transfer time, I took a piece of Cricut transfer tape and pressed it onto my design. Then, removed the tape – carefully.
This was a bit frustrating until I learned that it works better if I place the design face down on the table then remove the white backing instead of face up and trying to peel off the transfer tape.
Once the design was on the tape, I pressed it onto my glass, removed the transfer tape leaving only my beautiful vinyl design behind.
And now, to personalize
I then used Cricut Design space to print out each woman's name and stick that on the glasses – Including one for myself of course.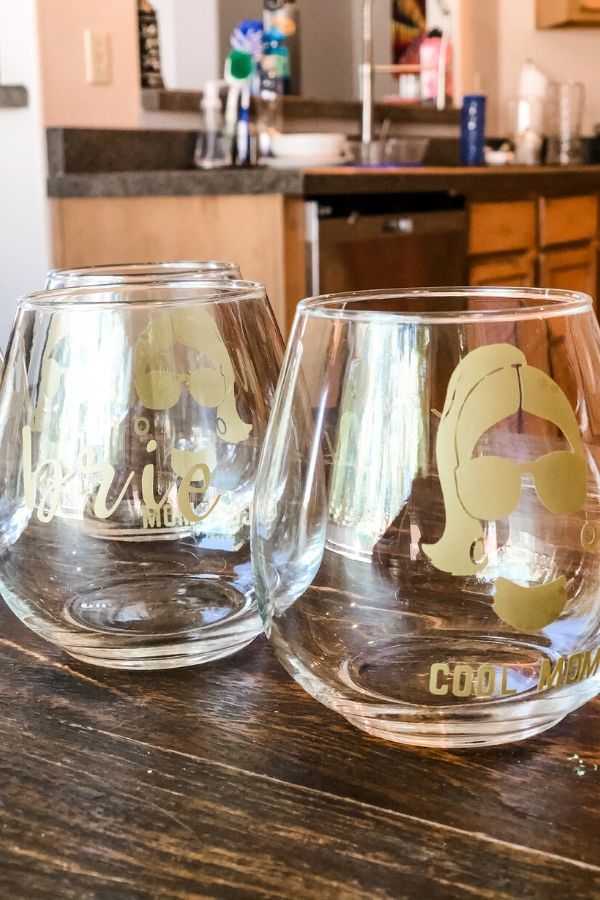 I'm thrilled with how these turned out! So simple and classy.
Plus, the crafting time was super therapeutic – especially during this insane time. I loved pouring myself a glass of red and designing and pasting and making art.
I packaged each one of these glasses into a gift bag
…and loaded my kids in the car.
We played secret-agent and ran up to each friends' house, hid the bag then jumped in the car and drove away.
I revealed to everyone via our group thread that they had a little surprise waiting outside their door.
A few nights later, we jumped on a zoom call with our glasses for our virtual happy hour.
If you need a hobby…
And you loved crafting as a kid – or think you would enjoy it now – I recommend the Cricut Joy.
I've been using it at every opportunity. I've made a few cards and I'm going to be attempting iron-on next.
For me, crafting with my Cricut satisfies all the requirements of deep play:
1. Plenty of challenges to make it mentally engaging.
2. I use my skills in digital design that I use for No Guilt Mom.
3. I can complete projects within a day, thus faster reward!
4. It's that grown-up connection to my childhood spent on camp crafts.
Want to get started? Go check out at the Cricut at Target.com.
Also, I've shared my pattern in the Cricut Design Space. Make some wine glasses of your own and please share a picture with me!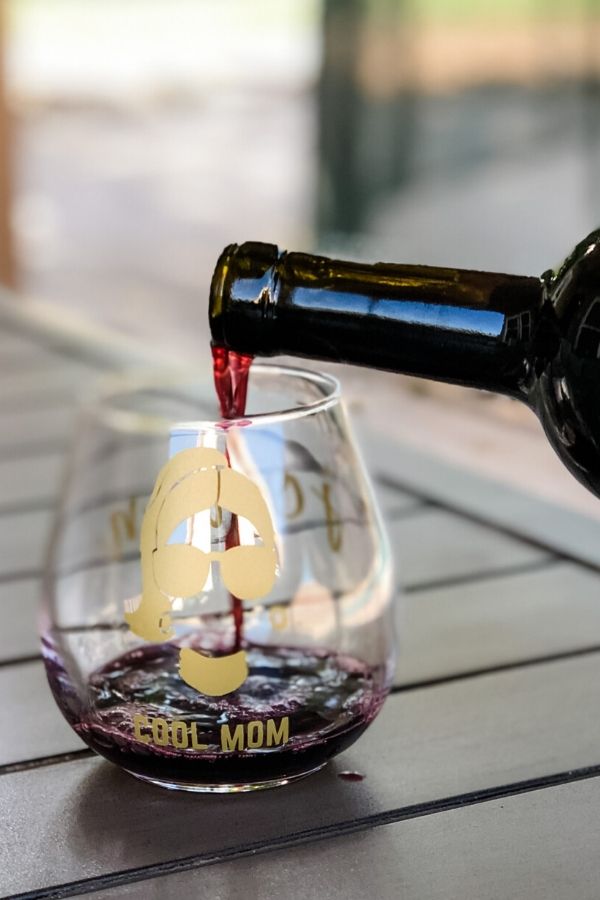 Title:
Need a hobby, Mama? This Cricut project will bring you crafting joy.
Keywords:
cricut joy wine glass
Last Updated:
April 21, 2020