"This shop is part of a social shopper marketing insight campaign with Weave Made Media®, PEOPLE® and Sunset® Magazines, and The Hershey Company®, but all my opinions are my own. #weavemade #HolidayMeTimeMags http://my-disclosur.es/RgFrEH"

The holidays seriously stress me out. Here we are the week before Thanksgiving and I am already trying to plan out my life so that I don't get too overwhelmed. After working for the past couple of weeks gathering presents and crafting ideas, Megan and I are ready to tear our hair out. Thank goodness for Megan's mom and my MIL because they graciously take the kids to give us a much needed break.
I grabbed my purse and jacket (because suddenly Arizona has decided its winter) and followed Megan out the door. We walked to Safeway and picked up some magazines and coffee. Our destination….the neighborhood lake to relax and indulge in a much-needed kid free hour. Safeway currently has a coupon for $1 off when you purchase a Sunset or People magazine along with a Hershey's King Size Chocolate. After some quick calculations, we realized that is almost a free chocolate and decided that it was too good to pass up. We chose a Hershey's Special Dark to share and bought another one to take back to Megan's mom.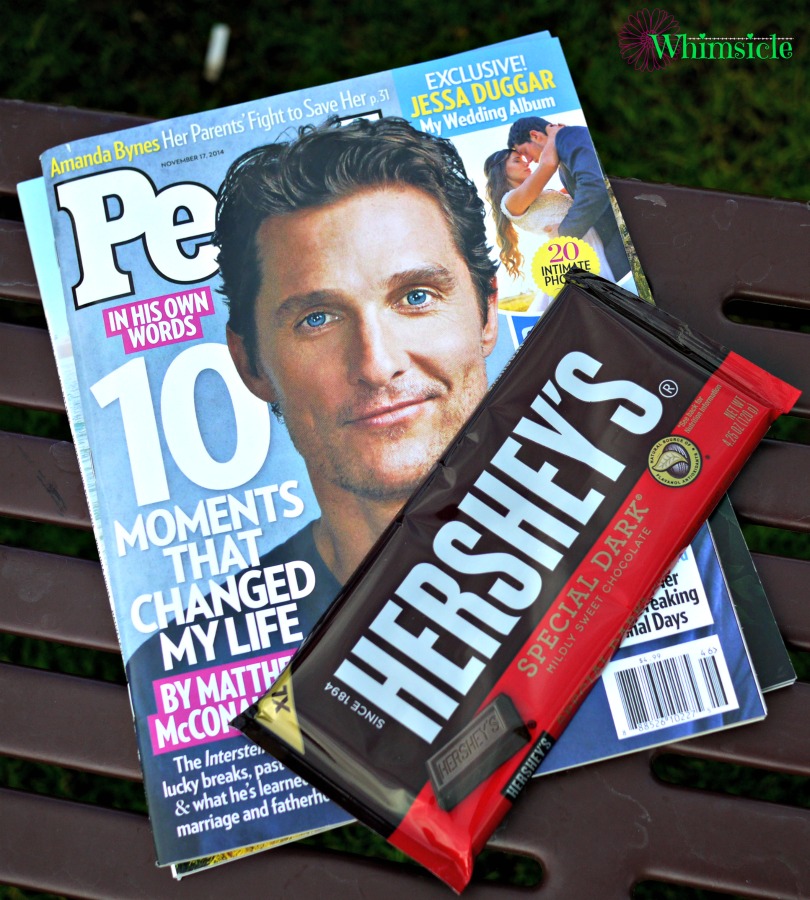 Matthew McConahey always has a smirk about him. Oh hello Matthew, why you want 9Am chocolate too? Sorry, not willing to share.
We left Safeway with coffee cups in hand and a bag filled with People, Sunset and Hershey's Special Dark dangling from my wrist. I found it hard to remember what it feels like not to have my son with me. I wasn't constantly tracking where he was or digging through my bag searching for a toy or snack to entertain him. I didn't have to worry about anyone but me. Honestly, it was a much needed restorative breather, if only for an hour.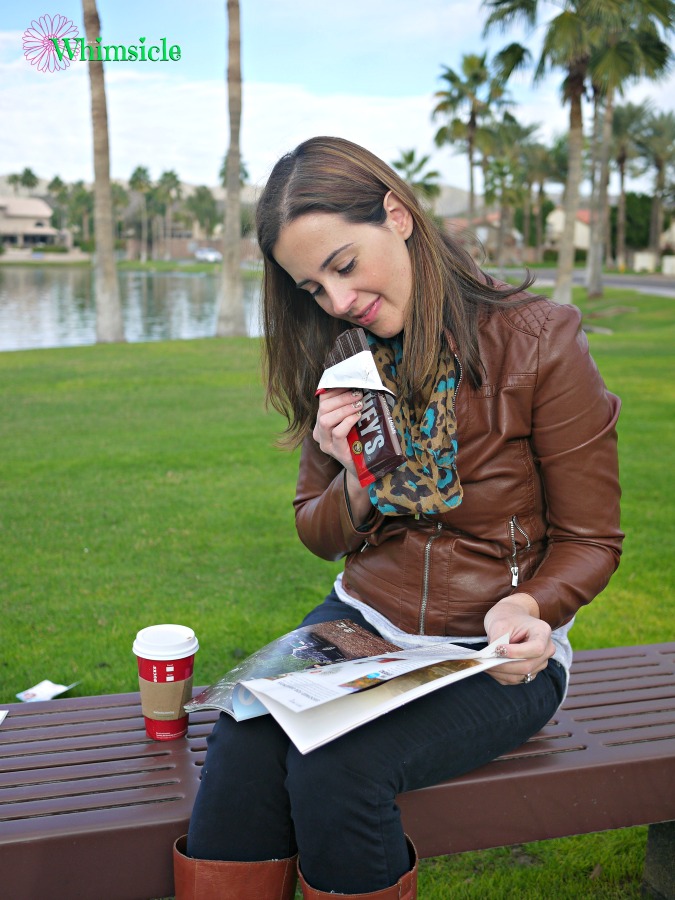 We found a bench parked by an Ahwatukee lake, and just enjoyed.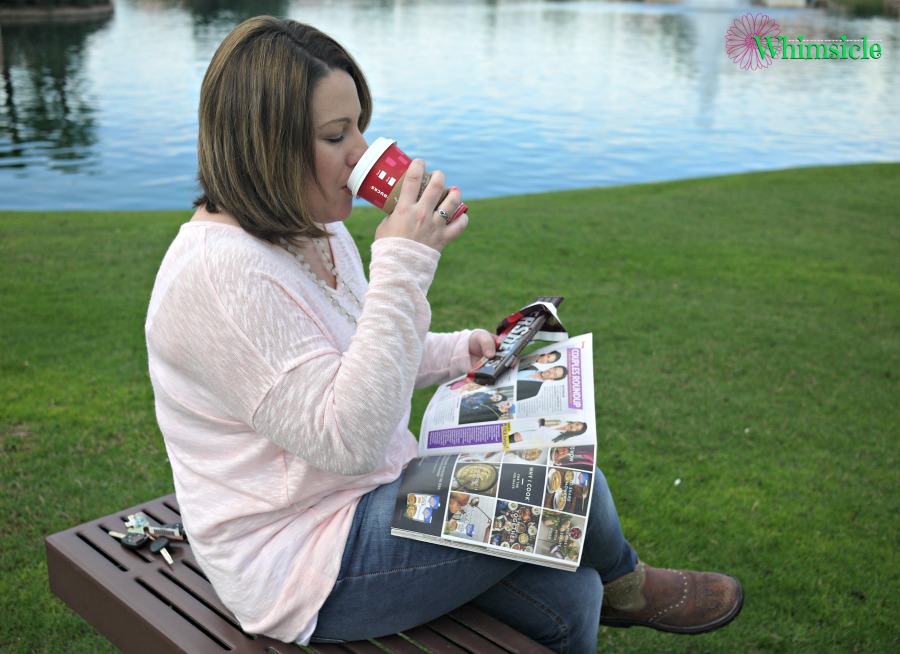 I look at these pictures and just feel the stress leaving my body over the talk of celebrity gossip and pecan pies. We sipped caramel machiattos, broke off chunks of Hershey's Special Dark and talked about stuff that has no importance. But, was just fun and mind clearing.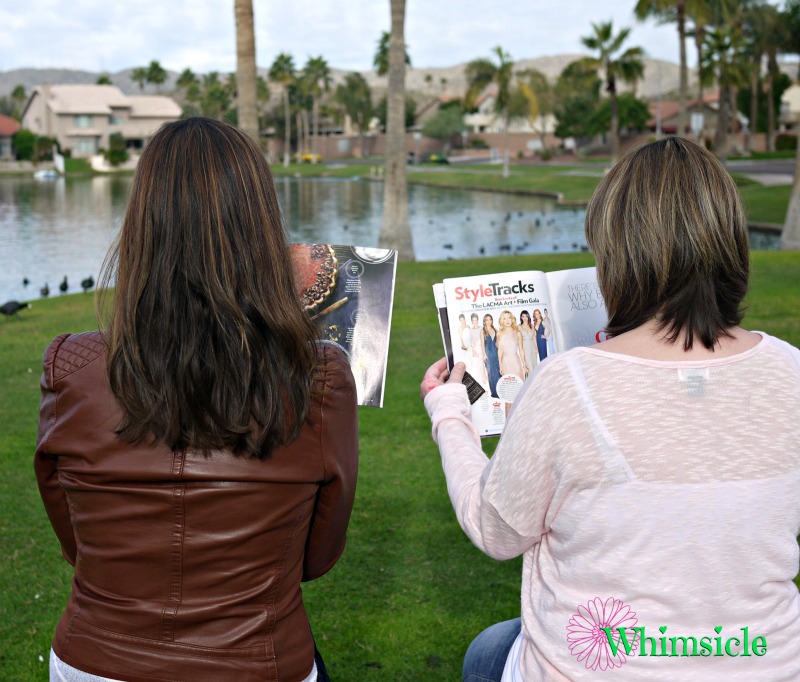 Take some Holiday "Me Time" for yourself and save $1.00 with purchase of ONE (1) PEOPLE® or Sunset® magazine and ONE (1) REESE'S®, HERSHEY'S® or other selected King Size bar (2.1 to 5.0 oz.). The digital coupon is available through the Safeway Just4U online portal 11/21/14 – 12/19/14 (while supplies last) You have to register for Just4U to get access to the digital coupon. Find the digital coupon here.
After what felt like a very indulgent hour, we packed our magazines and left to pick up our kids. I always feel like I'm a better mom after I take some time for myself. More patient and willing to compromise. And I know anytime I feel my stress level rising, there is always coffee, magazines and chocolate.
Last Updated:
April 12, 2015