Scared of your next event and feel like you'll just stare and have nothing to say?  These networking for introverts tips will get through with ease.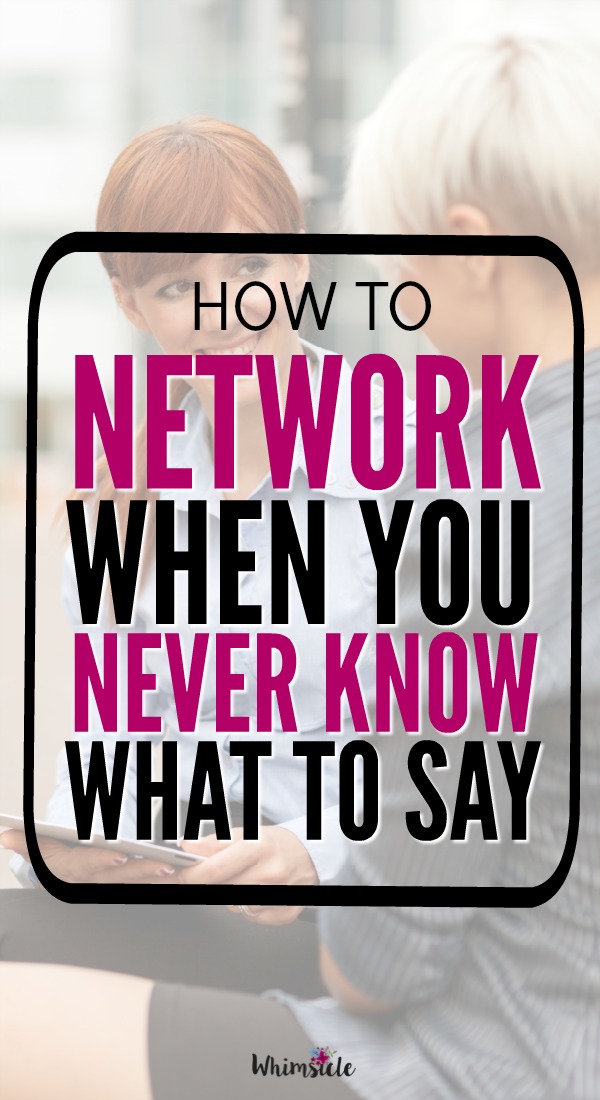 I have a confession: I am horribly shy.
Now, those who know me or have met me probably don't realize this.
Social situations make me incredibly nervous.  I'm always worried that I'll say the wrong thing, stumble over my words or appear incredibly unintelligent.
My shyness used to paralyze me when I was younger.
I couldn't look people in the eye when I talked to them.  I stayed in the corner during group work, barely saying a word.
Everyone else seemed smarter, prettier, more organized, more likeable, you name it…
In college, I avoided most parties.  My biggest fear was being around people and not knowing what to say.
I was a theater major at first.  I know, you think a theater major is not for shy people.  But, there is a huge difference for me between acting on a stage and being in a social situation.  On stage, you have your lines scripted.
You memorize.
You rehearse.
At a party, you are on your own.  I left theater because so much of your success is hinged on networking.  I didn't feel comfortable selling and promoting myself.
Now, as a blogger, I have to do just that: sell and promote myself.
It's not easy for me.  In fact, all in-person networking events make me really nervous.
My biggest fear is that people will deem me unintelligent the second I open my mouth.  Luckily, I have found a system that helps me conquer my shyness.  I use these tactics any time I'm in a situation where I don't know a soul.
Here's what I am doing:
Choose someone nearby
This can be someone walking ahead of you, checking in behind you, or sitting at a table.
The main thing is that they are within speaking distance and other wise unoccupied.
FYI: Don't approach people on cell phones.  The phone usually keeps them too busy to notice me.
Make some remark
Introducing yourself by name is just awkward at this point, so you need a way to start the conversation.
If you genuinely like a piece of clothing or jewelry they are wearing, I will comment on that saying, "I love your shirt" or "That necklace is beautiful."
Comment on the weather ("It's hot today") or the event, ("Wow, this is pretty awesome.").
Really say anything that's positive and that you know the other person will probably agree with.
As you can see, none of these suggestions need to be incredibly creative.  It's just getting people talking.
Follow up with something regarding the situation
Personally, I us the same exact question for every person I meet in a given situation.
Recently, at a meetup for AZ bloggers, I asked, "What's your blog?"
When I am talking to parents during pickup at my daughter's school, I usually ask them, "What grade is your child in?"
The point is that I am trying to find some common ground that will get the conversation going.
Find a way to keep in contact
If you're networking, you want people to be able to find you after the event.
Thankfully, since events like these are business functions, most people have business cards.
Asking for someone's card (or giving yours out) can be awkward, so I usually think of a reason to want someone else's card and then offer mine in exchange.
For blogging, its an easy scenario:  "I would love to check out your blog!  Do you have a card?" Business cards traded with zero awkwardness.
If conversation seems forced, make an exit.
This used to be the hardest part for me and the one that would cause me the most anxiety.  I'm sure you must have encountered this.  You are talking to a person who does not seem interested in talking with you at all.  All of your questions are answered with a short answer and they don't ask you any questions at all.  Their eyes are scanning the room for the next thing that interests them.
Silly me, used to think it was my responsibility for keeping said person interested in me.  It's not.  Here I just smile and say, "Well, it was nice meeting you," and I move on.
Repeat
Find someone else and repeat the whole process again.  Pretty soon, you have a handful of business cards and a ton of cool new contacts.
What networking tips do you have?