I am a Jamberry Independent Consultant. Check out the entire line of Jamberry products on my consultant page.
About 9 years ago, I interviewed for my dream job: working for the television department at Warner Bros. studios. I worked in reality TV previously and I was dying to make the jump into scripted television. The position was as assistant to the VP of Television Development. My first interview with her then assistant went phenomenally. I felt confident, the conversation flowed easily and I wasn't too surprised when I got the callback to meet with the boss.
My interview was scheduled for 2PM on a Thursday. My stomach twitched with nerves. I spent the morning planning what I would wear, combing over my resume and just hoping I would be selected. I drove to a Coffee Bean and Tea Leaf close to the studio lot to wait and try to calm down. I looked down at my nails – unpainted and unfiled with a couple of hangnails. In all my nervous anticipation, I had forgotten to do my nails. I debated about running to a nail salon and getting a manicure. However, with only an hour and a half until my interview and the unpredictability of wait time in LA nail salons, I decided it would be too rushed.
I waited in the outer office for the VP for a half-hour until I finally got to meet her. With my hands folded in my lap, I sat quietly in the chair observing the other assistants. The women dressed in immaculate clothing and gorgeous jewelry. The men in suits and ties. I became uncomfortably aware of both my outfit and the state of my nails. As I started comparing myself to everyone around me, my nerves built to a freak out. Just then, I was called in.
As the VP greeted me, I quickly shook her hand and then withdrew it immediately. We chatted for the first couple of minutes. I mentioned that I had just gotten married. "Oh, I bet your ring is beautiful," she enthused. "Yep," I replied. Did I show her the ring as would have been the natural response? Nope. Hid my grubby little fingernails clenched on my lap. Awkward silence followed.
After that, my interview consisted of a lot of nervous laughter on my part. I blew it and it was a direct result of my confidence level. Looking back, I wish I would have done my nails.
Manicures are such a waste for me though. I don't like sitting in the chair for thirty minutes and I usually chip the polish immediately after I leave the nail salon. A couple of months ago, I heard about Jamberry nails at a party. I tried them on and I was immediately hooked. I thought, here was the solution for me to have gorgeous nails that last for a while (1-2 weeks!), won't chip and I can put on at home.
They are also quite simple to use. You just need to prep your nails by properly cleaning them and pushing back your cuticles. Then you are ready to apply.
Jamberry nail wraps come in a sheet. Each sheet usually costs $15, however some collegiate logos and sports teams cost a little more. The sheet below is called Metallic Croc.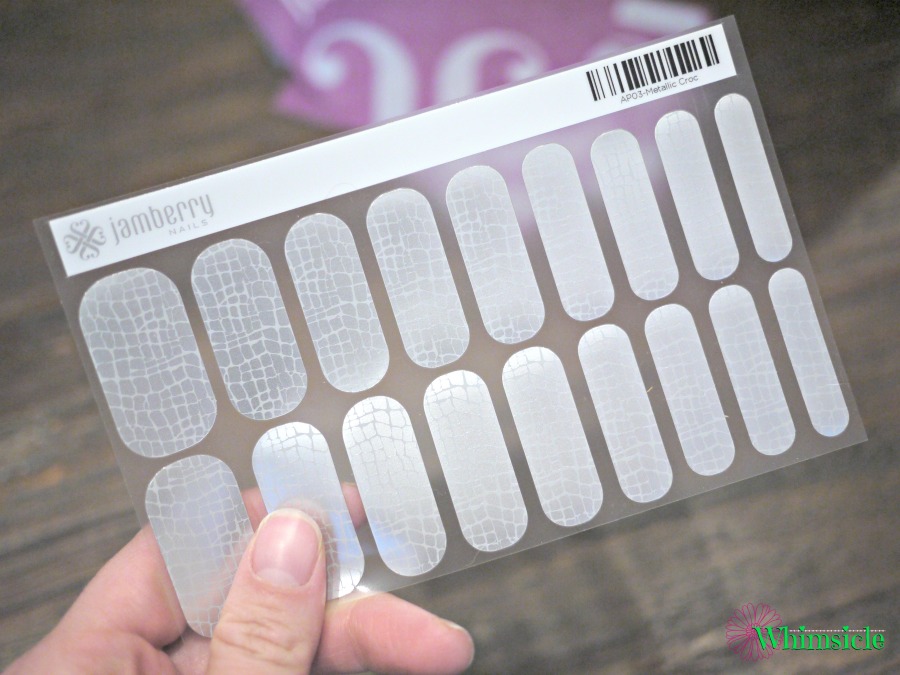 You can see that the wraps come in a variety sizes. I matched my nail to the size wrap that fits its best. When I'm choosing the size, I always choose one slightly smaller than my nail bed.
I like to cut the wrap in half before I apply it my nail.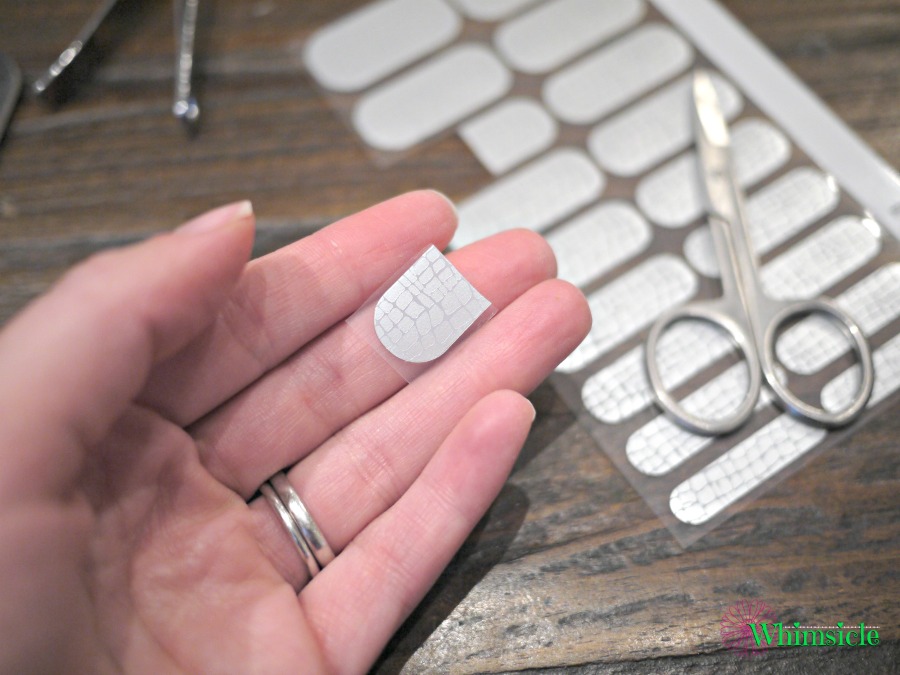 Next, I peel off the adhesive backing and heat the wrap with my Jamberry heater. A blow dryer works as well. I'm very careful not to touch the adhesive side with my fingers.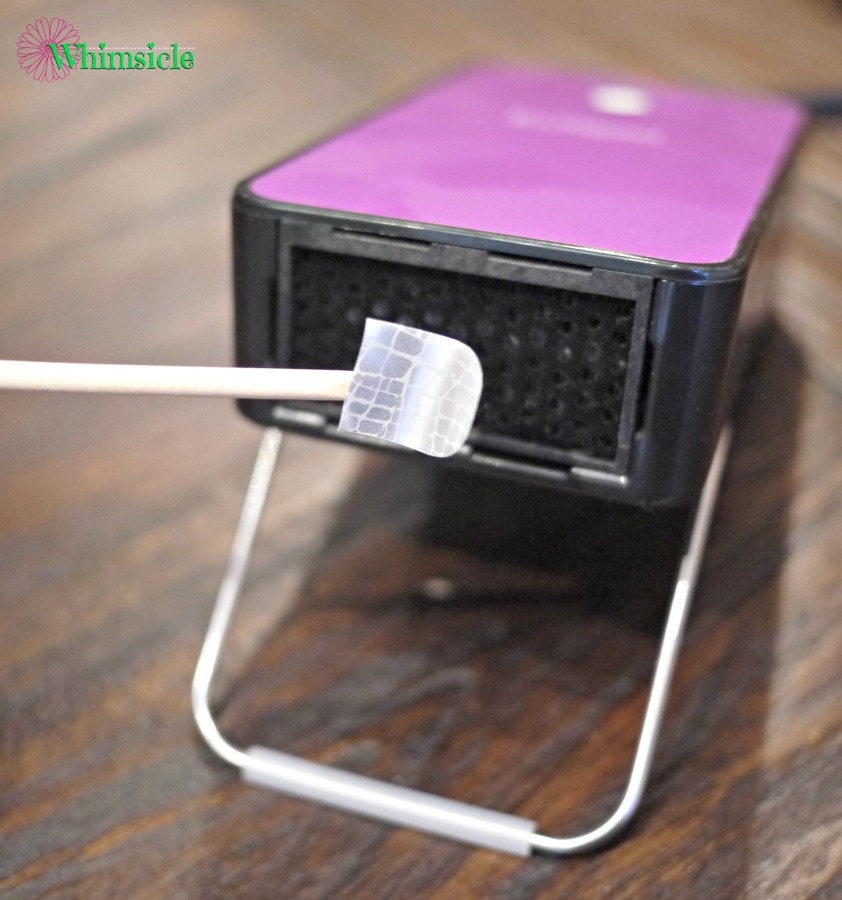 I press the wrap onto my clean nail bed and apply pressure to smooth it out.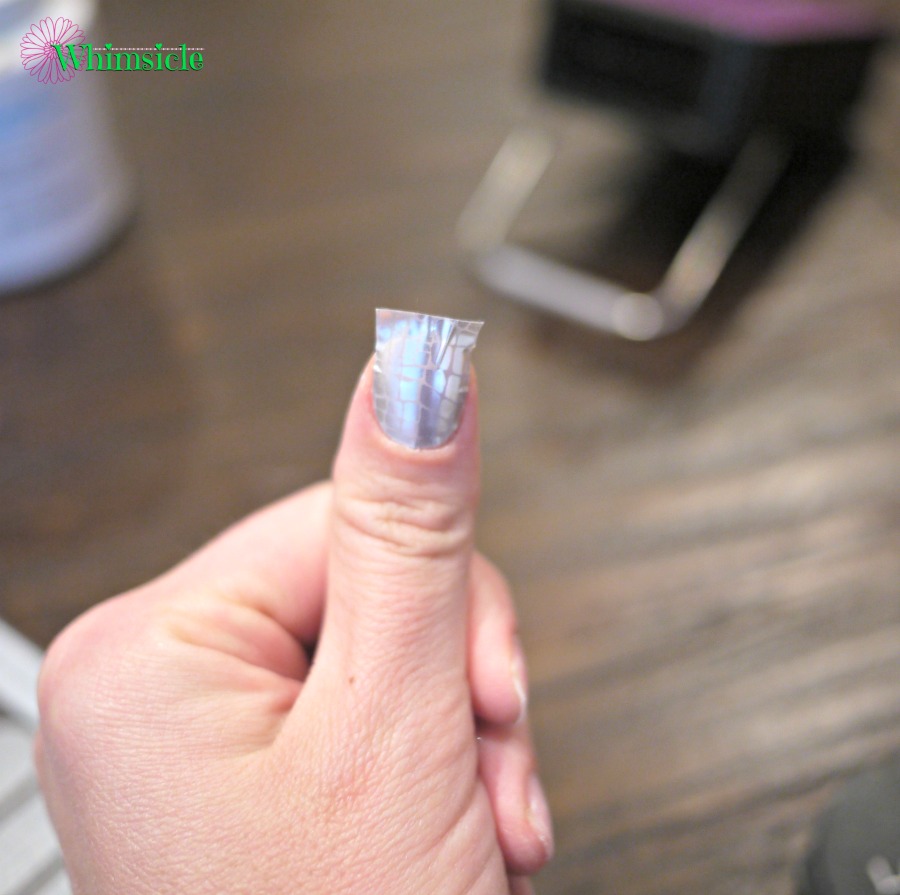 The little ripples you see smooth out when I heat my nail again and use a cuticle pusher around the edge. Finally, I trim the wrap, file and…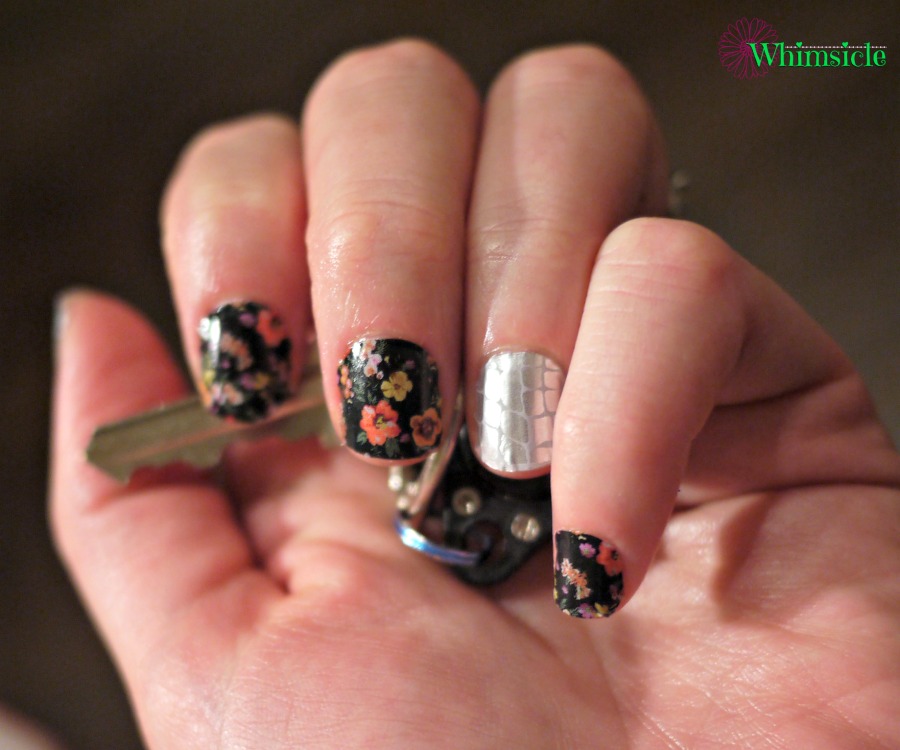 Gorgeous nails!
Megan tried Metallic Croc on her toes. Her experience follows:
Pedicures are easy and eye pleasing too! Using the same tools, select the Jamberry size to fit each toe, cut (you may want to snip the sides into a curve), heat, and apply. Just the same as the finger nails, press, heat, trim, and sand!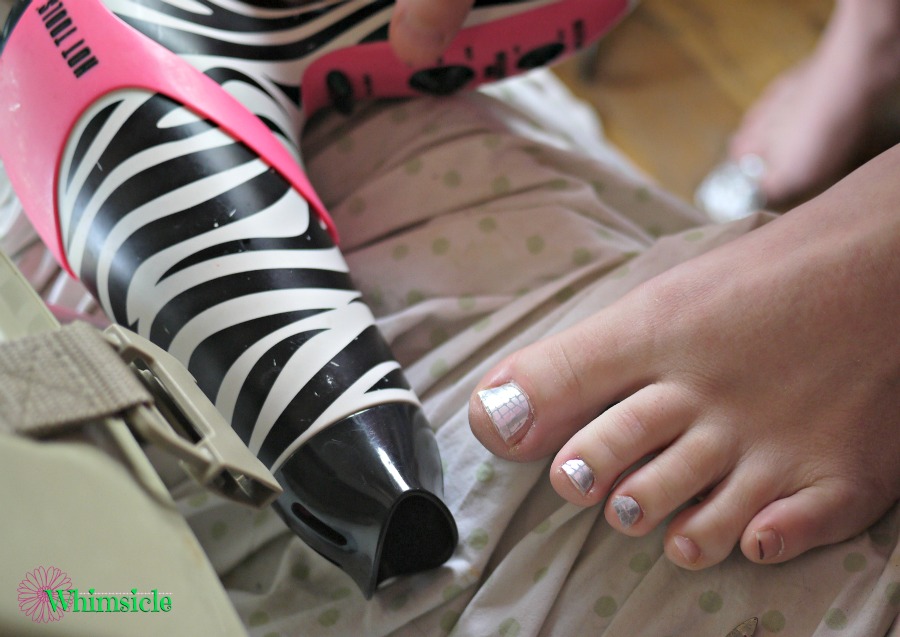 I did all ten toes in about 15 minutes with the kiddos running around. I didn't have to wait until nap time and waste my precious "free time" minutes watching paint dry (literally).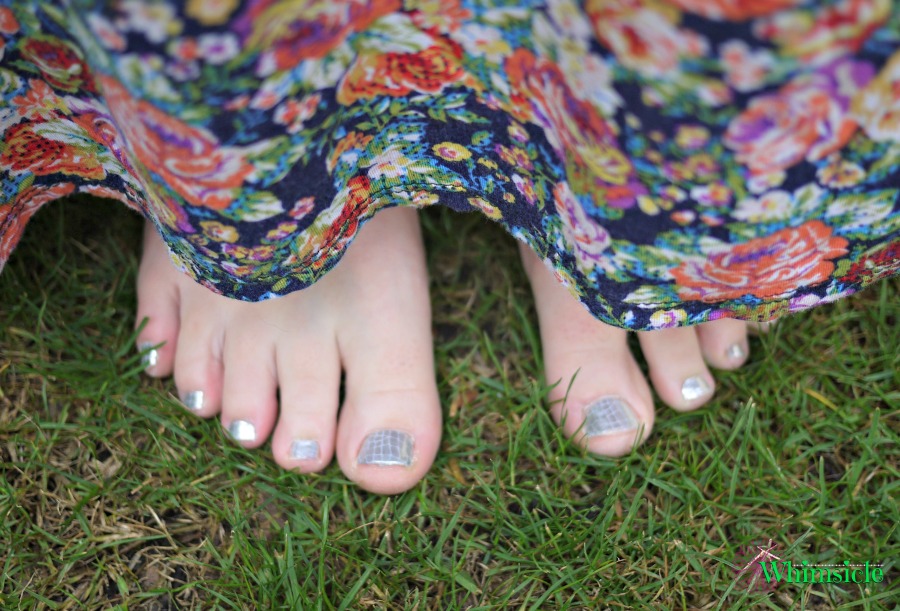 Having never used Jamberry before, Megan was excited to see if they withstood the trials of toddlers. Three weeks later, they are still on her toes looking just as good as the day she applied.
Jamberry nail wraps leave with perfect nails for about two weeks! It's a time saver and I never worry about chips or my nails looking ragged. Come see the designs available at my consultant site.