Oh, hello Stitch Fix
waiting for me outside my front door!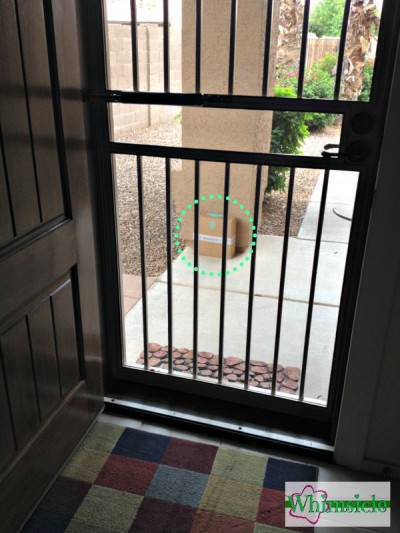 I love when my Stitch Fix box arrives. I'm always excited to discover what clothes my stylist picked out for me this time. If you are new to my Stitch Fix posts, read all about this amazing service.
Last month, I noticed that all of the clothes were a little big on me. This month, I noted that I needed a size smaller in all of my shirts. The shirts in this fix fit me much better. Here's what I got:
Piece #1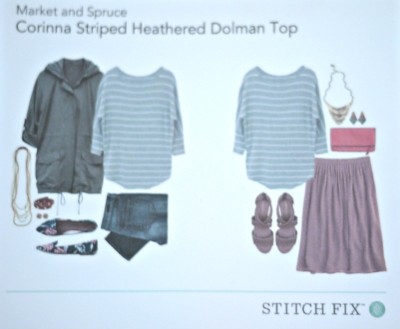 I loved this shirt immediately. It is very similar to the Renee C shirt I sent back in last month's fix but fits me much better. I liked it so much, I tore off the tags right away and wore it to my daughter's dentist appointment Friday morning.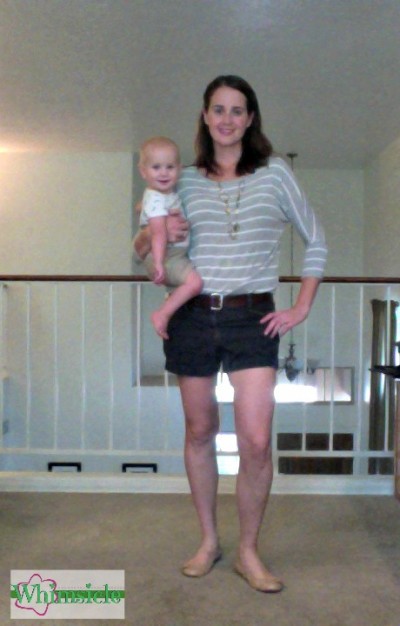 Shirt: Market & Spruce, Stitch Fix
Shorts: White House/ Black Market
Belt: Express
Necklace: Express
Shoes: Cole Haan, Nordstrom Rack
The style card pairs this shirt with a rose colored skirt. The skirt in the photo looks awesome, but I have nothing in my closet resembling it. However, I do have a coral dress. I wondered what this shirt would look like over coral.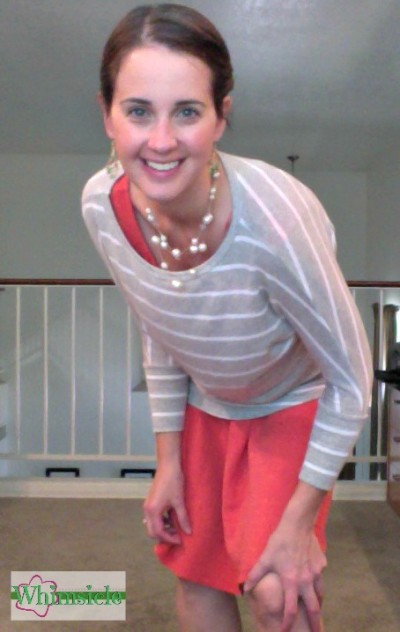 Shirt: Market & Spruce
Dress: Bobeau, Nordstrom Rack
Earrings: Whimsicle
Necklace: Express
Call me crazy, but I love it! I would have never tried this combination before, but I really like the way the shirt dresses down the Bobeau dress. It gives it a more casual and yet put together appearance. Needless to say, I kept the Market & Spruce top.
Piece #2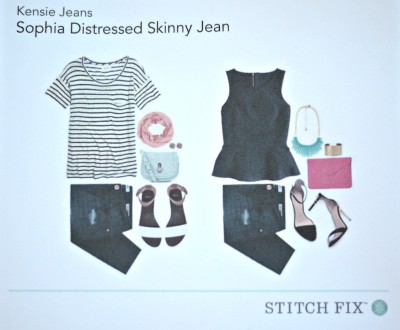 I like the distressed look in these skinny jeans. I paired them with a top that I kept from my first Stitch Fix for a very comfortable, dressed-down look.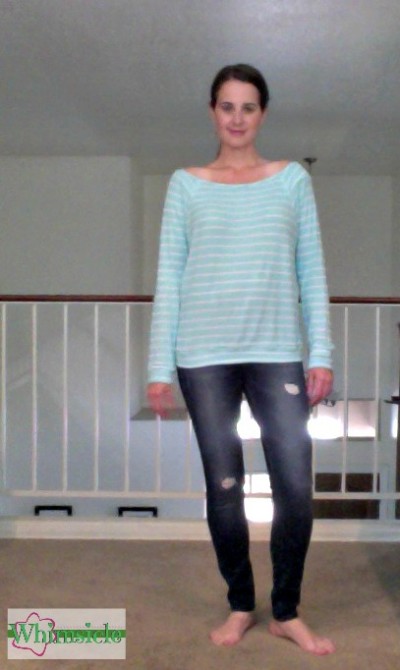 They were too tight. I know skinny jeans are supposed to be form fitting, but I really had to squeeze myself into them. When I sat down, I felt like I was was going to tear open the hole on the right knee. I sent these back.
Piece #3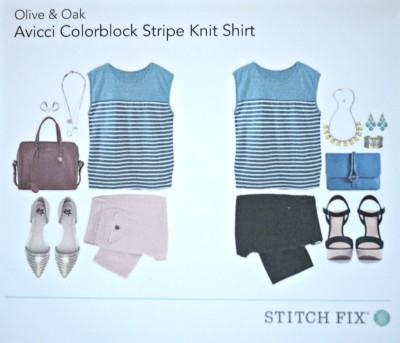 The blue color of this shirt was very pretty. That attracted me to the top right away. I also like the peach colored jeans on the style card, but alas, I have nothing in my wardrobe like that. So, I paired this shirt with my black capris. My attempt at looking coy.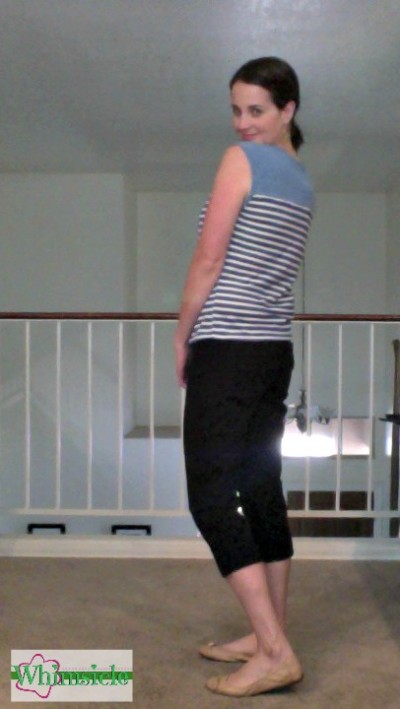 Top: Olive & Oak, Stitch Fix
Capris: White House/ Black Market
Shoes: Cole Haan, Nordstrom Rack
And then with the Kensie jeans from this fix.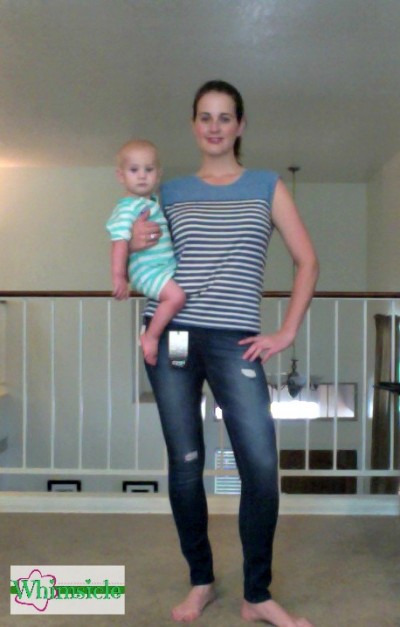 While cute, I didn't feel there was anything special about this shirt. With a $48.00 price tag, I decided to ship it back.
Piece #4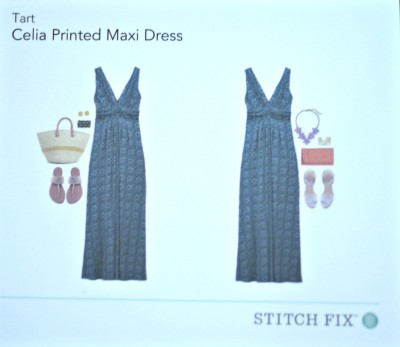 I requested a dress in this fix that I could wear to my Grandparents' vow renewal happening in June. I specifically noted that it needed to be a dress that I could nurse in. This dress fit both of those requirements.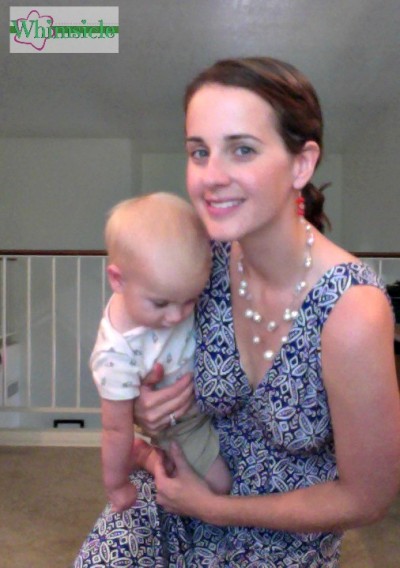 Dress: Tart, Stitch Fix
Necklace: Express
Earrings: Whimsicle
I had a lot of trouble styling this dress. No accessories I wore looked quite right with it. The azure pattern on the dress was striking though.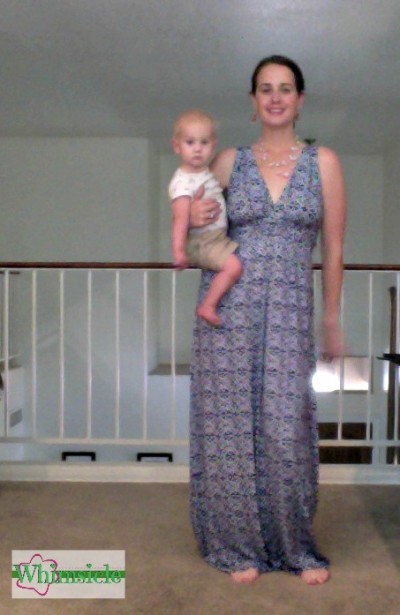 And, all I can see is my chest. I feel a little too bohemian here. The hem drags on the floor and with my klutzy grace, I tripped over it a lot. The outfit felt a little more put together with heels.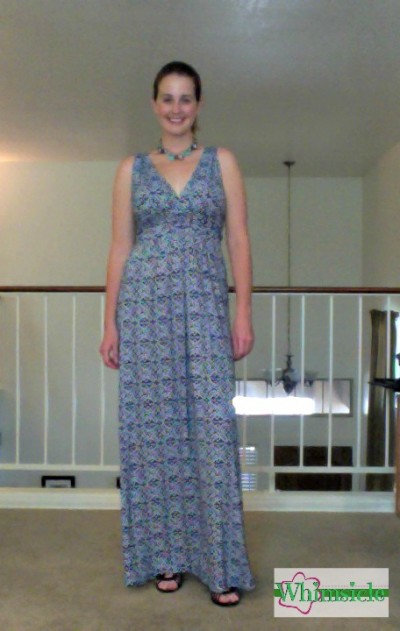 And a bra. Let this be a lesson of how important the right underwear is 🙂 It totally transforms my stature and how this dress looks. All the bras I own show through this dress from the back. So purchasing this, would have also meant going to buy a new bra. Also even with the heels, I was still tripping over the hem. To further compound matters, this dress came with a pretty hefty price tag of $168. It wasn't for me, so I sent it back.
Piece #5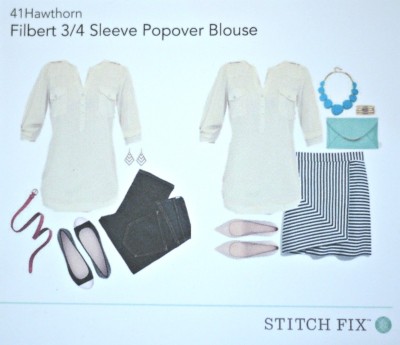 The color of this blouse was similar to a shirt I kept from last Stitch Fix. However, I was quite enchanted with the neckline of this one. I didn't have a striped short skirt, so I paired the blouse with a tan pencil skirt.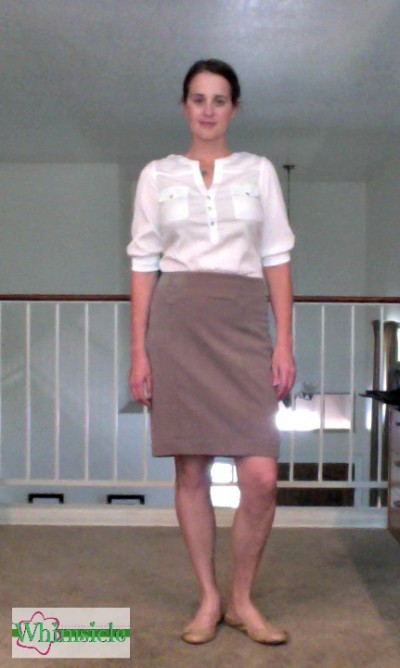 Shirt: 41Hawthorn, Stitch Fix
Skirt: The Limited
Necklace: Kate Spade
Shoes: Cole Haan
I felt very put together yet conservative and comfortable. I also paired it with my black capris and a red belt.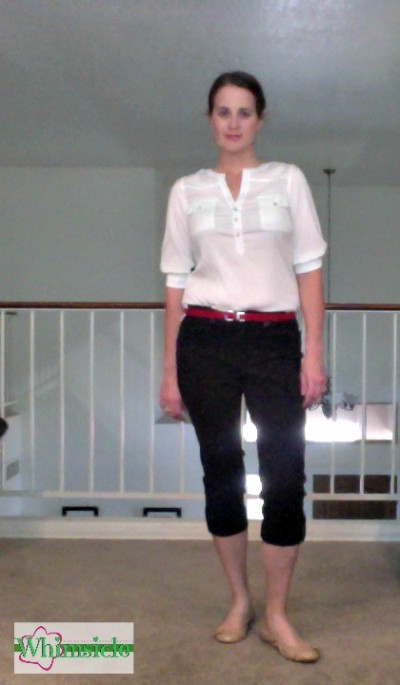 I was going back and forth on his blouse. Should I keep it? Should I send it back? It's just a white blouse. Then I realized that many times I'm trying to put together an outfit and wish that I had a white blouse. This is the blouse – a very basic wardrobe staple that I now own. I kept it.
Stitch Fix
is an easy way for me to maintain a wardrobe I love and never have to leave to house. I highly recommend it to everyone I see. Including you 🙂