When you have a small wardrobe, having a variety of clothes is key!  These small wardrobe shopping tips will help you stay focused.
I'm not going to lie.  Some of them take a lot of willpower to implement.  But not only will the save money in the long run… you'll always have something to wear.
Ok, let's get real.
We either love shopping or we hate it.  Sometimes, every piece of clothing fits and looks amazing.  That's a big Yay!
But what if it doesn't?  What if you only like how you look in a particular style and have trouble buying anything else?
I know how you feel.
For me, it's stripes.
It's like a gravitational force.
What?!? A shirt with stripes?  Excellent!  That dress! Stripes? Of course!
That dress! Stripes? Of course!
Pretty soon, every piece in my closet has vertical lines.  Then, I have nothing to wear.
Our brains crave variety as much as they want routine.  When we see the same piece over and OVER again in our closet, we feel like we're in a rut.
Nothing is special because everything is.
Let's change that.  Here's how to ensure we have enough variety in our closets.
Shopping for a Small Wardrobe
I really don't like shopping.  With two small kids, I have little time to go to the mall by myself.  So, I've been using Stitch Fix for almost three years now.
My stitch fix stylist chooses five items for me and sends them to my house once a month.  I try everything on, pay for what I like and send back everything I don't.
Every box is a surprise.  My favorite time of the month is when that brown and teal package arrives on my doorstep.   Here I am opening this month's box:
Did you notice all the stripes?  Ya…. let's just say I had a hard time letting some pieces go in this box.
Here are the shopping tips to help you with your next clothing purchase.
Shopping Tip#1: Clothes Must Fit Your Current Style
Market & Spruce Chaplin Lined Hooded Anorak Jacket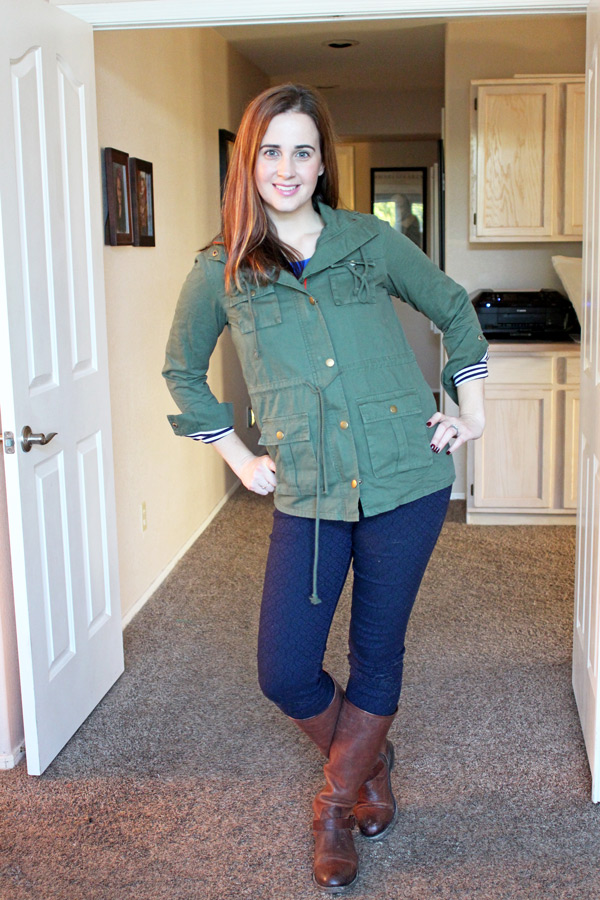 I was so excited about this jacket!  When I tried it on, I realized that it didn't quite fit my style.   The cut is a little more casual than I typically dress.  Since I knew it wouldn't fit with the clothing I already had, I sent it back.
But… I wanted to keep it.  Do you see how the inside lining is stripes?!?
Shopping Tip #2: Must Be Different that What You Own
Pixley Breonna V-Neck Dress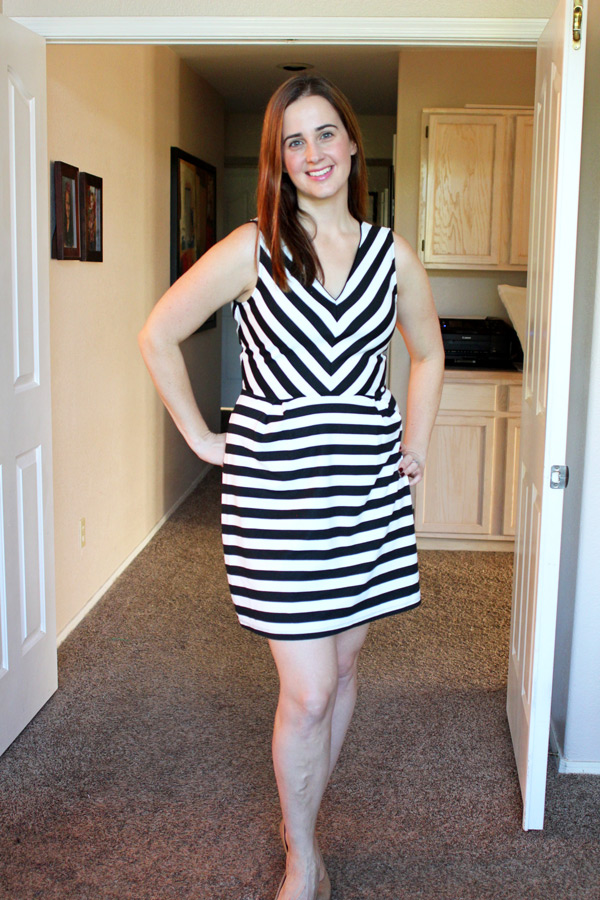 This dress looked super cute and I felt fun wearing it.  But… but, I already have a maxi dress with an identical print.
I think a little tear fell when I put this one back in the return envelope.
Liverpool Anita Printed Skinny Pant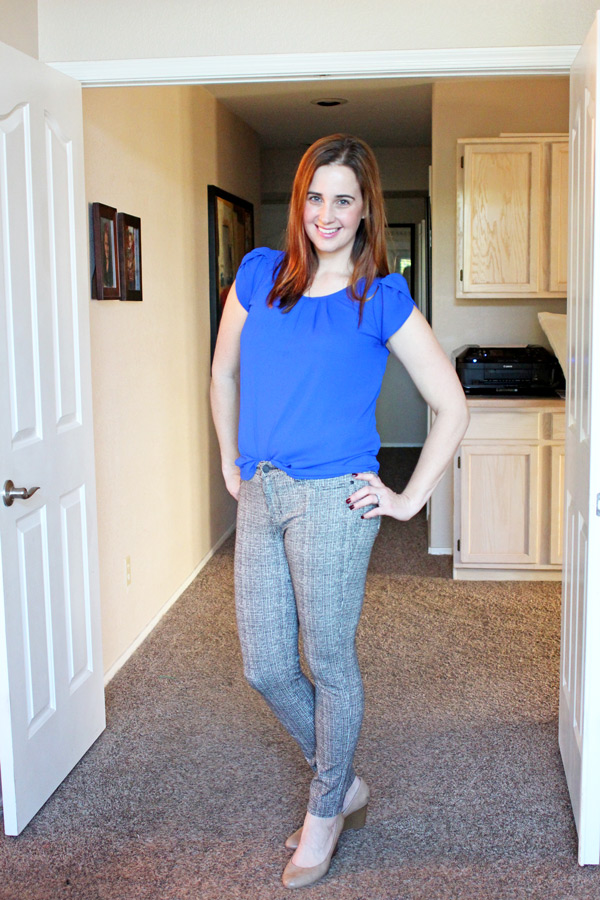 Yes!!  These pants are very stretchy.  Not only are they super comfortable, but they are are also totally different than any other pants I own! Plus, they remind me of the black and white contrast I love so much in stripe obsession.  Kept these!
Papermoon Bastille Tulip Sleeve Blouse
First, I loved the cut of this blouse.  Second, ohhh, the color!  I swoon with this shade of blue and yet can't find it anywhere.  Kept it!
Shopping Tip#3: It Can't Just Be OK
Laila Jayde Bowie Solid Dolman Sleeve Top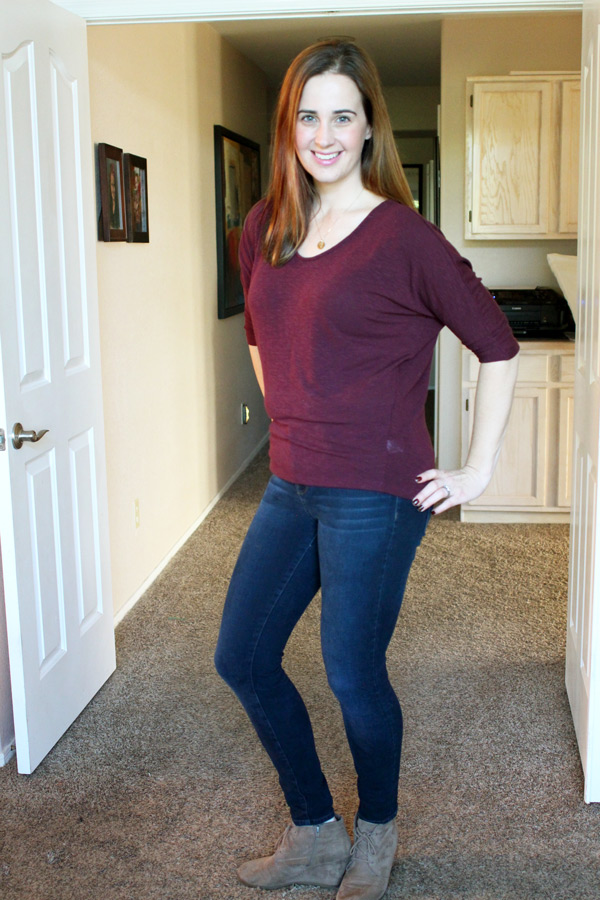 I seriously need more long-sleeved tops.  I'm freezing here in the AZ winter. ( Imagine how I would fare in a place that's actually cold.) However, I didn't love this top.  It was just OK.  I know from experience that Just OK tops stay on the hanger indefinitely.  I sent it back.
However, I didn't love this top.  It was just OK.  I know from experience that Just OK tops stay on the hanger indefinitely.  I sent it back.
Shopping for a small wardrobe is always full of hard decisions.  And.. any time you add a piece of clothing, you remove one.  This time, I got rid of my chambray shirt – the buttons always tugged a little too much across my bust.
Need to know what essentials you should always keep in your closet?  Make sure to get my wardrobe essentials HERE:
Click for Winter Wardrobe Outfit Ideas