Tough Lotus has another awesome Groupon! Three or Six Aerial Fitness Classes at Tough Lotus. (Using our link doesn't cost you anything extra. It helps us out by giving us a small percentage to keep up Whimsicle)
I first heard of aerial yoga a couple of years ago when I was pregnant. A Groupon popped up on my cell phone showing people hanging upside down from swing-like contraptions. I thought, "this looks like so much fun!" However, it wasn't advisable for a very pregnant me. When a Groupon for Tough Lotus appeared a few weeks ago, I snatched it up.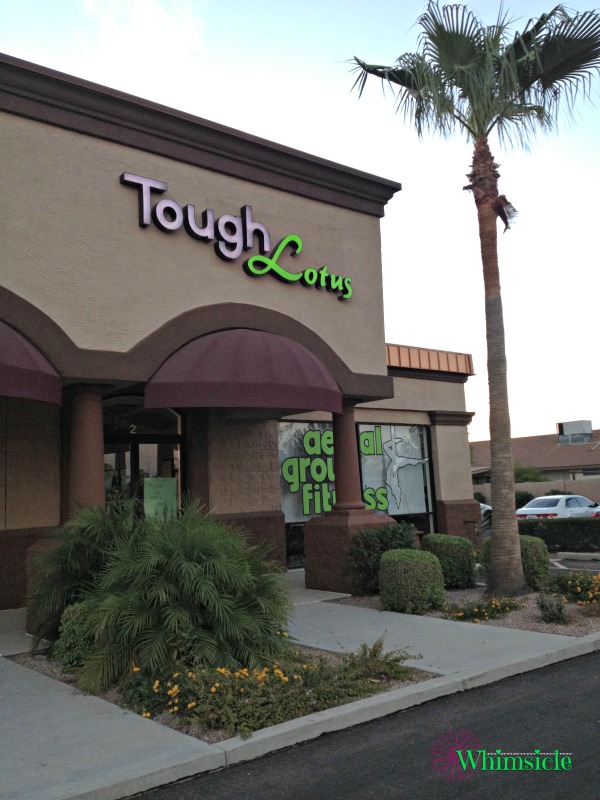 The first class required at Tough Lotus is "Introduction to Aerial Fitness". Reserved only for beginners, I knew this class would go slowly and I would be able to ask a lot of questions. About 10 people showed up at 6:30PM on a Tuesday night to attend. Our instructor, AJ, had us roll out our yoga mats under a swing of our choosing. She then guided us in getting into a seated position in our swing.
For the swings, think of a very large hammock that is gathered together. When you pull the fabric around you, it feels as is you are retreating into your own little cocoon.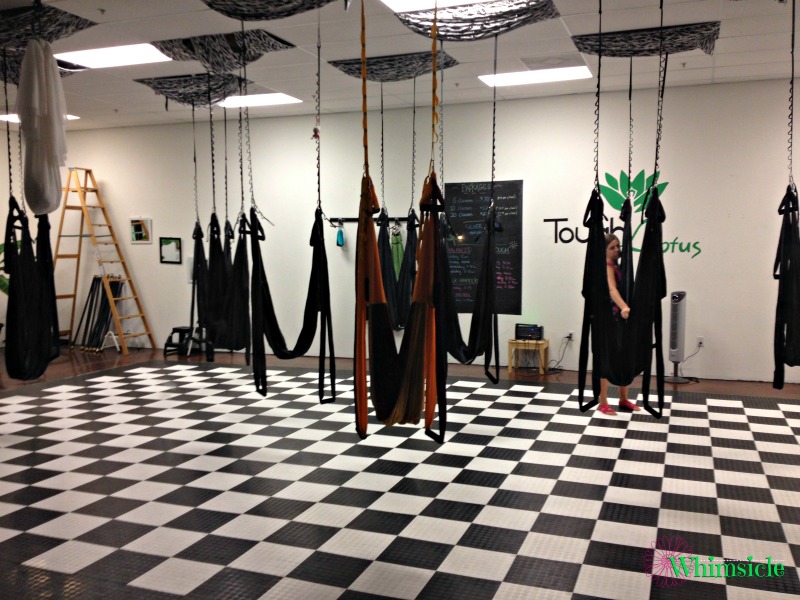 Attached to each swing is a set of 3 handles on either side. One handle up high, one at a medium height and one that is lower. We started the class by standing behind our swing, feet on either side of our yoga mat, bending at the waist, grabbing our swing and doing some easy stretches. As we progressed throughout the class, AJ carefully explained how to get into each pose. One requires you to sit in your swing and put your ankle through the highest handle. The first time, I completely missed. The second time I got it through and felt like a contortionist rock star.
With my right foot suspended in the air, I stood on my left leg – something I would never be able to accomplish without the use of the swing. On the count of three, we sat back on the swing, picked up our right foot and crossed it over our left. The back of my left leg felt a deep stretch and I swung through the air.
So much of this workout felt like I was playing. We also did ab work, that although didn't feel strenuous in class, I felt sore in my abs the entire next day.
A big part of aerial yoga is inversion – hanging upside down. We did shoulder stands.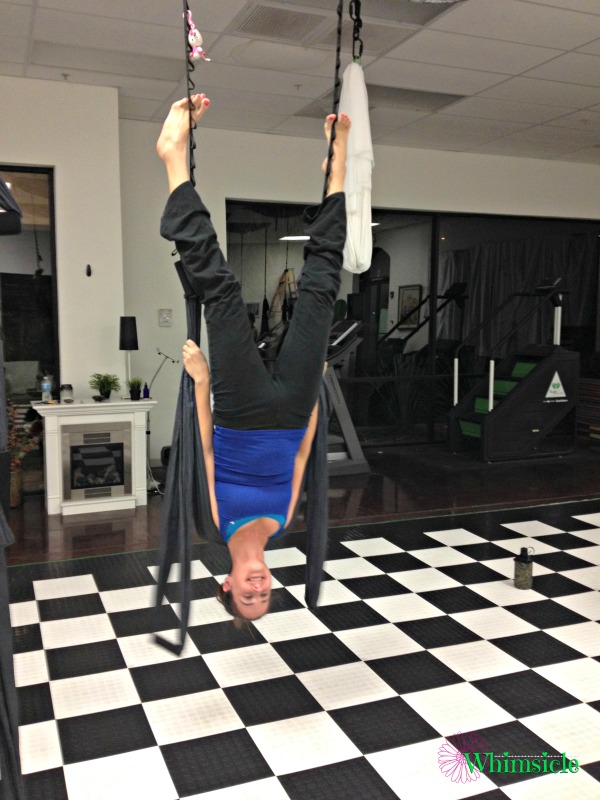 And hung upside down like a bat, plus strike gravity defying poses while there.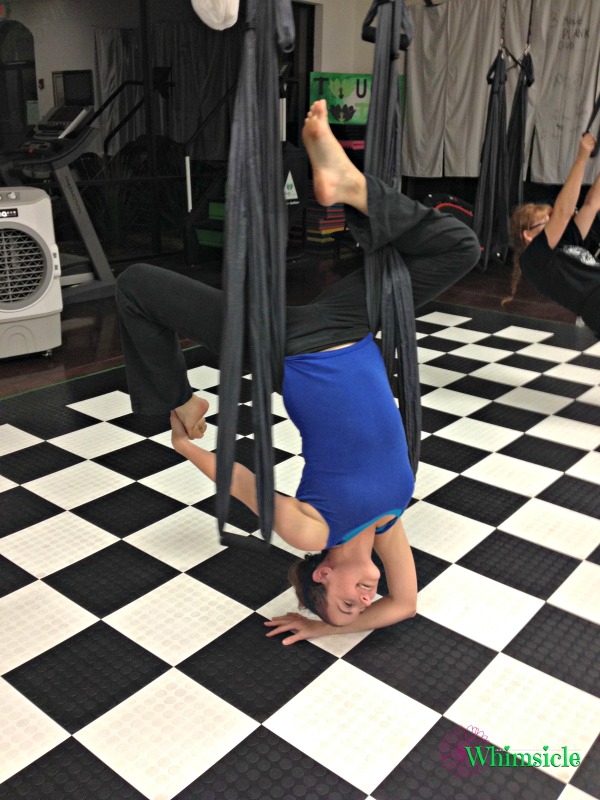 Class ended with a five-minute relaxation period. During this time, AJ came around and spritzed us with aromatherapy while we lay blissfully cocooned in our swings. I left class feeling relaxed and taller. All that upside-down time does amazing things for the spine.
I look forward to aerial yoga at Tough Lotus every week. Even though my Groupon has run out, I am hooked! Not only is my flexibility improving, but it is my fun hour of play. Any exercise I can say that about has my vote.
Check out Tough Lotus at Dobson and Elliot in Chandler, AZ or on their website: http://www.toughlotus.com
Find Tough Lotus's current Groupon here: Three or Six Aerial Fitness Classes at Tough Lotus. (Using our link doesn't cost you anything extra. It helps us out by giving us a small percentage to keep up Whimsicle)