Are you in the middle of a major weight loss and now have no clue what to wear? You want to keep a small wardrobe, but how do you dress when losing weight?
Your old clothes are too big but you don't want to spend the cash on an entirely new wardrobe yet? Here's what to buy, how to dress when losing weight and still look fantastic until you reach your goal.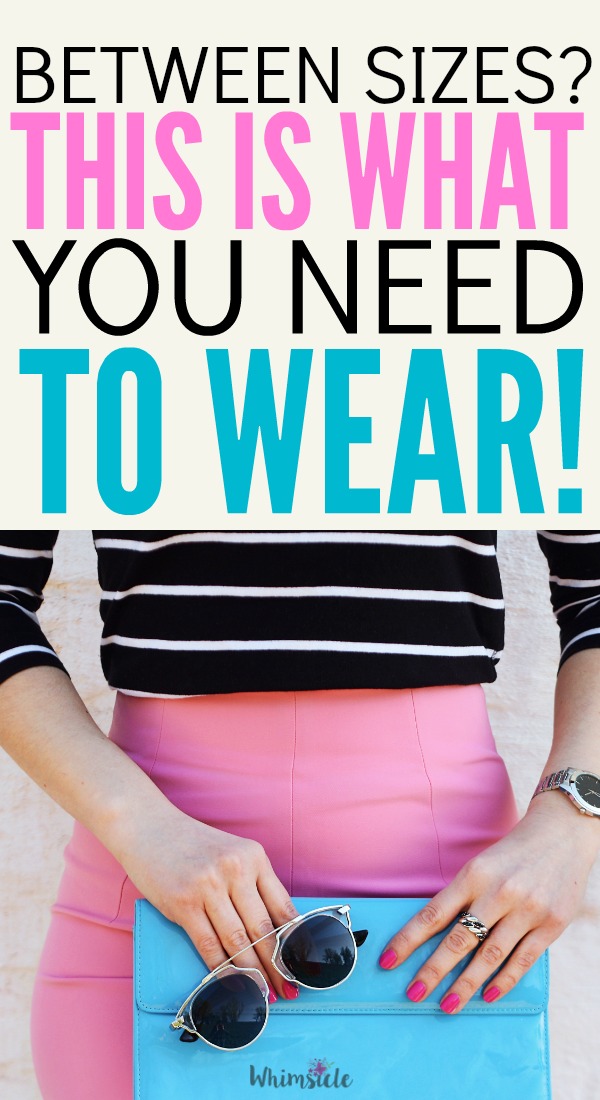 Five years ago, I lost twenty pounds. Twenty pounds I had been struggling to lose since I was a teen!
I thought when I lost weight, everything in my closet would magically fit me again. My clothes would just start to look better and life would dramatically improve.
It didn't happen.
When my body shape changed, the way I dressed had to change too. My tops started to hang off me – making me appear larger than I was. My pants started to sag as well.
So much so, that I remember making copies one day after school. Two other teachers were waiting and chatting behind me. All of sudden, one of them said, "Crohn, you need to get some new pants."
She was completely right. The back of my pants help two sad little pouches that I used to fill out but now just looked, well, miserable.
But, I wasn't done losing weight.
No one wants to buy a whole new wardrobe that won't fit two months later.
Click To Tweet
How frustrating would that be? Plus, I didn't know what to buy. How do I dress now that I lost 15 pounds?
Cue overwhelmed JoAnn.
Through a lot of trial and error, I eventually figured it out. I want to save you that trial and error. Here's what you need to buy for your new body shape (while still keeping a minimalist wardrobe) and how to make those items look good on your changing figure.
Bra Fitting
This is a must. Nothing will make you feel better than a good fitting bra. I didn't figure this out until a year ago. Just a year! Good bras shape everything on top so that there is no back fat trying to escape and everything is supported. I felt so much better and more confident once I wore a bra that fit me. Yes, you will need to buy a few bras once you lose more weight, but trust me, this purchase now is worth the money.
How do you find a bra that fits? Seek out a professional. You may find that you need a larger cup size than you've been wearing but a smaller band size. That's what happened to me.
When I was losing my pregnancy weight and still nursing my son, I was wearing a 36C. I thought I was just flabby up there. NOPE. I got measured and needed a 34E! Go mama boobs!

Always good with a little stretch
Always look for a little stretch in everything you buy right now. Even though I'm at my goal weight now, I still use this rule.
Every piece of clothing looks better when it's allowed to shape to your individual body. My favorite pair of jeans are 98% cotton and 2% spandex.

Heavier Fabrics
Clingy, thin fabrics are a nightmare for anyone who doesn't have 0% body fat. Anytime I wear a thin dress, it always clings to all the wrong place and accentuates every little thing. While I love my body, I also want to feel comfortable and confident. Heavier fabrics give you sleeker lines and better fit. The tend to hold their shape better and drape very nicely.
These LulaRoe dresses and skirts from are perfect. They drape beautifully.
I'm not saying to look for wool or velvet. But do try everything on and pay attention to how the fabrics lays on your body. Does it cling to places? Then, its a no. Does it drape? Grab that now!
Now, you will need a few basics to get you through your transition. Here's what you need to buy…
Good Basics
You want items that you can mix and match effortlessly. I found it essential to buy the following items:
a pair of well-fitted jeans
a black top
a basic well-fitted dress.
If you have those pieces, you can make plenty of outfits to ease you through the transition period.
Belt Everything
Start belting everything! Find a pretty belt and wrap it around your favorite dress. Use the belt to accessorize a tunic with a fantastic pair of leggings (or skinny stretchy jean) and a pair of boots. Stick a shirt into a skirt and belt it.. I use belts in my outfits all the time!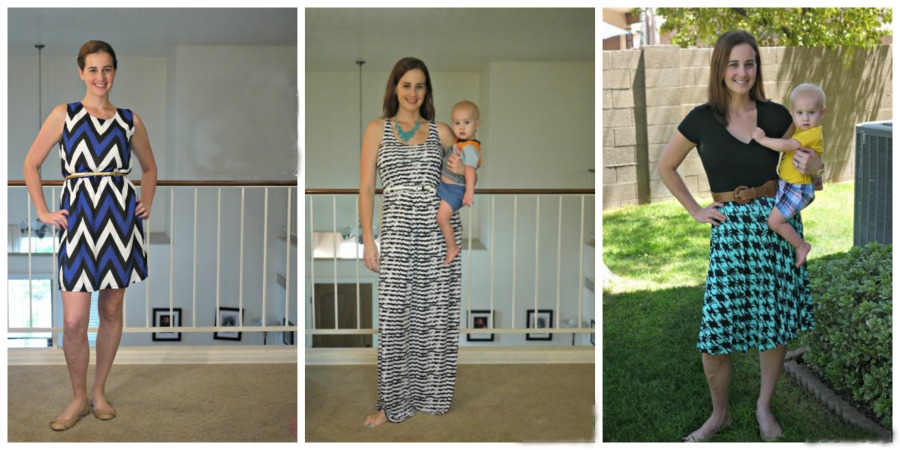 When you use a belt, you create a waistline as well as fit the clothes to your body. If a shirt or dress is too big, belt it and it's perfect.
Balance Your Look
When you lose weight the first thing you want to do is show it off!! If you don't feel comfortable yet in all form-fitted clothing, that's ok. You can still look fabulous as long as you balance your look.
As a general rule, when you wear a large, blousy shirt on top make sure you pair it with skinny jeans or leggings on the bottom.
On the other hand, if you wear a flowy skirt on the bottom, your top needs to be fitted.
Know that you don't need to spend a lot of cash when your body weight is in transition. Here's to using the clothing you have and buying only the pieces you need to make it to your goal.
When you reach your goal weight, it's time to shop!
Let's talk about how to keep your new closet under control.