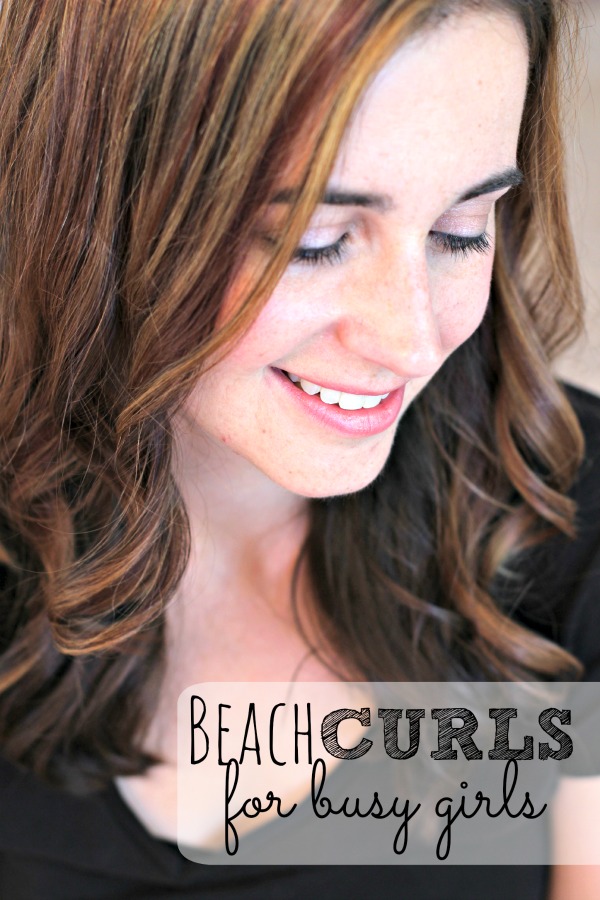 I hated doing my hair. Well, not quite hate actually, maybe frustration. It's because I spent so much time trying to make it straight, or not frizzy or curly and it never turned out the way I wanted it. I didn't know what I was doing wrong. I wanted the pretty hair I always got at the salon… I just had no talent.
Yep, I seriously thought it was because I had no talent. I was completely wrong.
I've been going to my stylist Danielle Jones at Luxe Salon & Spa for 8 years. I asked Danielle to teach me exactly how to get the beach curl look at home. The reason I wasn't succeeding before was due to three things: the product, the tools and the technique.
Here's the step-by-step on how to get perfect beach curls every time. It will only take an additional 10 minutes after you blow dry your hair.
Tools
To get this look, you'll need
a professional grade curling iron
hair clip
blow dryer
brush
All pretty simple tools, yes? The big hurdle for me was the professional grade curling iron. Buying a better curling iron completely changed how my hair curled. I upgraded my iron from one I bought at Target to a professional model from a professional beauty supply store. The professional model heats up to 425 degrees and doesn't have quite as strong of a clamp as non-professional models. This allows the hair to move more easily when curling. Surprisingly, the professional model wasn't really that expensive. I spent $30 on mine.
Product
On my hair, I used Bumble and Bumble Styling Lotion, Thickening Hairspray and Finishing Hairspray. In the salon, Danielle also taught me how to create a softer look using the Bumble and Bumble Surf Infusion.
Technique
First thing: PLUG IN THE CURLING IRON. It needs longer than you think to warm up to the desired temperature.
I stepped out of the shower with freshly washed hair and I toweled it dry. I wanted my hair damp but not sopping wet. I then sprayed two products into my damp hair.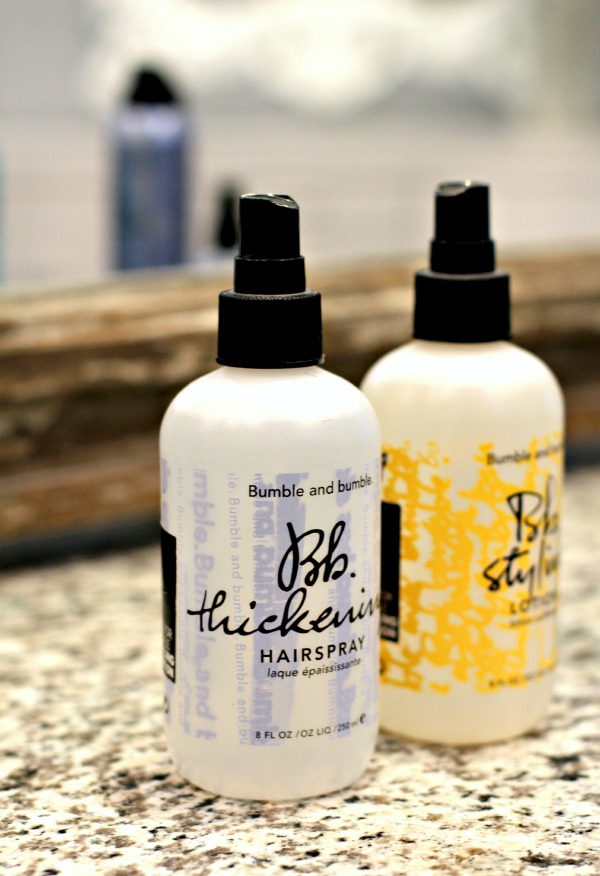 I sprayed Bumble and Bumble Styling lotion all over my hair. Then I lifted up sections of hair and spritzed Bumble and Bumble Thickening Hairspray at the roots.
Next, I blow dried, so that before I curled, I looked like this.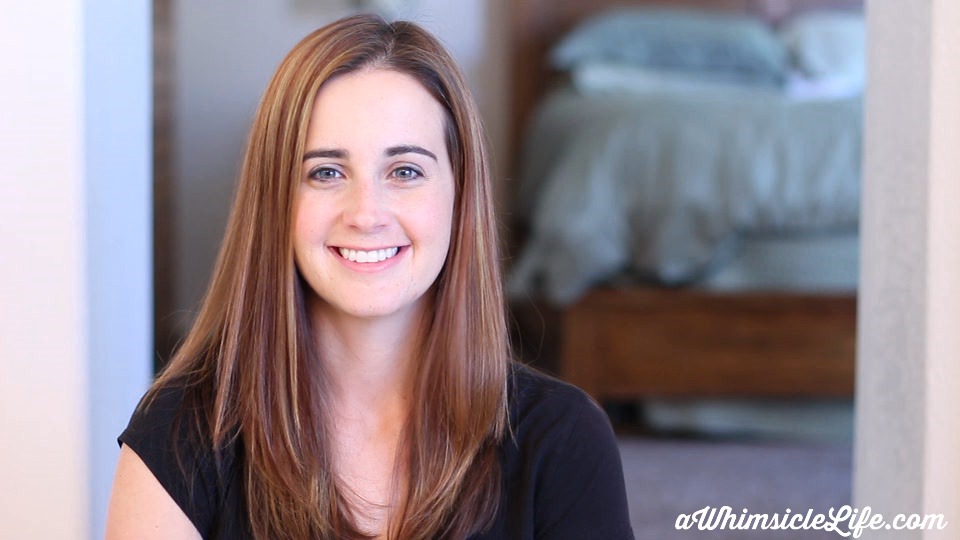 I then started my curl process. For that, a video!
The most important takeaways for me about curling technique are:
Your curling iron needs to be incredibly hot
You must clip your hair out of the way and work in sections.
Face the curling iron clamp towards the mirror. Clamp in the middle of the chunk of hair and roll away from your face.
Keep your curling iron moving constantly as you work your way down the chunk of hair and roll up. Hold for 2 seconds at the top and then release.
Finally, I finished my hair by spraying under each section with hairspray. My finished look is this: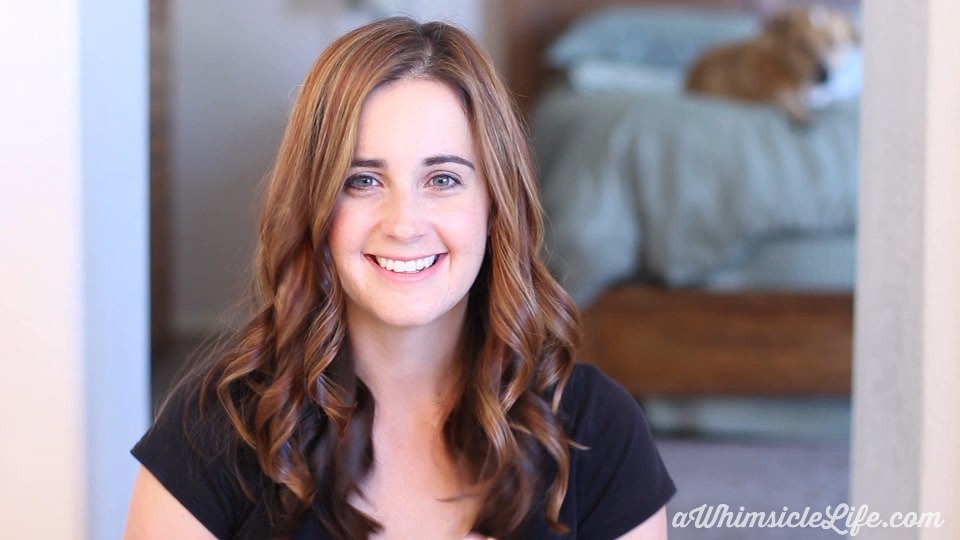 The day I went to Luxe to learn this from Danielle, she told me that I could acheive a more beachy look by using Bumble and Bumble Surf Infusion. She sprayed a little in, gently broke up some curls and bam!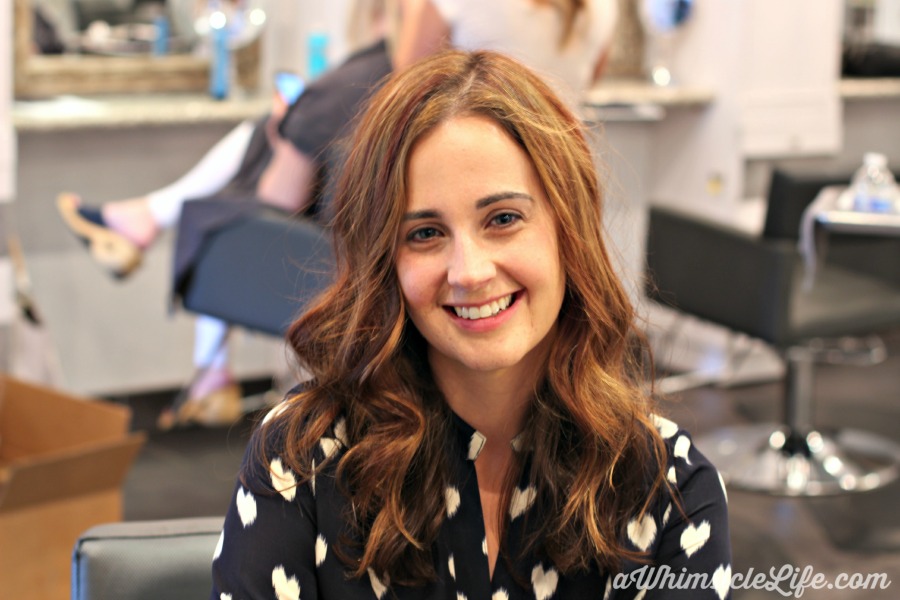 Having great hair is one of the biggest confidence boosters I know. Now that I have a technique and arsenal of products that work, curling my hair is worth my time because I know its going to be gorgeous and the curls will hold all day.