When my daughter was born, I was happy, excited and terrified! My little girl kept me busy. She was active, loved to play, and was the funniest little person I have ever met. Having another child scared me. Even though my daughter was fun, I couldn't imagine being able to handle another one. I'm a teacher, used to managing a classroom of 30 students, but when it's your own kids who are with you 24-7, the prospect of two is a little daunting.
My husband finally convinced me to try and my son was born in July of last year. Llama and Dude are 4 1/2 years apart. I thought the age gap would be perfect. Llama would be a little more self-sufficient which would leave me with more time to focus on the baby's needs.
Cue laughter here.
Sometimes, my two kids are hard and sometimes they are joyously fun and easy. Here are some things I have learned in the past year about having two.
1. They are very different from each other.
My daughter liked to sit and play with her toys as an infant. She would bang on her crocodile piano contentedly or sit in her high chair while I made dinner. My son is into everything! His favorite activity when I am in the kitchen is to open up one of the bottom drawers and take out the bread hook and some other foreign part for our stand mixer, and use these both as hammers on our white tile. He then crawls into the living room, raids his sister's stash of colored pencils, crawls back into the kitchen with colored pencil in hand and proceeds to draw on the floor. He's only 10 months old! Man, I am in for it when he turns 2.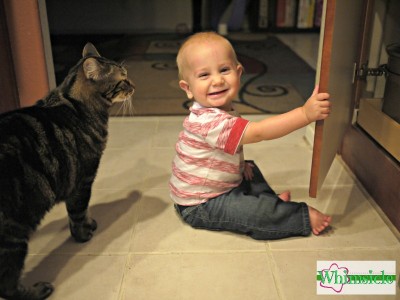 As another example of how different they are, right now, Llama is on the floor reading a book. Dude is digging through my office trash can face first.
2. They will keep each other happy… at times.
When I am grocery shopping with my son, he usually lasts about 10 minutes in the cart before he is squirming out and wants me to hold him. The next 20 minutes of my shopping trip usually consist of me holding Dude in one arm and maneuvering my shopping cart with the other. Sometimes, Dude pretends he's Superman and tries to push the cart as well.
Now that my daughter is off of school, she comes shopping with us. We get a car cart and it is utter bliss. Seriously. They play with each other and laugh a lot. Other shoppers in the store usually stop and comment on how cute and well behaved they are. Know that this is only a moment in time and my kids seem to really dig "car cart" shopping.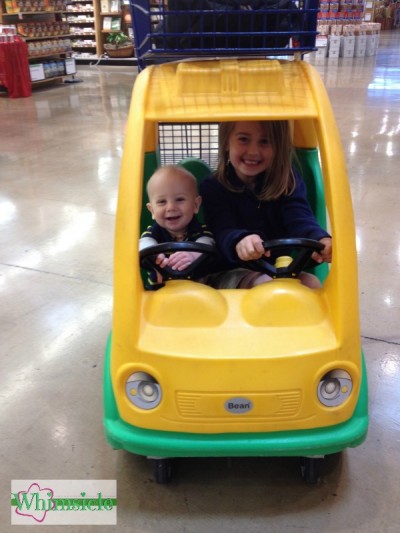 3. I usually have to protect my youngest from my oldest.
Nothing sums this up better than a drive we took about 2 weeks after Dude was born. Llama was sitting next to Dude in the backseat. Both my husband and I were up front.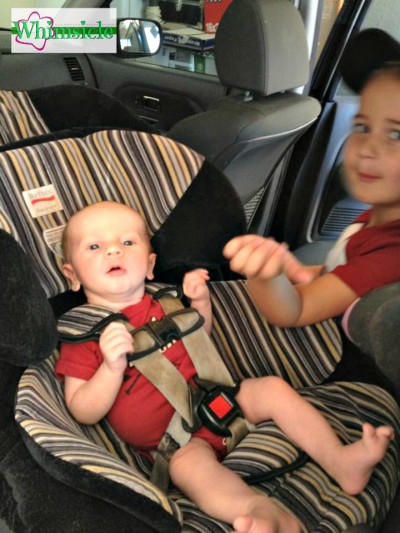 Llama: Dude can hold his breath!
Me: What do you mean?
Llama: I'm covering his mouth and nose and he is holding his breath.
Be still my beating heart. There are so many times that I have to remind myself that my daughter is only 5. Even though she is quite tall and acts pretty mature, she is only 5. Just the other day, I was doing laundry and Dude came out to the doorway of the garage to eat dog food off the floor keep me company. Llama comes barreling through the doorway, asking if she can watch Strawberry Shortcake. I say, "Sure." She runs back through, not acknowledging her brother. She trips over Dude and sends him into the door jamb head first. He got a black eye.
4. Now, two kids join me in the bathroom
You lose all sense of privacy as a parent. Wherever you are, your kids will want to be. Both of my kids now cram in the bathroom to talk with me while I'm using the toilet. Our bathroom is a little cramped and they don't move, so I have to gingerly step over them to wash my hands on the way out. They stay and play with each other.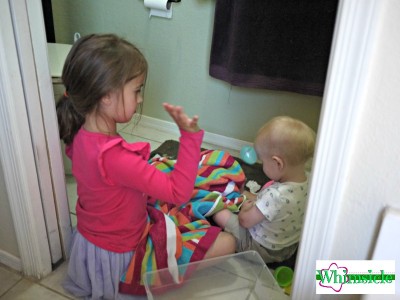 Why yes, my daughter is throwing plastic eggs at my son's head. But, they both seemed to be having fun so I let them be.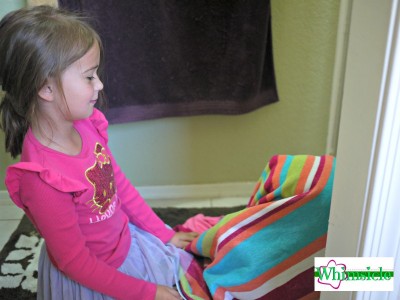 And yes, that is my son under the towel. I've learned to leave happy kids alone.
5. 5:30PM is my hardest time of day.
Both kids seem to lose it at 5:30. Dude is usually tired from having skipped his afternoon nap and he turns into a manic-depressive. Happy and laughing one moment, to screaming at top volume on the floor the next and wanting to be held, like this: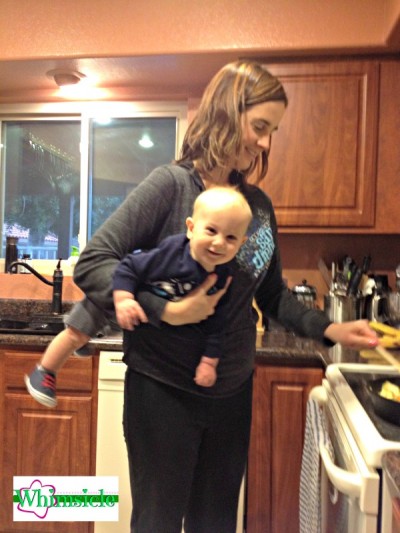 Llama tells me how bored she is at this time and complains about how I'm not making macaroni and cheese for dinner and why don't I ever make what she wants. They won't play with each other. They are not happy. It's mommy against the world.
Scratch that, mommy and a nice glass of red wine against the world.
6. I am amazed by their sheer love for each other
I see this most in the mornings. When Llama sees Dude, her face lights up and she immediately reaches for him. Dude squeals in delight when he sees her. I love that. It makes all the 5:30s worth it.