One of my favorite blogs to follow is Unveiled Wife. Jennifer Smith is the creative genius behind the inspirational and motivating stories of her blog. Jennifer shares her marriage ups and downs as well as providing hope to wives around the world.
No marriage is perfect, mine included. However, when I read Jennifer's challenge to find 10 things I loved about my husband, I was floored. My husband does so much for me and the kids that I often forget to thank him and tell him how incredibly wonderful he is. So I took the challenge…
My Husband…
1….is an amazing father. If I could mold exactly what I would want for the father of my children, my hubby is it. After very long days of work he always makes time to play and make the kids feel special. Seeing the joy on my kids' faces when daddy walks in the door takes my breath away.
2…is loyal. I am so incredibly blessed to know that I have a husband that is trustworthy to his core. No part of me ever wonders if he is unfaithful. Having that piece of mind is something that can't be underestimated.
3…served our country. As a former United States Marine, there is no higher calling in America than to stand and be willing to lay your life down for it. I find inspiration in his love for his freedom and willingness to die so that we can be free. I can't imagine making the same sacrifice.
4…is extremely passionate. When my hubby cares for something, like politics, he cares so deeply. His ability to stand up for what is right never wavers no matter the cost. While I easily get caught up in what people will think, he never falters.
5…is a great provider. My husband often works 50-60 hours a week, and many times out in the blazing sun, in the dirt. He affords me the opportunity to live out my dreams of being a stay at home mom and hopefully, one day, paid blogger. If he didn't work so hard, none of it would be possible.
6…is oh so handsome. I hate to say it, but the first thing that attracted me to my husband was his good looks. Tall, blue eyes, blonde hair, all American man. To this day he still floats my boat.
7…encourages me in every way. Not only does he push me to go after my goals and do whatever it takes, he encourages me to go out with my friends and have fun. Not many mamas can say that. Often his encouragement is just what I need to have the confidence to do the impossible.
8…is forgiving. I am extremely flawed and my husband always has the grace to forgive me my faults. He forgives family and friends when we least deserve it and even without being told "I'm sorry." His ability to move on from things is a trait I hope wears off on me…as I love to hold a grudge.
9…is ambitious. Who wouldn't want to be married to a millionaire? While we might not be millionaires (yet), I love him even more for his tenacity and desire to be financially free of debt and credit obligations. Having a desire to own his own company makes me work hard on my ambitions as well.
10…loves to learn. His desire to learn never ends. He enjoys learning about politics, watches the history channel, and always loves to learn new things. Fortunately for me, I learn through osmosis as I read my US Weekly on the couch next to him. We balance each other.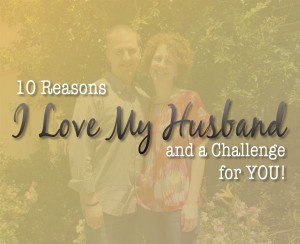 Write a list of things you admire about your husband. It may not be easy, but this exercise will help you replace any negative thoughts or annoyances you may have, with positive ones.
Then, reflect on this list. Whether you choose to share it with your husband or not, be sure to thank God for your husband and each of his admirable traits.