Her favorite color is pink. She adores her princess dolls. But in addition to this, my daughter loves baseball. Here are the 10 reasons why my five-year-old girl loves watching (and sometimes playing) the sport.
I was not a baseball fan. In truth, I didn't honestly understand the game until a few years ago. Whenever my husband listened to games on XM, the announcers play-by-plays went in one ear and out the other. All the jargon and abbreviations: RBI, Base Hits, Grand Slams… I couldn't even tell you the difference between balls and strikes, except that one was good for our team at bat and the other bad. I was even teased at work when I couldn't tell my co-workers exactly what a double was.
Then, I went to my first Major League Baseball game with my daughter, then 3. The music, the cheering, the way she bounced up and down and cheered for our team. I was hooked. We bought weekend season tickets and became a family of baseball fans.
Every game, my now five-year-old daughter cheers for "her Arizona Dbacks", follows the game and coaches her brother to follow in her baseball loving footsteps. Here are 10 reasons my daughter loves baseball.
1. Her Favorite Players
Llama always has a very specific reason for liking a player. She liked Mark Pennington for a while because he wore number 4 and she was 4-years-old at the time. She was sad when Jason Kubel was traded because she liked how "he always got home runs and struck out." Whenever she wanted an extra glass of milk, she always quoted Miguel Montero, (who was the spokesperson for the Arizona Dairy Producers), "Miggy says that we should have 3 servings of milk each day."
2. The Rivalry
My daughter loves the Diamondbacks. My husband likes them too, unless they are playing the San Francisco Giants. During Giants/ Dbacks games, we are a house divided. She even has a knock knock joke about the Giants:
Knock, Knock
Who's there?
Giant.
Giant, who?
(singing) Let's Go Dbacks! Doo Doo Doo Doo Doo
She's five… it doesn't make complete sense. The main thing is that she is giving her daddy a hard time and this we encourage!
3. The Food
A pretzel and a root beer is all that she needs to have a satisfying lunch. My hubby and I try to diversify her palate somewhat – you know, add a hot dog- but she really has quite simple tastes at the stadium. Plus, this is the only place that we don't require she eats a vegetable.
4. Kid's Club Prizes
I'm not sure if other stadiums offer this, but the AZ Diamondbacks offer game attendance incentives for kids. Every child receives their own membership card. Each time Llama attends a game, we scan her membership card at a kiosk and out pops a little receipt detailing which prize she has earned. In the past, she has received posters, baseball lego figures, a mini baseball bat, sunglasses, fan hair.. .all fun little trinkets that Llama loves.
5. Baseball Swag
In Disneyland, they always get you in the gift shop. Baseball is no exception. The amount of pink baseball items available for purchase is mind-boggling. Just last week, Llama procured a pink baseball bat and a notepad emblazoned with "I Love the Dbacks." She has a little shrine to the DBacks in her room with some of her loot.
6. Playground in the Stadium
On the third floor of Chase Stadium lies "The Sandlot." This a giant play area for kids that consists of a toddler playground, a preschool playground, a mini baseball diamond where kids can hit pitches thrown by a coach from the Diamondbacks Baseball Academy and a batting cage. This year, Llama is too tall for the preschool playground. She recently tried out the mini baseball diamond and loved it!! She connected with a few balls and got to run a loop of the bases.
7. The Mascots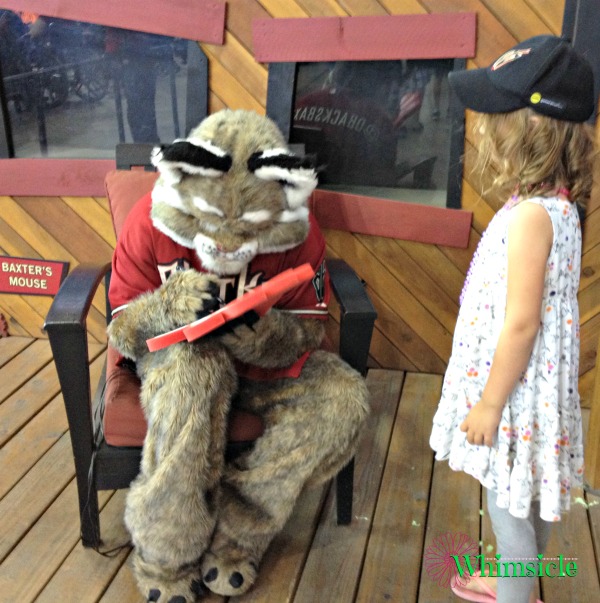 Llama loves the Diamondbacks mascot, Baxter. Every game during the fourth inning, Baxter shows up at his "house" to meet fans and take pictures with kids. We have so many pictures of Baxter and Llama!
In April, the Diamondbacks hosted all of the in-town mascots for a game to celebrate Baxter's birthday. Because of that one game, Llama wants us to take her to an Arizona Cardinals Football game so she can see more of the cardinal.
8. The Giveaways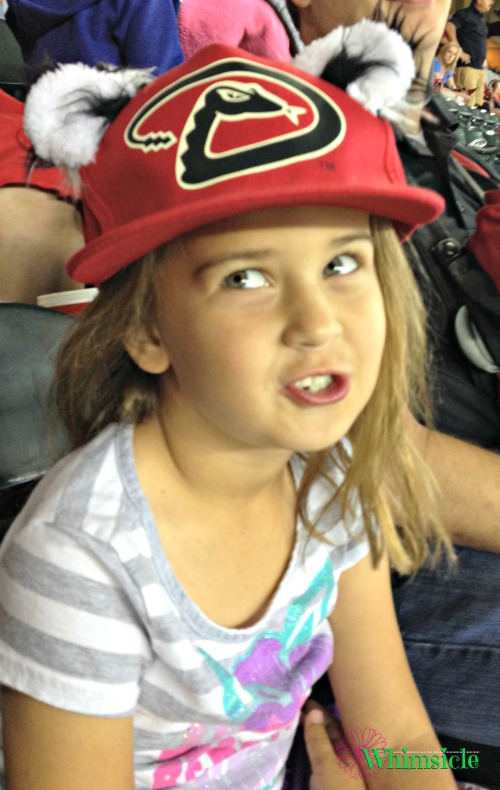 There always seems to be a giveaway going on! Llama's favorites are the bobbleheads of players. These she keeps on her headboard. But, she has nabbed a lot of cool, kid-themed giveaways as well. She has a Diamondbacks cereal bowl with spoon and a baseball hat with Baxter ears. Her school backpack this year is a Diamondbacks bag, which she got at a game.
As a sidenote, a girl in her class asked her, "Why do you have a boy's backpack?" to which she responded, "Girls can like baseball too!" Go, Llama!
9. The Cheering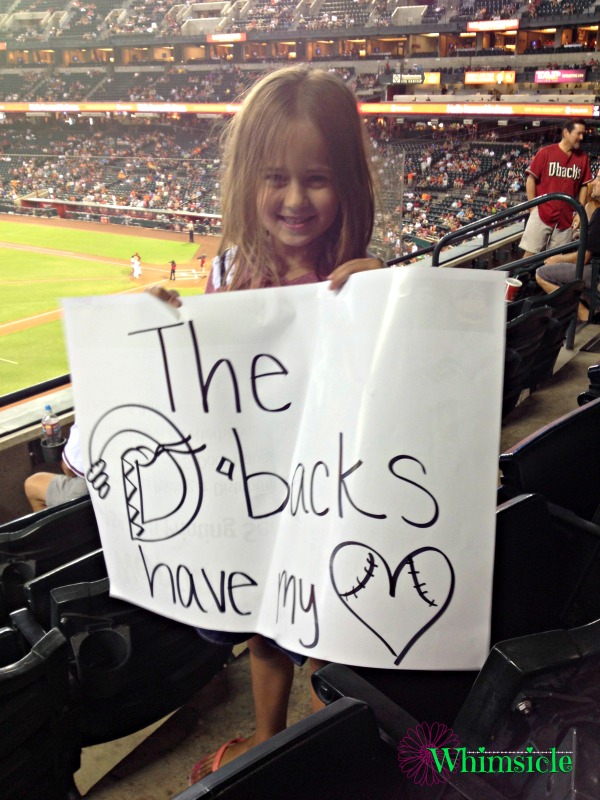 Her favorite chant? "Let's Go Dbacks! Doo Doo Doo Doo Doo." Unfortunately, the Dbacks haven't had that good of a season. After this chant, she usually turns to my husband and says, "Daddy, they're not going!"
10. Her Baseball Crush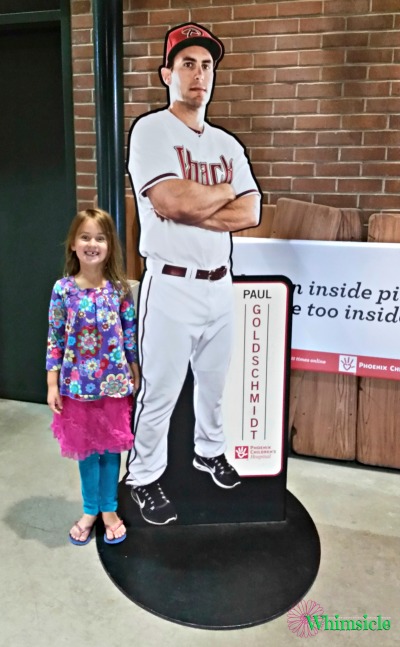 She's five and her first crush is a baseball player. Although, I think most Dbacks fans have some kind of crush on #44 Paul Goldschmidt. She proudly proclaims that he is her favorite player because he's the BEST and "he's the biggest number I know (44)." I like to tease my husband constantly about this crush, because he has the cutest, overprotective father reaction. For instance, the DBacks currently have Goldschmidt pillow creatures for sale in the gift shop. Llama saw these and immediately proclaimed that she wanted a "Goldschmidt cuddly" so she can sleep with him all night long. Cue father shudder.
Goldschmidt recently got injured from a wild pitch and got placed on the DL (disabled list). When Llama found out he broke his hand, her reaction was, "Well, at least he didn't break his face."
My husband and I always attempt to persuade our daughter to try activities that don't involve princesses or Barbies. I'm glad she has discovered a joy of baseball.