Disclaimer: My Gym allowed us to try a class for free to review.  All opinions are completely our own.
I have a little problem. My one year old loves to climb on everything!  Towering play structures, book cases, massive over-sized chairs.  He's already broken his arm once from a fall.  Climbing (and investigating everything) is his passion right now.
When My Gym in Ahwatukee invited us to try their toddler class, I was very excited!  A place for Dude to get out all of his 1-year-old energy in a safe environment.  Our 50-minute class was the perfect mix of structure and free exploration.  As a bonus, Dude took a very large nap after playtime.
As we walked in the front door of My Gym, located in a small plaza off Chandler Blvd near 40th street, I immediately noticed how colorful and spacious it was.  We were greeted by one of the instructors, and asked to fill out a small information form.  The instructor and the owner, Vince, knew every parent and child who walked in by name.  Under new management since June, the biggest difference now at My Gym is it felt like a very family focused, high energy environment.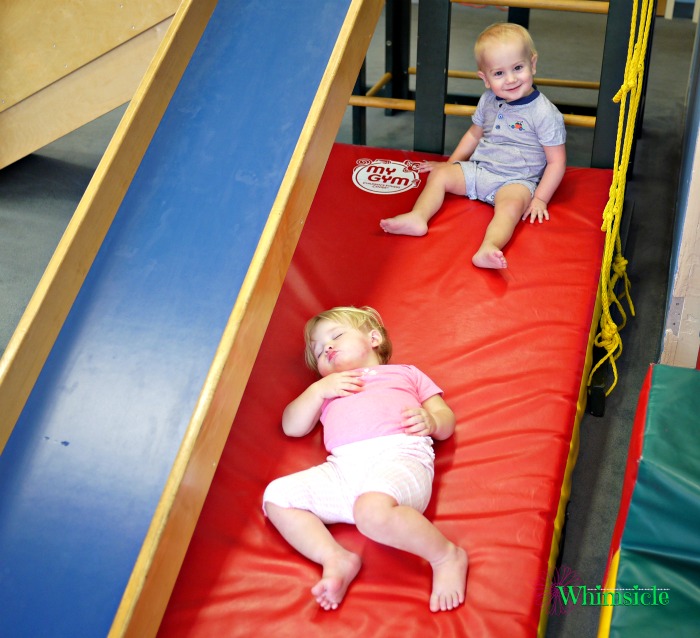 The class started with about 10 minutes of free exploration time.  Dude took advantage of this by trying out the trampoline with another student.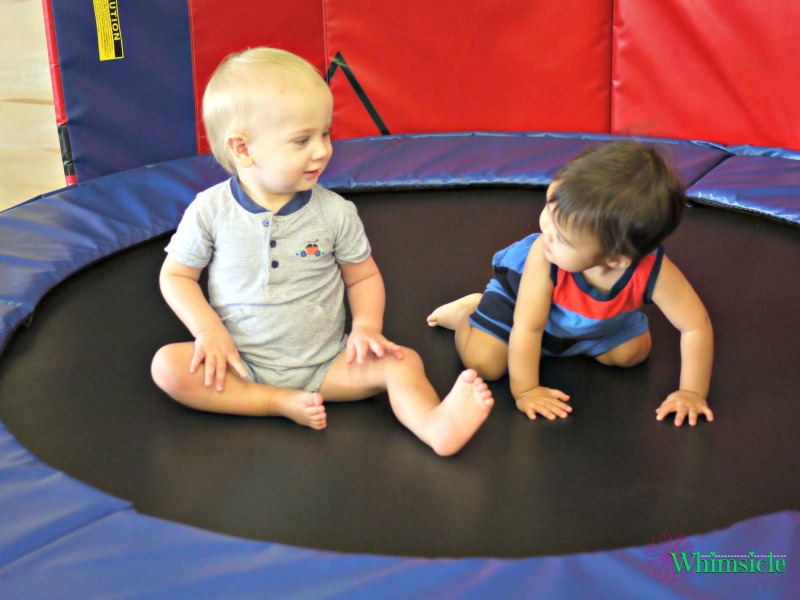 We then gathered around the circle for some stretching exercises.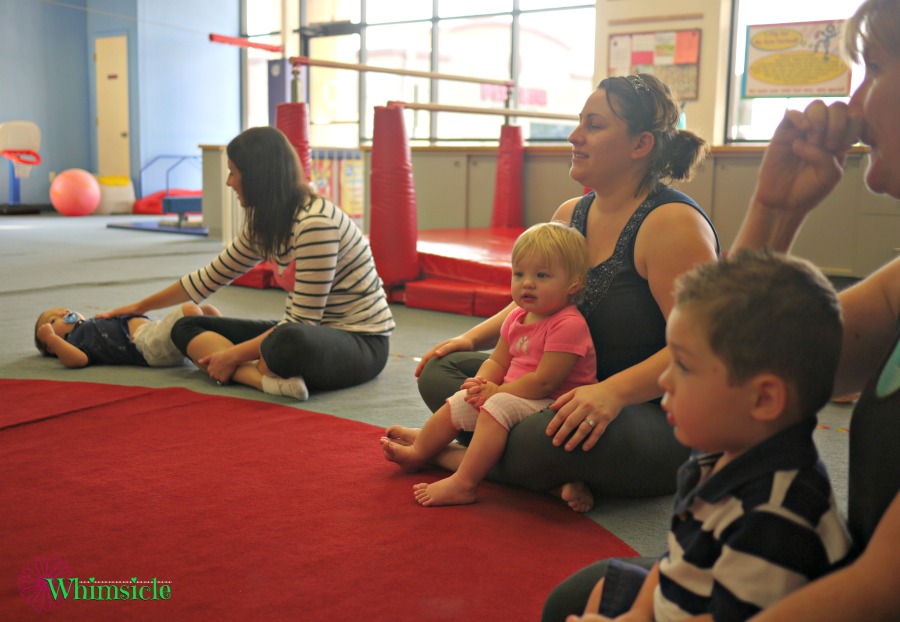 Then we practiced naming body parts with songs and games.  While some of the kids stayed the entire time, Dude wrestled with me and kept making breaks for the trampoline.  So if you have a kid like mine, don't worry.  The instructor and Vince were completely understanding and its expected for kids this young to be unfocused.
After this group time, the instructors transformed the circle by hanging beach balls from the wires attached to the ceiling.  These balls helped practice hand eye coordination.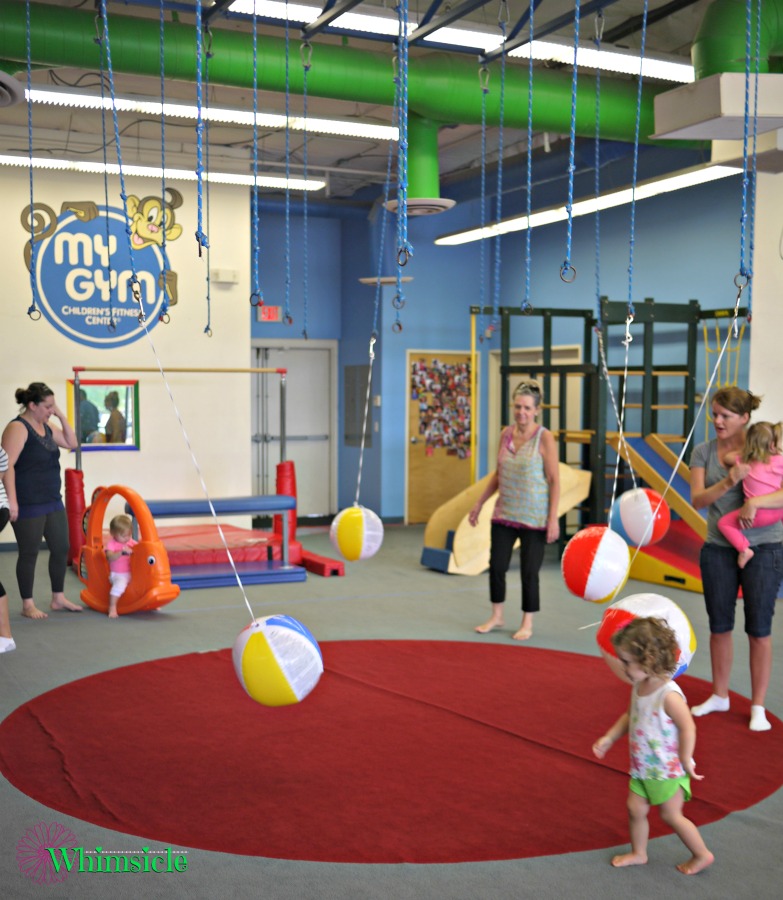 It was during this time that Dude discovered the ball pit.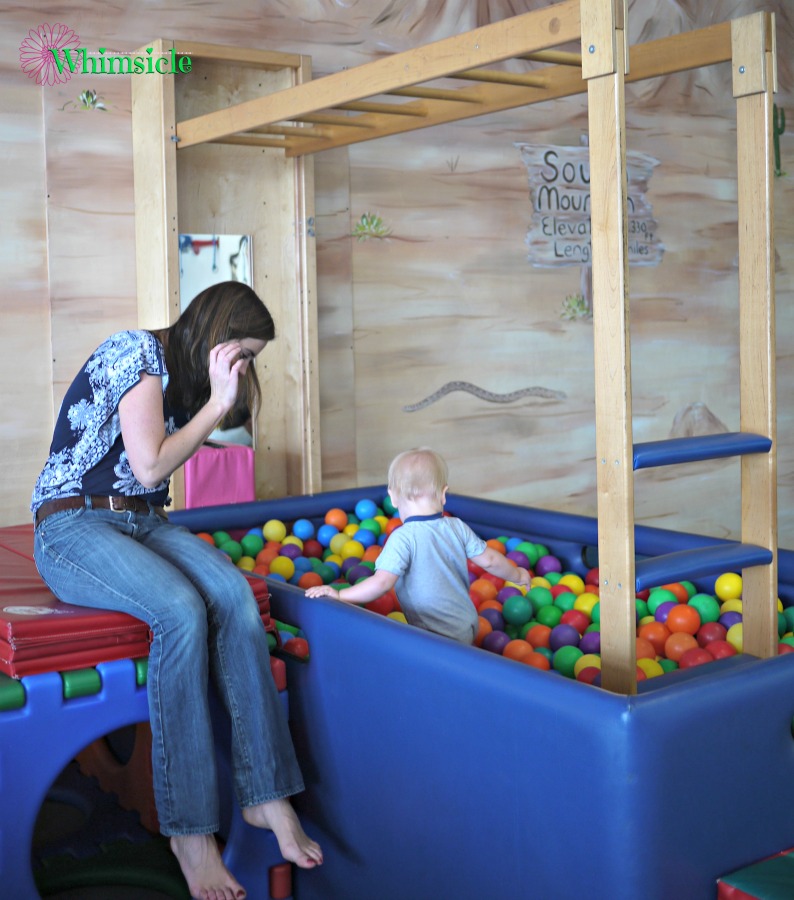 During the next circle time, when all the other babies practiced forward rolls, Dude practiced how to climb into the ball pit as fast as possible so that limping me, 1 week post knee surgery, couldn't catch him.
Then came swing time,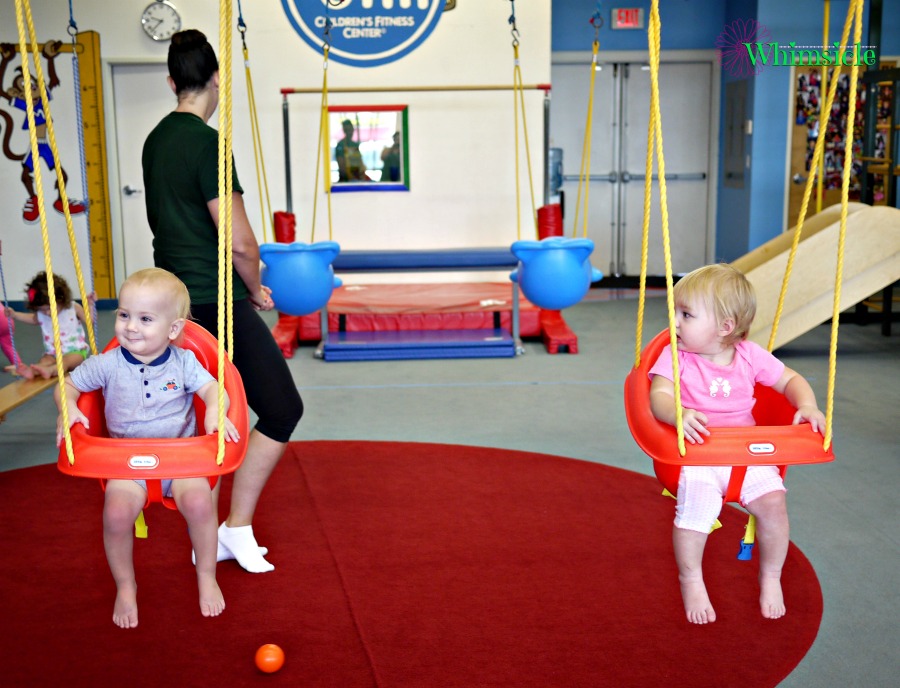 And practicing hand grips,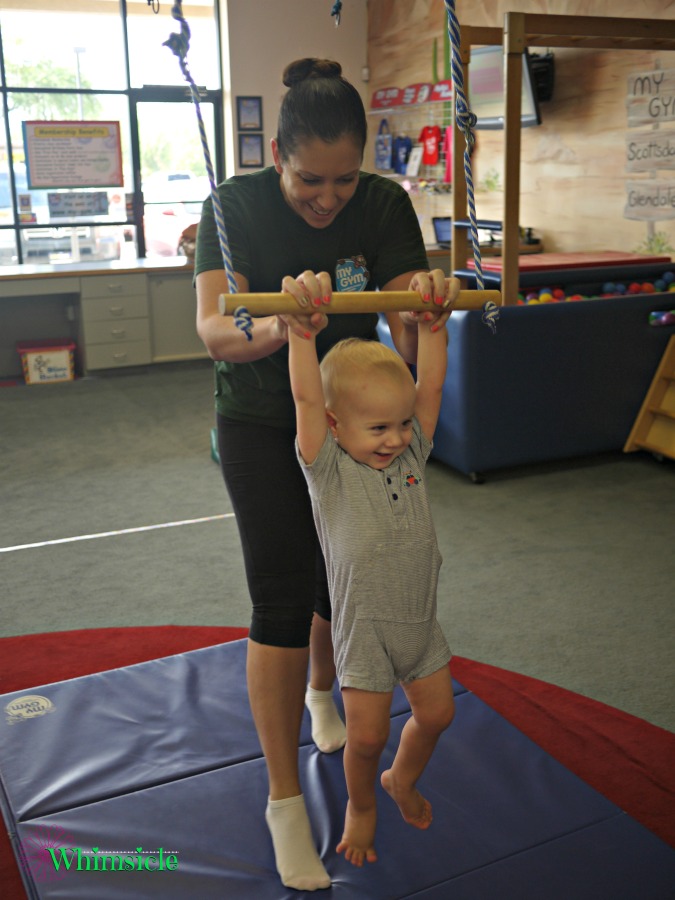 and a parachute tunnel.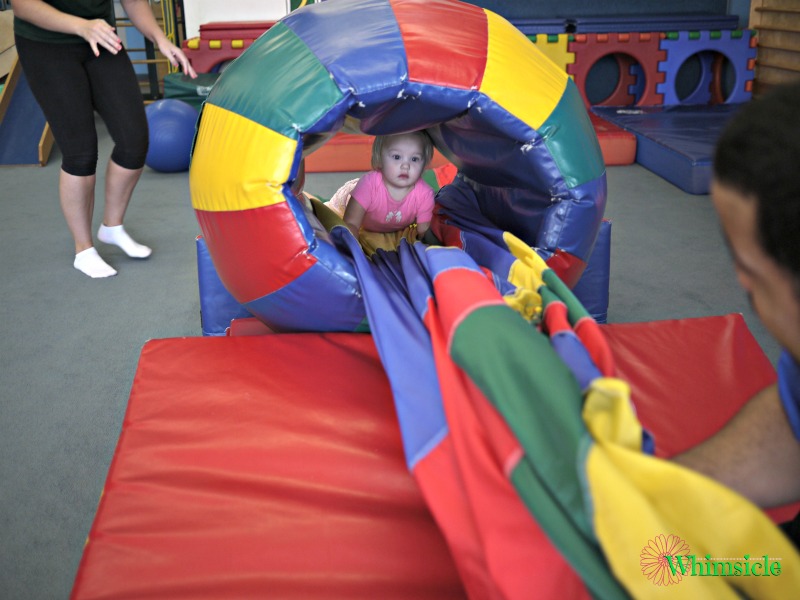 Next, came separation time to help with separation anxiety.  I found this very unique from other gymnastics classes that I have attended. Parents watched from the front of the gym as the instructors played with the kids alone.  This time is meant to encourage independence and social interaction.
We ended class with some parachute fun.  Dude wanted nothing of this as you can see him kicking on the left.  He wanted to go back to the ball pit.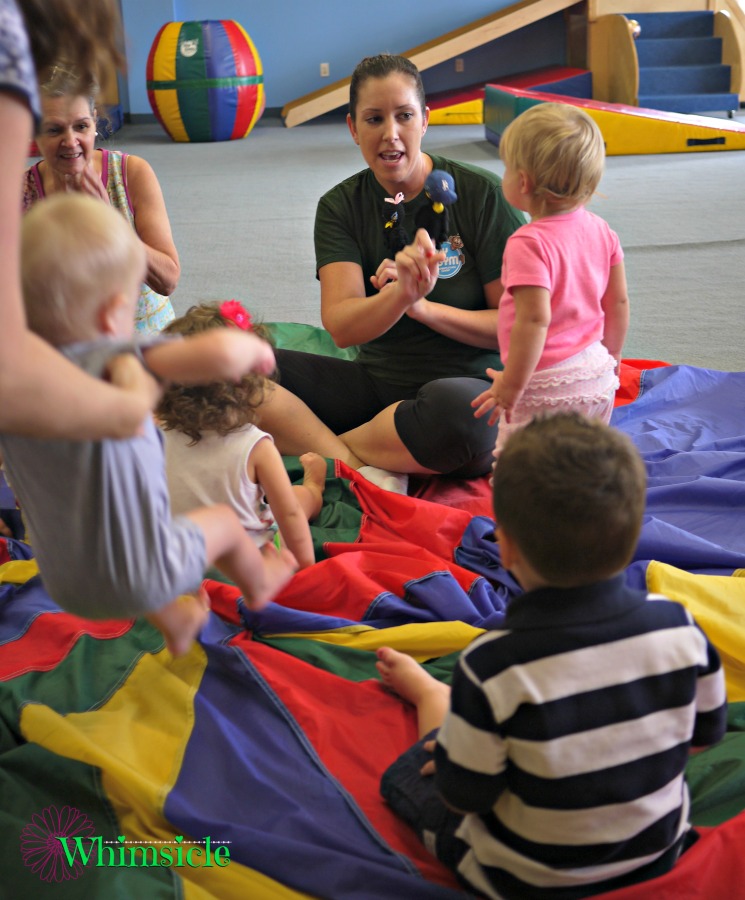 Beauty was, however, entranced.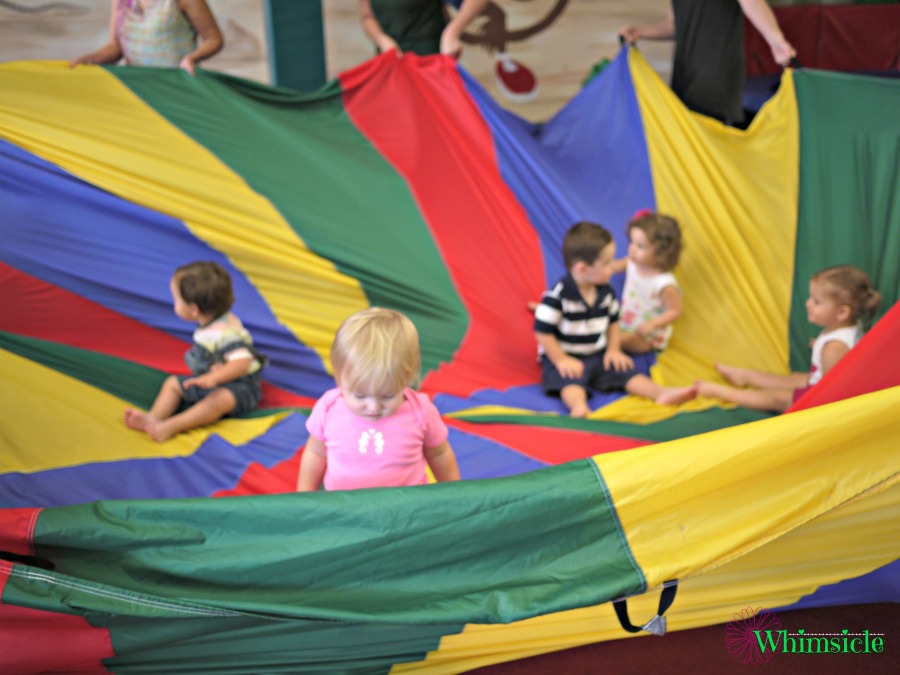 Our My Gym class was a blast.  My son was extremely disappointed when we had to leave.  As I was putting on my shoes, he slid off my lap and speedily crawled back towards the gym area.  He shook the gate back and forth and yelled at me to let him back in.  Unfortunately, we had to go.  Thankfully, he cheered up quickly as I offered him a pureed fruit snack that My Gym had available for free.
My Gym offers classes seven days a week, mainly catering to the youngins to 3-years-old, but are looking to grow into older kiddos as well.  A family lifetime membership fee for $75 will start your process and classes are $70 per child a month (sibling discount offered).  Your $70 includes one class and unlimited open play times per week.
We're offering one lucky Whimsicle reader a lifetime family membership and a month of classes for free!
Last Updated:
April 12, 2015