Your dog is a part of your family, right?
You would take her anywhere if you could. To the movies, to the store… I know I definitely would!
What about to a Major League baseball game?
You know, you can do that!
This summer, the Arizona Diamondbacks are partnering with PetSmart to bring you the Dog Days of Summer. Every Sunday home game, you can bring your pup with you Not only do you get to enjoy the company of your pet, but Chase field has some pretty sweet amenities available, too.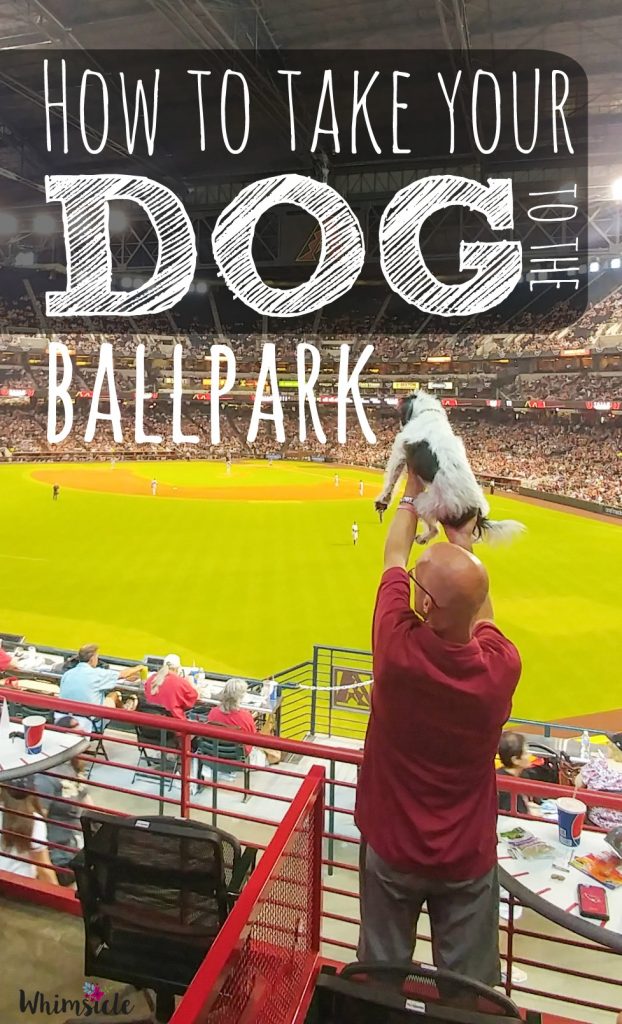 My dog Lily is my first child.

We adopted her 10 years ago before kids were even on the radar. Now, she is a large 65-lb mutt who loves to sleep with us at the end of our bed and welcome us home every time we walk in the door.
When I found I could bring her along to one of our favorite family activities – a DBacks game – I was giddy!
But how does it work bringing a dog to a game?
Where does the dog sit?
How do you get into the stadium?
What if she needs to relieve herself? Seriously, that is a big question for any dog owner when traveling!
Read on to find out exactly what a baseball game with a dog is like.
Getting Into the Game
Many times, security lines getting into games are long. Not so during Dog Days of Summer. Pets and pet parents get their own dedicated entrance at the north end of the stadium.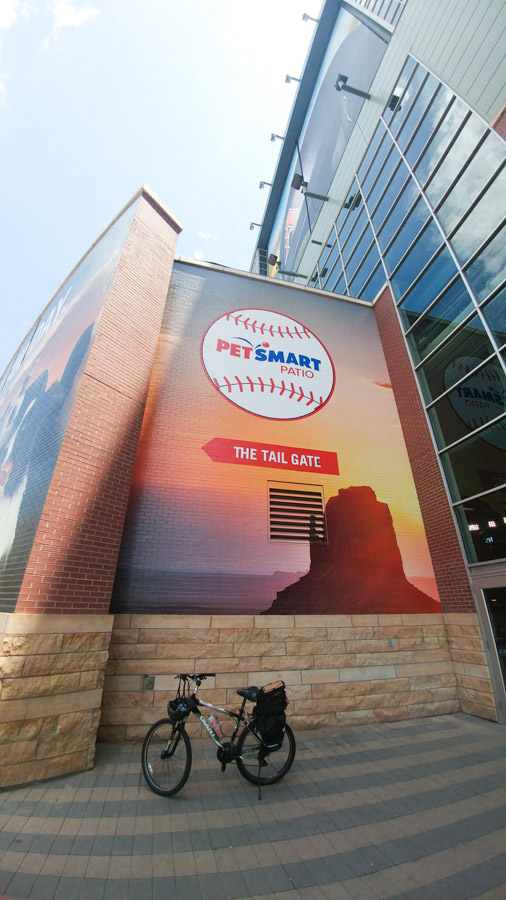 There we had no line. One of the guards held Lily's leash in the shade, while we had our bags checked and walked through the metal detector.
After that, we entered the air-conditioned PetSmart Patio – which contained an indoor dog park and dog ice cream machine.
Lily spied a large silver bowl filled with water and darted over to take several large slurps. With the Arizona heat, the stadium staff and PetSmart kept the water bowls full and clean.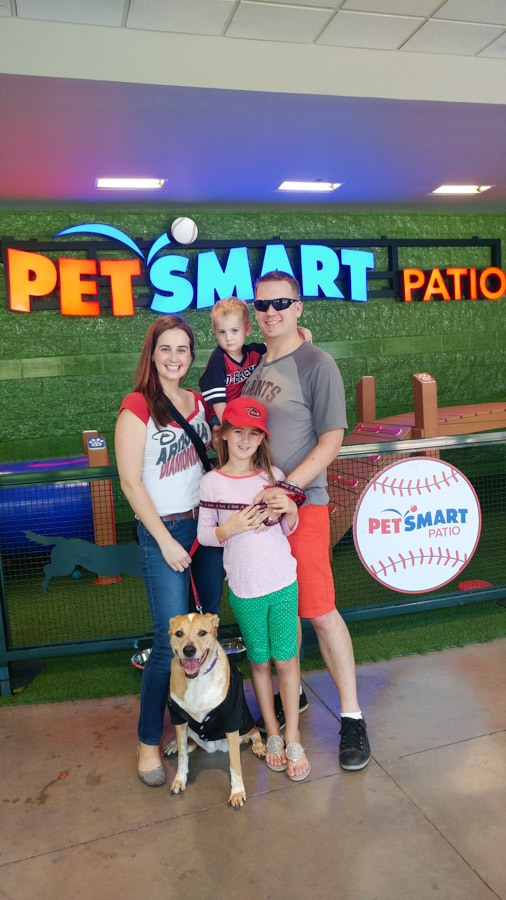 Yes, I bought Lily her own Diamondbacks jersey from PetSmart for the occasion. (I don't even have my own jersey!) She received lots of compliments as she trotted to our seats.
Pet Suites
Yes, you get your very own suite! Each pet suite has a table with comfortable seats and enough room for your dog to lounge while you watch the game.
PetSmart also gives you a baseball mitt themed pet bed, bowl of water, dog chew toys and food that you can bring home with you.
Lily liked to cuddle by our feet – wherever our feet might be.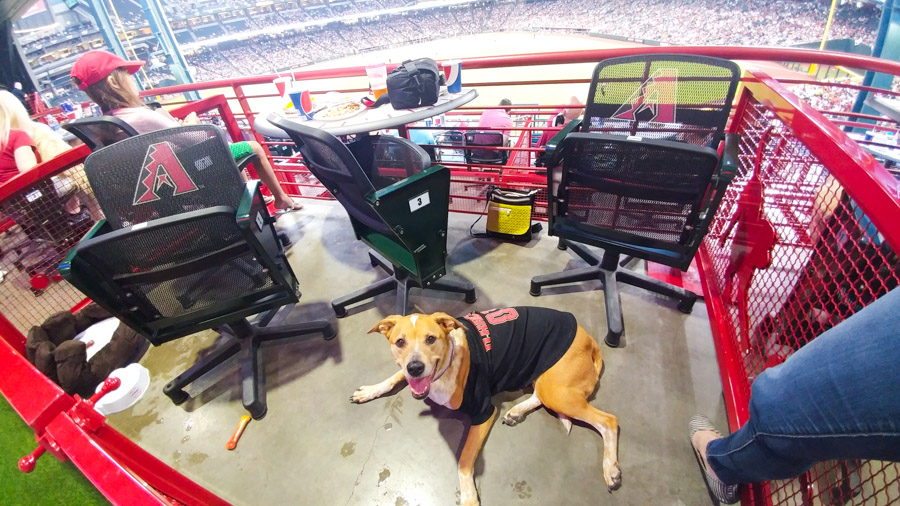 Red fences separate you from the other dog families. Dogs can smell and say "hi" to each other and you can converse with the other pet parents. And what better conversation topic is there then your cute dogs?
Now, let's get to the good part. The food!
Human Food
When my daughter discovered we got all-you-can-eat hot dogs, popcorn, chips and soda, she requested that we bring Lily with us every time we go to a baseball game.
Rest assured, the food area was separated from the pet suites and no dogs were allowed in. You will not have canine competition when getting your hot dog.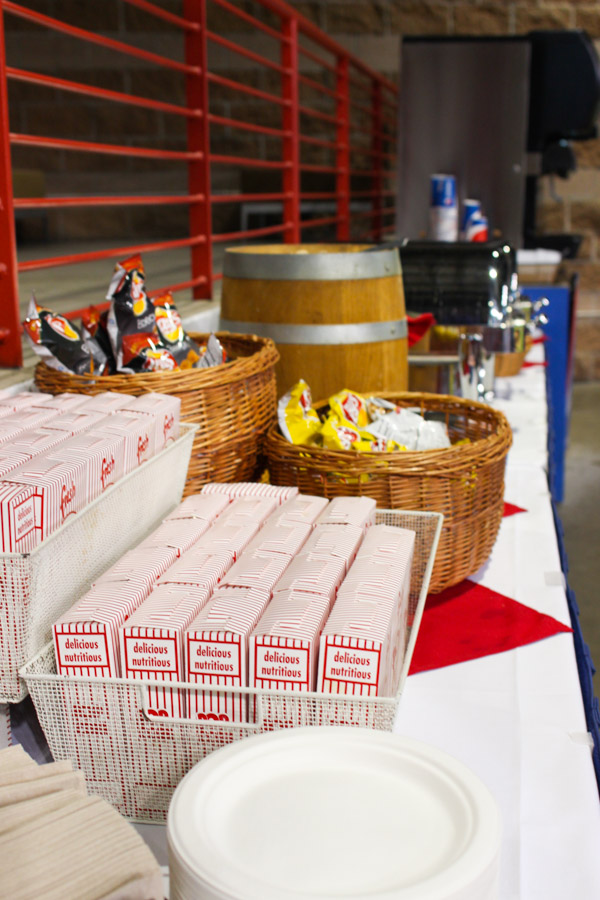 My daughter, now 7, loved being able to leave our suite and run errands to the food area to get a refill on her soda or grab another hot dog. She is loving all aspects of independence these days.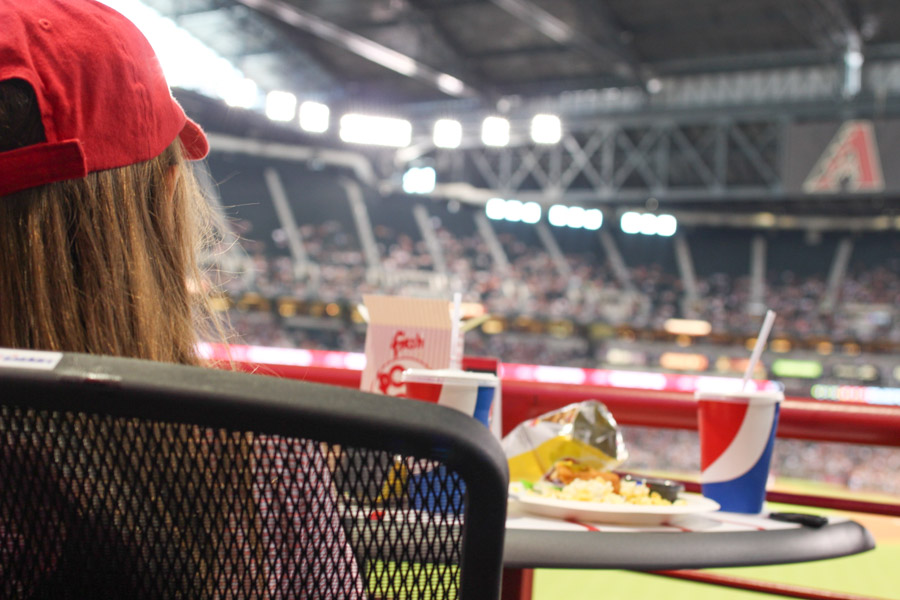 Dog Play
After the second inning, we took Lily downstairs to get her dog-friendly ice cream. She had the choice of strawberry, vanilla or swirl along with her choice of toppings.
And the toppings! My goodness, this dog is completely spoiled now! Bacon, Sweet Potato, Filet Mignon or a surprise topping could all be placed on top of her soft serve.
She devoured it.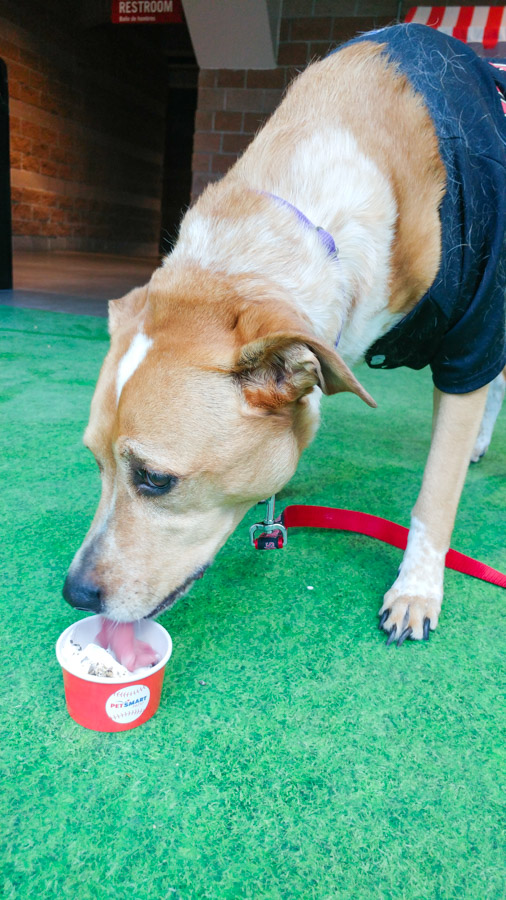 We then exited the glass doors that lead out to a dog park. Lily "took care of business" and played with the other dogs.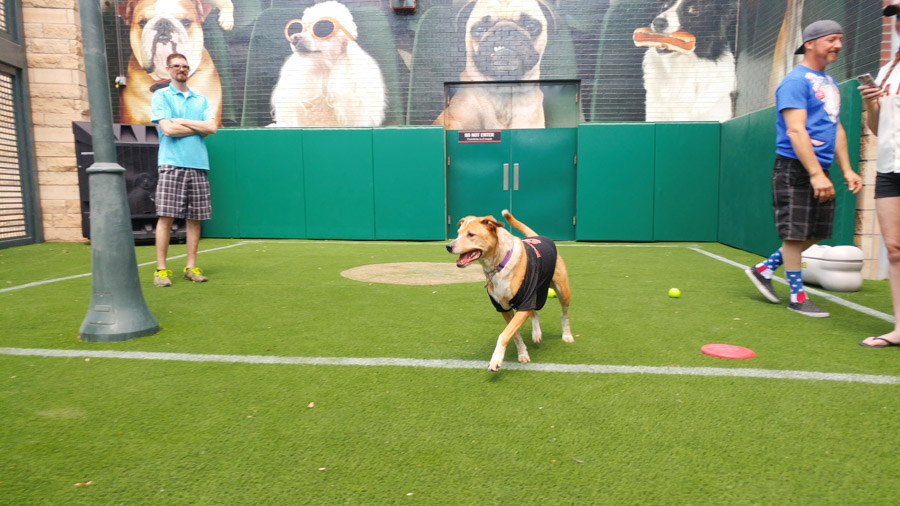 The Arizona Diamondbacks and PetSmart stock this area with plenty of balls, chew toys and of course, plastic bags and a garbage can.
One last feature of the PetSmart Patio makes this a very special experience.
Watching the Game
After all that play, we took Lily back up to our pet suite to watch the game. She slept happily on the cool concrete floor while we watched the Dbacks crush the Giants.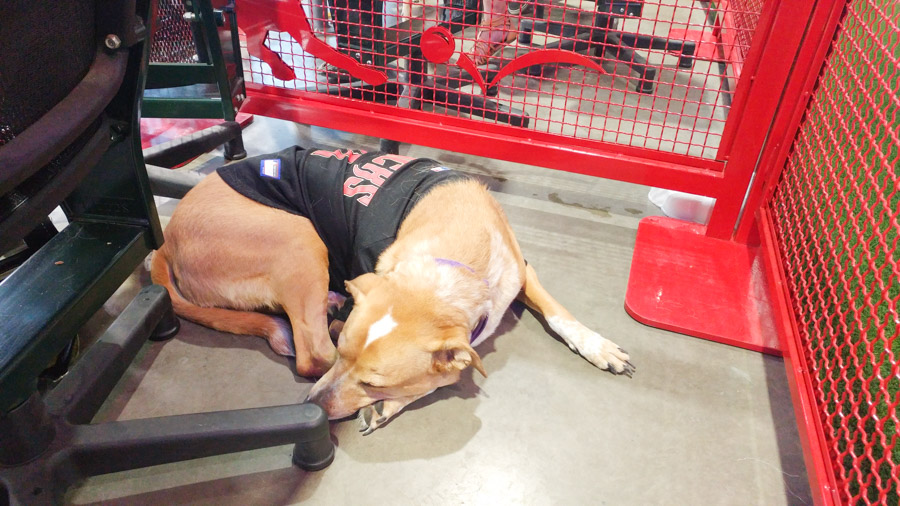 OK, I lie, the Giants won. That's just what I wish would have happened.
The Adopt Spot
The Arizona Humane Society was also at the game with lots of furry friends in need of homes.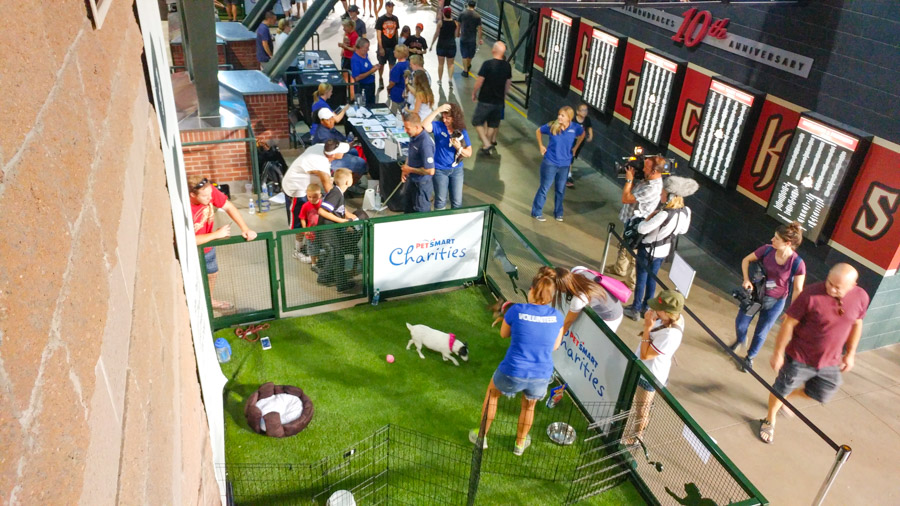 This is such a cool idea setting up an adoption center at the ballpark. Dog loving Dbacks fans can now expand their families through pet adoption. As an added bonus, every newly adopted pet also receives a Dbacks branded leash along with a PetSmart Adoption kit that includes free one-time services for training, vet visit and doggie day camp. The kit also comes with a coupon for a free bag of dog food and tons of other discounts that a new pet parent needs.
I believe that animals bring out the best in people. So many people walking by The Adopt Spot couldn't help but walk over and smile at all the pups.
I also loved watching all the reactions of baseball fans walking past the PetSmart Patio (where the pet suites are) and seeing all the dogs watching the game.
Plus, how cool is it to view the end of an inning and then reach down to pet your dog?
Dog Days of Summer was such a fun experience for our family. Not only was everyone at the ballpark helpful and nice, but being around all the other pet owners made for an incredibly laid back time.
This is a sponsored conversation written by me on behalf of PetSmart. The opinions and text are all mine.