8 Steps to Help Her Appreciate her First American Girl & GIVEAWAY
Your daughter wants an American Girl doll, but you hesitate.
Will she appreciate it?
Will she use it?
It's such a large investment! Have no fear. Here's how to guarantee that your daughter will take care of her new friend and appreciate for years to come.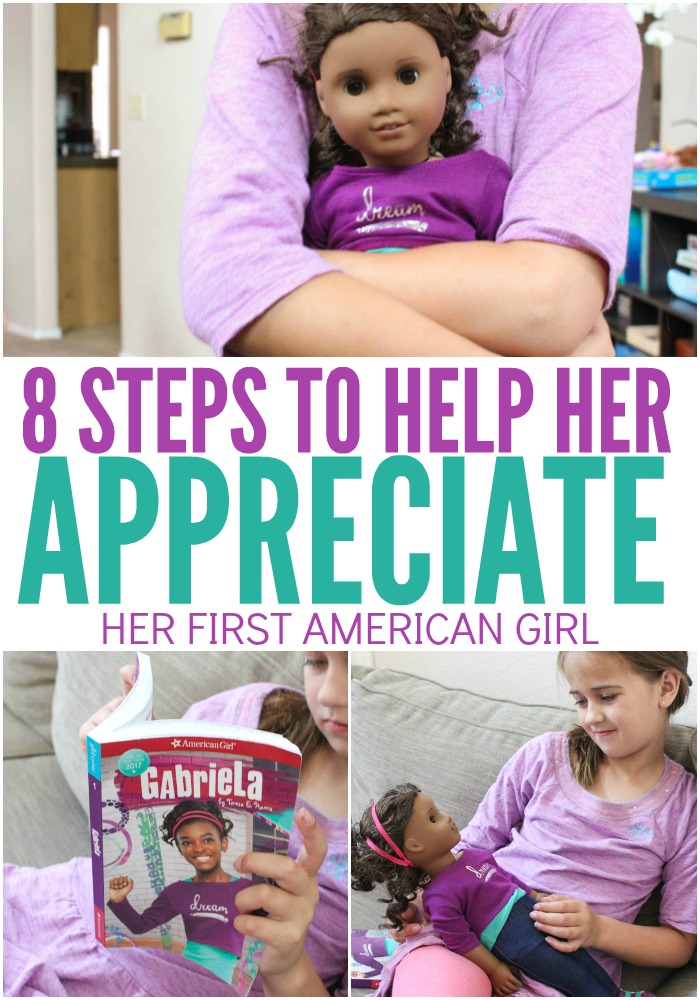 Give her a choice of character
Remember how American Girl only had characters from different decades? Samantha, Addie and Molly are a few of the dolls that I remember wishing would land on my pillow
Every time an American Girl catalog arrived in my mailbox, I tore through it.  Then, I would ask my parents for a doll.
Nope, too expensive, they said.  (Then, I found out my little sister got one after I moved out of the house.  I'm on to you Mom and Dad!)
Now, there are so many characters available.  Sure, Samantha, Addie and Molly still exist as well as other girls from history.
But if your daughter wants someone more modern she can choose the Girl of the Year – Gabriella for 2017.  Or Tenney inspired by Taylor Swift or even Logan – American Girl's first male doll.
Or maybe she doesn't even want a character but just a doll that looks like her.  Then, she can choose a Truly Me doll where she can customize the doll's hair, skin and eye color to resemble her.
My daughter chose a Truly Me as her first doll.  She named it Elizabeth Rose.
Help her pick a character with a trait similar to her
The best part about American Girl is that the dolls are incredibly diverse.  Gabriella- the 2017 Girl of the Year – struggles with stuttering so uses poetry to help express herself her better.  She is also a dancer.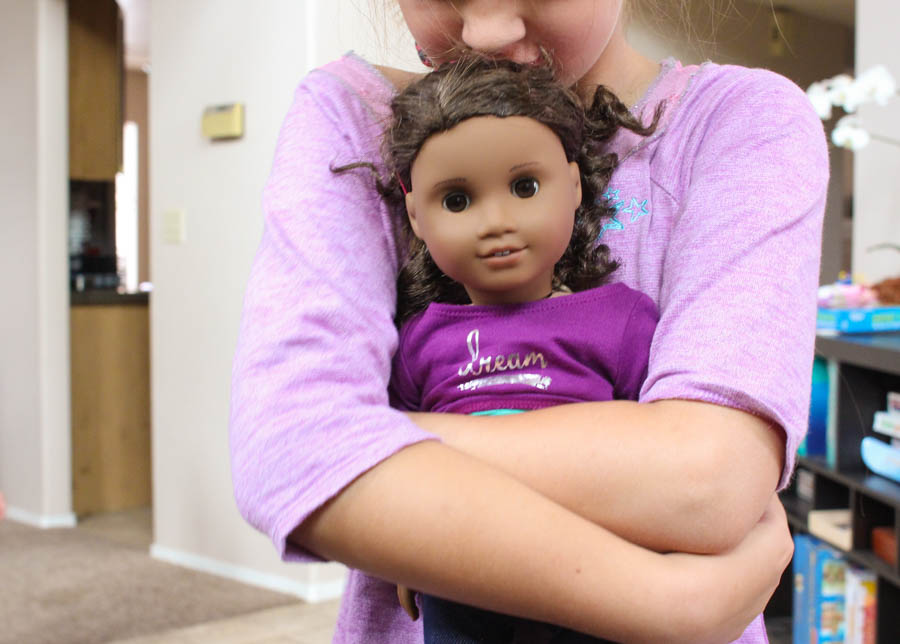 The Truly Me dolls can be customized with braces, glasses, casts, earrings. There is even a option for a hairless doll.
When your child has a doll that she can identify with, she will be much more likely to take care of it.
Check out American Girl Books from the Library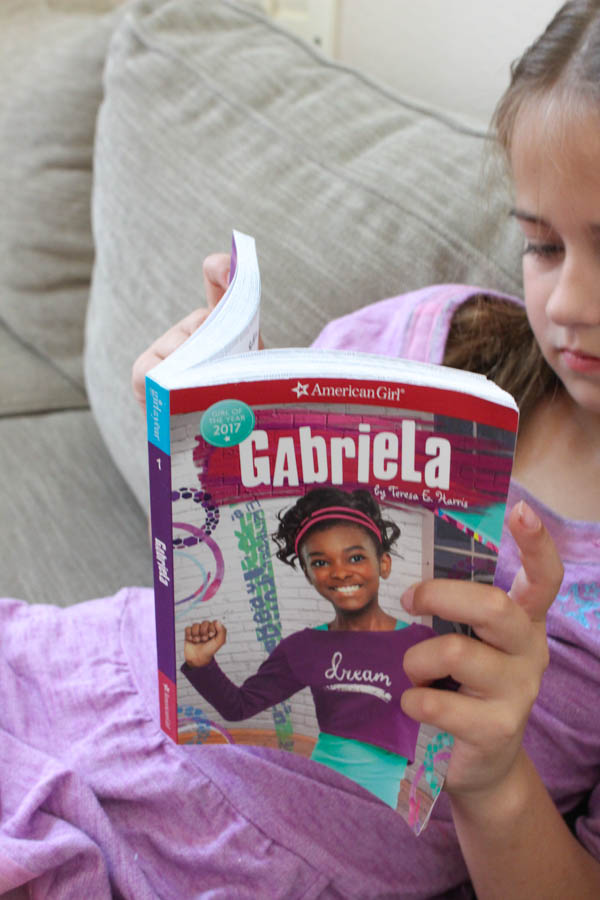 To prepare your child for her first doll, visit your local library and start checking out the American Girl stories.  Not only is it a great substitute for actually having a doll, but it will also let your daughter judge if she is truly interested in owning a doll.
Does she love reading about their adventures?  Does she identify with the characters?
If not, this is a huge sign to you that perhaps her wanting a doll is a passing fad.  Investing in an American Girl doll may not be the wisest.
Invest in the Doll Hair brush
Oh dear, if you could only see some of the examples of dolls who have been sent to the American Girl doll hospital.
Yes… there is a hospital.  No, it is not cheap.
When you get a doll hair brush, it's an easy way for your daughter to be responsible for her doll's appearance and upkeep.  Because, who wants to play with a doll with tangled, knotted hair?  If she doesn't maintain it, your $120 investment will be stuck at the bottom of the toy chest.
Have her pay for her American Girl Herself
Often, our biggest worries as parents when buying toys for our kids is "Will our kid appreciate this?"
We don't want entitled children.  I find myself constantly walking a fine line between giving my children experiences I didn't have as a kid and spoiling them.
Throw that concern out.  Set up a weekly allowance and have kids earn the American Girl themselves.  Not only will they get a great lesson on saving, but they also learn an awesome lesson about delayed gratification.
Set Allowance goals for American Girl Accessories
There are a lot of accessories available.
A LOT!
In addition to outfits and jewelry, you can also buy play sets, a mini ice cream parlor, a doll size school desk – you name it.
Once your child meets her goal for purchasing a doll, immediately have her set another goal for an accessory that she desires.  She will get started saving for her next purchase and you will be spared from her asking for everything in the store.
Set standards for Having the American Girl Doll (If as a gift)
A few procedures to consider:
Where will she keep the doll when she isn't playing with it?
I suggest keeping it on her made bed.  Two birds here!  She'll make her bed in the morning and the doll will be safe.
Should she every eat or drink around her doll?
Unless the doll has it's own high chair (yes, you better believe there is an American Girl high chair).  I wouldn't recommend snacking around the doll.  Remember: expensive doll hospital that she will need to pay for.
Where will she keep the extra American Girl doll outfits and brush?
Buy a $1 plastic shoe box from Target, label it and have her stash her American Girl accessories in there.
Take her to have lunch with her American Girl Doll
You want to make getting the doll an event!  Kids – and grown ups – love events!`  Make this special by treating her and her doll out to eat.
If you live in the same city as an American Girl store, many have bistros or restaurants which provide doll high chairs.  Make these reservations WAY in advance if you are planning on buying the doll during a school break.  They fill up at least a month in advance.
We found that the Cheesecake Factory near the American Girl Store in Scottsdale also kept high chairs.  Since my daughter bought hers the day after Christmas – and I didn't know how impossible reservations were during that time  – we celebrated there.
You will lay the best foundation for your daughter both appreciating and using her American Girl doll by doing these simple tasks. Set her up for success by making a plan to earn the doll and learning about the options. Come up with ground rules as to where the doll will be stored. Celebrate that first American Girl doll purchase and make it a big deal. Finally, creating a plan for doll maintenance plan before you buy will make sure the doll still looks new for years to come.
Not only will you know that you made the best decision, but your daughter will be over the moon.
Want your Own Gabriela Doll?
American Girl is generously giving a Whimsicle reader the 2017 Girl of the Year -Gabriela!  Make sure you get it on the action by entering below!
Title:
8 Steps to Help Her Appreciate her First American Girl & GIVEAWAY
Mentions:
American Girl doll, appreciation, kids, saving
Keywords:
American Girl Doll
Last Updated:
March 26, 2017