10 Things You Need to Know Before an Adventure Course
I received four free admissions to the Flagstaff Extreme Adventure Course to write this post. All opinions are my own.
If you need more adventure in your life, but don't have time for an exotic vacation, try an adventure course. Arizonans, you are in luck! Flagstaff Extreme Adventure Course is a day trip away and promises fantastic thrills, challenging obstacles and tons of zip lines. Here's how to prepare.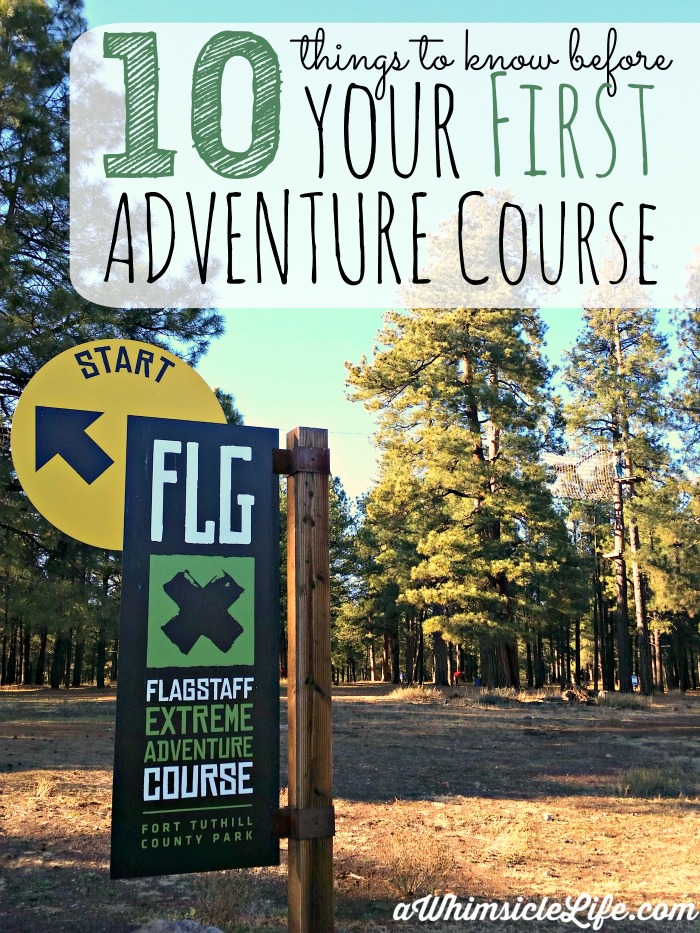 This past weekend, I took three of my friends to the Flagstaff Extreme Adventure Course in Flagstaff, AZ. Total mom's day off trip. Let me tell you, it was fantastic! I feel like I need one of these at least once a month.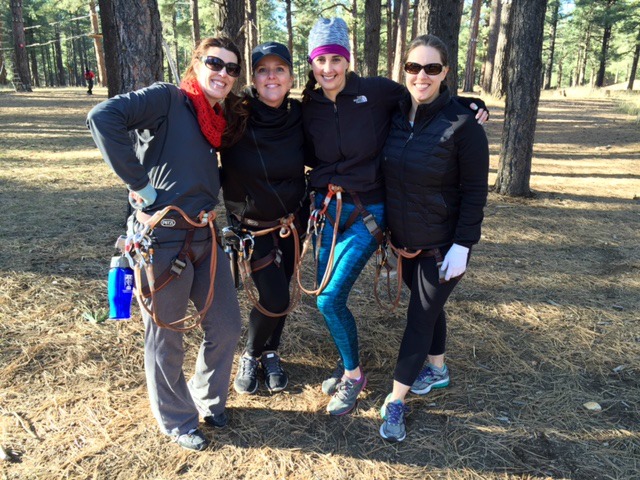 The course was a 2 hour drive from our homes in the Phoenix East Valley area. We had a super comfortable ride though since Toyota let me drive a RAV4 Limited for the weekend! Supportive seats, XM, navigation… I loved every minute every of it.
You will be safe.
At check-in, we received harnesses which included our safety cables as well as our zip-line.
Red became my favorite color. Every single task has a thick, red, sturdy cable running through the middle. This is where I clipped, not one, but two safety cables that ran from my harness and attached me securely to the course.
Our guide gave us a run down and taught us how to use our cables prior to starting the demo course. Flagstaff Extreme enforces a few rules to make sure you are safe.
Always be clipped to a red support. When you change your cables from one obstacle to another you one cable always remains clipped in. If you forget, a guide gives you a "double unclipped" warning. You only get one warning. The second time, you are removed from the course.
Your carabiner clips must face opposite directions. If you need to grab your clips and accidentally open one, the other will remain securely in place.
On zip-lines, you attach your zip-line cable along with your two safety cables. Below is video of the longest zip-line on the course. It's a double thrill because you get to complete two zip-lines in a row. They are on top of another! You'll see at the end of the ride how I detach my clips. You'll also hear me talk about underwear. That's referring to my zip-line. It's the first on and last off the cable – just like underwear. After I'm completely detached, I yell our team's codeword "Rhinocerous" and hit the cable to let the opposite end know I'm clear.
You can do it.
It's about mindset. The Flagstaff Extreme Adventure Course is a series of six obstacles courses increasing in level of difficulty. We started on the demo course which was about shoulder height from the ground. This is where we got comfortable with our equipment and practiced simple versions of the obstacles in the trees.
We crossed bridges, swung platform to platform like Tarzan and flew across mini zip-lines.
We are not too far off the ground. It's all about confidence building. The courses then increase in level of difficulty: Green, Silver, Blue, Red, Black. There is also a Kids course for children 8 and up.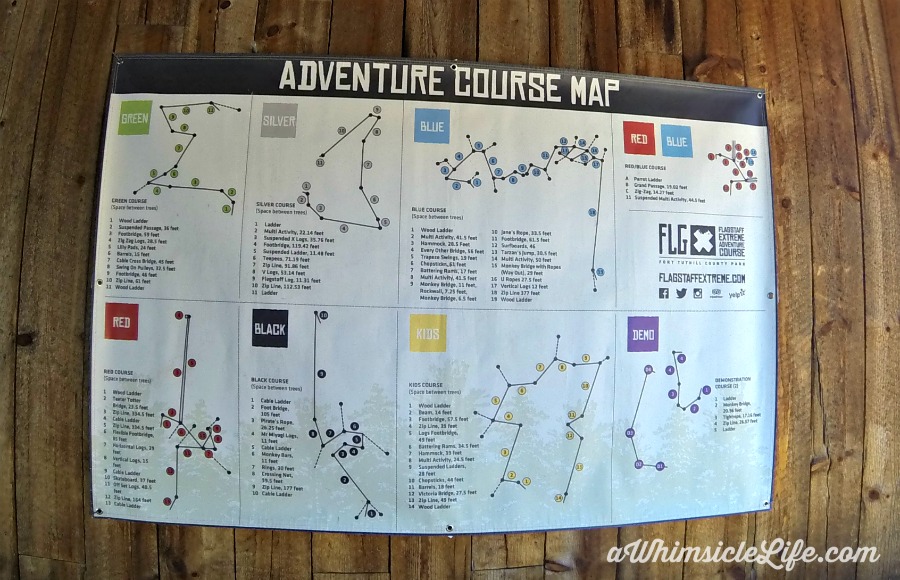 Most visitors to the course quit after Blue.
Get ready to conquer your fear of heights
My friend Sara fears heights so much that she experiences vertigo when looking down through the trees. As we climbed up into the green course, she felt wobbly and intense fear almost overcame her. Every shaking bridge rattled her. Each swinging rope froze her with fear. As I looked back, I could see her taking deep breaths to calm herself before she attempted each obstacle.
The end of the green course brought victory as she took a deep breath and let go on the zip line.
After accomplishing that one course, she controlled her fear and completed the silver, blue and half of the red course!
Bring gloves
Fingerless gloves in particular. Since you are clipping the carabiners open and close often, you want that dexterity in your fingers. Gloves also helped protect my hands from being rubbed raw by all that gripping. Flagstaff Extreme sells gloves if you forget to bring your own.
No Arm Strength? No worries
All of my strength is in my legs and I try to use that to my advantage whenever possible. Adventure courses have a fair amount of climbing. Flagstaff Extreme has breathtakingly tall log ladders – some over three stories tall. I have zero arm strength. I conquered these by climbing with my legs. I hoisted myself up by the red loops on the side used for safety cables or by hooking my arm through a rung and holding myself up by the crook on the inside of my elbow.
There is one monkey bar obstacle on the Black Course. Monkey bars are my nemesis! Thankfully, there are only two monkey bars (hanging about five stories from the ground, but still). I jumped to one monkey bar and knew that my grip wouldn't last. So I immediately transferred myself to the red guide wire, hung from that and swung my legs to the platform. I definitely felt like a Ninja Warrior on that one.
Snacks are a must.
It takes most people 4-5 hours to complete all six courses of Flagstaff Extreme. We started at 11AM and finished around 3PM. Around the middle, we took a break to use the bathroom and fuel up. I recommend energy bars, fruit, cheese and crackers. Whatever you bring, make sure its light but also packed with nutritional goodness to give you enough energy to complete the course.
Secure your camera
Yes, a camera is awesome to have on the course! You will find spectacular views and awesome picture opportunities. Make sure you have a zippered pocket or even better a carrying case that will attach securely to your body. Flagstaff Extreme lent us a GoPro that we took turns strapping to our chests to capture video and pictures. People can rent these for $45 at the office and that price includes a mini SD card to bring the pictures home .
Dress to Move
Make sure you can move. I recommend athletic clothing that closely hugs your body but gives you lots of flexibility. Don't wear jeans, you won't feel nimble. I wore yoga pants with a long sleeved t-shirt, sweatshirt and my fleece jacket. I get cold easily and didn't want to take any chances.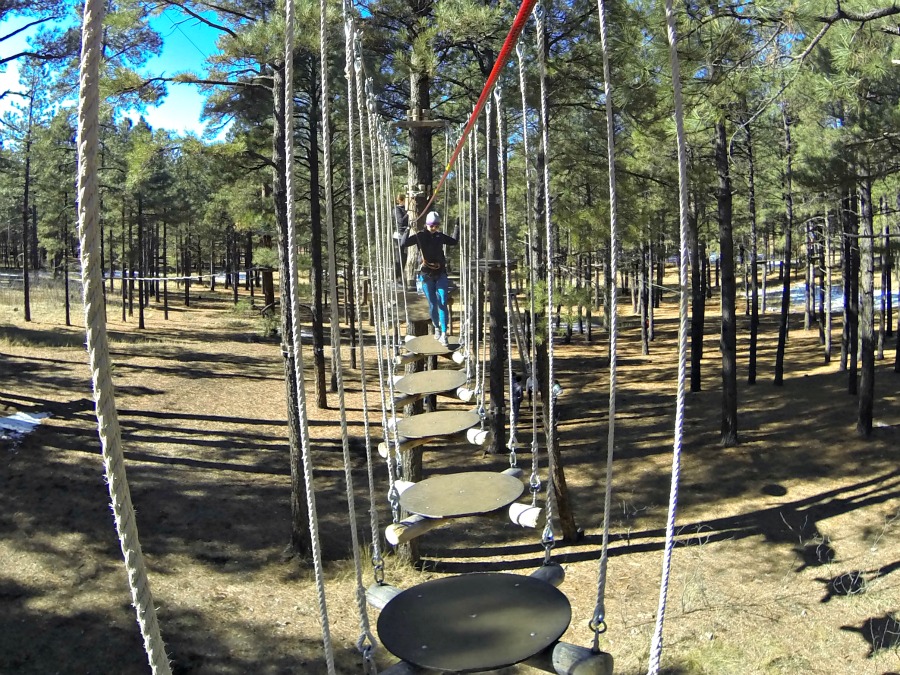 Water. Water. Water.
You'll find most adventure courses in the mountains amongst tall pine trees. When you visit high elevations, you need more water so I suggest clipping on your water bottle on your harness with a carabiner. Flagstaff Extreme sells water bottles with clips if you forget one.
Drink lots of water! Dehyrdration will tire you out prematurely and make the course seem much harder than it is.
You will find your limit.
I'm not afraid of heights- usually. I loved climbing trees as kid. I like the view from above.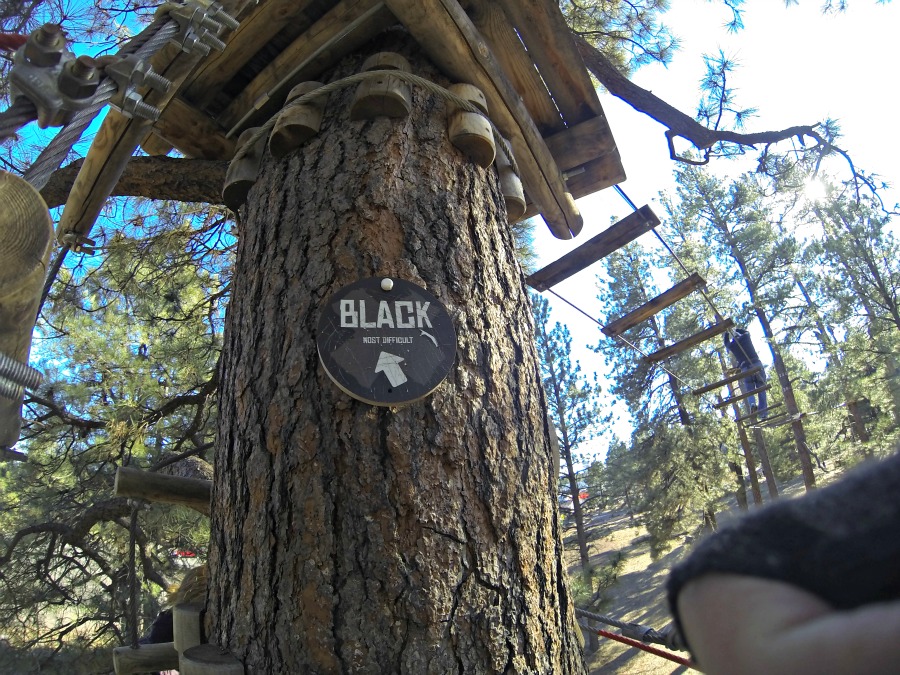 The black course got me. As soon as I saw that first rope bridge, I thought, "What the hell did I just do?"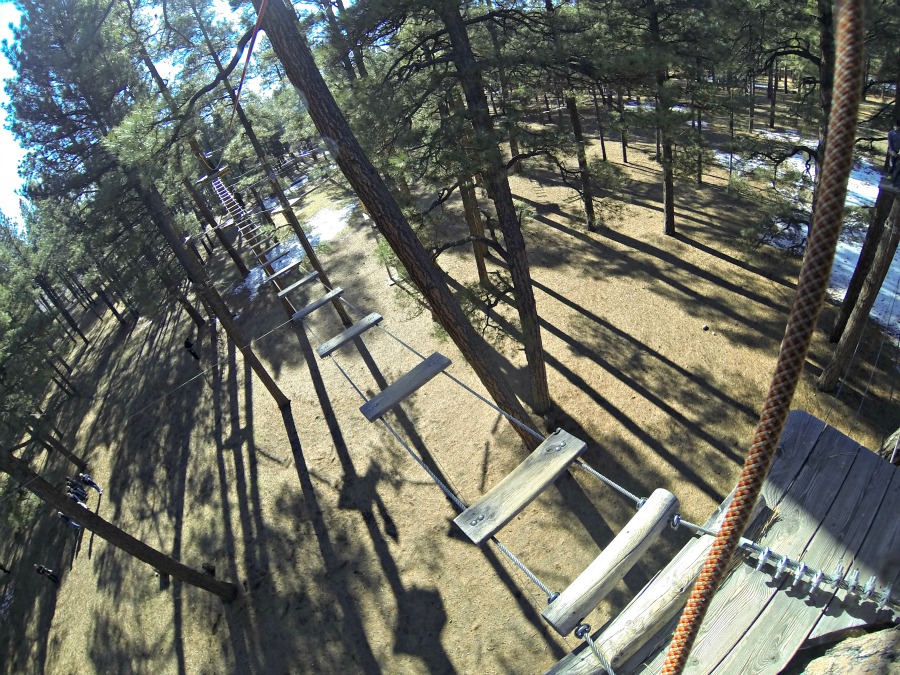 Each obstacle seemed to have a lot more open air and a lot less stabilization. Take this obstacle for instance. I'm trying to cross the gap by placing my feet in thin, swinging metal rings.
Yes, that's me up there. I won't sugarcoat this. My legs shook. My stomach turned inside out. It took all my courage to put one foot in front of the other. Step by shaky step.
You Can Always Be Rescued
If at any time you feel DONE, a quick call of "GUIDE GUIDE GUIDE" will bring a guide to your rescue. The last time I did this course, a guide belayed me down in the middle of Blue because of lightning close by. It's a fun ride getting rescued off the course.
Did I get rescued off the Black Course? Nope. Here's my victory zip line.
Sorry for the sky shot, I like hanging upside down.
The Flagstaff Extreme Adventure Course was the best workout I've had in a while. And the best part, it was so much fun that I'm amazed how sore my arms are and how much I can feel the deep muscles of my abs. I feel strong and a little bit like SuperGirl. When can I go back?
Title:
10 Things You Need to Know Before an Adventure Course
Keywords:
Flagstaff Extreme Adventure Course
Last Updated:
March 8, 2017