Relax, dance, yell at the other team..all the makings of a fun family activity, right?
If you think attending an MLB game is too expensive, or think it may even be boring for the kids… you are wrong!
Here's how to see the Arizona Diamondbacks on a budget and have an excellent time at the game.
I received a free baseball game for me and my family in exchange for writing this post.  All opinions are my own.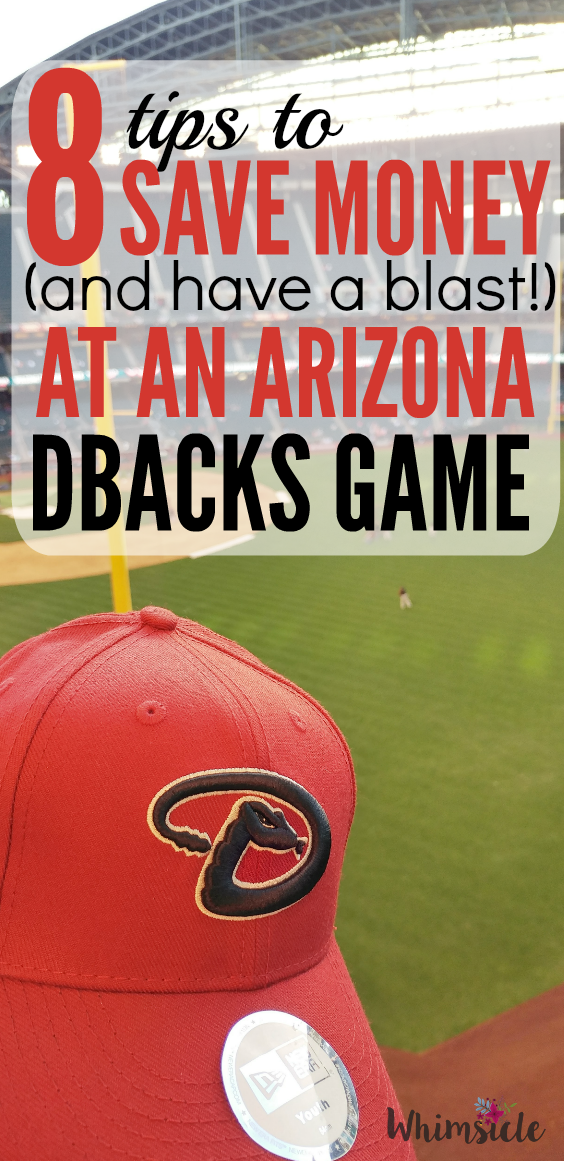 Let's first talk price.  How can you find the best deals for DBacks games?  Here's what is available:
Ways to Save at Dback Games
DBacks Value Pack
This is a deal available for every game.  It includes a ticket, hot dog or subway sandwich and a regular Pepsi for only $25.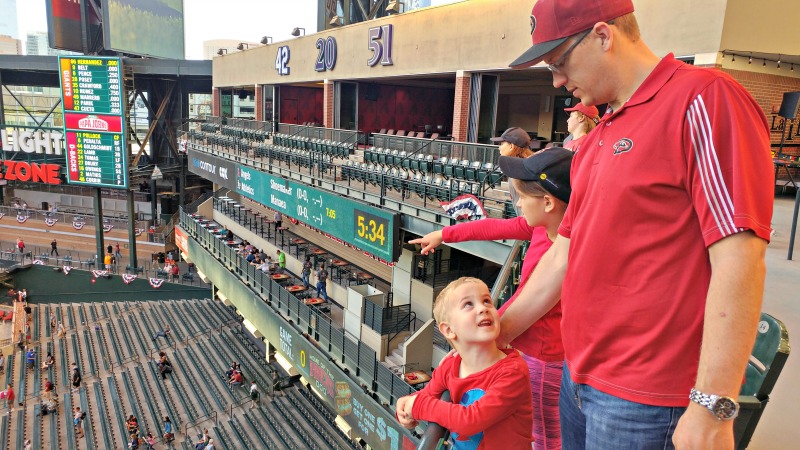 Value Items
Sports arena food can be pretty expensive.  I also constantly ask myself, "Ok, I'm going to spend $6 on a hot dog.  Will my kids eat this?"
The answer is usually no and there goes my $6.  However, the Dbacks have a way around the typical expense of food.
Most concession stands have value items.  These include a hotdog, corndog, popcorn or milk – perfect kid choices!  In fact, that's what my kids ask for anyway!  And each item only costs $2.
Bring Your Own Food
You are allowed to bring food into the ballpark!  In fact, you can even bring a soft cooler as long as its smaller than 11 X 11 X 15.  Any homemade food is allowed as long as its in a clear plastic bag.  Closed water bottles are also permitted in the park.
As an expert tip, I always bring an empty refillable water bottle that I can replenish at any drinking fountain.   Or register at any kiosk as a designated driver and you can get a free soda.
You can bring your dog
Take your dog to the ballpark and you'll get a special doggy suite, all you can eat food (for you and your dog!) and other dog goodies.  Check out dbacks.com for more info on available dates and seats for that one.
Mother's Day Game
I have a special deal for you! Take advantage of 40% off game tickets for the May 14th game vs. The Pittsburgh Pirates here.
What Kids Can Do At The Game
Dancing
In between every inning, there is always another opportunity to dance and be involved.  Cheer on those ballpark fans picked for contests.  Watch kids dressed as hot dogs run the bases.  Tons of fun.
Get Your Tweets Up for the Whole Ballpark to See
Have a twitter account?  You can be on the big screen.  Simply take a picture at the game, tweet and tag your tweet with #GoDbacks.  You might see your family.  \
Recognize those two people up there?  Here's a clue.
Prizes
When you go to the game, make sure to stop by Kid's Club on the 3rd floor near section 332..  You're looking for The Sandlot.  Can't miss it!  That's where the playground is along with batting cages and a wiffle ball field.
March up to the Kid's Club desk and register your child.  It's free and they get their own ID card with their picture on it.
Now, here's the cool part.
Every time you come to a game, check in at Kid's Club and your child will receive a prize.  And these prizes… they're good.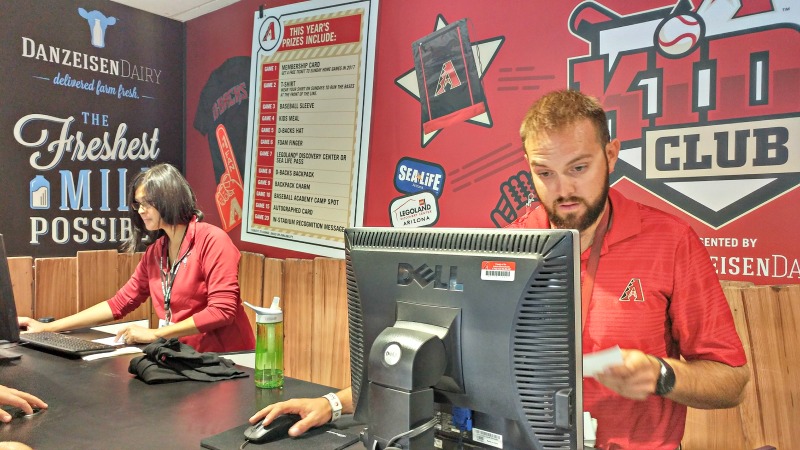 Also, that Kid's Club badge gets your child a ticket to any and every Sunday DBacks game that your family wants to attend.
Sunday Run the Bases
After every Sunday home game, kids can run the bases on the DBacks field.  The line is usually pretty long, so I recommend lining up before the end of the 9th inning.
But if you attend at least 2 games, Kid's Club will give your child a special t-shirt.  When she wears it on a Sunday, she will get to run the bases at the front of the line.
Mother's Day game
Ready for this?  Come out and celebrate Mother's Day at the Ballpark.
Not only will moms get a free Mother's Day clutch purse, but I have a special deal that will get you 40% off.
Visit dbacks.com/phxkids to get your tickets .
By taking advantage of awesome Dback giveaways, ticket and food deals, you will have an awesome (and affordable) night at the ballpark.