You may think that you need to live in a coastal locale to enjoy a dinner cruise. Would it surprise you to know that you find one about an hour-drive from Phoenix? Off the 60, through Apache Junction and up into the Superstitions.
Through twisty, windy, 20 mph roads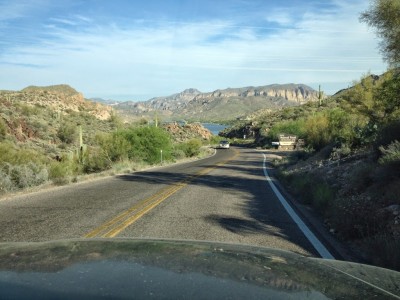 with gorgeous mountain views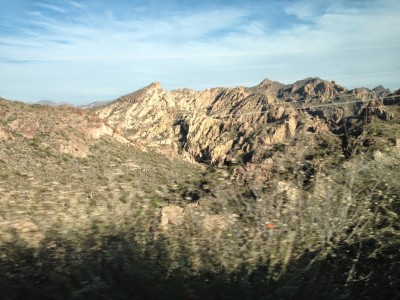 you can take an evening dinner cruise on The Dolly Steamboat, located on Canyon Lake.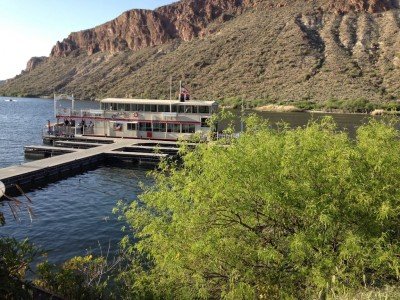 We booked this cruise to celebrate my parent-in-law's birthdays. There was 9 of us total, including my five-year-old daughter and eight-month-old son. Checking in was easy since we made reservations. We boarded right on time. A good tip to know is that all children on board are required to wear a life jacket, including infants. The boat provides these. My plan had been to keep my son in the Baby Bjorn the entire time so that he would sleep. However, it is state law, so we had to comply. How cute is he in his life jacket though?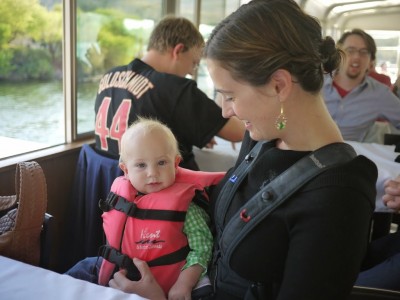 If you are in the enclosed bottom floor of the boat, near the snack bar, kids do not need to have a life jacket on. When my son needed to nurse, I just went downstairs and enjoyed the view from there.
At check-in on the boat, we were told our table number and headed upstairs to find it. Lemonade, iced tea and water were available to us on board. Beer and wine is also available for a small charge. At 5:30pm, we started to cruise into the canyon. The staff was very friendly and helpful. They even loan out binoculars to check out the wildlife.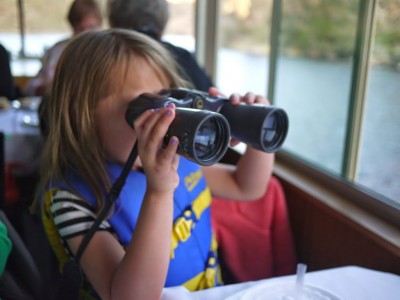 Each time the captain spots something, he announces it over the boat's loudspeakers. We saw some bighorn sheep on our trip.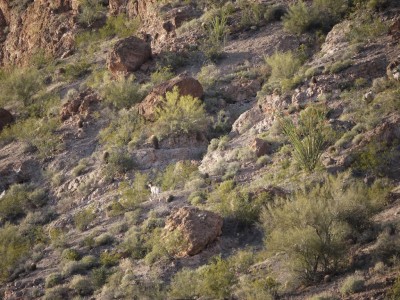 You may need to click to enlarge that photo, but I promise you that it is just like the zoo! Dinner was served buffet style. It was all very organized. They dismissed by table so we got served immediately and didn't have to stand in a long line. I was reminded a bit of a wedding buffet, but wedding buffets are good! Especially when they end with chocolate mousse cake.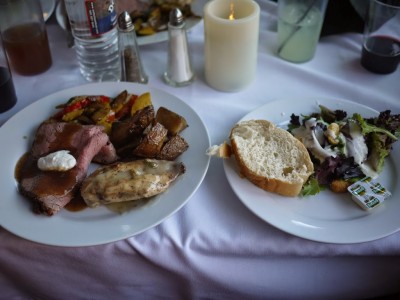 After dinner, we wandered out to the deck for some spectacular views and dancing. The dancing was purely our idea, as there wasn't any organized thing.
And the obligatory family picture.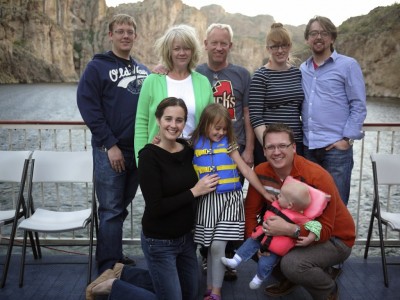 Coming back, as the sun set, we witnessed some spectacular silhouette views of the mountains against the evening sky.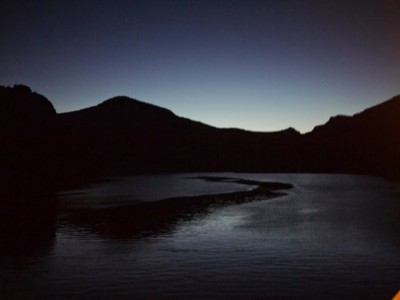 As the cruise ended, I was little anxious about traveling on the windy road back in the dark. Thankfully, there is only way back to Phoenix so the road is one long slow caravan back into city limits. Easier drive back then it was there.
I definitely recommend checking out the Dolly Steamboat. The views are spectacular. Dress a little warmer than you would in the city. They also offer Astronomy and Nature cruises. You can find more details on their website: http://www.dollysteamboat.com/
Title:
The Dolly Steamboat
Keywords:
Dolly Steamboat
Last Updated:
March 8, 2017