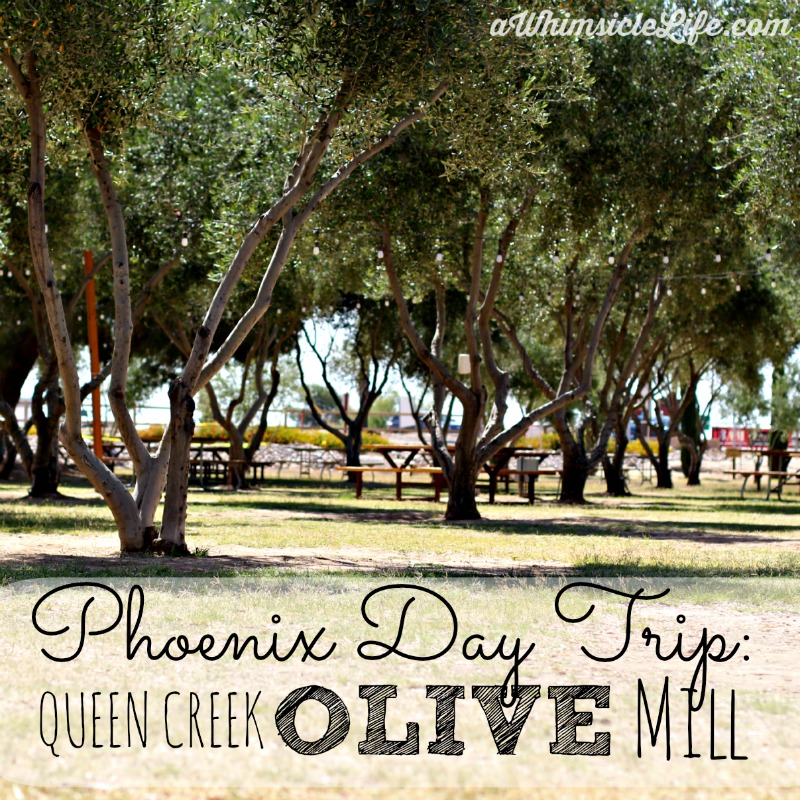 When I look for a fun family activity in the Phoenix area, I want somewhere not too expensive, unique and that brings me happiness. Usually food tops the list. I jumped at the chance to visit the Queen Creek Olive Mill for a blogger event. Not only can you buy olive oil there, but you can also eat a delicious meal at their on-site cafe (and grill located outdoors), devour tasty baked goods made with olive oil, have a scoop of olive oil gelato or grab a coffee from Superstition Coffee company located inside.
Olive Oil 101

I admit, I never actually sampled olive oil. Prior to this experience, I only used my big bottle of EVOO from Costco for sautéing. I had no idea what olive oil should taste like nor how to distinguish a good oil. Just like wine, olive oil has attributes to look for:
Fruitiness – You can detect this through your nose. Before you taste olive oil, you inhale, exhale and inhale again. Some good attributes are green apple, herbaceous or buttery.
Bitterness – This you can taste on your tongue. Bitter doesn't mean bad necessarily, it just describes the oil.
Pungency – You feel this on the back of your throat. An oil with a strong pungent attribute will feel like hot peppers back there.
You don't want an olive oil to be:
fusty – means the olives have fermented
musty – olives are moldy
earthy – the olives are dirty
rancid – it's spoiled
Olive oil only lasts 1 year in the bottle. On average, it takes 3 months for olive oil from Italy to make it to the US and then it sits on a store shelf. Buying olive oil locally ensures you get a much fresher product that will keep for a longer period of time.
Tasting
I sampled 6 of Queen Creek Olive Mill's Oils and glazes. To tell the truth, I did not want to sample olive oil. I thought that olive oil was only meant to be a necessary ingredient, but not have any real taste. I was dead wrong! This olive oil tasted extremely smooth and I loved it. I enjoyed the chocolate olive oil which would work really well as a butter substitute in baking.
I fell in love with the garlic olive oil. So much, I think I ate more than my fair share of the bread because I couldn't stop dipping it that oil. I even bought a bottle (or two) to take home 🙂 The seasonal peach white balsamic was to die for as well.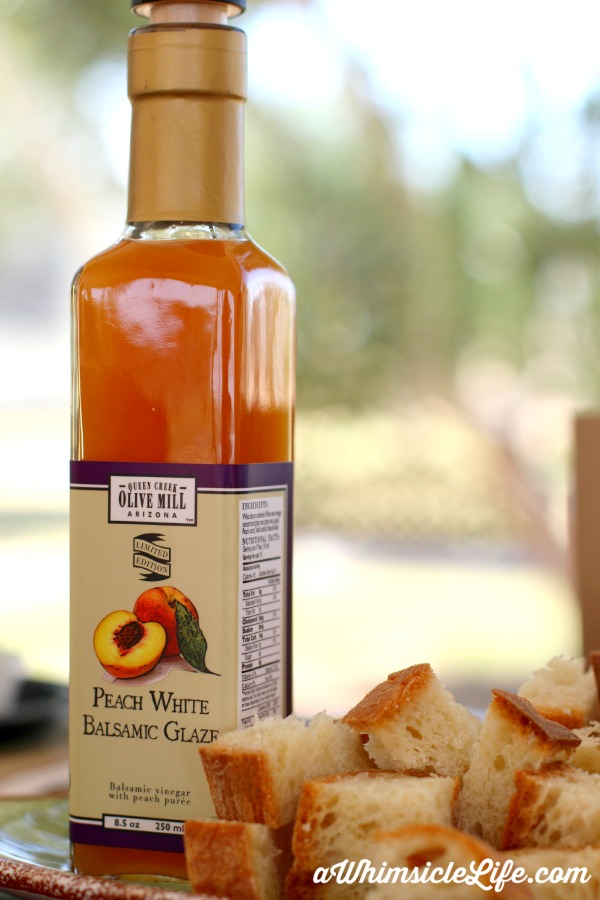 *FYI – Queen Creek Olive Mill offers a variety of Tours and Tastings.
For lunch, we ate the Mill's legendary bruschetta.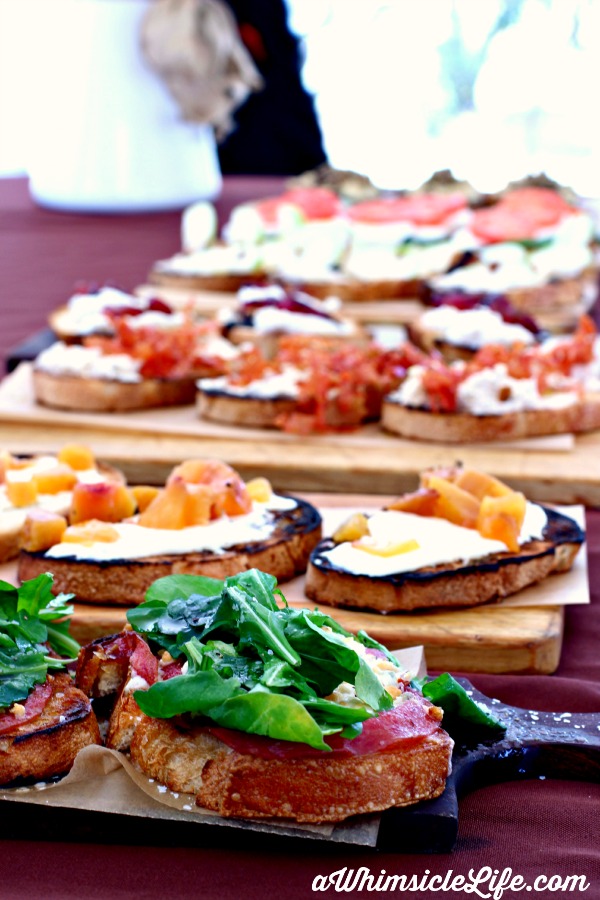 Legendary indeed! This bruschetta ranks up there as some of the best I have ever consumed. I loved all of it but especially enjoyed the one with Honey Mascarpone, Port wine grapes, Fig Balsamic and Balanced Extra Virgin Olive Oil.
Since my visit to the mill, I have used the garlic olive oil in all sorts of adventurous ways. I substituted the butter for garlic olive oil in boxed Macaroni and Cheese (amazing!), I substituted it for regular EVOO in homemade pizza dough (OMG!) and used it as a base in salad dressing. It makes me feel like I can actually cook because everything has this new level of deliciousness!
So go! Visit the Queen Creek Olive Mill. Summer is the slow season so there are very few crowds. The Mill has a wonderful setup with outside picnic tables, live music and events on weekends and tons of room for kids to run around while you are waiting for your food. Not only did I love my experience there, but I brought my family back to enjoy it a week later. The Queen Creek Olive Mill has become one of my new kid friendly restaurants that also satisfies my palate as an adult!