What?!? Science on the weekend! Why yes, science is awesome! Especially when you are not learning it from a textbook and instead get to experience it through hands-on activities. For that, the Arizona Science Center is the place to go! Here are 10 spectacular activities at the Arizona Science Center that are included with your admission.
And as an extra deal, the Science Center has a fantastic Groupon deal right now for a 40% discount on a family membership!. The membership grants you early admission, IMAX tickets, sky cycle rides and members only invitations.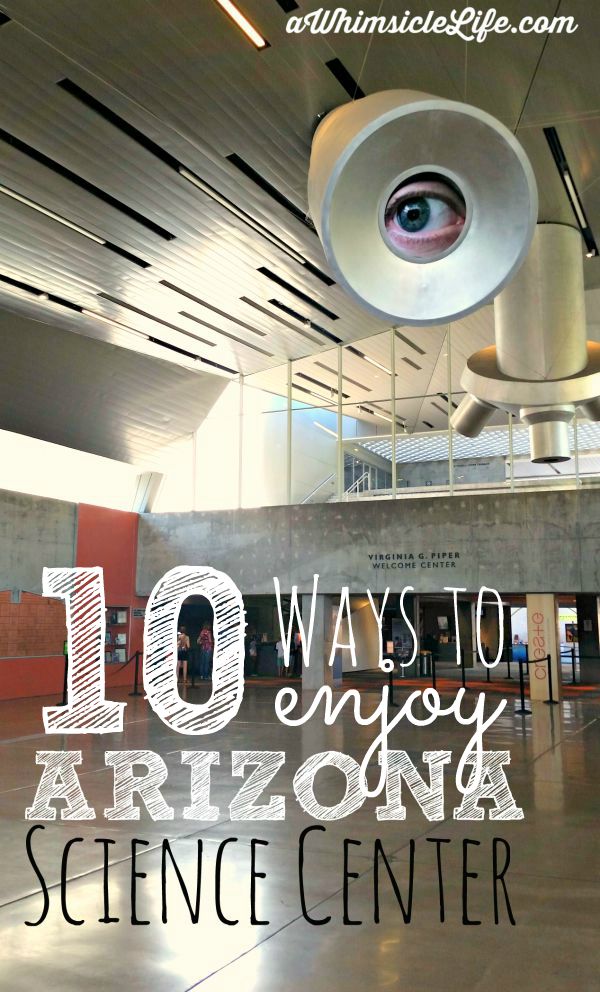 Wheelchair racing
How does exercise impact your heart rate? Check your pulse then challenge a family member to a wheelchair race. I sat down in these chairs against my six-year-old daughter and realized exactly how much I lacked in upper body strength. Racing a wheelchair is hard work! I was seriously winded after completing the course.
Then my husband got on and finished in half my time. I wish I could attribute that to his competition.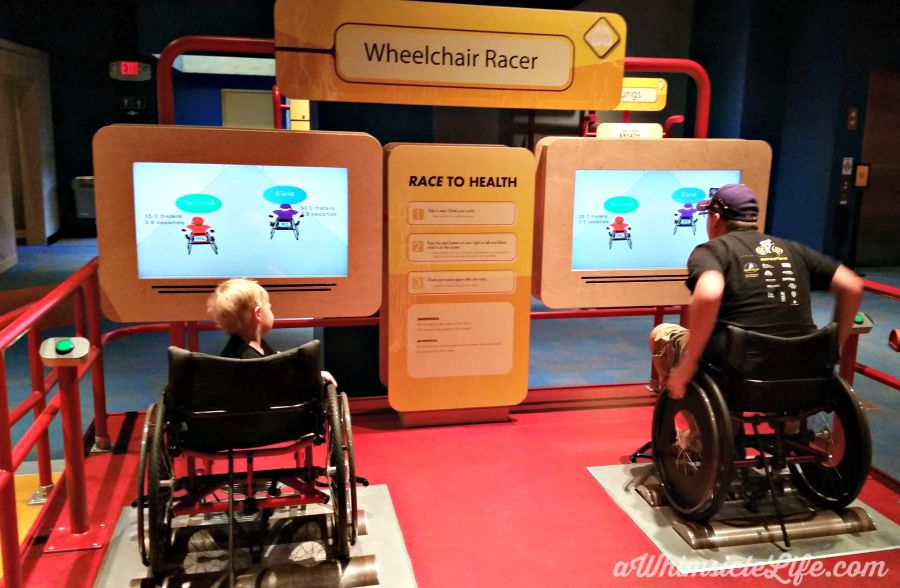 Explore the power of water
This area gets super busy. I recommend arriving at the museum as soon as it opens to enjoy the water works all by yourself. We visited at 10AM on a Sunday and it was empty.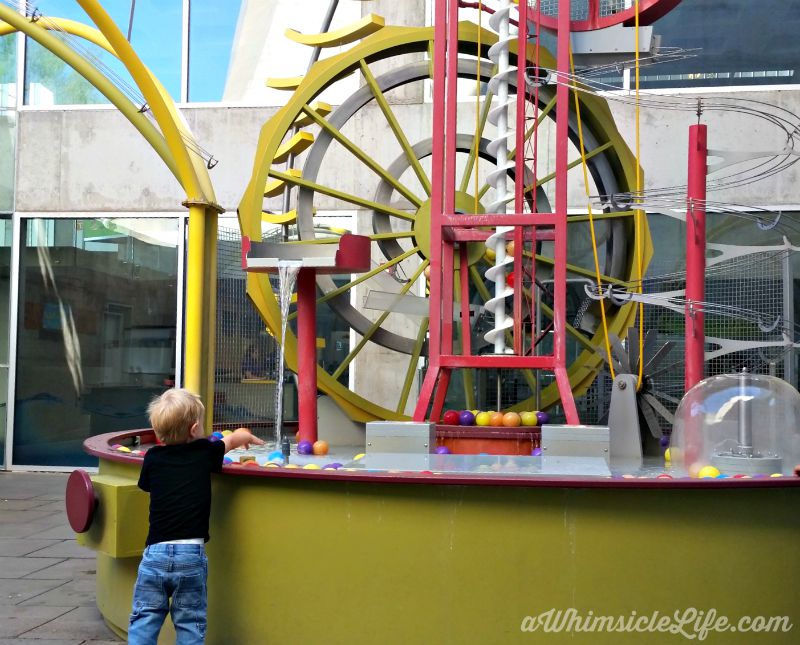 Watching the colorful balls snake their way up the water tower was mesmerizing. You can also experiment with a drum set and musical chimes powered entirely by water as well as building complicated water structures to direct the flow.
Slide down the Colon
In the human body section, you'll find a larger than life model of the human stomach. Enter inside and slide out through the colon. Then, watch your kids faces as you explain to them exactly what process they just demonstrated. Fun times.
Lay on a bed of Nails
Honestly, I was scared. But I did it and then my daughter braved it as well.
Yay for the science of equal weight distribution! You lay on a table and are in total control of the nails rising and falling. When completely down and still, you push a button and all the nails raise you up off the table. It's a little disconcerting seeing the signs above you in large CAPS telling you to stay still, but its very safe and makes an awesome picture.
Learn programming using Angry Birds
Programming to me can be a little complicated. I'm a bit intimidated honestly. However, in My Digital World exhibit, the Angry Birds program breaks programming tasks into simple manageable steps.
Going level by level, you program the little green pig to complete a maze. Every four levels, videos by famous coders, such as Mark Zuckerburg, explain a new programming concept and then you apply it immediately in the next level.
Our entire family was hooked on this game for at least 30 minutes. Even our two year old found enough on the computer to keep him occupied for quite a while.
Experience the Intensity of Nature
The immersion theatre in the Forces of Nature exhibit is truly an experience! Every 15-minutes, this 5 minute show lets you feel the heat of a fire, winds of a hurricane and rain. My daughter and I smiled until our face hurt. So much fun!
Design the Ultimate Paper Airplane
Yes, you have probably designed a paper airplane before, but you have not had access to an airplane launcher where you can fully experiment with tilt of takeoff and modify the design of your plane.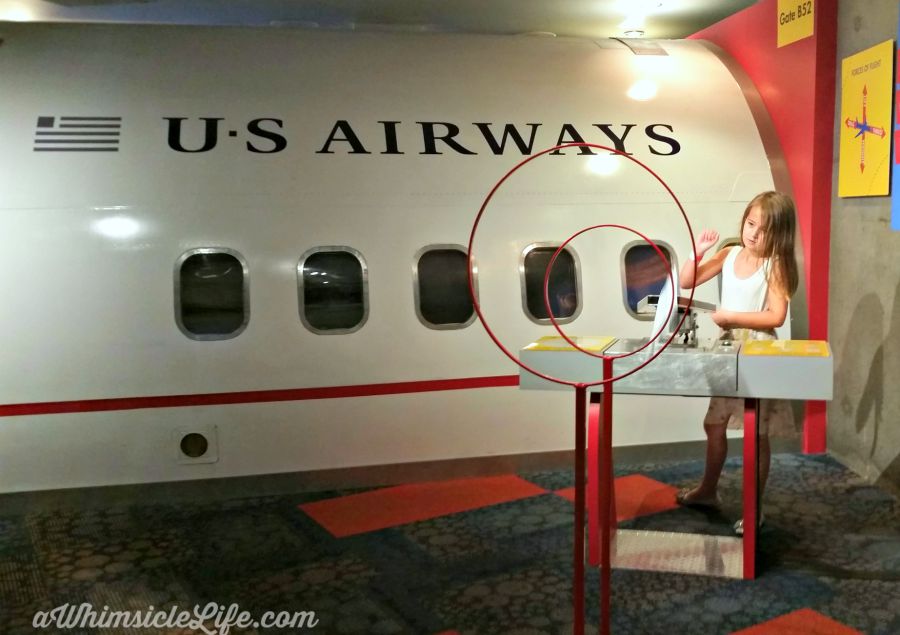 We placed our airplane in the launcher and it flew through two large hoops and into the sky. Instructions around this station give you tons of ideas on how to modify your plane design and also how to make a basic airplane (which I needed help on).
Create an Electrical Circuit
You do not need to be an electrical genius to enjoy this exhibit. My husband does this for a living so he was able to go freeform.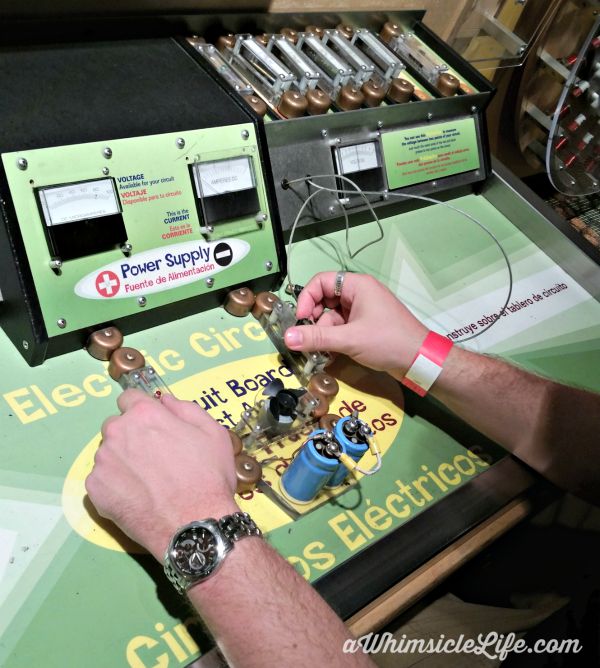 If you are not as versed on electricity (like me), there are maps of circuit boards where you simply place the required components on the map, connect them and you have a working circuit (and learn a lot about circuits in the process!)
Witness Open Heart Surgery
As you enter the surgery theater, you see a chalk white plastic body laying on an operating table. Press the button to begin the presentation and a projection shines down on the body of an actual open heart surgery. A doctor narrates each cut and explains each part of the heart and the process needed to repair it.
Lift Your Own Body Weight
Nothing better to demonstrate the power of a pulley than lifting yourself off the ground using nothing more than your own arm strength.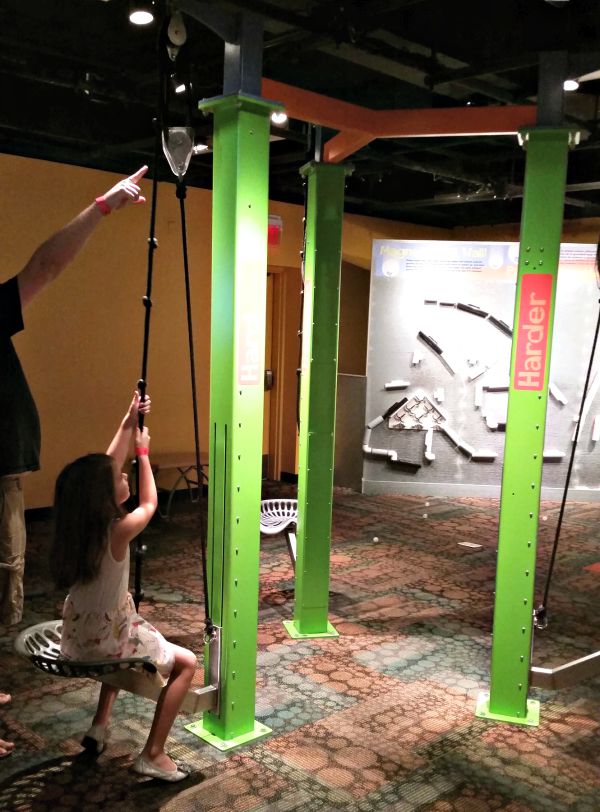 This exhibit also has a tug of war where one side is much easier to win on than the other. Challenge your kids and they can finally get the satisfaction of beating you without you "letting them win."
The Arizona Science Center has so much more than these 10 activities! There is a sky cycle where you pedal yourself across a high wire, a cafe, live demonstrations and an IMAX theatre. A family can easily spend most of the day here, not be bored and then come back for more fun.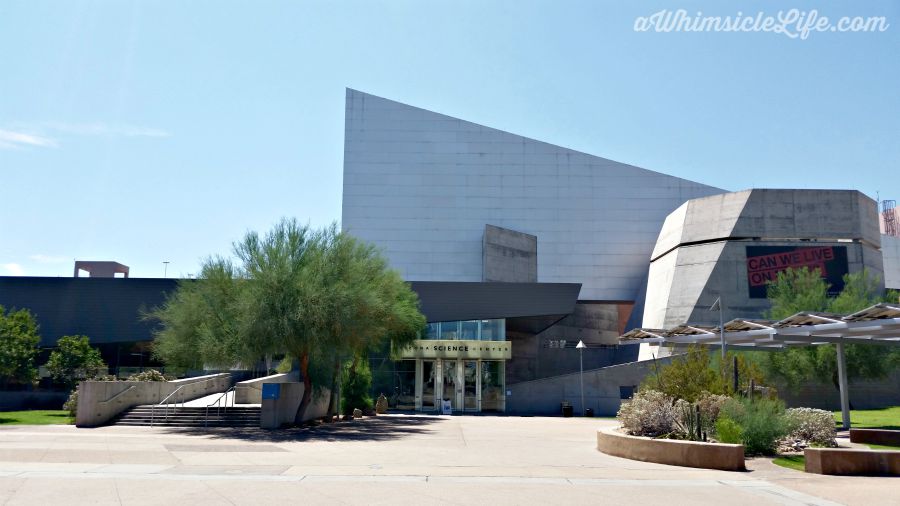 Plus, your kids won't even realize that it's educational.