How to Survive the Holidays with Kids in Phoenix: 20+ Things to Do
Finally, the weather that you brag about to your midwestern friends is here!
But so is all the stress of the impending holiday season. While that means a ton of opportunities, it can also mean spending a boatload of cash.
Not to fear. Here are some of my favorite family holiday events in Phoenix for 2018.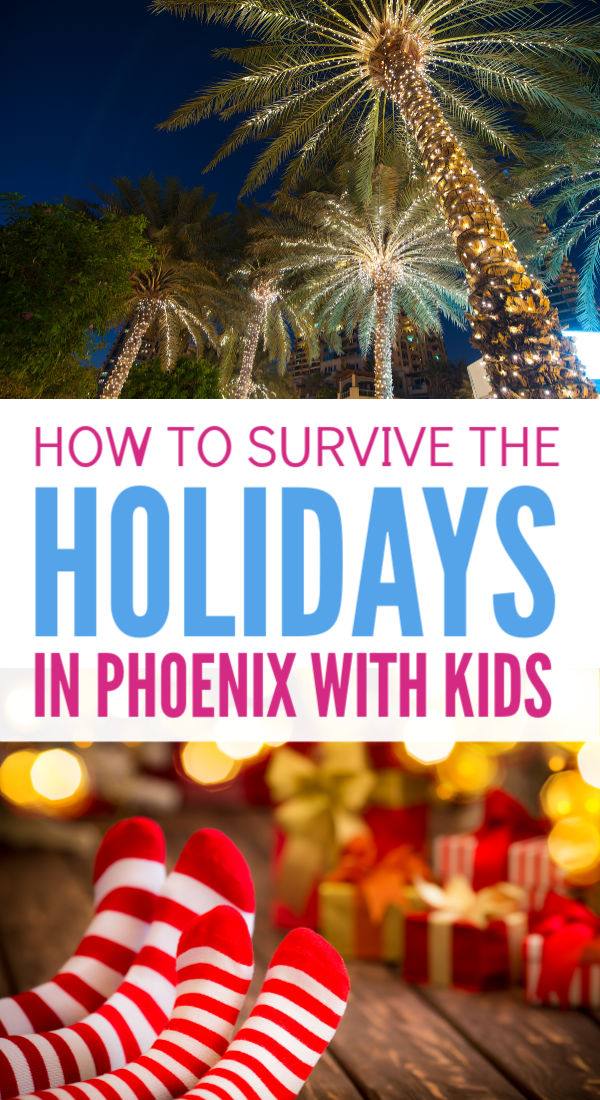 First, what better family activity is there than a movie?
Enter below to win a family pack of tickets to the advanced screening of INSTANT FAMILY on Tuesday, November 13th at 7pm at Tempe Marketplace. Such a cute movie. You can view the trailer HERE.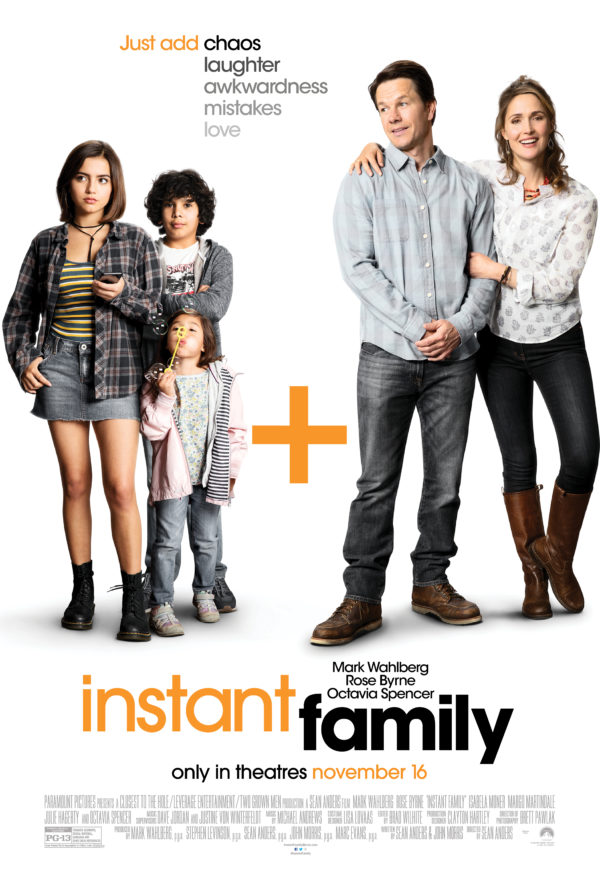 After you see INSTANT FAMILY, here are the other Phoenix family events you can visit.
East Valley Family Holiday Events
Merry Main Street in Mesa
I usually recommend the Temple lights in Mesa. Unfortunately, the Mesa temple is closed the next two years for renovations. Thankfully, downtown Mesa has you covered with it's Merry Main Street event.
The event has an ice skating rink ($10 per person), visits with Santa, a Polar Express ride on the light rail (wear your pajamas) and a Christmas Market.
Arizona Museum of Natural History
Go back in time and visit dinosaur mountain – a three-story tall animatronic scene of dinosaurs interacting in the Mesozoic era. You can also pan for gold and experience a real territorial prison. This museum will easily absorb a few hours of your day.
IDEA Museum
Within walking distance of the Arizona Museum of Natural History, the IDEA museum promises fun of the artistic sort. Tons of exploration available here including a room just for the little ones.
Remember to bring socks. The room for toddlers is shoeless and socks are required at all times. If you forget, you can purchase a pair at the front desk.
Makutu's Island
I wish I had access to this fantastic of a playground when I was a kid. Makutu's Island centers on a three story tall holl0w tree that kids (and adults) can explore. Complete with twisty slides and dark tunnels, this place is a dream for any adventurous child. It also has a roped off baby area – very important!
Remember your socks when you go. Makutu's Island is also available on POGO Pass.
Riverview Park
Yay for the Phoenix winter where everyone gets to play outside! This park hosts a massive climbing structure, zip line and tons of play equipment. Tumbleweed Park in Chandler is also worth a visit. As well as Desert Breeze which has a train. A train, I say!
Usery Park
Again, yay for the Arizona winter! Usery is just one of the regional parks that boast amazing views of the valley as well as some challenging hiking trails, such a wind cave. For families, I highly suggest geocaching. All you need is your phone and pencil.
Queen Creek Olive Mill
Enjoy all items olive oil at the Queen Creek Olive Mill! Yes, you can buy olive oil, but you can also purchase olive oil lip balm, olive oil gelato, and tons of local products like coffee and even wine. I recommend making a day of it with a lunch at the Mill (get the bruschetta) followed by an afternoon of hiking in San Tan Regional Park.
West Valley Holiday Things to Do
Glendale Glitters
Start off your night with a dinner at Haus Murphy's and then walk off the food through Glendale Glitters.
This event is gorgeous and absolutely FREE.
Cerreta Chocolate Factory
Remember watching I Love Lucy reruns on Nick and Nite? The one where Lucy and Ethel work in a chocolate factory but somehow get behind on their work and end up eating dozens of chocolates. Ya? This place is kind of like that.
Cerreta offers daily tours, chocolate samples and a special package for kids where each child gets to make a chocolate pizza.
Wildlife World Zoo & Aquarium
Seriously, the first time I visited Wildlife World Zoo I thought, "Whoa, we have a Sea World." This zoo exceeded all my expectations with a sky ride, safari park, and even a sea lion show.
Phoenix/ Tempe Holiday Family Events
Zoolights
No holiday in Phoenix would be complete without mentioning Zoolights. This event is a family tradition in my house. We love the light show on the water, the dancing trees and buying a warm cone of cinnamon glazed almonds.
As a word of warning, Zoolights gets insanely busy. Many weekend nights, you can expect to park a half mile away and hike to the zoo. I'm not exaggerating. My advice: buy your tickets online to save $2 and arrive at Zoolights a half hour before opening. You will get in and be able to cover the entire zoo before the crowds settle in.
Hall of Flame Museum
If you have someone who loves fire trucks, this is the place to go! The Hall of Flame Museum has over 90 restored pieces of fire-fighting equipment – most of them fire trucks.
Pump it Up
A giant room filled with inflatable jumping castles and slides? Yes, please! I have about as much fun at Pump it Up as my kids do. I recommend visiting one of the open bounce sessions on a Monday afternoon. When we visited at that time, we had the place to ourselves.
Desert Botanical Garden
December is the perfect month to visit the Botanical Garden. The weather is perfect, the butte views are spectacular and kids will love the Plants and People of the Sonoran Desert trail where they can explore mock-ups of actual Native American dwellings. You can also visit the garden for free via a Culture Pass from the library.
If you visit at night, the garden hosts Las Noches de Las Luminarias which displays more than 8,000 hand-lit luminarias.
Hike to Hole in the Rock
Papago Park holds a plethora of easy family hiking trails. Hole in the Rock has amazing valley views and you can even catch a view of the zoo from the vista point.
Scottsdale Christmas Events in 2018
Christmas at the Princess
This event is on my bucket list this winter. Christmas at the Princess costs $55 per car (up to 9 people) or is free with a $75 dining tab. Included in that fee are light shows, a ride on the Princess Express train and the Christmas Carousel. You can also go ice skating for $15 per person with a $5 skate rental.
Scottsdale Museum of Contemporary Art
Art is awesome and the Scottsdale Museum of Contemporary Art is far from boring. Currently, the museum hosts a science fiction panoramic video installation and an exhibit made entirely of compact discs. Plus, you can go to the museum for free via a Culture Pass.
Scottsdale Library
How did I not know about the Scottsdale library? The children's section has a castle! A castle! Plus tons of activities to keep young ones busy such as puzzles, puppet theatre, and of course… lots of books.
Holiday Lights at McCormick-Stillman Railway Park
The best train park in the Phoenix area in my opinion. This park boasts two trains – one of which you can ride at night through a spectacular holiday light display. While there, you can also ride the carousel, visit the train museum and play on awesome playgrounds.
Have an amazing holiday season with your family in Phoenix this year! I would love to hear your suggestions on your favorite places to go in the Phoenix area. Tell me in the comments!
Title:
How to Survive the Holidays with Kids in Phoenix: 20+ Things to Do
Keywords:
family holiday events in Phoenix for 2018
Last Updated:
November 7, 2018