Going on your first Disney Cruise vacation?  You simply must get in on the fish extender gift exchange!
Here's the lowdown on what it is, how to sign up and a few awesome gift ideas.
I went on my first Disney Cruise as part of the 2017 Disney Social Media Moms Celebration.  The trip was partially hosted by Disney- meaning I received a discount.  All opinions in this post are my own.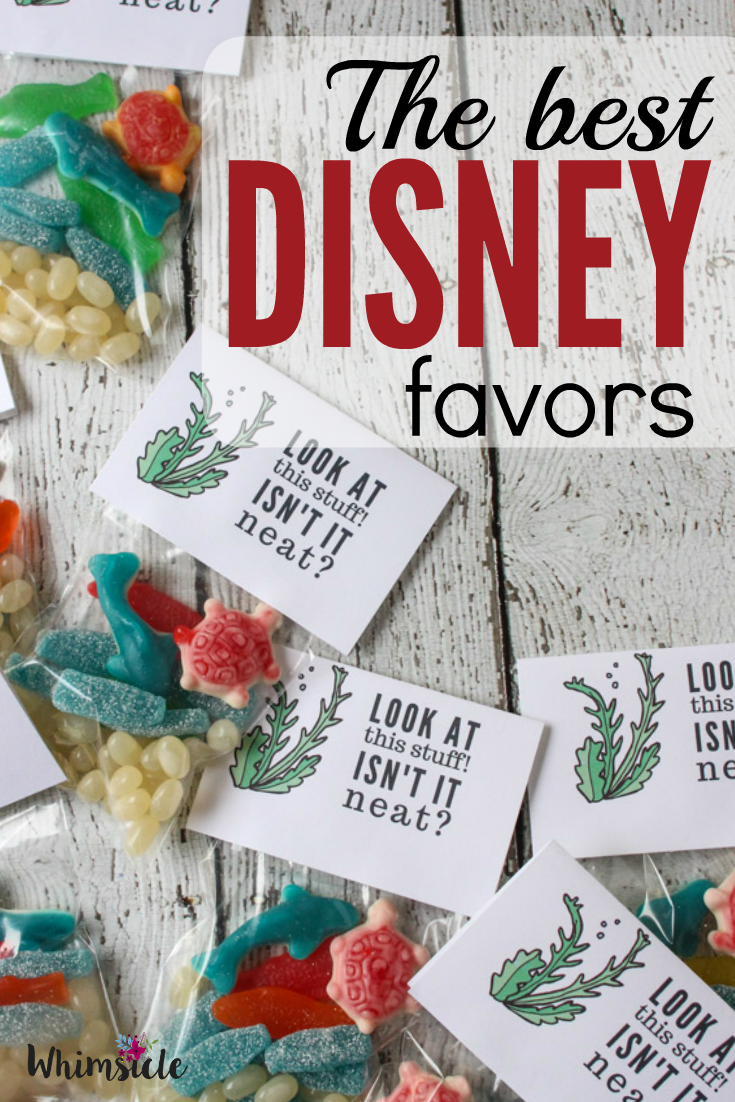 First, you may be wondering, what exactly is a fish extender?
Disney Cruise Fish Extenders
Simply put, a fish extender is a hanging set of pockets – each labeled with a family member's name – that hang from the fish located outside your stateroom door.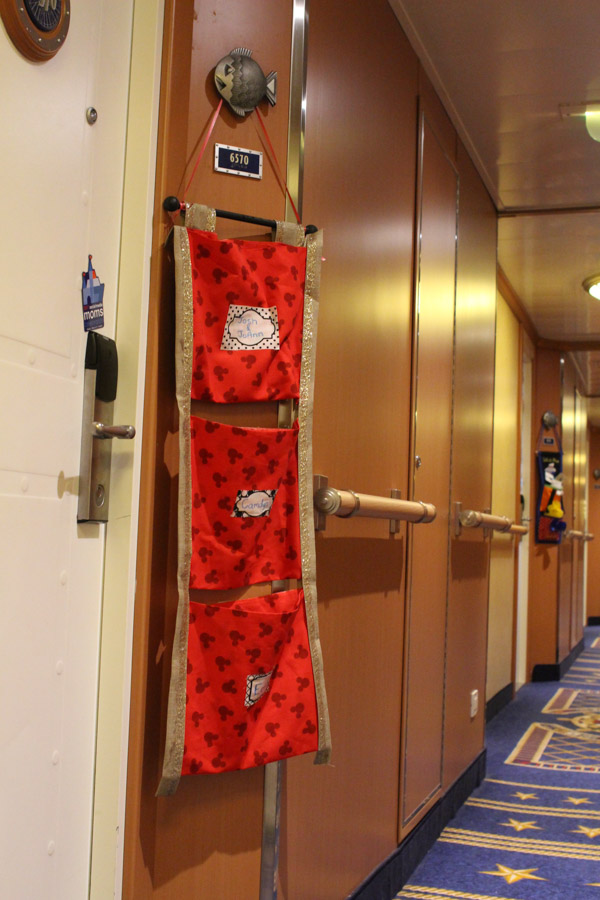 See, they extend… from the fish.  Thus, the name.
I don't have any sewing skill, so I created our from cloth, ribbon, a dowel and a lot of fabric glue.  Ok, OK, I may have stapled a little bit here and there.
In hindsight, I wish I would have searched Etsy and purchased one from there.  After the money spent on supplies, my time and scrubbing fabric glue off my fingers for weeks, it would have been cheaper on Etsy.
Still… it did the job.
Signing up for a Fish Extender Group
Now, comes the fun part.
You get to meet some of the families on your Disney Cruise before you even leave.  To sign up for the fish extender gift exchange on your sailing, search Facebook for your ship's name and sailing date.
For example, if you were sailing the Disney Magic in March, type in the search "Disney Magic March."

A list of sailing dates appear.  Click on your specific sailing and request to join that Facebook group.
Once in, the group admin will have more information about how to sign up for a fish extender gift exchange.
Making fish extender gifts
Now, the fun part.  Your fish extender group will likely have between 20-30 people in it.  Time to make some gifts!
I am a big fan of candy, so we made Under the Sea candy bags.
All you need are:
plastic favor bags
Cream Soda flavored jelly beans
blue raspberry candys
gummy sharks
gummy sea turtles
swedish fish
card stock
stapler
hot glue gun
this label printed in card stock.  (Once printed, cut the paper in half to glue onto bag)
Putting together the actual bags are super simple.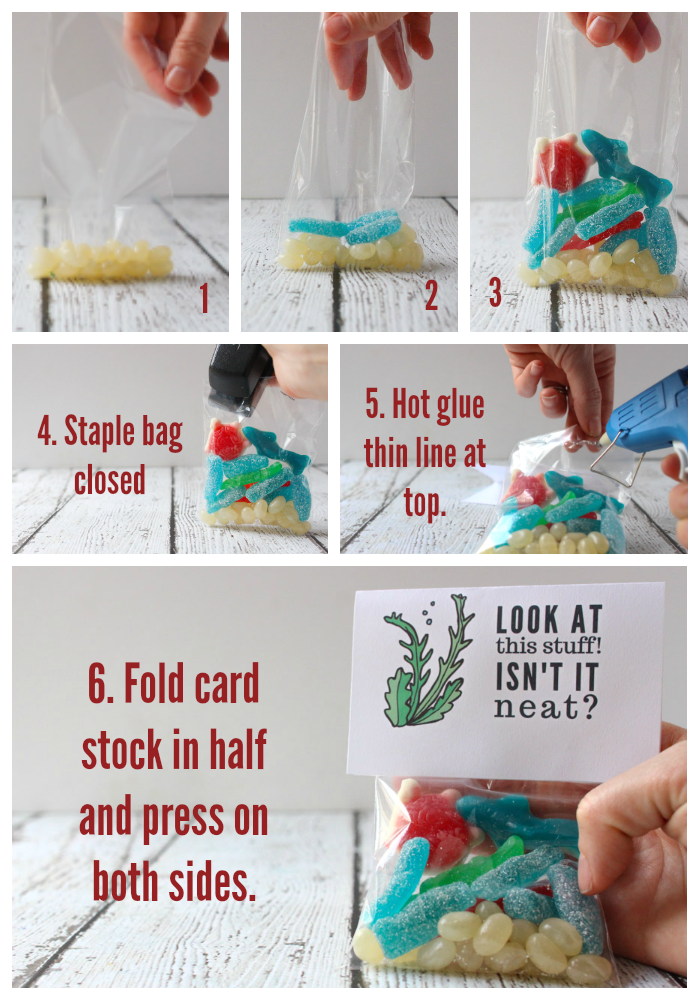 I set up a kid-led assembly line and paid in candy.  It worked very well.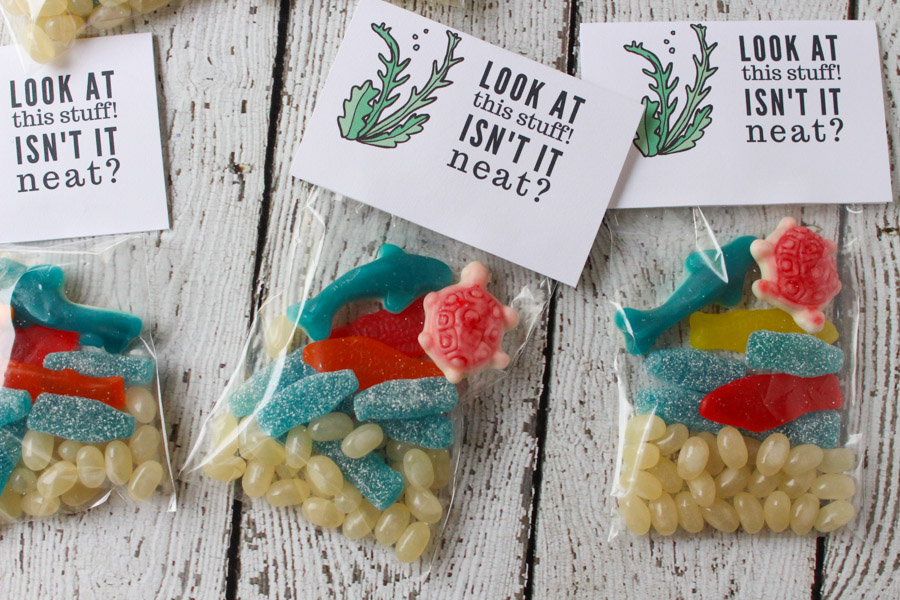 Ready for more fish extender gift ideas?
Visit these Disney Social Media Mom bloggers for more gift ideas: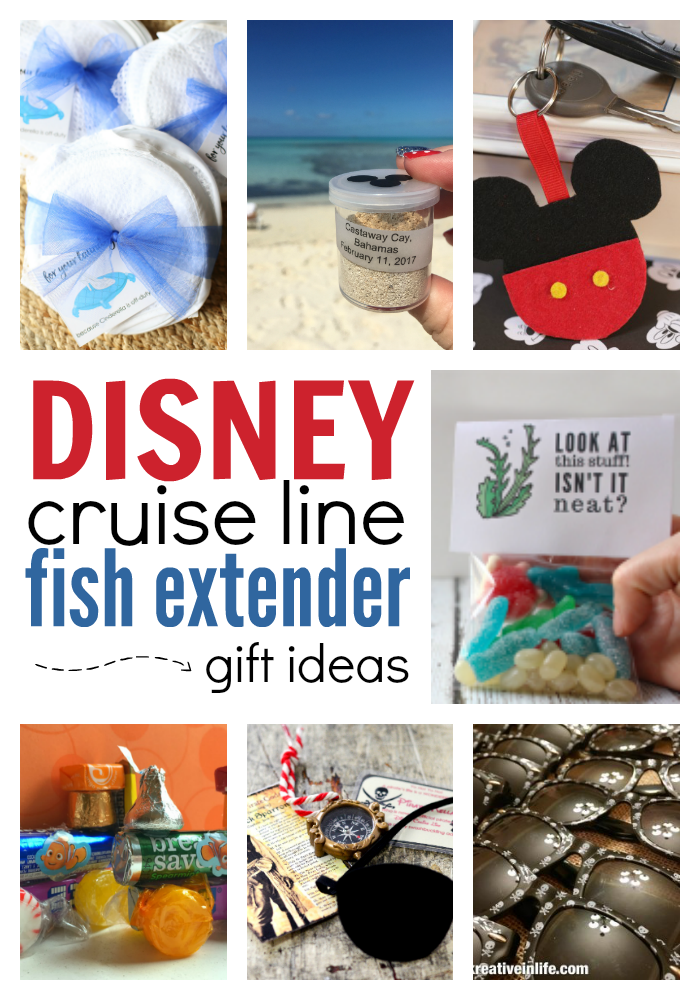 Gift Hamper from See Vanessa Craft
DIY Sand Collecting Kits from Around My Family Table
Mickey Key Chains from The Farm Girl Gabs
Under the Sea Candy from Whimsicle
Candy Trains from Trips with Tykes
Pirate Eye Patches from Pink Cake Plate
Pirate Sunglasses from Kreative in Life
Tell me, what are you going to use for your fish extender gift?  Are you ready to book a Disney Cruise?