Want more quality time with your kids? Here are 30 days of simple ideas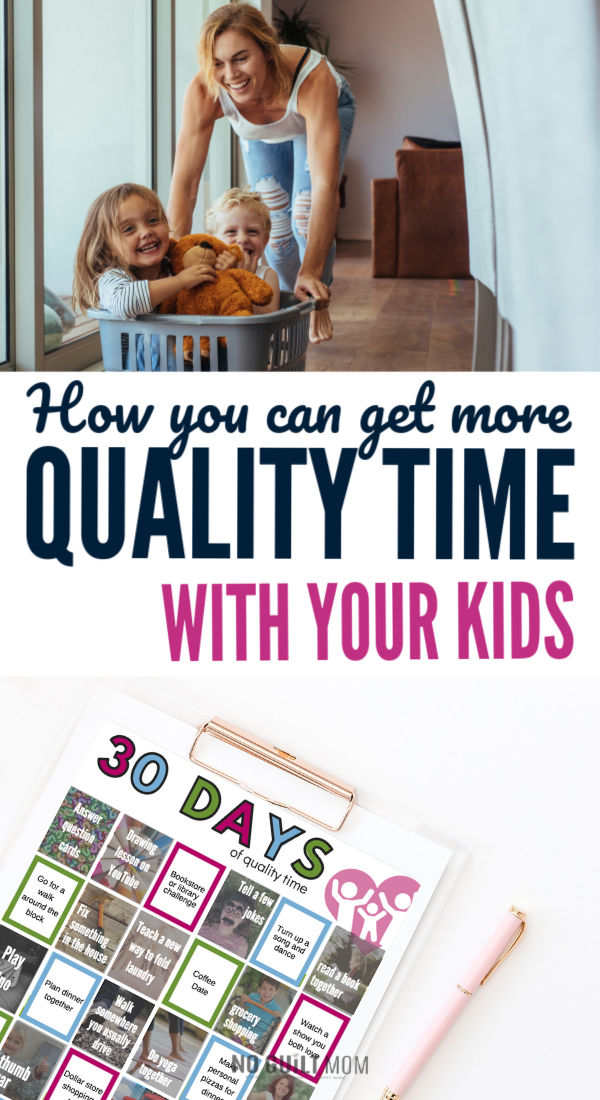 We all worry about whether we spend enough time with our kids.
On the phone with my mom one night, she said to me:
"You're such a good mom. You spend so much time with your kids. I never did with that you."
My mom worked as an administrative assistant at the hospital 4 miles away from our house. Every night, she came home around 5:30pm, cooked dinner and then we all relaxed while watching Murphy Brown or Friends.
Truth is: I thought she spent enough time with me. I felt pretty happy and content.
But frankly, I sometimes feel like a failure with this whole mom business.
My time with my kids feels stressed.
Either they're yelling at each other while unloading the dishwasher or I'll suggest something I think would be fun but one of my children doesn't agree.
Or… my daughter acts excited and then just to be contrary, my son adamantly refuses.
Or vice versa. You know… just to irk the other sibling.
Mom and me time simply doesn't happen.
I get it. Parenting is tough.
We constantly feel guilty and our time feels monopolized and rushed.
We agonize over the laundry, dishes, homework or we feel like we're nagging the rest of our family to do this stuff.
And then, we feel like we need to schedule additional quality time with our kiddos.
I'm here to help you out. Up for a challenge?
It's a little, mini, tiny challenge that will work into our crazy lives and also help us feel like better parents in the process.
You need ideas for simple quality time with your kids.
Read: How much should I play with my child? Not as much as you think
The best kind of parent..
Spending quality time with our kids does not need to be ALL fun.
I know it's crossed my mind – as I'm sure you've thought this too – isn't all this fun with no responsibility making our kids feel more entitled?
It is!
But we don't need to be the fun parent who is cotton candy on Wednesdays and Dutch Bros on Fridays.
According to child development experts, there are four distinct parenting styles:
Authoritarian Parents ("It's my way or the highway")
Permissive Parents ("I want to be my kid's best friend")
Uninvolved Parents ("You're a smart kid. You can raise yourself")
Authoritative Parents ("I understand why you feel that way. The answer is still no")
Authoritative parents are extremely responsive to a kid's emotional needs, however hold high expectations.
These type of parents:
Use positive discipline
Set limits on behavior
Earn (instead of demanding) children's respect.
Through decades of research, experts found that authoritative parents raise kids who are happier and more successful.
They are the types of parents we all aim to be.
These 30 days of quality time ideas expand on being an authoritative parent.
Yes, there is some fun. But you will also find tasks where you teach your child how to fix something in the home, do a new chore or even read together.
By taking this month-long challenge, you will:
become closer with your kid,
have more fun, and
do tasks with a purpose.
30 days of Simple Quality Time with your kids
Question cards – Print out these card, cut them out, pick a card and have instant conversation starters.
Drawing lesson on You Tube – My daughter loves this YouTube channel.  The drawings are easy, fun and make excellent bonding time.
Folding laundry together – Yes, it needs to be done – why not make it a bonding experience rather than the drudgery it usually is.  And oh yes, it's total drudgery. Teach your child how to fold a specific item of clothing. If they've never folded before, towels are a perfect start.
Coffee date
Bookstore/ Library challenge – Your mission is to pick out a book that you think the other person would enjoy.
Plan a dinner together
Game of Uno – We're addicted to Uno in the Crohn house.  My 5-year-old son asks to play at least 3 times a day!
Tell a few jokes – Here's one to start you off: "Hey, I have a joke about pizza!  Never mind, it's too cheesy."
Go the dollar store & buy something fun
Go Grocery shopping together – you get something done and they learn a lifelong skill. Plus, even I make up excuses to go to the grocery store. One word: samples.
Take a walk around the block
Walk somewhere you usually drive
Fix something around the house that's broken
Watch a show you both love together – For us, that's a competition show like "Dancing with the Stars" or "America's Got Talent".
Read a book together
Turn up a song and dance
Hula hoop (or jump rope) – see who can do it the longest
Challenge each other to a staring contest – see who blinks first.
Thumb war – or arm wrestling
Use public transit to go someplace together
Roast marshmallows and make S'Mores for dessert
Make origami animals
Blow bubbles
Look for constellations together
Teach your kids how to do a household chore
Take silly pictures with Instagram or Facebook filters
Give your child a manicure – If you don't like the mess its perfectly OK for to you handle the painting yourself.
Download your FREE 30 Days of Quality Time calendar
Print out and hang on your fridge.
Mark off the activities when you complete them. You can either complete one a day. Do more on weekends… however you please.
Here's a little sneak peak of what you'll get: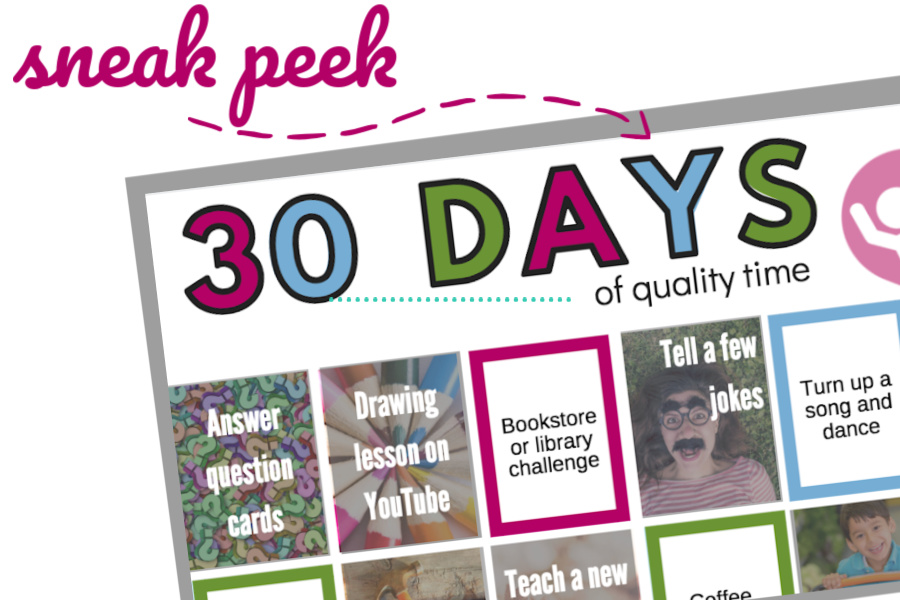 We don't need to feel stressed out about working in quality time with our kiddos.
I understand how hard it can be… trying to get everything done.
But our family time can be during chores, making dinner and even on the car ride to school.  This calendar will help you out!
Title:
Want more quality time with your kids? Here are 30 days of simple ideas
Keywords:
simple quality time with kids
Last Updated:
October 11, 2018