Who else wants to be a bath time hero? How to make bath bombs with toys inside
With this recipe, your kids will beg for bath time. This simple DIY will teach you how to make bath bombs with toys inside.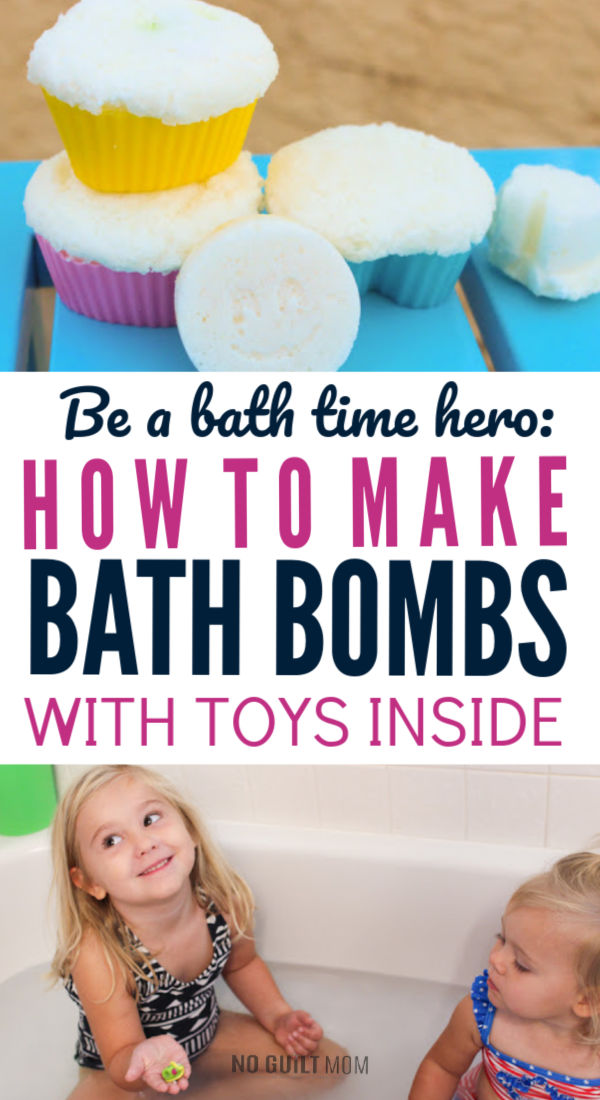 Can we talk bath time for a second?
How difficult is it to convince your kids to bathe? Hard?
With this bath bomb recipe, you'll feel like super mom because your kids will countdown the minutes till they can get in the tub.
When your kids hate to bathe
I used to slog towards bath time like a dental appointment with a scheduled root canal. Pain was coming.
"C'mon sweetie, it will be fun"
"NO! I don't like baths!" my son would respond.
Gently, I coaxed him in, splashed a little water on his legs and drew a letter E- his first initial – in bath foam on his belly.
But then, I did the unforgivable…
I tried to wash his hair.
Cue ring-wraith scream.
Then came shuttling handful after handful of water on his head, trying to get all the soap out.
Willing the soap to come out, OH please, just make this be over!
I hated bath time.
And pretty soon, I stopped pushing.
My kids (now 9 and 5) still fight me on baths. And oh, they've gotten so good at it.
They'll put it off with a million questions and try to – ok, they succeed – in distracting me until it's past bedtime.
I know it's too late.
They know it's too late.
They get out of taking of a bath.
Is it like this in your house?
Things become easier with a routine too: 3 Steps to Create an Awesome Bedtime Routine For Your Kids
Trying to make bath time a little more fun…
My friend Jenna Pederson, from A Drop of Everything, has a genius solution.
She makes her own natural bath bombs with essential oils. But they're not just any bath bombs….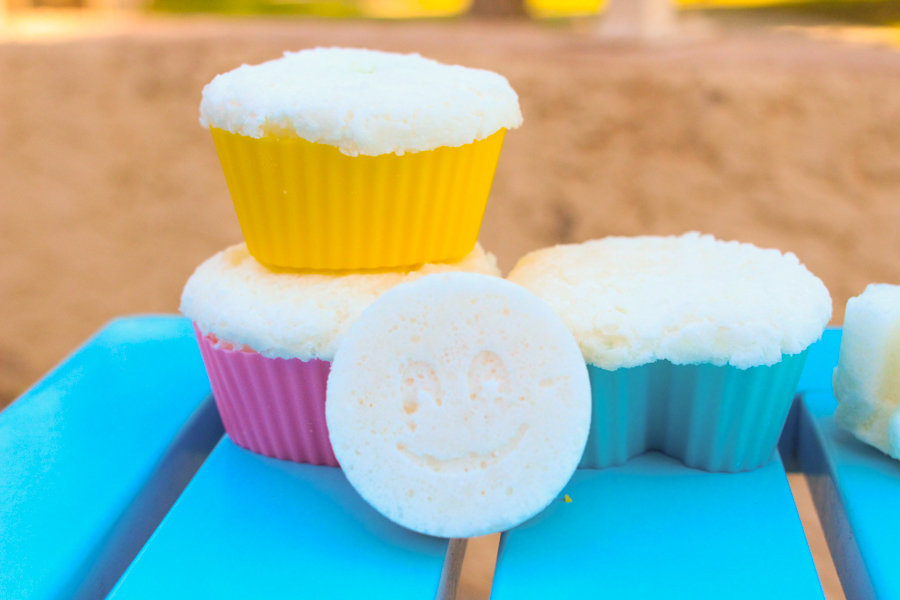 Inside each one hides a little surprise.
It's a Shopkin!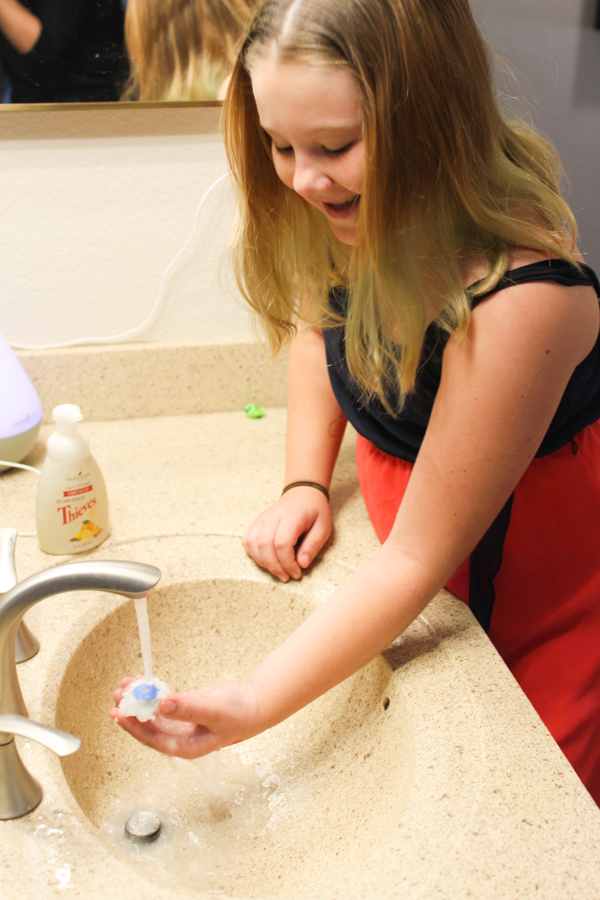 If you have a daughter, you probably have Shopkins scattered all over your house already. What better way to reuse them then to place them in a bath bomb?
And if you don't have Shopkins, LEGO bricks work as well.
Want another fun bath activity? Read: Paint the Bath
Your kids will get excited to jump into the bathtub
I'm not kidding.
Jenna's two youngest couldn't wait to don their swimsuits and get in the water – all so they could set off the bath bomb.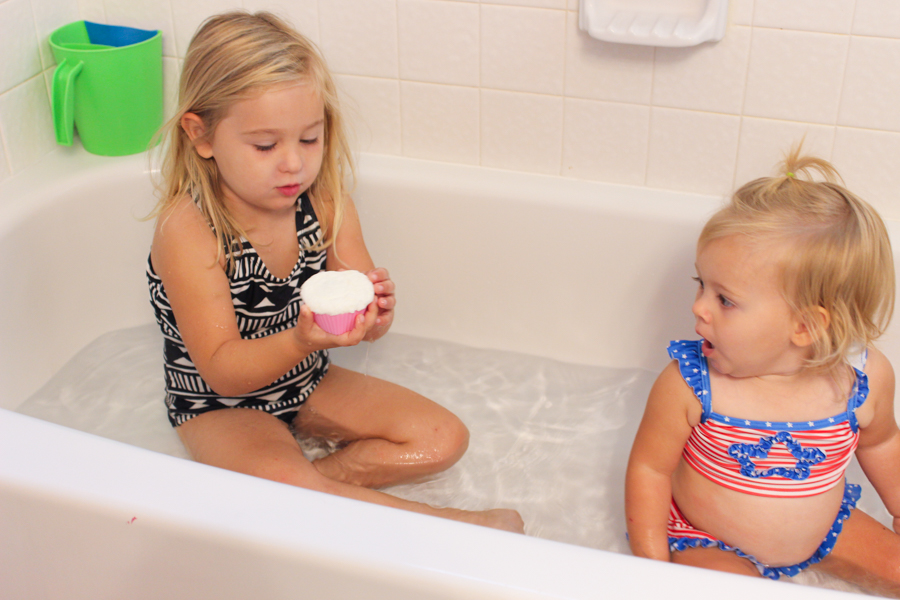 As soon as C dropped it in, essential oils filled the air.  The bath bomb dissolved in a mass of fizzy white bubbles.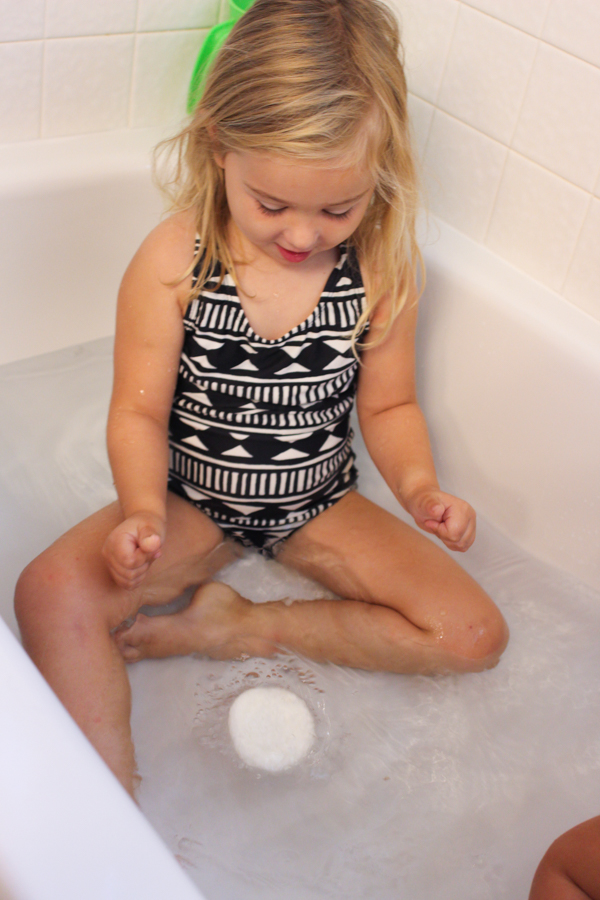 Both girls watched as it disintegrated and the toy inside emerged.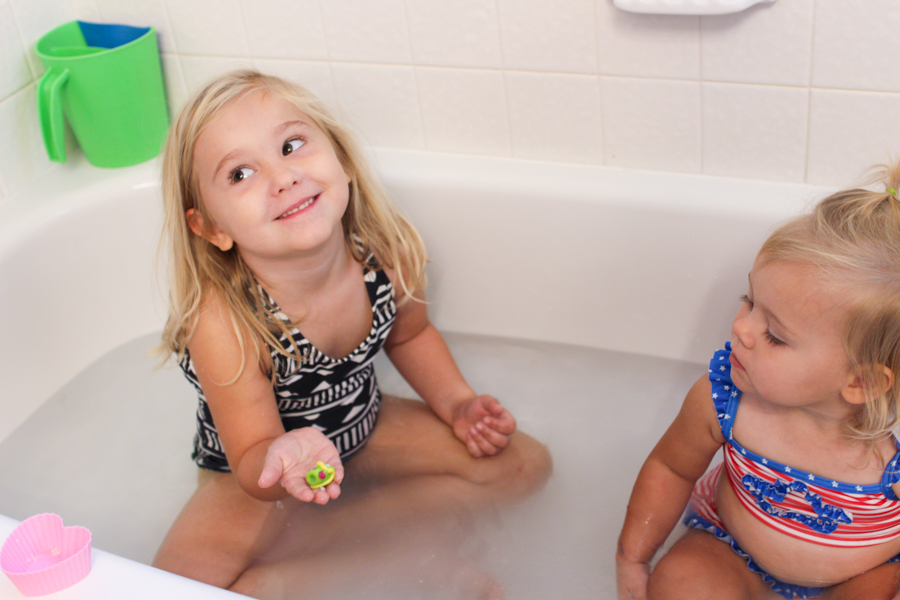 Since these bombs contain essential oils. any stress you feel about bath time will disappear as well.  They have a strong effect.
How to make bath bombs with toys inside
Ready to make them yourself? Here's how:
FYI: This post contains affiliate links to products I love and recommend.  It costs you nothing extra if you purchase through my link, but I may get a small commission
Ingredients
1/2 c baking soda
1/4 cup corn starch
1/4 c Epsom salt
1/4 c citric acid
3-4 tsp coconut oil
1-2 tsp water
1 tsp essential oils
Supplies:
Silicone molds
Directions:
Mix dry ingredients in medium size bowl. In a separate small bowl mix wet ingredients.
Slowly pour wet ingredients into dry ingredients and stir. It will foam a little.
Fill mold halfway with the mixture and press in the toy. Cover toy and fill to the top of the mold.
Put into silicone molds and let dry, about 24 hours.
The mere mention of these bath bombs…
When I told my kids about these, they both pleaded with me to make them.
"You would want to take a bath?"
"YES!"
Ok, totally worth a shot.
Download the recipe and essential oil combos
Your turn to become the hero of bath time. I've made it super easy.
If you can't decide which essential oils to use, Jenna has suggested a few of her favorite combinations based on your current needs.
Whether it's a nighttime wind-down, beautiful skin or an immunity boost, you'll find the perfect combo for you in this free printable!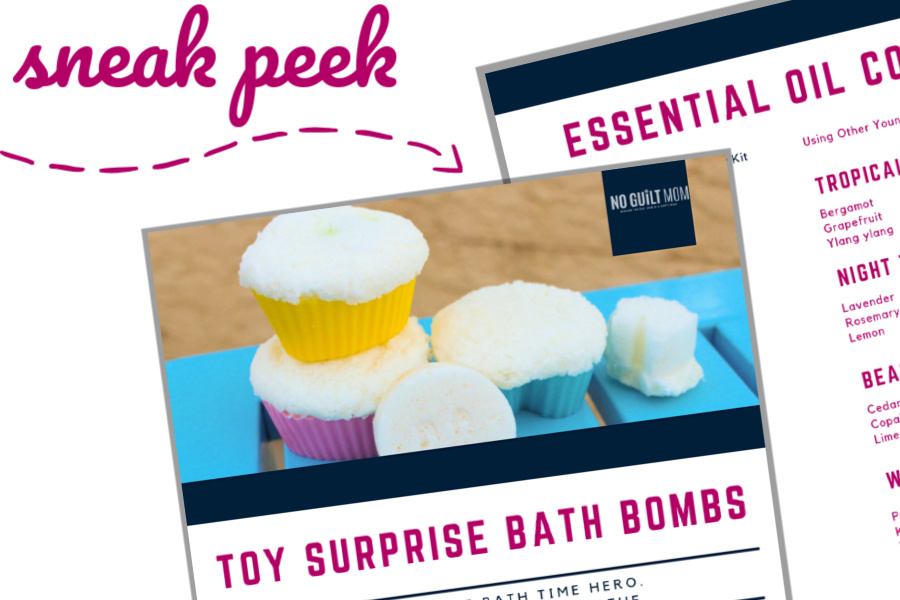 Here's what to do:
Gather all the essential oil supplies (If you are new to essential oils, I totally recommend the Young Living starter kit. I own one and love it. You're not required to sell anything or buy anything more. Sign up and get yours here)
Make bathtime fun (and make sure to steal a bath bomb or two to use for yourself!)
Title:
Who else wants to be a bath time hero? How to make bath bombs with toys inside
Keywords:
How to Make Bath Bombs with Toys Inside
Last Updated:
October 14, 2018